Bhutan is a country steeped in happiness, literally. This is the country that invented Gross National Happiness as a way to measure the country's success – forget GDP. If you're interested in joining one of my tours to Bhutan, check out the WanderTours website and feel free to contact me to be on the waitlist for future tours!
Tipping my hat to these happy peeps, I thought I'd do a little roundup of my favorite books about Bhutan.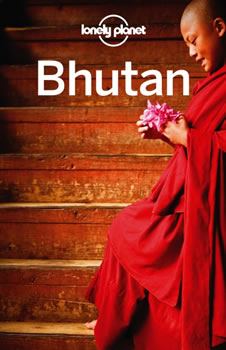 Lonely Planet Guide to Bhutan – There are few guidebooks to Bhutan and Lonely Planet is one of the best. though you likely won't use this book for hotel and restaurant recommendations like you might with other guidebooks (because your tour operator will be making your hotel reservations on your behalf), there is plenty of other great historical, religious, cultural and other info in this guide to keep you reading up to, during and long after your journey to the Kingdom. Available on Amazon.
*****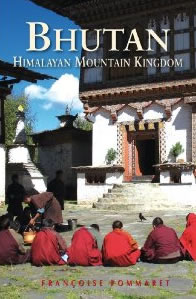 Bhutan: Himalayan Mountain Kingdom by Francoise Pommaret – Francoise is an ethno-historian who has lived in Bhutan for 30 years and knows Bhutan like few outsiders. This book is a comprehensive study of all facets of Bhutan and its people. Not a guidebook in the Lonely Planet sense, but a must for anyone traveling to the country. Available on Amazon.
*****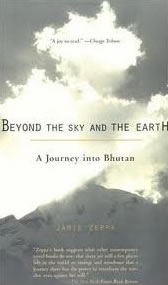 Beyond the Sky and Earth by Jamie Zeppa – One of the best memoirs about Bhutan, this chronicles the story of the author who spent a couple of years in Bhutan working as a teacher in a remove village. It's reflective, insightful and a romance all at once. Available on Amazon.
*****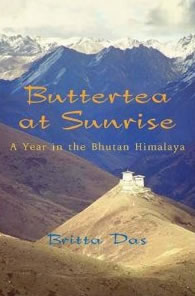 Buttertea at Sunrise by Britta Das – Though this book isn't quite as well known as Beyond the Earth and Sky, I actually enjoyed this book a bit more (perhaps, simply, because I read it after a couple of a visits to Bhutan). Similar to Jamie's story, this chronicles Britta's 2 year stint in Bhutan as a physical therapist in a remote region. It, too, is insightful and a love story. Available on Amazon.
*****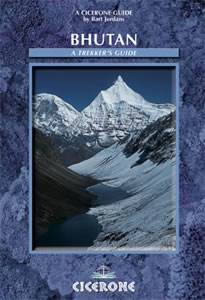 Bhutan, a Trekker's Guide – A very detailed guide to Bhutan's many (but not all) treks. If you're considering one of the more popular routes, this guide will help you plan and prepare. Times and distances are pretty much on target but realize that new paths on the same routes are often developed, cutting down times (while rain/bad weather can increase times by quite a bit). Available on Amazon.
*****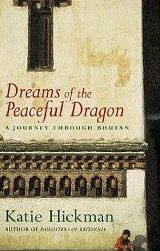 Dreams of the Peaceful Dragon by Katie Hickman – Probably my very favorite memoir about Bhutan written by a foreigner. This follows Katie and her boyfriend's travels across the country by foot and by horseback. She was one of the first travelers to be allowed entrance into Eastern Bhutan and provides insight into this region that was/is so untouched by the outside world. Available on Amazon.
*****
Under the Holy Lake by Ken Haigh – Though this book is based on Ken's experiences in the late 80's, it's likely that little has changed in Eastern Bhutan since his work as a teacher in a small village. Equally as well written as the other memoirs about Bhutan, Ken writes with a fresh perspective and interesting insights.  Available on Amazon.
*****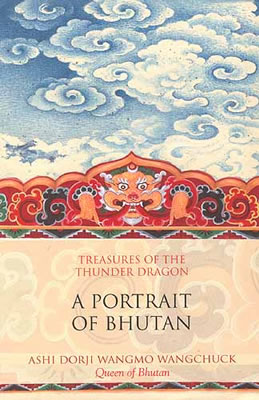 Treasures of the Thunder Dragon: A Portrait of Bhutan by Queen Ashi Dori Wangmo Wangchuk – Who'da thunk that the Queen of a country would spend so much time trekking the mountains of the Himalayas to meet the locals and to find out what their needs were. This Queen does (one of 4 sisters married to the 4th king) and writes about her experiences in this really interesting perspective of the country from a true insider. Available on Amazon.
*****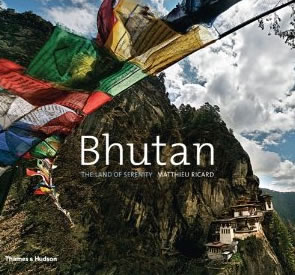 Bhutan: The Land of Serenity by Matthieu Ricard – This coffee table book was written and photographed by Matthieu, who is both a professional photographer and the French interpreter for the Dalai Lama. It's filled with images of the Kingdom and includes accompanying written details about the culture and religion. Available on Amazon.
*****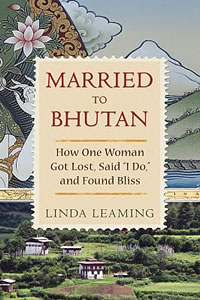 Married to Bhutan by Linda Leaming – This is a precious book that provides a big picture overview of the country and its people. Linda has lived in Bhutan for 10 years and is married to a Bhutanese artist. I really enjoyed reading about her sometimes very funny insights and perspective as someone very steeped in the culture, yet very much an outsider. Available on Amazon.
*****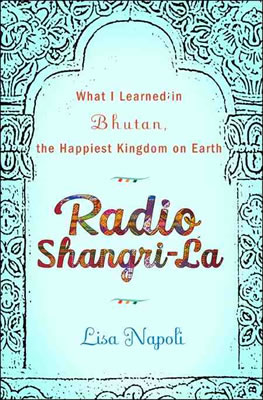 Radio Shangri-la by Lisa Napoli – I have to admit that I haven't yet read this book but have high hopes for it. Lisa is a former NPR reporter in the LA area who jets off to Bhutan to volunteer as a consultant in 2006 for a youth radio station. Available on Amazon.
*****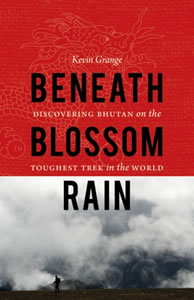 Beneath the Blossom Rain by Kevin Grange – I haven't yet read this yet but it is on my nightstand and I can't wait to start it. This is Kevin's story of doing the Snowman Trek, notoriously known as the hardest trek in the world. Available on Amazon.