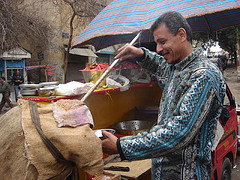 As you know, I love to find recipes that are tasty as well as frugal. Those of you who caught my lentil recipe round up over on Wise Bread know that beans and legumes are on my list of healthy frugal fare. This recipe comes from a cookbook I bought years ago called Beans & Grains, by James McNair.  It is best served over couscous, bulgur or wheat berries.
What you need: 2 cups dried Egyptian fava (ful medames) or garbanzo beans, 3 tbsp olive oil, 3 cups chopped yellow onion, 1 cup chopped carrot, 1 tsp minced garlic, 1 cinnamon stick (3 inches long), 3 whole cloves, ½ tsp saffron threads, 6 fresh cilantro sprigs, 6 fresh sprigs of flat leaf parsley, 2 quarts of unsalted chicken or vegetable stock (optional), 1 cup peeled and chopped tomato, salt and freshly ground pepper to taste.
What you do: Clean and soak beans overnight. In a large pot, heat the oil to medium high and add onions and carrots. Saute until soft, about five minutes. Add garlic, cinnamon, cloves and saffron. Saute about one minute more. Drain the beans and stir them into the pot, adding cilantro, parsley and stock (or water) to cover the mixture by about ½ an inch. Bring to a boil and keep it rolling for about 10 minutes. Reduce to a simmer and cook until tender, checking frequently. When nearly done, add the tomato, salt and pepper. Depending on the size of your beans and depth of your pot, this can take up to two hours. (Which is why you may want to do this in a crock pot, reducing the heat part way through the process.)
What I like about this recipe is that aside from the saffron threads, the ingredients are all super affordable. Add some flat bread and chai to the mix and you've got a sit-around-the-campfire type of meal. It's also completely vegan, if that's your thing. So light a fire, pop in some North African music and get psyched for your next trip.
Photo Credit: Dlisbona