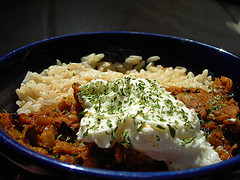 When it comes to Indian food, it's hard to get more authentic than dal. This recipe calls for red lentils, but I have also made it successfully with chana dal. Those who own a copy of James McNair's Beans & Grains will already have this recipe. For those who don't, this article's for you.
What you need:
* 2 cups red lentils
* 2 tbsp high quality vegetable oil
* 2 cups finely chopped shallots or red onions
* ¼ cup finely chopped fresh ginger
* 1 tbsp minced fresh serrano chili (or other hot chili)
* 2 tbsp pressed garlic
* 2 tsp ground coriander
* 1 tsp ground turmeric
* 1 tsp ground cumin
* 1 tsp ground cayenne
* 1 tsp freshly ground black pepper
* ½ tsp ground cardamom
* ½ tsp ground cinnamon
* ¼ tsp ground cloves
* ¼ tsp ground nutmeg
* 2 quarts hot water
* 2 cups diced tomato (or canned)
* ½ cup chopped fresh cilantro
* 1 tbsp freshly squeezed lime juice
What you do: Rinse lentils and set aside. In a deep-sided sauce pan, heat oil and add all spices and remaining ingredients except for cilantro and lime juice. Cook until onions are slightly tender, or about eight minutes. Add lentils and hot water and cook until tender (at least a half hour). Remove from heat and add cilantro, lime juice and a pinch of salt if desired.
Serve with a fluffy batch of basmati and a healthy dollop of cool nonfat yogurt. If you happen to have access to some naan, go for it. For other great lentil recipes, check out this post over on my Wise Bread blog.
Photo Credit: Mary Sue Photoeth