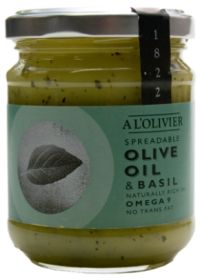 Love the taste of olive oil but wish it was a bit more spreadable? Enjoy the health benefits but craving the convenience of margarine? This patented product from France has olive oil available as an affordable gourmet spread.
A L'Olivier extra virgin olive oil spreads contain no preservatives or chemicals and feature the inclusion of various flavors such as truffles, lemon, garlic and basil.
Looking for a taste of Spain?
Spread some on some sliced artisan bread and toast in the oven with chopped tomatoes, ham and basil. Serve with a nice organic red wine and a crisp salad.
Is Italy more your preference?
Use the basil flavored spread with crushed walnuts, sea salt, pepper, cream, Parmesan and other desired seasonings to sauce freshly cooked tagliatelli. Don't forget the white wine and carpaccio. 
Or how about a taste of France?
Jazz up a piece of freshly grilled meat with a melted dollop of seasoned spread. Enjoy with fresh goat cheese on sliced French bread and seasonal vegetables.
Personally, I tried this on bruschetta and plain bread. For the bruschetta testings I did plain bread with spread, a bread-spread-tomato topping and a third with the previous ingredients plus crumbled feta. They all tasted fine and I have to admit it was easier to clean a butter knife than it would have been a basting brush laden with olive oil. I enjoyed it from a bruschetta perspective, but on the plain untoasted bread I would have preferred a stronger seasoning. Perhaps that was due to the natural sugars produced when toasting breads. Who knows? At any rate, this would make a nice hostess gift or an item to take along if you were wanting to pull off an elegant meal while camping without too much cleanup or fuss. Available at Igourmet.Com for around eight dollars.
Photo Credit: Colangelo Public Relations