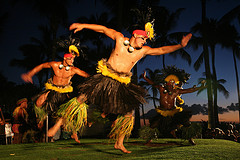 This one is easy to make and has a very short ingredient list, making it an affordable way to incorporate some island atmosphere on the home front. Just add a tropical drink and some appropriate theme music.
What you need: Cooking spray, boneless and skinless chicken tenders, green peppers and a large can of chunk pineapple. Also, some white vinegar, low sodium soy sauce, corn starch and sugar. (The amounts are vague here, because is this another one of those recipes where you can totally eyeball it and easily adjust the amounts for the number of people you want to serve.) You can also add some fresh grated ginger and minced garlic to the stir fry mixture, but it's totally optional.
What to do: Spray your wok or large frying pan with cooking spray. Separately, cut the raw chicken tenders into small to medium sized pieces and put into frying pan. Begin cooking the chicken, stirring and flipping occasionally with a wooden spoon. In the meantime, either slice or chunk your green pepper pieces and drain your chunk pineapple, reserving the juice in a separate container.
The chicken will take a bit, so you should still have plenty of time to whip up your sweet and sour sauce. Use equal amounts of reserved pineapple juice and white vinegar. Add in a teaspoon or two of low sodium soy sauce, a couple of tablespoons of corn starch,  ¼ – ½ cup of sugar, and up to a quarter cup of water if deemed necessary for stretching the sauce a bit. Whisk the ingredients together and add to the pan, stirring frequently until it begins to thicken.  (Tip: If you need more sauce, you can orange juice into the mix and increase the vinegar amount accordingly.)
When the chicken is almost done, add the peppers and pineapple and stir until the peppers are tender-crisp. Serve over a pot of rice from your handy-dandy rice steamer. This dish is simple, affordable, and full of island-style flavor.
For those interested in going further on the pineapple front, I've written an entire post over at Wise Bread featuring numerous pineapple recipes. Got another great island menu idea? Feel free to share a link below.