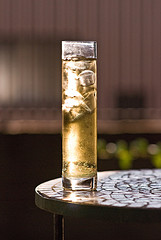 Photo Credit: Stewart
Want to class it up a bit at your next dinner party? Looking as well to relax and enjoy your guests without stressing out too much about complicated bar tending responsibilities? Here are four simple cocktails to not only get the party rolling, but polish off the meal in style as well.
The Grappa Sour.
While this one is still relatively simple to make, it is the most labor intensive one I'll be listing in this article. My recommendation? Make it the first one you serve. This way, you can get cracking on it even before guests arrive. The recipe?
One and a half ounces of grappa (I used Fantinel's Suprema Grappa Tocai for a much smoother experience), 1 ounce of simple syrup (you can use regular corn syrup if you are in a pinch), .75 ounces of lemon juice and one small egg white. Combine everything and shake without ice. Add ice to your glass and strain into it. Garnish with a few drops of bitters and serve in a brandy snifter.
The G & T.
Gin and tonic drinks are simple and crisp, which makes them perfect for winding down during the late afternoon prior to an early evening dinner party. The cocktail is simply two parts tonic water to one part gin over ice with a lime garnish. For those who find gin itself a bit harsh, I recommend G'Vine. It's a grape based gin (who knew?) from France that is WAY smoother than your garden variety gin, I assure you. Even those who don't care for gin usually like this brand. They are also now making a limited production extra dry London style gin which I recently tried as well. Both varieties receive a two thumbs up, in my opinion.
Sambuca and Coffee.
This is great for after dinner, and paired with a dessert. For a super smooth sambuca, my money's on Averna. I've reviewed their agrumi variety about a year ago, and had the opportunity this month to test drive their liquirizia version. This pair up is also great for a leisurely breakfast if you are having people overnight.
Limoni with Tea.
For lemon liqueur, I have to again recommend Averna. Their Limoni Di Sicilia is definitely lollypop lemon tasty. By itself it is certainly enjoyable, even for those who are not into "straight up" drinks. But we paired it this past weekend with Stash's lemon ginger tea for a toasty and relaxing beverage to enjoy with a great movie.
There you have it. Four simple dinner party cocktails that will add style and grace to your next event. Got another great cocktail recipe suitable for throwing together on the fly? Share the love in the comment section below.