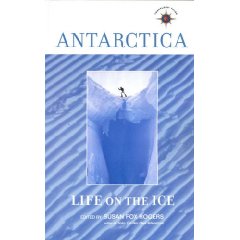 Photo Credit: Amazon.Com
Vicariously explore the bottom of the world with this collection of very personal essays, edited by Susan Fox Rogers.
Contributed by various authors, all of whom have lived and worked in Antarctica for varying amounts of time, this title provides an inside look at life on the ice as it actually is. The antics, the wonder, the sexual shenanigans, the dangers and fears, just how punchy and mentally on the edge one can become after such intense and prolonged isolation . . . all of these issues are covered candidly from a variety of perspectives.
A few personal picks? The feathery carnage and hilarity of Karen Joyce's The Day it Rained Chickens,  finding out just how quickly a project can turn from a few days of scientific exploration to being stranded for the winter with little hope of rescue in Lucy Jane Bledsoe's How to Find a Dinosaur, Nicholas Johnson's Toast on Ice piece ( a great peek at how quickly you can mentally lose it at the bottom of the world), and Maverick Among Scientists by Guy Guthridge, the man who personally championed the cause of Antarctic literature, art and humanities to the National Science Foundation.
This book would be a good read for those interested in Antarctic life and travel, and of particular interest to those considering a career on this icy frontier.