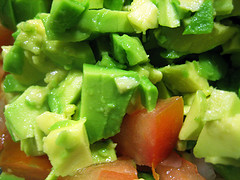 Flickr Photo Credit: Tina Raval
I'm always looking for ways to save on time and kitchen stress. So when I ran across this simple idea on low carb diets, I first gave it a slight twist to make it my own, and then brought it here to share with all of you. For me, simple needs to include as many "eyeballing it" options as possible. This definitely applies. Here's what you need:
A number of ripe avacados that suits the size of the crowd you are cooking for.
Salsa
Minced garlic (pre-done in a jar)
Lemon juice concentrate
Dash of salt
Chopped fresh cilantro (if available)
Now, if you still prefer chopping the tomatoes and onions by hand, go for it. But this really speeds things up. Just mash up the ripe avacados, and add amounts of the remaining ingredients to fit the size of the batch you are making. Serve with some super cheap restaurant style tortilla chips from your local box warehouse store and bring on the beer and margaritas!
Writer's Note: Guacamole is a great recipe to serve at summer gatherings. Some other ideas for summer suitable food include these lists of pineapple recipes, summer cocktails, ideas for backyard barbecues and simple menus for summer.
Also, for those transitioning to a more plant-based diet and trying to cut down on dairy, it makes a great replacement for sour cream on burgers, wraps and Mexican meals. Here's a link some ideas for vegan sandwiches to get you started.