As any regular reader of Weird Wanderings already knows, I'm a ghost hunter from way back. I went on my first haunted tour while still in high school, and for me, the allure of seeking ectoplasm has never waned. From my own backyard to the weird streets of Salem, Sleepy Hollow, Gettysburg and beyond, I've sought spirits everywhere I go. Have divining rods, will travel.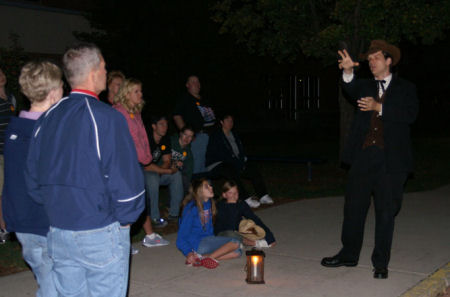 Still, that's not saying it's been all Caspers and Headless Horsemen. In my myriad of ghost hunting adventures, I've never seen anything I can definitively describe as a spirit. Sure, I've felt the inexplicable breezes or cold spots in otherwise well-insulated rooms. I've endured that odd, sinking-in-your-stomach feeling for no obvious reason. I've photographed dozens, if not hundreds, of orbs, those creepy little bastions of ghost photography. But let's be honest: each of those phenomenon is more easily explained with basic science than with ghosts.
Now that doesn't mean I discount ghosts. Far from it. I'm pretty open to the possibilities of the world, and that includes itinerant spirits. But when the eponymous ghosts are no-shows on your ghost tour, how can you still enjoy the experience? Here are three tips I've learned over the years that might help get you through the journey.
Choose your ghost hunting tour wisely
Not all ghost tours are created equal. Some veer dangerously close to "We promise you a ghost sighting every time!" territory. So how can you choose the best, charlatan-free excursion? Opt for tours that have either been around for awhile, received good reviews, or both. If previous tourists are unhappy, there will be a clear online trail to follow. Look for it if you want to avoid a lackluster time.
Resist the urge to play the skeptic
In some of my weirder ghost tour experiences, people have practically thrown themselves to the ground to declare they just saw a ghost. Oh, yes, indeed, they say as the entire tour comes to an abrupt (and often awkward) stop. They saw a ghost. More than once, I've wanted to ask, "Are you really sure it was a ghost? Because the rest of us were standing right here, and none of us saw anything." But I always hold back. Maybe they did see something the rest of us missed. Or maybe they felt the deep need to express themselves at this moment, no matter how uncomfortable it might be for the other tourists. Either way, it's unhelpful to say anything critical. When ghost hunting, you take all the weird trimmings that go with it.
Just have fun
Even if you never see a phantom, that doesn't mean ghost hunting isn't a whole lot of fun. First off, it can be great exercise with some tours winding through haunting locales for more than a mile. At the very least, it almost certainly serves as a more offbeat setting than your usual jogging routine. Also, provided you get a knowledgeable tour guide, there will be plenty of creepy historical tales to enjoy. After all, no place is allegedly inhabited by spirits without good reason. And since truth is often stranger than fiction, you'll be sure to have some weird tales to haunt you, ghosts or not.
Happy haunting!