Spring has sprung and the warmer weather has woken up my legs' desires to get on the road. If I had to pick one ride to do for the rest of my life, it would be Washington Pass in the wonderful state of Washington.
As a proud owner of a Washington State ID, I might be a little bit biased. But trust me, Washington has everything you could dream of: dusty desert, endless ocean, lush, mossy greenery, purple mountains majesties, and damp rain forests (really!). In this one ride, you experience your fair share of wonder.
I began my trek in a campground along a babbling brook in Early Winters, right outside of the quaint town of Winthrop (also highly recommended). The climb begins almost immediately, so prepare yourself with plenty of hydration, lots of snacks, and arm and leg warmers for the early morning chill.
Forget the maps because from Early Winters on, you are cycling clear through to Rockport on the North Cascade's Highway for eighty miles. You will traverse two passes, Rainy Pass and Washington Pass, and whizz down one of the sweetest downhills ever.
After the wicked climb to Washington Pass, be sure to look up! There are usually climbers to be found, working their way up intricate lines on the "Liberty Bell." And after you catch your breath, don't forget to look to your right as you are bombing down the "hill" — there are incredible milky-blue waters that look more Caribbean than Pacific Northwest.
At the very bottom of the mountain sits the stunning Diablo Lake. If you're like me, you'll jump straight in. But if you're smarter than me, you'll expect the water to be freezing, not tropical, because it's glacier runoff!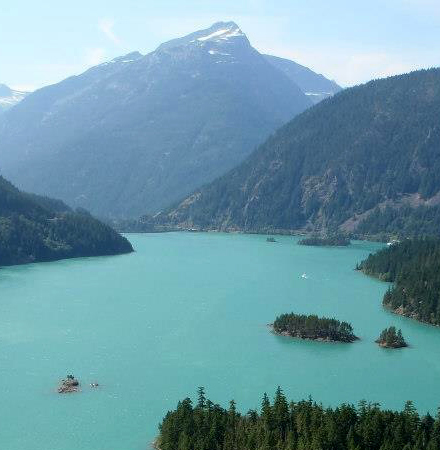 The Stats
80.6 miles

1 byway
2 mountain passes
42 miles downhill
7,000 feet of elevation
What to Bring
Nutrition
You will be cycling over two passes, which means that you'll be burning many, many calories and sweating out tons of salty water. You're going to want to bring plenty of snacks, including easily-digestible foods like goos or (my favorite) Citrus Shot Bloks, and wear a hydration bladder. There are almost no places to eat along this stretch of road (as it's in a National Park).

Clothing
I'd highly suggest arm and leg warmers for the chilly morning, as well as good rain gear. Rainy Pass gets its name for a reason, so it's best to be prepared! Also know that the weather can change on a dime on these mountain passes — it's much better to carry everything you might need than to be caught in bad weather.