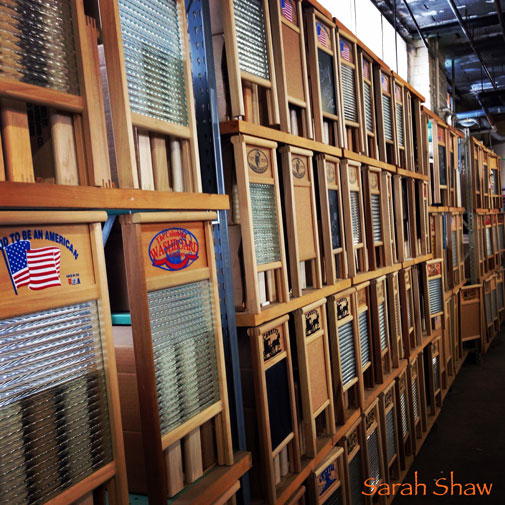 I recently explored the Hocking Hills area in the southeastern Ohio and discovered America's only remaining Washboard Factory. The Columbus Washboard Company has been creating washboards in many sizes and materials since 1895. Although founded in Columbus, Ohio, today you can tour their factory in Logan just an hour's drive away near scenic Hocking Hills State Park. Not only can you learn about the process of making washboards using equipment from the early 1900's but you will also enjoy spending some time in their extensive gift shop. Join me today as I share some of the highlights from my visit including information on the annual Washboard Music Festival as well as their efforts to support our military serving overseas.
Washboards played an important role in every home allowing laundry to be done effectively and efficiently. Coming in a variety of sizes, washboards were made specific for the task. Large, family models easily fit generously sized wash tubs where clothing and linens were cleaned. You may also select a more moderate, pail size washboard. The scale decreases down to a mini-size perfect for the traveler or salesman on the road. You could add it to your bag and easily wash your socks or underwear out in the hotel room's sink. I can also remember using a small washboard to wash my doll clothing when I was a little girl. Washboards are convenient to have on hand for those times when the power goes out or if you are somewhere without power like when you are camping.
Size isn't the only consideration when selecting a washboard. The frame may be made from a variety of materials. The Columbus Washboard Company currently offers washboards in kiln-dried poplar or teak. Each washboard is hand assembled in their factory in Logan. You could tell how proud the team there was that all the materials are locally sourced and that their washboards are 100% manufactured in the United States.
In addition to size and frame, their are also options regarding the material used to create the washboard's scrubbing surface. You most likely have seen models using either galvanized or stainless steel, both of which are available for purchase in their gift shop. As the metal surface is frequently getting wet, these materials hold up well to the moisture and resist rusting which is especially important when you are washing your whites. The Columbus Washboard Factory also has a few models created in brass. Although nice looking and offering a nice patina over time, these washboards are better for display has they have not proved popular. I was fascinated to discover that a number of washboards are offered in glass. These washboards are especially sought after in tropical locations like Hawaii. When you regularly deal with high humidity, glass is the material of choice as it will never rust.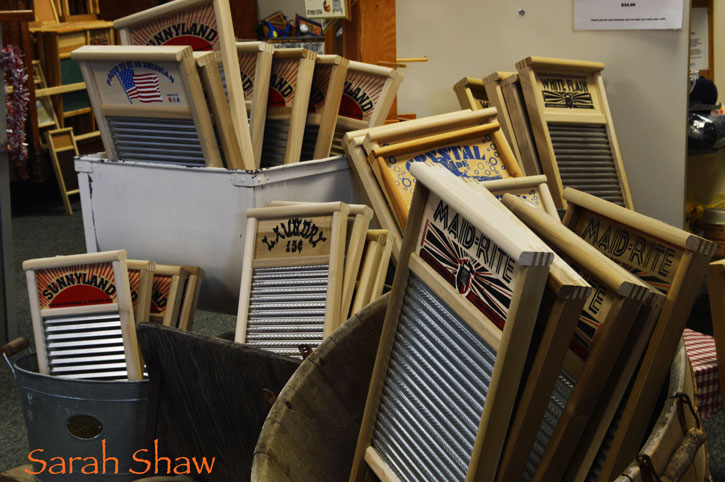 Another consideration when selecting a washboard is the pattern on the rubbing surface. Some of the first washboards were made from carved wood. The same pattern was replicated in early designs by crimping metal into a ridged, zig-zag surface. Scrubbing against these surfaces offered improved resistance over smooth river rocks and helped remove soil without damaging the clothing. When washing delicate items such a lingerie, silks and fine knits you may want a surface designed for the task. Over the years, different textures and patterns were developed to address different laundry needs as well as providing an interesting design. You may want your washboard to be a multi-tasker and offer a different surface on each side. Additional surfaces are offered for those looking to display their washboard including chalkboard, cork or even a mirror.
Antique and vintage washboards have become collectible as people like to use them for display in their washrooms, kitchens and other areas of their home. They are also sought after by theme restaurants looking to create a country or vintage ambiance. Not only do they add nice texture to a wall from the washing surface, they also have wonderful graphics printed along the top. Some washboards were used for brand advertisement and may offer multi-color designs. The Columbus Washboard Factory has on hand a hundred different designs including many traditional graphics. During your tour, you will be able to see many of the old engraved plates used to create these designs.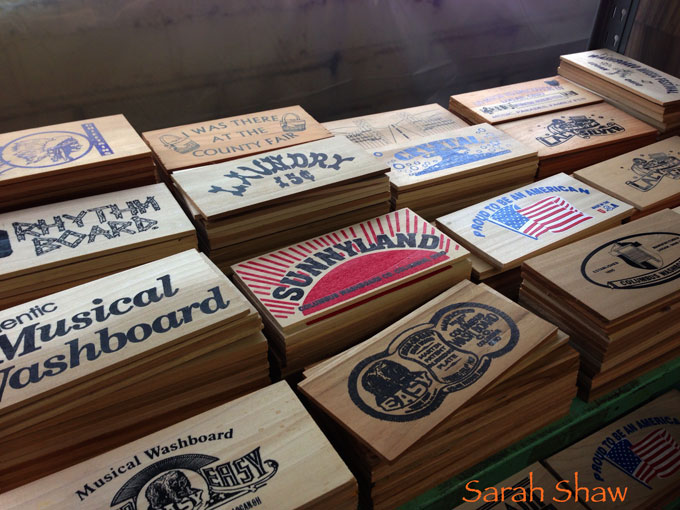 Each year, the Columbus Washboard Company welcomes several thousand visitors through their doors for a behind-the-scenes tour of their operations. They have been in their current location sine 1999 in what was once a shoe factory. You will know immediately that you have arrived at the right place when you see the world's largest washboard mounted on the side of their building. It features one of their most popular logos – Sunnyland. And that's a fitting name for their Washboard Shangra-la as they can boast near 100% employee retention for many years. People love working in a company where the goal is to support their family and community. One way they do that is to source all their materials locally while they ship their nearly 60,000 washboards annually around the world.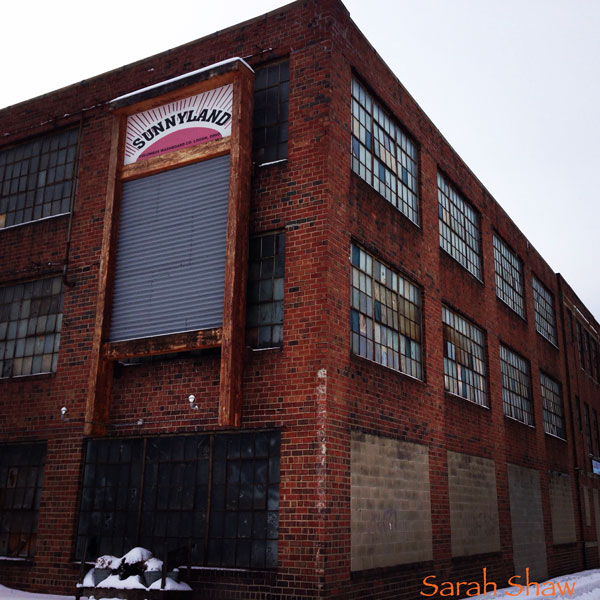 One program everyone at the Columbus Washboard Company is really excited about is their Washboard Troop Kits. Started in 2004 as a way to help American military personal serving overseas, the initiative continues today entirely through donations. The idea is a simple one. A Washboard Laundry Kit is put together which includes a washboard, washtub, clothesline, clothespins, soap and even some foot powder! An instruction sheet is also including offering techniques for using the washboard for their laundry. Family and friends can email the Columbus Washboard Company the name and address of their soldier who would like to participate. A donation of $25 will cover the kit and getting it shipped. Interested people can also make a donation and it will be used to send a kit to a soldier in need from their list. So far, over 4,000 Troop Kits have been sent. You can learn more on how you can participate at the Columbus Washboard Company website.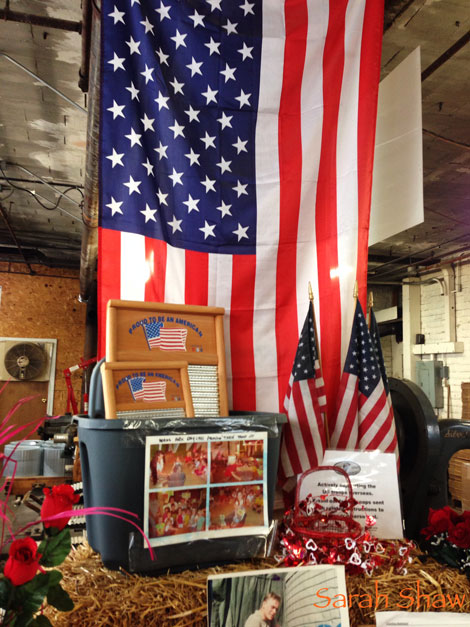 Another popular use for the washboard is featured during the annual Washboard Music Festival. Many genres of music have embraced the washboard for its percussive sounds which add a layer of sound and rhythm to their performances. Held each Father's Day Weekend, the Washboard Music Festival showcases Zydeco, Celtic, Dixieland Jazz as well as Jug Bands on their stage. Interested in trying your hand at the washboard? Workshops are offered during the Festival to teach the newly initiated some of the moves. Lots of other activities are offered during the Thursday – Saturday Festival. Kids will enjoy some of the rides as well as the parade. You may like to explore some of the Historical Society Exhibits, the Quilt Show and of course some of the Arts & Crafts vendors on display. The Festival is also a great place to grab a meal or a snack while you enjoy the current performers.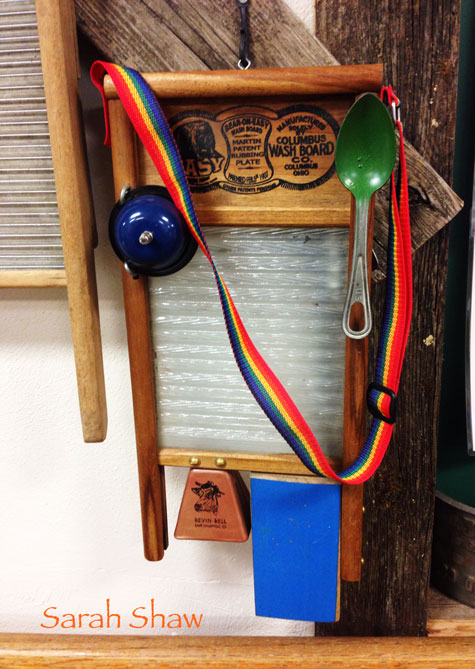 You will want to stop in the Columbus Washboard Factory Gift Shop after a tour, during the Music Festival or just while you are in Logan. You will, of course, be surrounded by a wide selection of washboards in different sizes, rubbing surfaces and logos. They make a perfect souvenir of your visit as well as a thoughtful and original gift. Budding washboard players can select their first instrument as they have a number set up with bicycle horns, bells, wood blocks and tins for additional percussive sounds. The Gift Shop also offers a wide selection of quality soaps from the U.K. I picked up a number of different soaps perfect for laundry and others for my bath. As they look to foster equal trade with their distribution partners around the globe, I was also excited to discover they carried Anchor butter from New Zealand which you will want to make sure you add to your purchase. I appreciate the nice offering of locally created keepsakes offered and came home with a quilt as well as a wind chime made from casts of vintage pavers from the old brick kiln.
Unable to visit the Columbus Washboard Factory in the near future? You can choose from all their gift shop offerings and more at the Columbus Washboard Factory website. Next time you are shopping at your local Ace and True Value hardware stores, you will find their products, too. In fact, anywhere you find washboards you are likely to discover that they were made by the Columbus Washboard Factory. They have been "keeping America clean since 1895" and are now the only manufacturer in the country.
I really enjoyed my visit with the friendly people at the Columbus Washboard Company. I found the tour really interesting and left with an assortment of washboards to add to my laundry room. I have many more pictures from my time there that I would love to share with you. You can find these and others from my time in Columbus and Hocking Hills at WanderShopper's Facebook page in their photos albums. While you are there, be sure to "like" WanderShopper so you are alerted to future posts as well as other information and pictures I share.
When you grab a washboard, is it to:  A) do some laundry, B) sit in with the band, C) redecorate the laundry room or D) give as a gift? Do you have a favorite washboard story to share? I would love to hear from you!
Until we shop again,
Sarah