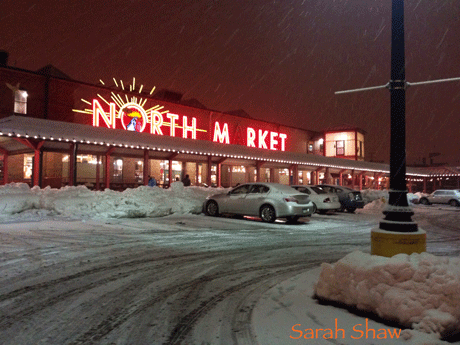 A few days ago I made my first trip to Columbus, Ohio and spent my initial evening at the North Market. On the next block from my hotel, the Hilton Columbus Downtown, I discovered the North Market occupies a giant space accommodating 35 different stalls. The North Market offers shopping, international food vendors and lots of great people watching. I was there on Valentines Day and there was a lot of excitement in the air. Not just for the holiday but also for the Fiery Food Fest being hosted there that weekend. Anytime you can combine shopping and eating is a winner for me. Join me as I explore the North Market.
Columbus has a long tradition of supporting its public markets. At one time, there were four different markets for residents to purchase their food, the North Market being the second to be built. It was originally housed in the city's public cemetery, The North Graveyard, prior to 1876. The other markets included the East, West and Central Markets at one time. The original North Market building was lost in a fire in 1949. Vendors took up a collection and raised enough money to buy an old Quonset hut which stood at the market's current location.
After World War II, interest in public markets began to wane and the survival of the markets was threatened.  In fact, the North Market is the only market still open of the original four. By the 1980's people began to embrace a movement which values markets and the local produce and products they offer. This support from the community has allowed the North Market to evolve into the huge success it is today. Bursting at its seems and requiring repairs that didn't make sense to the old building, a captial campaign was initiated to raise funds for a new building that would be 60% larger than the Quonset hut. Construction began in January 1995 and vendors moved in and opened the new space by November of that year. Annually over 1 million people come to the North Market, made up of both neighbors and tourists. 100% of its retail space is leased and their is a waiting list of vendors who would like an opportunity to be part of the North Market.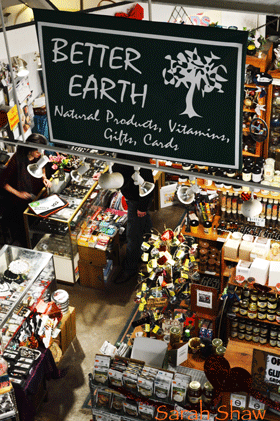 The North Markets houses many stalls offering the kind of items you might expect to find like quality produce, cheese, meats, baked goods and flowers. You will also be delighted to discover North Market Spices for every seasoning, herb or spice you may require. You can also visit The Barrel and Bottle to select a wine or beer for your next meal.  I found one stall that offers a wide selection of fresh pastas stuffed with more fillings than you could imagine that were decorated beautifully. Another stall offers a large selection of Fiestaware so you can pick up some colorful plates and other table items to compliment your food. You may also want to stop by CaJohn's Flavor and Fire for its large selection of salsas and hot sauces. I was really impressed by the quantity and the quality of the products each merchant has chosen to offer.
In addition to the shopping, many people visit the North Market to have a meal. It is the perfect choice for a family or group as there are so many different kinds of food to choose from. Unlike a single restaurant where someone may have to compromise their choices, at the North Market everyone can select their own meal and then meet up on the second floor where a large dinning space encircles the market. The center of the second floor is open to the market below so this is a wonderful place to relax as you enjoy your food and people watch.
As a vegetarian, sometimes I have a challenge finding appropriate food at some restaurants. That was not an obstacle for me at the North Market. I could choose from India, Thai, Vietnamese and Italian among others. For the meat eaters in your group, they are well taken care of, with choices of BBQ, Fish, Sushi, Sausages, Chicken, Polish cuisine and some extensive meat counters. No one could possibly go hungry. Make sure to save room for desert which you may find at one of their specialty bakeries, Jeni's Splendid Ice Cream or Pam's Market Popcorn. In fact if you just want a snack, maybe you stop by Brezelfor some pretzels or a piece of chocolate at Pure Imagination. There are also numerous place to get something to drink including a tea stall, Bubbles, with dozens of options.
The North Market is the perfect place to spend a day or evening in the winter. In the warmer months, it expands to include an outdoor farmers market. These vendors comprise an additional 30 spaces. From April through November, every Saturday people begin to shop these produce stalls as early as 8:00 am. All participating farmers have taken a special oath that really sets the North Market apart from many in other communities. All farmers sell only what they grow. This commitment to quality, integrity and provenance allows shoppers to get real answers about how something was grown as well as how you may want to use it in your own home.
They like to say that every day at the North Market is a special day but it would be true that some days of the year are extra special. Those are when festivals, activities and classes are offered for the community and visitors. The weekend I was in Columbus, they hosted the Fiery Food Fest. Coming up in April will be the Ohio Coffee Roast Brunch. The Apron Gala, a fundraising event, is held in May. And later in the Ohio Wine Festival will be celebrated with the with the Ohio Craft Brew Festival following in October. You can also discover many special events associate with the holiday season at the end of the year.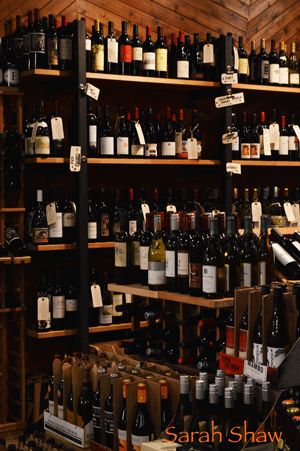 In addition to all the festivals, the North Market also hosts a number of classes at its Academy at NoMa Kitchen. On the second floor, there is a space available to rent for hosting special functions at the market. In addition, local chefs and food vendors from the market offer classes to teach people how to make food from different cuisines. These classes have been so popular in the past that they are being significantly expanded for 2014.
I had so much fun during my visit to the North Market that I spent all my time till they were closing walking around meeting people and taking pictures to share with you. In the final minutes, I hustled around to purchase food for my dinner and a few others items I wanted to enjoy later. Choosing my dinner was so hard as I wanted to eat something from nearly every stall. In the end, I chose Flavors of India where I selected a variety of curry dishes, a couple samosa and some naan. As the market was shutting down, I had them pack it to go and enjoyed it back in my hotel room. I was impressed with the level of spicing they chose to use as many Indian restaurants in the U.S. really keep most of their dishes pretty mild. These curries packed some heat. And the samosas were delicious with the tamarind chutney I also picked up.
Before I left, I also stopped by Brezel for a cinnamon sugar pretzel. Brezel offers a variety of giant, fresh pretzels in many flavor combinations. You might choose a sweet pretzel like I did. They also have many savory blends that looked really amazing. If I didn't have so many meals planned throughout my time in Ohio,  I would have gone back to try more. Be sure to pick up one of their dipping sauces to take you pretzel to the next level.
I also rushed to Pistacia Vera where I purchased a box of their macaroons containing one of each of the 12 flavors they offer. My box included pistachio, vanilla bean, lemon, matcha yuzu, strawberry lillet, passion fruit, blackberry violet, coconut creme, mocha hazelnut, chocolate chambord, cashew brown butter and lastly caramel pecan. How could I go wrong?! One of my favorite things about the winter holiday season is that I can easily find one of my favorite confections, toronne. Pistacia Vera offered a pack of two of slim bars of their Montelimar Nougat which included pistachios, cherries, almonds and apricots. Lastly, the orange brioche looked so delicious, I had to bring them back with me, too. Just in case I needed a snack! You may also choose to visit Pistacia Vera in the German Village neighborhood which I will share information on in a future post.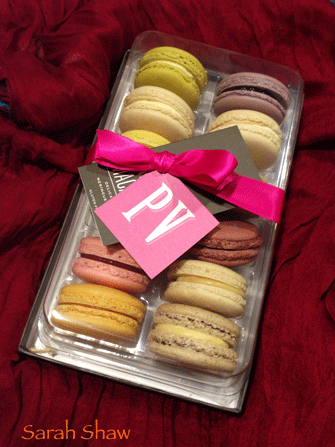 The North Market offers convenient hours which makes it easy to find time in your day exploring Columbus. Tuesday through Friday they are open from 9:00 am – 7:00 pm. On Saturday they open at 8:00 am and on Sunday at noon. Both weekend days see the market close by 5:00 pm. On Monday, some vendors do choose to open from 9:00 am – 5:00 pm. If you want all options available to you, you should visit any day but Monday. There is a large parking lot directly in front of the North market that contains 135 monitored parking spots. You could also choose a large parking garage on Vine Street directly across from the market so visiting is easy.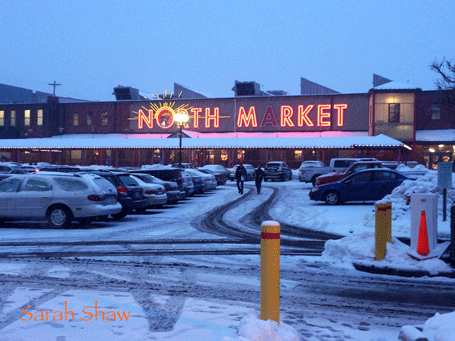 I am really grateful that I had Experience Columbus to help plan my first visit to Columbus and then later the Hocking Hills area. They put together a wonderful itinerary of activities and restaurants for me to really get a sampling of local arts, designers and chefs. And although they were able to provide lodging and many of my meals for me to enjoy, everything I share with you is my own independent opinion. I encourage you to check out the Experience Columbus website and take advantage of all the information they have available to plan your visit. I thoroughly enjoyed my time in Columbus and at the North Market. Now I know how much there is to do, shop and eat there, I will definitely be returning again and again. I'm excited to share everything I discovered with you in the coming weeks.
If you would like to see more images from the North Market as well as other places I visited while in Columbus, please visit the WanderShopper Facebook page and enjoy the Columbus Voyeur album. Be sure to "like" WanderShopper while you are there so you receive notice of other WanderShopper posts and Facebook only content. If you were to visit the North Market, what would be the first thing you would do? Shop, eat or just explore?
Until we shop again,
Sarah