Stepping into Anakha one sticky, hot afternoon was like entering a time portal and reemerging on the set of Indochine. I had spent my day touring many of Luang Prabang's temples and monasteries and even though I had already been acclimating my body to the heat and humidity through weeks in Myanmar, this day in Laos was testing my resolve. I had been staying at Ock Pop Tok's villa outside of town, borrowing one of their bikes and peddling in for a day of sightseeing and shopping. As I struggled uphill from the river, Anakha and The Blue House emerged before me. Built during the 1920's, the French Colonial villa was immediately appealing and calling to me. As I peered in through one of the banks of windows, my breath was sucked away. I was completely enchanted before I had even set foot in the door.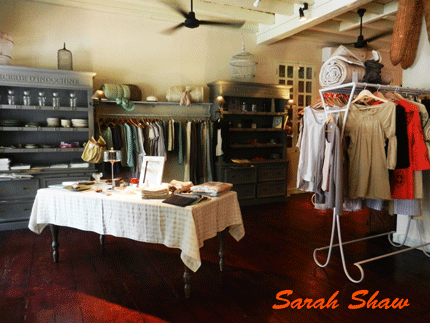 Anakha's founder, Veronique Cottereau-Pravin, began to have glimpses of the dream as early as 1994. That year she left her native France for Vietnam, bringing with her years of experience as an international business attorney. When she returned to France in 2000, she created her own luxury boutique in Paris, Cote Indochine. Cottereau-Pravin sourced treasures from Laos, Cambodia and Myanmar as well as designing custom pieces she had produced in Vietnam. She continued to feel the pull of Southeast Asia and returned to Hanoi 8 years later to establish Anakha. While in Luang Prabang, she discovered The Blue House and knew she had found her location.
Covered in goosebumps, I entered Anakha that day and fell in love with what Cottereau-Pravin had created. I was immediately enveloped in the mood of the space. Smartly decorated with clean white walls, polished wide-planked wood floors and French Colonial details. You could picture sitting down with the Malraux's  and sharing the days discoveries over cocktails. The ceiling fans whirred quietly away, circulating the air conditioning while creating a gentle breeze throughout the space. What was so genius was the light wind picked up the silk dresses, kaftans and scarves and caused them to dance on their hangers. Standing in Anakha, I felt like if only I could put on one of those dresses, I could breeze comfortably through Luang Prabang for the rest of the day. They made you believe you could be comfortable, cool and oh how I desperately wanted one.
Cottereau-Pravin has anticipated what Western women would want, what they would crave, and she delivers it beautifully. Racks of silk, cotton and linen clothing float out to greet you as you walk by. Muted, restrained colors from all natural dyes which are punctuated with pops of color reminding you of the tropical flowers you've admire in the gardens. Everything is cut to drape and flatter your body. Sarongs, pajamas, robes and slippers all of your desires are being tastefully filled leaving you wishing for nothing.
Anakha is more than a chic clothing boutique though. You can also bring the dream back with you to your home. Create your own haven, your own Indochine. A custom line of home fragrances delight your senses. Carefully blended essential oils remind you of your time in Laos. I brought back two I found irresistible. Named after its host city, Luang Prabang includes cardamom, basil, verbena, citron, benjoin, gurjum and poivre sauvage. Its an interesting mix of sweet and dark you might come across as you enter an out of the way temple where scent from the offerings of flowers and incense have hung in the air for hundreds of years. I also selected Reves (Dreams) being aware even then that I was enjoying a special moment in time. Reves blends Spanish labdanum, patchouli, cinnamon, cedar, lavender and holy basil. Mystery lingers in the air as you breath in Reves where something seems familiar but yet you can't quite define it. Both take me back to Anakha each time I open the bottles.
An assortment of linens for the home can be found as you drift through Anakha. In one corner you slowly enter a space set up as a bedroom and you find yourself hesitating as if you were actually entering someone's private sanctuary. The bed is made up with fine sheets, a duvet cover, sumptuous pillows with a throw across the end and a robe atop it as if waiting for someone to emerge from their shower. Silk slips hang to one side and a set of pajamas on the other. You know that if this were your room, it is a place where you could really sleep, really dream. And it could be yours. Just select what you'll bring home.
As much as Anakha offers intimate moments, it also offers what you'll need when you are feeling social. Fine linens to dress your table. Napkins for your guests. Towels for your kitchen. Rugs to pamper your feet. Look around Anakha and you can imagine yourself very happy in this world that's been recreated for you. Cottereau-Pravin's dream that she's willing to share. Sit down and linger in one of the chairs and pretend for a moment that this is your villa.
I explored, took photos to share with you, shopped some more, but mainly I lingered. This oasis I'd discovered, I didn't want to leave. This lovely dream that is Anakha made me want to stay with my eyes closed just a few minutes more before I rejoined the reality of the day. To prolong the dream just a moment longer. In the end my finds were lovingly wrapped and packed with care. When I headed to the door, I brought with me the two vials of essential oils, a pair of espadrilles in my favorite shade of indigo and an irresistible blue on blue sarong in silk. With a sigh, I headed back into the muggy afternoon to find my bike.
Next time you are in Luang Prabang, be sure to visit Anakha. You will discover it on Sakkarine Road in the center of the protected peninsula. You can learn more at Anakha's website. You will also want to stop by Naga Creations as well to pick up some locally inspired jewelry designed by another French Ex-Pat, Fabrice Munio. Then you can round out your shopping excursion by selecting the finest textiles in Laos, at Ock Pop Tok.
Until we shop again,
Sarah