I love wearing my Royal Robbins Torrey Thermal Dress and couldn't wait to tell you all about it. I find dresses really comfortable to wear through all the seasons as they work for so many activities and situations. When I was offered the chance to add the Torrey Thermal Dress to my wardrobe this season, I jumped at the opportunity. And I have really been able to test this one out over the last few weeks I was away from you. I've been recovering from a dead hard drive and have a new laptop that is just bursting with WanderShopper finds to share. I think the Torrey Thermal Dress is one you'll love as much as I do!
Royal Robbins was founded over 25 years ago by husband and wife team Royal and Liz Robbins. They are both active adventurers and travelers. While looking at pictures of their climb of Half Dome in Yosemite (Liz was the first woman to climb the Northwest Face!) they realized that their t-shirts and cut-off jeans didn't look that great. Seeing a need for attractive and durable outdoor clothing, a business was born. Their first creation was the Billy Goat hiking short. Royal Robbins has developed from there to be a full collection of travel clothing for men and women perfect for you to Go Everywhere.
I know first hand how great Royal Robbins clothing is and how it wears well in many situations. On my first trek in Bhutan a few years ago, a Royal Robbins pair of pants were one of three that came with me. The extreme and unusual amount of rain and mud we encountered on the Merak Sakten trek really tested my pants. I slipped and skidded out on slopes. I fell into a mud bog when I slipped off a wet branch bridge and was completely coated in mud. My Royal Robbins pants held up through it all. I was able to wash all the mud and grit off, hang them in my tent and have them dry overnight. I can't imagine putting them through more and they cleaned up well without a single hole or snag day after day.
Although I haven't tested my Torrey Thermal Dress on a hike in Bhutan….yet, I have worn it all over the place. Most recently I put it on to do some Christmas shopping including visiting Hickory Corners at the Lansing City Market where I buy my Christmas tree and wreaths every year. The Torrey Thermal Dress looks great on you while you run errands around town. I have also worn it a couple times into the office for a day at work. I find the shoes or boots I pair with it as well as how I wear my hair and accessorize it allows me to make my Torrey Thermal Dress casual to semi-dressy. While taking pictures at the City Market, I brought along a pair of black boots with a heel and a nice pashmina to wrap around my shoulders. I could easily switch from running errands to attending a concert with a date while only making a couple small accessory changes. You can learn more about the ara Thelma boots pictured in the photo above from my earlier post about them.
I think the Torrey Thermal Dress was designed really smartly. The cut of the dress, as well as the stitching and seaming, are really flattering.  You can see it really well in the photo Royal Robbins provided me of the dress in the Rose Wood color. The contrast tonal stitching intersects around your tummy forming two V's shooting off to each side that define the zippered pockets. Yes, this is a dress with pockets! That's one thing I miss when I wear a dress but with the Torrey Thermal Dress you get two well sized pockets with zippers to secure your valuables.  I need to point out, too, that these pockets don't add bulk at the hip so they really are perfect! The contrast stitching also accents around the hem, crisscrosses again on the arms and bands around up near your shoulders, as well. The dress is cut straight so your body provides the natural curves. I find although it follows your body shape and fits close in the right spots, it was never too tight and fit me just right.
Another nice feature of the Torrey Thermal Dress is that it has a hood. Designed to be the perfect size to completely cover your head when desired, it also lays flat nicely on your back when it is laying down. I live in Michigan where our winters definitely require layers and coats. Sometimes hoods feel bulky and don't fit well under a coat. I did not find that to be true for the Torrey Thermal Dress. I could wear a close fitting coat over the dress and never notice I had a hood tucked under it. No one wants to feel like they have a turtle shell under their coat! I also love the drawstring they choose so you can tighten down your hood when you want it closed around your face. It is a nice ribbon with a bit of velvet shot up the center of the twill string. I appreciate, too, that the drawstring is long enough to be fully functional but not so long that it becomes an additional accessory on your dress.
I can't go a moment longer without telling you about the great color choices you have for the Torrey Thermal Dress. Royal Robbins is offering it in four fantastic colors. I selected Ultra Violet which is a deep plum. I love purples and find this is a great shade for me. The dark color makes it easy for me to dress it up a bit for the office or a night out on the town. With Pantone naming Radiant Orchid as the color of the year for 2014, purple will be right on trend. I also really like the Rose Wood color shown in the picture Royal Robbins shared with me. It's a warm toast or cafe au lait shade of brown that looks so cozy for cold winter days. Some of you will know immediately that Dark Teal is the color for you. It's a rich dark indigo shade that will be just perfect with some of the scarves you already have in your wardrobe. The other choice that is easy to make this season is Thistle Green. It reads to me as a deep olive and would be great for holiday parties and family gatherings with your other holiday accessories. I would love to see it with some pretty tights and some skates out at the ice rink!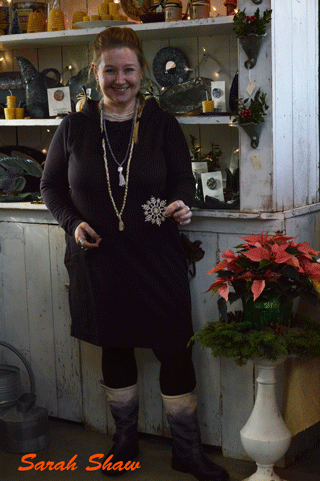 I've mentioned that the material Royal Robbins chose for the Torrey Thermal dress is a waffle knit which feels really nice against the skin. The blend of cotton and polyester (57% and 43% respectively) means you will get the breathability and comfort from the cotton but also the figure flattering drape and recovery from the polyester. This blend also means the dress will dry fast which is perfect for travel whether its home to your family for the holidays, a weekend at the ski lodge or on an adventure to a new destination. I love it when I can rinse my cloths out and have them ready to go again the next day. The other thing you can count on from this fiber blend is that whichever rich color you choose, you can count on it being colorfast and staying beautiful for a long time. The material also provides some extra warmth beyond your average dress which is much appreciated during the winter!
I know when you are shopping for clothing there are many things that attract you to an item including the style, color and price. Another factor important to me is the maker. I knew from my past experience that Royal Robbins clothing wore well during travel. The more I learned about Royal Robbins as a company, the more impressed I became. I love that they are a business who gives back to environmental causes, that practices recycling and cares about sustainability. I also applaud that Royal Robbins has each one of their employees devote some of their time to community service. I loved a few lines from their Brand Essence statement which reads that they are "Built to ignite the passion for all outdoors. From backyard boulders, backcountry trails to a city cafe and from weekend road trips to international travel we create products to celebrate your versatile lifestyle." I think that describes my lifestyle perfectly!
I'm sure you can tell that I am a big fan of Royal Robbins and their Torrey Thermal Dress. I encourage you to check it out and see if it fits into your wardrobe this season. And while you are there, poke around and check out some of their other offerings as I'm sure you will find more than a few you will fall in love with. And with offerings for both Men and Women, maybe you can find that last gift you need to finish your holiday shopping!
Until we shop again,
Sarah
I wish to thank Hickory Corners at the Lansing City Market for allowing me to use their space for my photo shoot for this post. You can learn more about Hickory Corners from my post on Small Business Saturday last year.
Although Royal Robbins provided the Torrey Thermal Dress to me for this review, the statements and opinions I offer are all my own.