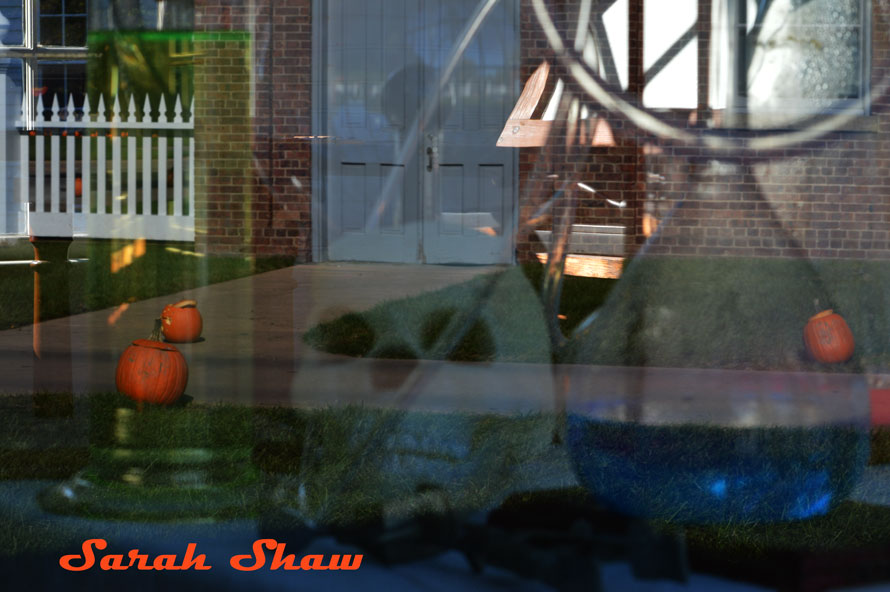 Fall is a wonderful time to visit Greenfield Village and get inspirations for Halloween decorations to use around your home. Greenfield Village is an 80 acre living museum created by Henry Ford outside of Detroit in Dearborn, Michigan. Ford moved historic structures from around the country to the property where today visitors can explore 300 years of history along with staff dressed in period clothing. Greenfield Village really knows how to celebrate holidays and there is plenty of inspiration for everyone. Join me for a look at some of the Halloween decorations the staff at Greenfield Village dreamed up for this year.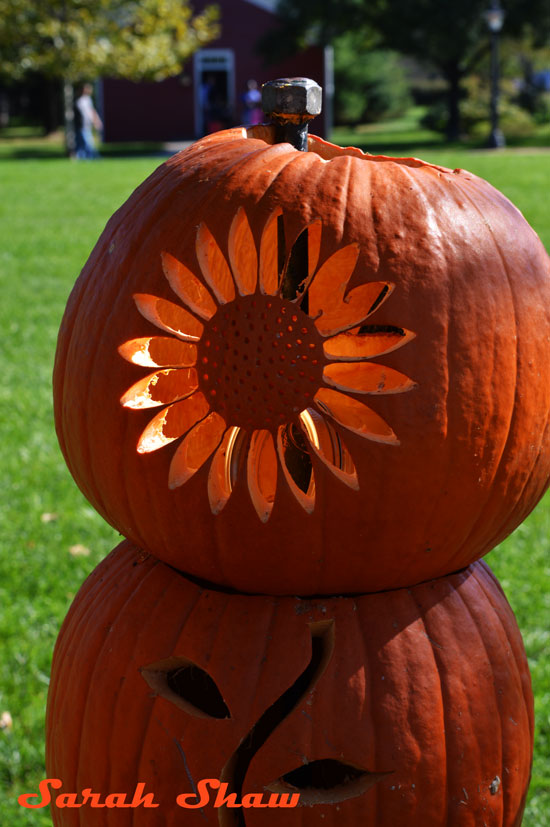 For the three weekend heading into Halloween, Greenfield Village holds special celebrations in the evening and this exclusive event is open only to ticket holders. On Friday, Saturday and Sunday evenings, guests enjoy a variety of activities and sights during Hallowe'en at Greenfield Village. Leading up to each Friday, the staff carve 1,ooo pumpkins to line the streets, walkways and to be used in displays throughout the Village. The sheer mass of pumpkins everywhere is really amazing. And each Monday, the used pumpkins are collected and taken to the compost pile to help nourish next year's crops on this working farm. And the carving begins again by the staff.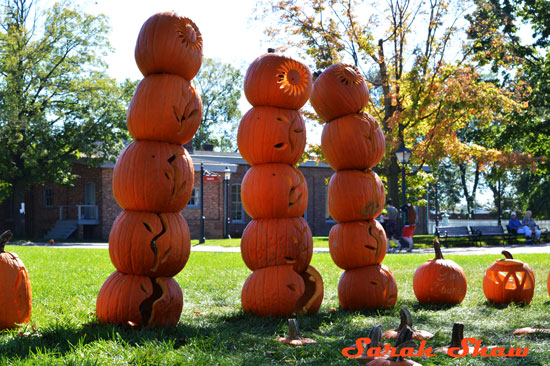 One of my favorite stops was a cluster of pumpkins that included a grouping of three towers. Five carved pumpkins had been stacked on top of each other. A metal stack had been driven through the center to give the tower some stability, especially with all the little children who would be drawn to the sight. The top pumpkin was a carved sunflower. The lower pumpkins had been carved with a series of stems and leaves that supported the blossom. I really loved the look and this would be really easy to reproduce at home. You don't have to do flowers either. You could carve ghostly images, witches or other spooky characters.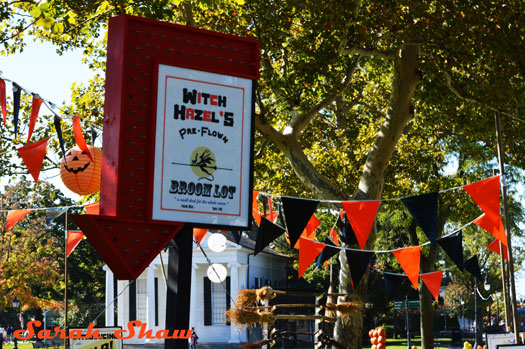 Just up the street from the pumpkin towers, were more favorite Halloween decorations. There I discovered Witch Hazel's Pre-flown Broom Lot. Some had gathered a bunch of gnarly long sticks and tied clumps of straw to one end to create witches brooms. They fashioned a stand to display the "used" brooms. Lights, garlands and paper pumpkin globes were strung above. Signs were created to entice buyers. For a little bit of effort and a lot of cleverness, the staff had created a fun place for kids to explore and have their photos taken for some great memories. This would be easy to create to one side of your yard and invite trick-or-treaters to visit your lot.
Another fun stop that was easy to create was a Haunted Forest. A small grouping of trees allowed the staff to create another popular set of Halloween decorations. Up in the trees, they strung spider webbing between the branches. They then attached spiders of varying sizes throughout the webs. Some of the spiders had eyes that lit up so they would really make an impression at dusk as little goblins walked through the path. At one end of the forest a spooky looking scarecrow had been erected. Standing taller than usual, he was draped with tattered burlap and other fabrics, surrounded by corn stocks and and had a menacing expression on his face. This forest adds just the right level of fright for children who sometimes are more sensitive to the scary aspects of the celebrations. They can get in the spirit of the holiday and still be able to sleep that night.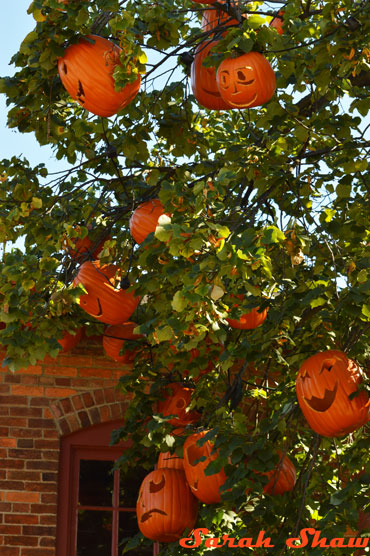 In the Liberty Craftworks district in Greenfield Village is an enormous pumpkin tree. This is set of another Halloween decorations that you could create to your own scale in your yard. The staff took light weight artificial pumpkins and carved them into jack o'lanterns. These were then tied into the branches of the tree en masse. There is easily 100 or more pumpkins loaded into the tree. Maybe you have a tree in your hard that could be decorated with pumpkins. Or even take the small gourds that look like miniature pumpkins and tie them into a tree or shrub near your door.
Another idea I discovered will visiting Liberty Craftworks was discovered in a window. A three dimensional garland of white skeletons was strung across the window. This would be so easy to do. Remember making paper doll garlands as a child? Using that same idea, buy some tissue paper, fold it a number of times and cut out your desired shape. It could be a skeleton like in this window or you could choose witches, ghosts or jack o'lanterns. You are only limited by your imagination. Just makes sure to leave a part of your design uncut so the images stay attached into a string.
You have many more options for Halloween decorations from simple craft activities. This one you could easily involve your children in helping to make. I noticed in the upper window in the old mill in Liberty Craftworks that someone had cut the silhouette of a cat and hung it in the window. This could be easily done with construction paper or poster board. You don't have to do a black cat either. Again, any of your favorite Halloween images could be reproduced into a simple outline and then cutout. To make the image really pop, they first covered the window with a plain white sheet and then attached the black cat to the frame of the window. The sheet prevents viewing of anything else but the Halloween image so that it really stands out with a light or candle behind it at night.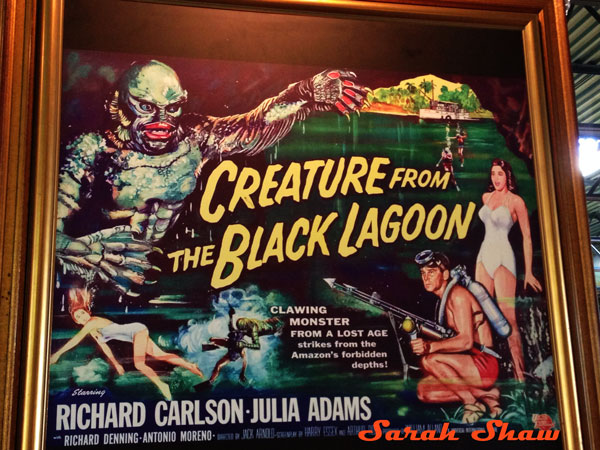 As Greenfield Village is a chance to experience living history and technology advances, it makes sense that with some of their Halloween decorations they would honor vintage horror movies. Outside of A Taste of History Restaurant, they have hung large reproductions of old scary movie posters. With a little bit of searching on the internet, you should be able to track down some copies of your favorite old horror movies. They would be a fun touch to your Halloween party and an easy way to add to your decor. At Greenfield Village, the posters included Dracula, Creature from the Black Lagoon and Frankenstein. What is your favorite vintage horror film?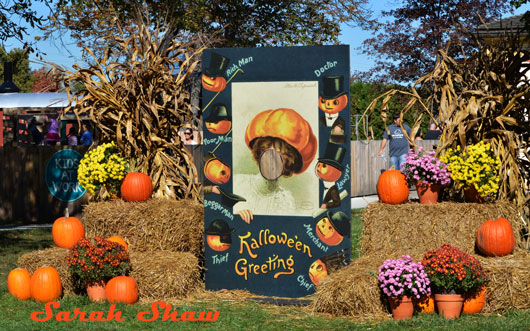 One last quick idea I will leave you with as you finish your Halloween decorations this weekend, is to create a fun area for taking pictures. Maybe you'll be hosting a party this year for kids or for your friends. Or maybe you just get a lot of children in really fun and original costumes in your neighborhood each year and would like to take photos of your favorites. Creating a place of people to pose for pictures encourages everyone to capture the memories. Channel your senior prom and remember how to set up a backdrop. In Greenfield Village, this means pulling together some bales of hay, gathering some pumpkins and mums. All of these things should be cheap and easy to find by now. They also aren't just tied to Halloween and you can use them all the way through Thanksgiving to create interest in your yard. If you are an overachiever, create a large vintage postcard with a cutout to really have some fun come photo time.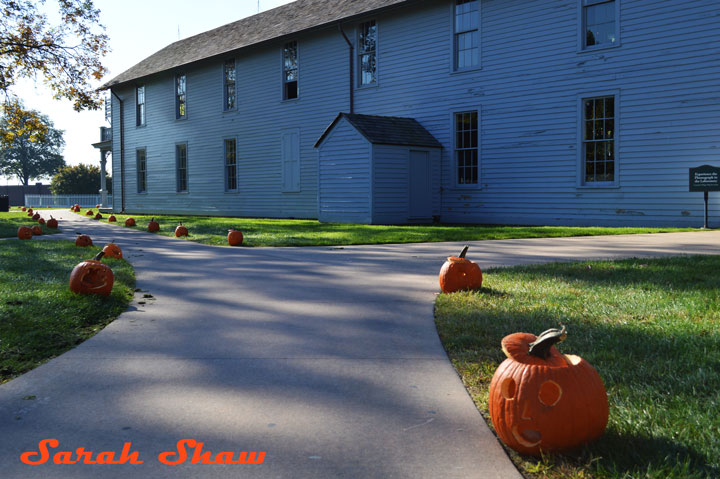 Greenfield Village offers so many ideas for Halloween decorations and there were way more than I could include in this post. To see more, visit WanderShopper's Facebook page and check out the Halloween Decor photo album. I will have more pictures from my visit to share with you there. In addition, pictures from my posts about heirloom pumpkins and global pumpkin carving inspirations can also be found there. And those of you looking forward to my last two designs, don't despair. WanderShopper is celebrating Halloween all weekend and will be sharing my final two design ideas with plenty of time for you to carve your own. Click on the link to see my most recent design which honored Hmong batik patterns.
Halloween is such a fun holiday that everyone can enjoy so I'm sure you will be busy this weekend finishing your costumes and decorations. If you are in the area, check out Greenfield Village during the day or if you are lucky grab a ticket to Hallowe'en. It's a beautiful time of year to enjoy walking through history at Greenfield Village. I would really love to hear about your favorite Halloween decorations and traditions. Leave me a note below and share with all us WanderShopper what makes Halloween special for you.
Until we shop again,
Sarah