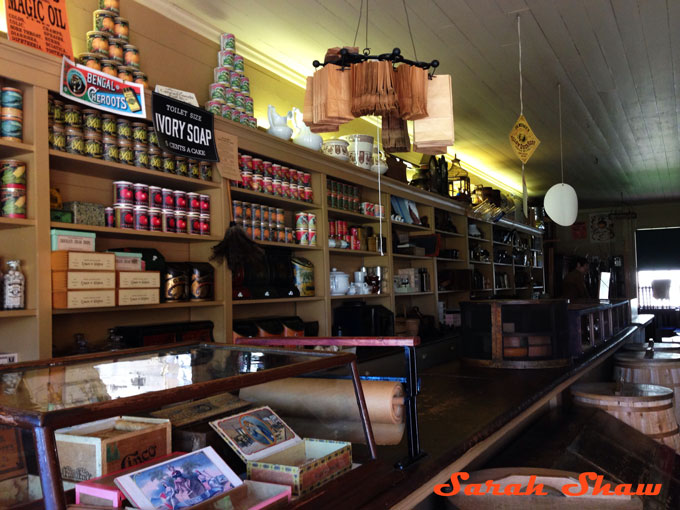 Over the weekend, I visited a general store and traveled back in time to the 1880's. I was at The Henry Ford's Greenfield Village. Just outside of Detroit, in Dearborn, Michigan, Greenfield Village allows you to experience 300 years of American history while strolling its 80-acre grounds. Over the coming weeks, I'll be sharing a number of the sights and experiences popular with visitors but today I thought we would start with the J.R. Jones General Store and take a look at what WanderShopping would have been like in the 19th century.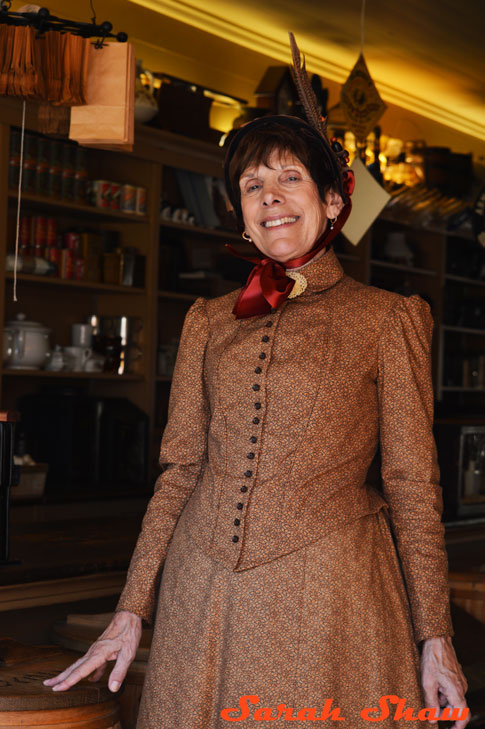 The J.R. Jones General Store is just one of 83 authentic and historic structures housed at Greenfield Village. Other popular attractions include the home Noah Webster wrote the first American dictionary in, the courthouse where Abraham Lincoln first practiced law, Thomas Edison's Menlo Park laboratory and the Wright Brother's bicycle shop. When you visit Greenfield Village, you walk back into time, are able to enter and explore the buildings as well as talk with the authentically dressed docents who share a wealth of historical information.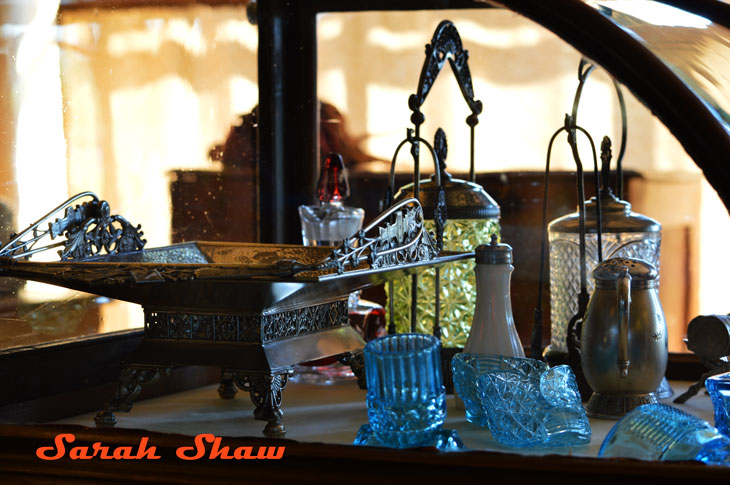 Originally, the J.R. Jones General Store was located in Waterford, Michigan which was a popular lakeside resort community where Lansing and Detroit's well-to-do families liked to come to get away for a vacation. The store was built in 1856 and had several owners before it was scooped up by Henry Ford and moved to Greenfield Village in 1927.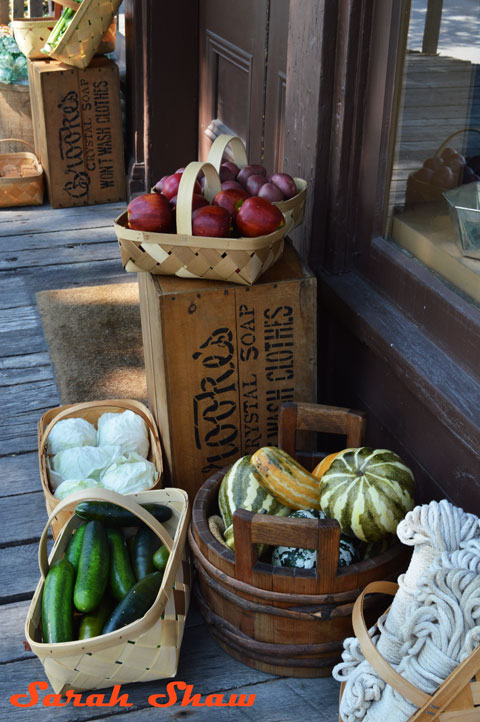 General stores were the original Targets and Walmarts for their communities. All the items families may need were housed in one location. A trip to the store was a special outing and it functioned as a social gathering place. Members of the community distanced from each other in the rural setting could connect and share the latest news and gossip while picking up goods needed for the household or farm. The post office was also housed in the store which provided another reason to visit as you picked up your mail and dropped off letters to be posted. The General Store also had the only telephone in the area so anyone needing to make or receive a call would stop by to borrow the phone.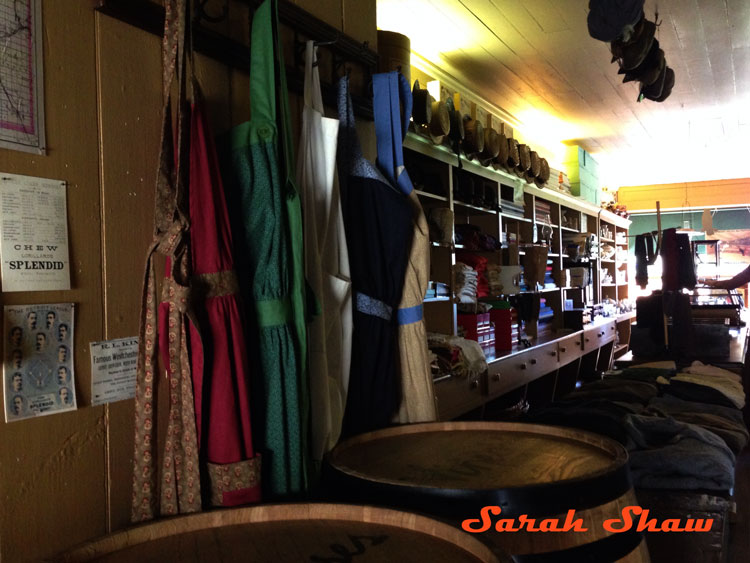 The J.R. Jones General Store offered additional attractions to the locals and vacationers as well. The second floor of the store had a roller skating rink for a time period. The space was also used as a theatre. The Jones Family also called the space home and lived above their store for a while.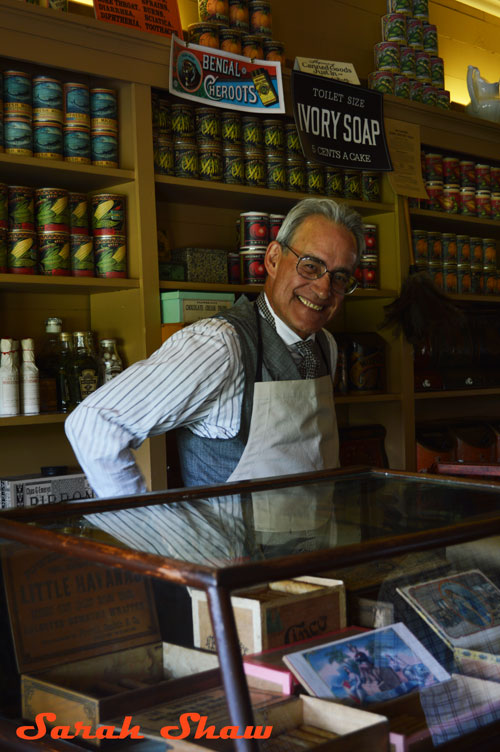 Baseball became a favorite American pastime to watch and to play in the 1800's. Waterford was no exception in its fascination with the sport and the General Store sponsored its own team called the Lah-de-Dahs. During the summer, you can still watch the Lah-de-Dahs play on Saturdays and Sundays on the green outside the store at Greenfield Village as a team is put together and has a game.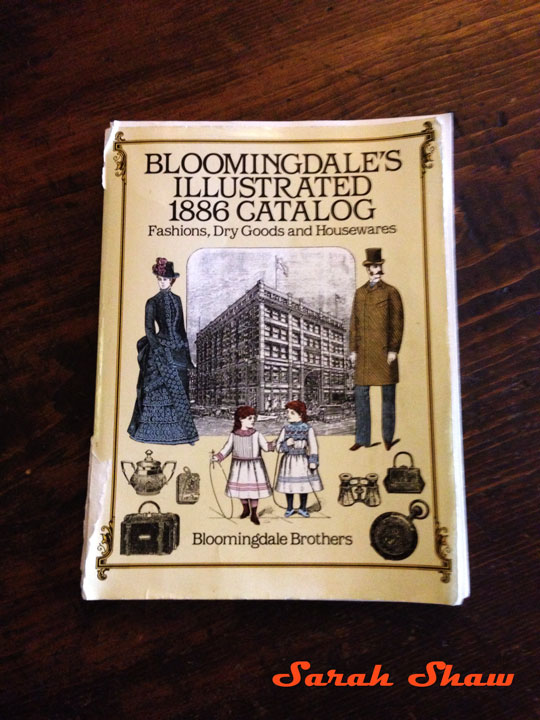 The staff at Greenfield Village pays particular attention to the accuracy of the time period they are representing. The General Store has been fully restored and stocked as it would have appeared during the 1880's. A nearby railroad stop provided merchants with the latest goods a family may require. Seeds for any crop could be obtained there as well as the latest Bloomingdale's catalog so ladies could appear in the newest fashions.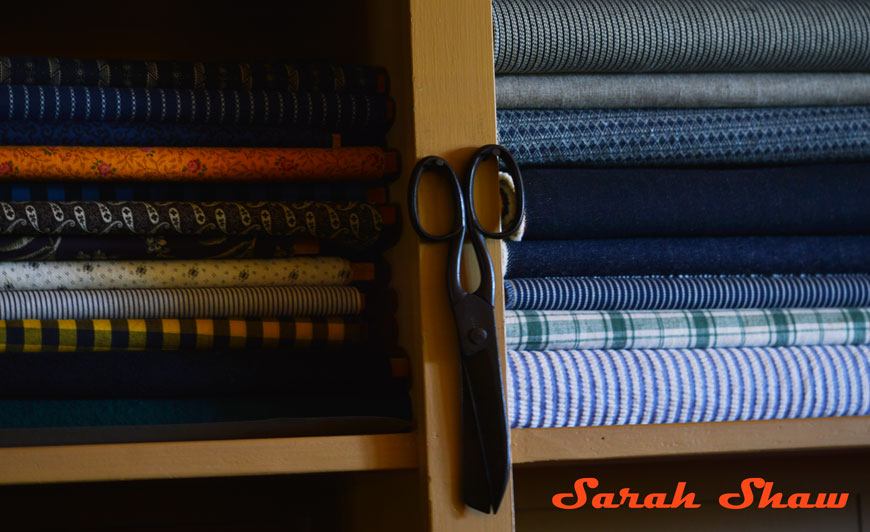 The General Store stocked a number of options in ready made clothes. There was a small selection of shirts and blouses available as well as some undergarments. Shoes and boots were also there for purchase. A selection of straw hats were also on hand. What was even more likely is that you would come to the store to purchase your fabric, laces and trims, buttons, thread, needles and scissors and take those items home to create the wardrobe for your family. You may have a set of clothes for everyday wear and then a special set you wore on Sundays to church that was your going to town clothes.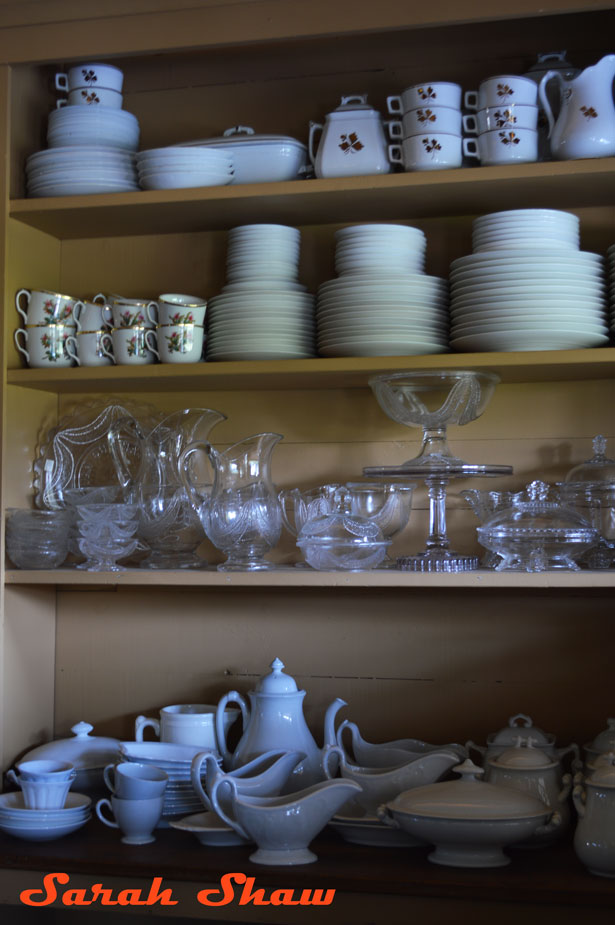 Another popular purchase from the General Store were items for your table. Hosting a dinner with the preacher and his wife? You may need a new pitcher or gravy boat to serve during your meal. A quick trip to the General Store could replace broken items or fill sudden needs. Families might collect a set of dishes and serving items over time as they had the money to purchase what they were assembling. A few different patterns were offered in both a china as well as glass items. Several colorful cruet sets are on display, too, and add a touch of class to the offerings.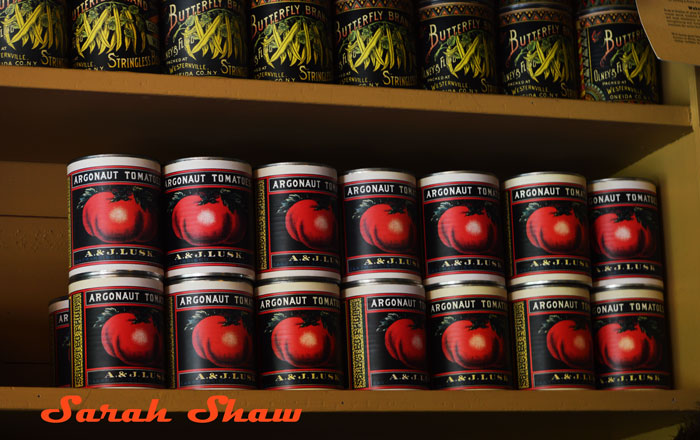 And while we are on the subject of meals, canned food was just becoming readily available. Up till this point, families grew all of the produce it needed and ate it only as it was available in season. With advances in canning and preserving of food, it became possible to enjoy vegetables throughout the year. Eating canned food was seen as a status symbol in the 19th century as only middle and upper class families could afford to buy these items.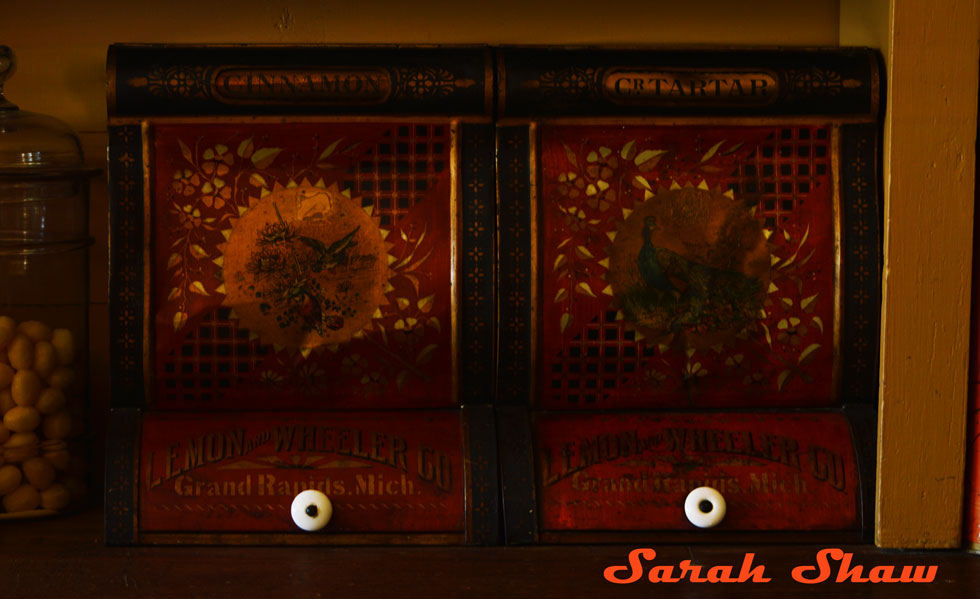 In addition to canned goods, other edibles were popular at the General Store. Jars of penny candies tempted children and adults alike. Crocks and barrels of pickled goods were sought. Additionally, supplies for the home cook were becoming more accessible. A variety of spices from around the world, like cinnamon, could add a new dimension to baked goods and meats. Yeast and sodium bicarbonate created lift in breads and biscuits.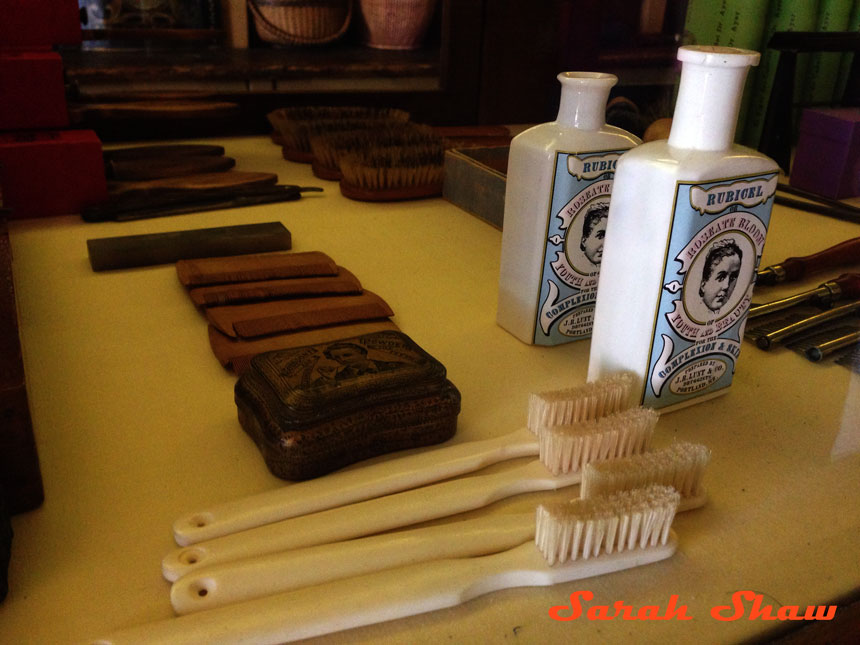 Shoppers at the General Store may be looking for personal care items. This was where you could buy a new razor, toothbrush for the family, soap, or crimping and curling irons. Anything produced for the masses, and not homemade, could be found at the General Store. Making these items readily available vastly improved hygiene around the house.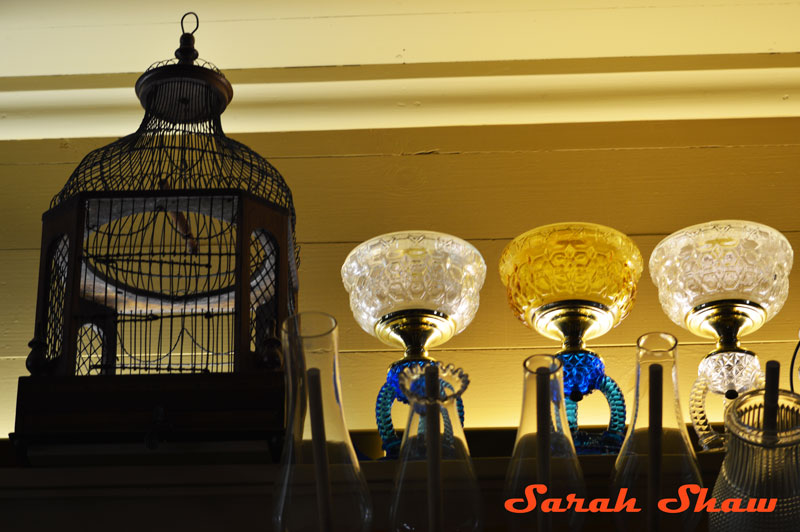 A number of household goods were available at the General Store for shoppers. You may be in the market for a new broom or some soap for housecleaning. As none of the of the homes had electricity installed, people still relied on kerosene lamps to eat and work by in the evenings. A variety of lamps bases and shades were stocked at the store so you could find the size you required.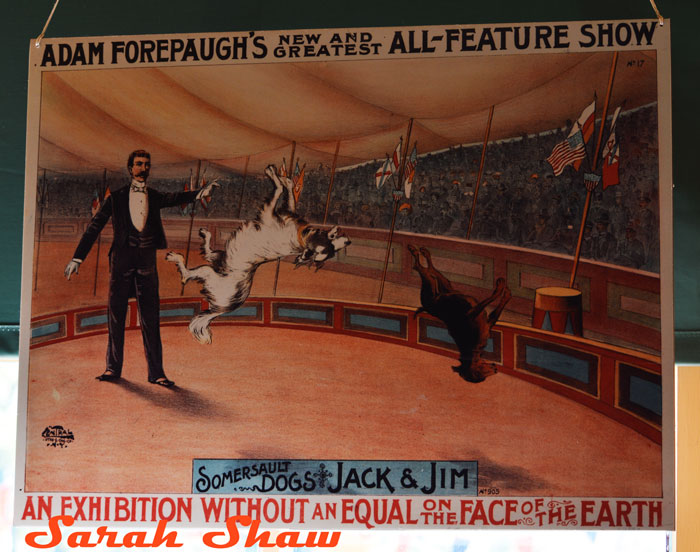 As all the community stopped by the General Store for all their needs and mail, it was also the place for postings. Need some extra help on your farm? Post a job opening there. Have a special event coming up? Place a notice here. In fact, coming in to town soon was a happening everyone was sure to catch. Adam Forepaugh would be bringing his new and greatest All-Feature Show including the Somersault Dogs Jack and Jim. Now who would miss that?! Some of the early advertising and branding can be seen on display at the General Store.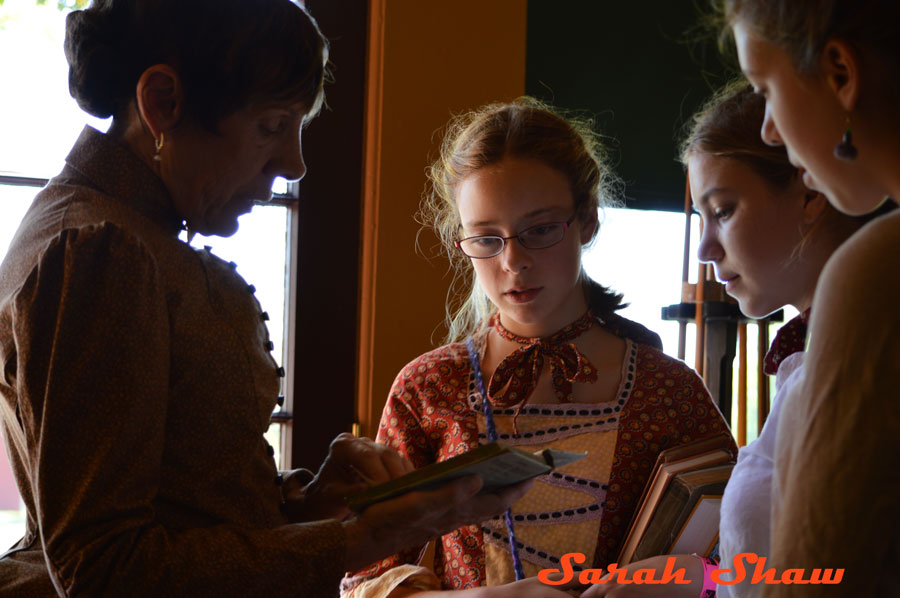 While I was visiting the store and chatting with Shirley, a long time Shopkeeper there, we were both delighted to see three teen ladies in period dress walk into the store. They were visiting from the west side of Michigan and decided to wear clothes they had made to further enjoy their time at Greenfield Village. I had a lot of fun watching as they shared the items they had brought with them, including antique classroom books, with Shirley. She in turn showed them a catalog and they talked about fashion of the period. She shared with them some details they could consider adding to their clothes to make them even more authentic. I appreciated, Olivia, Emma and Olivia (two sisters and their friend) allowing me to take pictures of them as they explored the General Store. Seeing them at the counter made me feel like we had traveled back to 1880 and I was seeing school girls stopping by on their way home.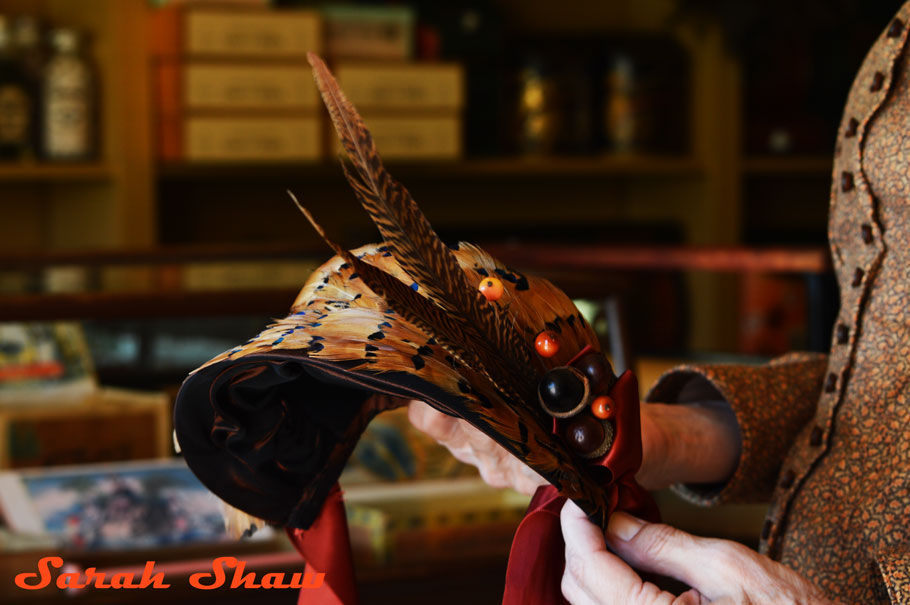 While we are on the subject of period dress, it's important to recognize how hard the wardrobe team for Greenfield Village works at creating authentic clothing for their staff members to wear. Shirley was pleased to show me the new dress she had just received. It was typical of what a woman would wear every day during the time period. She also has a set of clothes for going to town when dressier attire is the norm. We admired together the careful placement of the feathers on the new fall hat created to go with her dress. All staff members receive period clothing appropriate for the location they work in to wear as a uniform of sorts. It certainly does help to achieve the impression of having stepped back in time.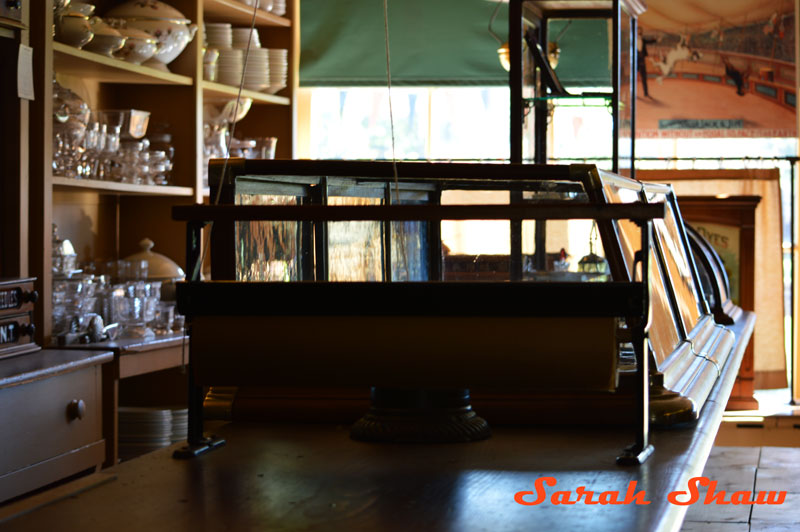 The J.R. Jones General Store has hundreds of authentic products and merchandise for sale as it was in the 1880's. There are far too many period inspired photos to share with you in this post. If you would like to see more, please visit the WanderShopper fanpage on Facebook where you can view the General Store photo album. Be sure to "like" WanderShopper while you are there so you can be notified of future posts. My next one will be on Halloween decorating inspirations from Greenfield Village and their special celebrations going on there for the holiday.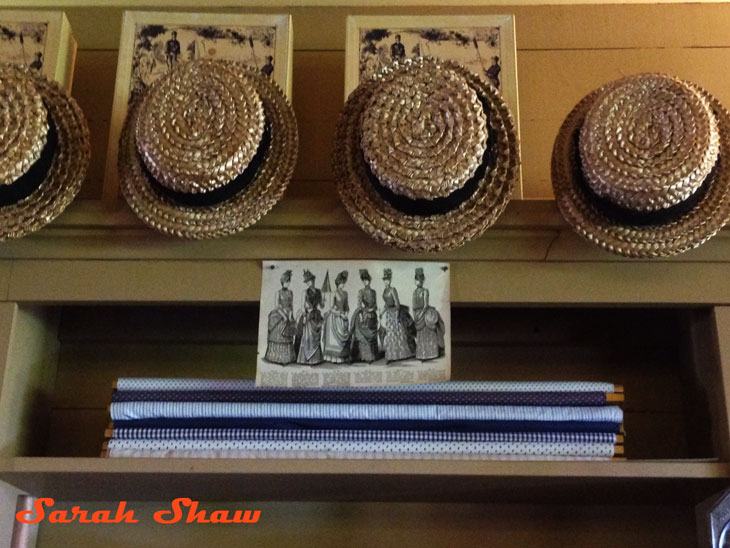 One of the trends I am really thrilled with is that General Stores are returning to popularity around the country as part of a movement of people looking to slow down and enjoy a simpler lifestyle. Do you have a General Store near you where you like to shop? What is their name and where can we find them? If you were going to shop in a 1880's General Store, what item would you look for first?
Until we shop again,
Sarah