This second week in October, I'm starting to see more heirloom pumpkins and some jack o lanterns appearing everywhere. As I mentioned last week, this is my first October home in a few years and I am intending to make the most of it. Halloween is such a fun holiday and their are so many options for decorating and observing traditions. One of mine is to head to the farmers market and pick up a great selection of heirloom pumpkins. I also like to carve up some interesting jack o lanterns and decided this year to use global design motifs as my inspiration. Each Friday in October, I will be sharing a few new heirloom pumpkins as well as a knew design for a global jack o lantern. I hope my Halloween posts will inspire you to try something new in your celebrations.
Like many of you, I am lucky to have some great farmers markets to visit. Lately I've been going to the Meridan Farmers Market on Saturdays. The vendors always have gorgeous displays of produce, home goods, flowers and even food to eat right away. You can really make a morning of it when you visit a good farmers market. For my heirloom pumpkins, I've admired them in several booths but chose to buy mine from Mac's Market. They've been growing produce on their farm for over 150 years.  Not only do they have a fantastic selection but owner Sue McMaster has been a tremendous help in giving me information on all the heirlooms. Be sure to ask questions where you shop as your vendors can be a source for a wealth of information about the varieties and how to use them.
Heirloom pumpkins are a great choice for your holiday decorating as they come in so many shapes, sizes, colors and textures. I love your basic orange jack o lanterns. But as you can see in my pictures, there are so many more options that you can add in to your fall decorating scheme. Be sure to check out my first post last week as it covers five different pumpkin and squash options. There are so many choices that we have some new stars to admire this week. In fact I keep adding more! When I went back to the market last weekend, Sue had made sure to bring other heirlooms that I didn't have yet!
We will start with another pumpkin tower. The sturdy base is a Fairytale Pumpkin. Beginning a deep green, it develops over time into a deep mahogany brown color as you can see happening on some of its ribs. This is a substantial pumpkin than can be eaten in pies and other goodies and it is favored for its deep orange flesh color. If you love a pumpkin that will give you different look, Fairytale is for you. Plus it's name hints at its possibilities to eventually be a coach, just in case.
The next pumpkin up the tower is Cinderella again. You may remember it from last week when we discovered it was a favorite French heirloom also known as Rouge vif D'Etampes. This solid fleshy pumpkin is ready for display, pie or last minute transportation needs. The big orange pumpkin just to the right of the tower is also a Cinderella.
Let me introduce you to Marina Di Chioggia. She would be the green bumpy lady up the tower from Cinderella. Marina Di Chioggia comes to us from Italy. She is often described as blistery and bubbly and she definitely captures attention with that texture and her slate blue green color. Grown at the seaside on the coast of Italy, Marina Di Chioggia is a favorite for stuffing gnocchi and ravioli. Marina Di Chioggia delivers options for decorating and eating.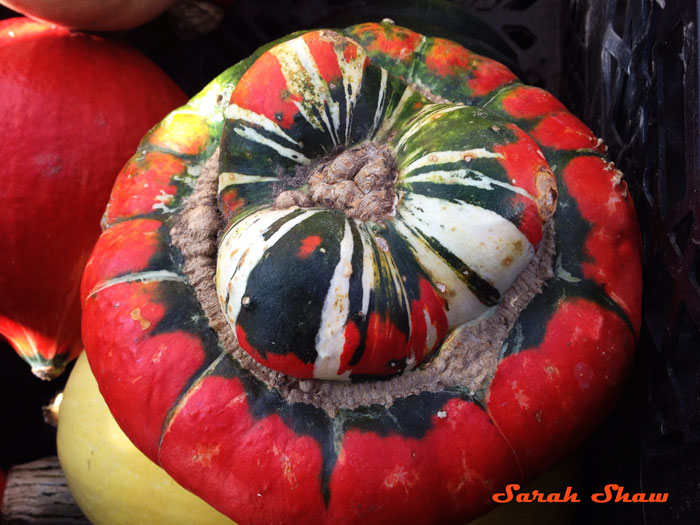 Last week when I stopped by Mac's Market, Sue had brought some additional beauties for me. I grabbed up a couple Turks Turban Squash. These squash give you the best of both worlds. They have showy ornamental color and shape while at the same time being truly delicious to eat. Their shape is similar to a large Buttercup Squash. They can be all orange or a combination of greens, whites and oranges. Tending to be on the moist side, they are a perfect choice for a good soup.
My carving pumpkin this week is Apollo. He was my featured choice last week as well. Apollo is good selection for carving as it has substantial flesh but is not too hard or thick to get through. You want a pumpkin that can hold a shape and take deep crevices to reveal its inner glow. Apollo also is a perfect size as it is large enough to have a presence but not so big as to be hard to maneuver while you are carving it. Above is my design last week inspired by mud cloth from Africa. To see more details, as well as to learn about last week's featured heirlooms, click here.
I know you have been excited to see where in the world my design inspiration would take my jack o lantern this week. Today we are headed to Laos to visit the Hmong. For hundred of years, Hmong women have been weaving fabric for their families clothes and decorating it with batik designs. By applying beeswax in a series of lines, the Hmong create detailed patterns that provide a resist to the indigo dye they use to color their fabric. After weeks of dyeing and sun drying, the wax is boiled off revealing a design in the original color of the fabric. From there, it may be further embellished with embroidery, ribbons, beads and other ornamentation. The popular Hmong skirts are given hundreds of small fine accordion pleats. Today, vintage and new Hmong batik fabric is a popular choice for clothing and interior design around the world.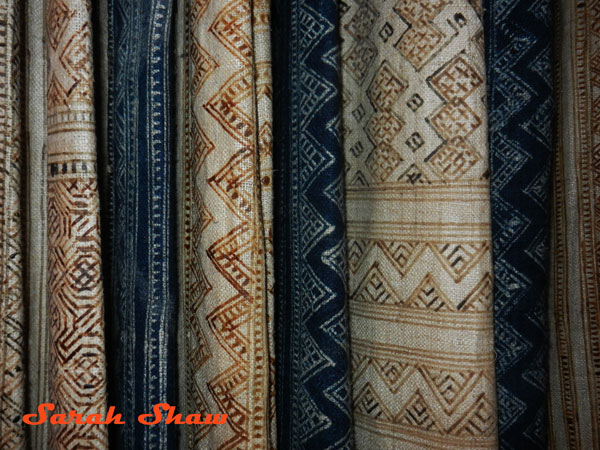 I visited Luang Prabang, Laos last year and stayed at Ock Pop Tok's Living Crafts Centre where they have a lovely villa. My room was decorated in a Hmong motif which honored their traditions through textiles as well as painting batik designs on the door and walls. Not only can you observe artists weaving and creating batik at the Living Crafts Centre but you can also take classes where you can learn these traditions. I have written about my day learning how to create a batik cloth which you may enjoy reading. I will also be writing posts about my class on natural dyeing as well as silk weaving. My admiration for Hmong culture and arts tradition was an obvious source of inspiration to translate into a jack o lantern design.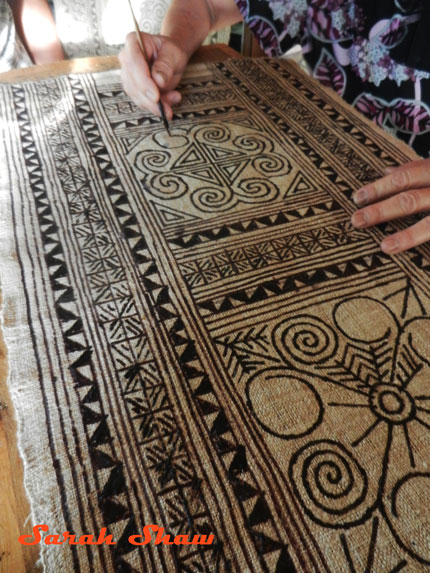 To prepare for carving my Hmong batik jack o lantern, I gathered together a number of different examples to use as resources. I printed a few pictures from my batik technique class. I also had a book I found online, H'mong Batik: A Textile Technique from Laos which has a wealth of designs to inspire, as well as lots of information on the history and significance of different designs. Over the years, I have collected a number of rolls of batik fabric. I also have piles of pillows I've purchased made from vintage fabrics. A few months ago, I found a vintage shirt created from Indigo batik that had some lovely patterns on it. Studying the different designs for a while, gave me the confidence to begin.
This week I switched to some new tools too. I had stopped by a local paint store that has a great art supply section. I found a cheap set of wood carving tools that I thought would be perfect for my jack o lantern designs.  Here is a similar set I found on Amazon (SE 7712WC 8-Inch 12-Piece Professional Wood Carving Chils
) that you can pick up for just under $14. If you remember, last week I had mainly used loop tools used by potters on clay. Those worked fine for a larger design like the mud cloth jack o lantern I created.. I knew that some of my upcoming designs would require some finer lines so I had been trying to find something that would make that easier. The wood carving tools did the trick. The have metal nibs with chiseled fine, sharp edges. Some have straight blades, others come in a curved "u" or pointed "v" shape. These were great for creating the initial design incisions. I then used other tools to go deeper into the thick Apollo flesh so that the candle glow could be seen from inside.
I began by laying out my top and bottom horizontal lines for the design all the way around the pumpkin. This was how I was taught to begin when I did my Hmong batik class. I next laid out some vertical lines to create the boxes where patterns would be featured. I also created slimmer rectangular vertical boxes for accent patterns. One of my main challenges was translating a detailed batik design into a simpler pattern that could be carved deep into a pumpkin. I also encourage you to begin on something easy as you learn to use your tools rather than starting on your most ambitious design. There is a learning curve and I keep forgetting that!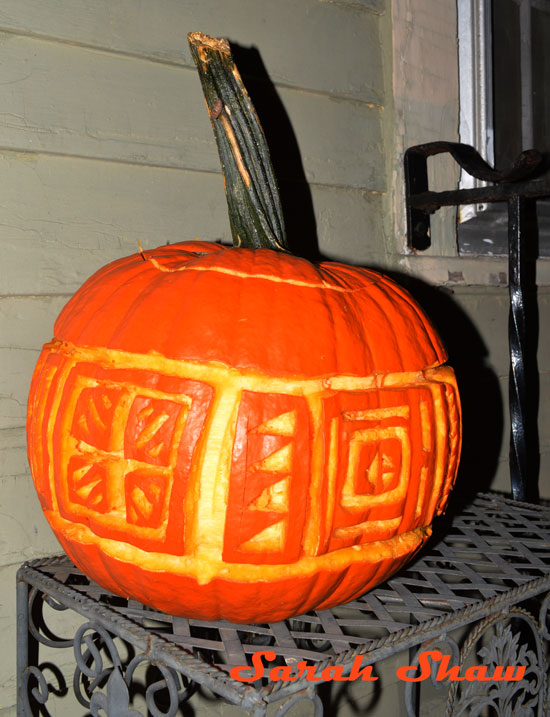 I worked my way around the different zones carving each batik design carefully into each box. This is how a Hmong woman would create her design in beeswax on a piece of hemp cloth. Over the centuries, different designs have become traditional and had meaning attached to it. The Hmong for centuries have been Animists. This religious tradition is based in nature where animals, plants and even minerals, rocks, mountains and streams are given spiritual properties. This respect for nature influences popular design patterns. Seeds like pumpkins and cucumbers show up in the grids. You also see ferns and snails scrolling into patterns. In my jack o lantern, I featured designs that represent blossoms of cucumbers and pumpkins. I also added in a section of a fern and found that mountains were easy to carve. I was thrilled to discover a small snail crawling on the stem of my jack o lantern when I went to photograph it for you. It told me I was going in the right direction with my designs!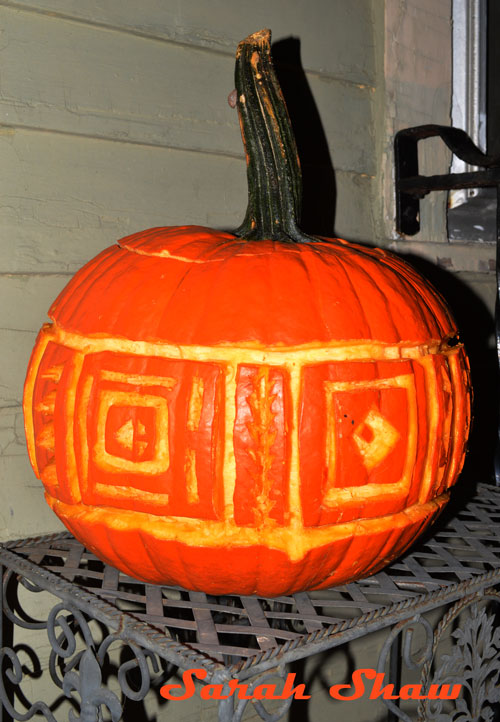 In total, to do the design carving, I probably spent about 2 1/2 hours. I find the practice of drawing a series of lines to form a design really meditative. It does require concentration to make sure you place the line in the right place and of the right length. It is also generally unforgiving if  you make a mistake. This is true for carving pumpkin flesh or adding wax to cloth in batik. Focusing on doing the design right the first time pays off. I think for me an activity that requires such complete focus allows me to relax because my mind can't think about (and worry about!) all the other things I might be doing. I love Pilates for the same reason.  It requires complete focus and concentration to make sure all the muscles on contracted and limbs aligned properly for movement. You can think about pumpkin carving as a form of mental exercise. And it's fun, too. I get  lot of satisfaction from seeing my end result and knowing I created it myself. All of the designs are possible for everyone to do as it is just executing a series of lines correctly.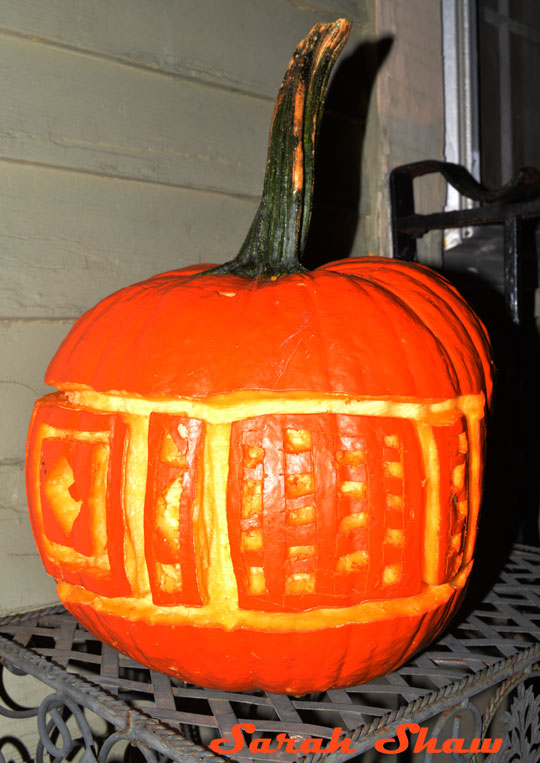 I am pleased to share with you my entry for the week, my Hmong Batik Jack O Lantern. I think it turned out great and I really enjoyed designing and carving this one. I hope I have given you some ideas of what heirloom pumpkins and squash to look out for in your local farmers market. I hear that this weekend is supposed to be one of the biggest of the year for harvest sales at farmers markets so it's a great time for you to head out to yours and see what treasures you can find. Market stalls should have the greatest variety of produce of any weekend of the year. I would love to hear about your Halloween decorating traditions. Please share them below so we can all get some new ideas.
Until we shop again,
Sarah