Prayer flags are a popular souvenir choices for travelers to Bhutan, Nepal, Tibet or northern India. Closely associated with Tibetan Buddhism, prayer flags may have had their earliest origins in Bon traditions in the region. As you travel about these Buddhist countries, you will see these colorful banners fluttering in the wind where ever you go. As the wind caresses the flag, the prayers and intentions it contains are released into the universe for the betterment of all beings. Whether you are a practicing Buddhist or have just been inspired by their beauty and symbolism, you will likely want to bring some of your own home to share with friends and family.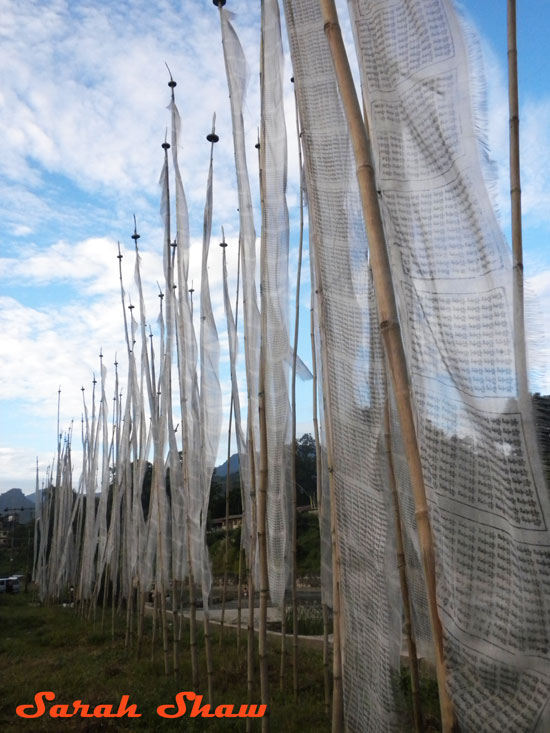 Prayer flags come in two styles depending on the direction from which they are flown. Prayer flags that hang horizontally, strung together by string or ribbon, are known as Lung ta (meaning Wind Horse.) Lung ta prayer flags are square or rectangular in shape. Prayer flags may also be flown vertically on a tall pole and those are known as Darchor (meaning flag staff.)  A Darchor prayer flag is long, thin and rectangular in shape.
While I was in Bhutan, I was told that people were being encouraged to switch from the more traditional vertical hanging prayer flags to the horizontal ones. The reason for this is that with the vertical flags, each one is hung on a separate pole made from a tall sapling. When someone dies, 108 prayer flags are raised in their honor. More trees are required for a vertical flag where as a horizontal set of flags can be strung across two points. Horizontal prayer flags are seen as more environmentally friendly.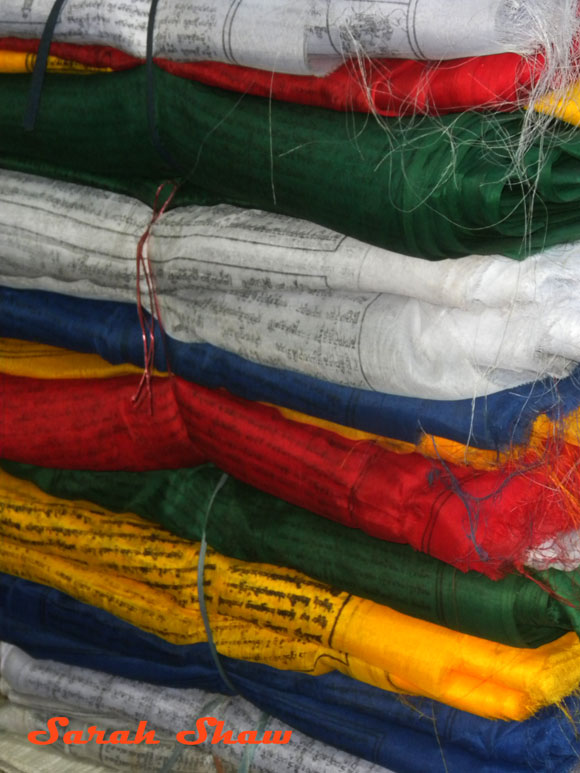 There are five different colors that you find traditional prayer flags woven in. Each relates to a different element or energy. The colored flags are strung in a specific order from left to right and are the same as I have listed them for you. If the flags are being flown vertically, yellow is always at the bottom. Blue represents sky and space. White flags are associated with wind, clouds and air. Red symbolizes fire. Green is connected to water. And lastly, yellow represents earth. In Tibetan medicine, only when the elements are properly balanced is someone healthy. Prayer flags will always be sold in sets of 5 representing each of the colors.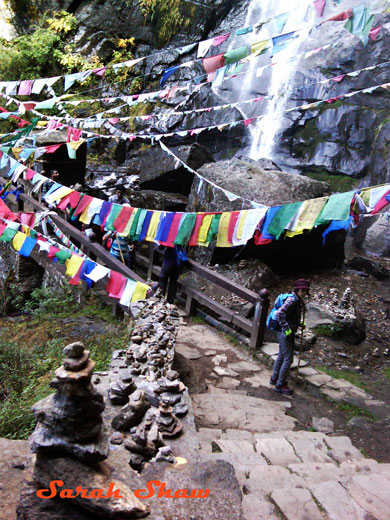 If you are selecting prayer flags for their beauty, you will likely want to purchase a set, with all of the colors included, at any souvenir shop. If you are a practicing Buddhist, or buying them to honor someone else, you may want to go where the locals go to buy their flags. My second trip to Bhutan, I was looking to hang a set a pass to memorialize my Grandmother who had died in the past year as well as for two friends who had lost family members. My guide took me to a shop where I could purchase flags that had been blessed by a monk already and were "loaded and ready to hang" so to speak. The flags you find in a souvenir shop have been created for the tourist market and are looked down upon by the locals as being lesser flags.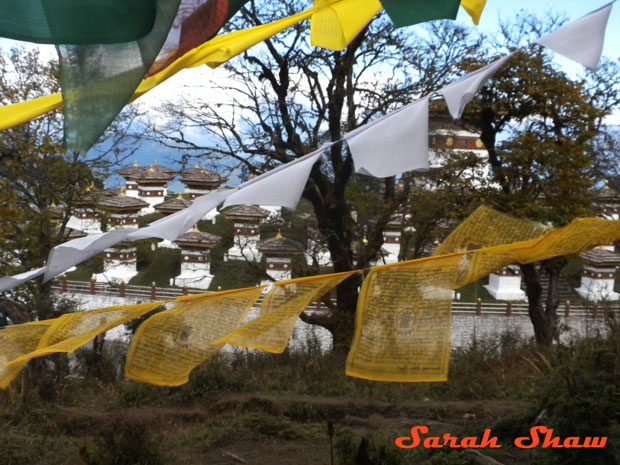 The other advantage of going to a shop with a local is that you can find out the flag you should buy for yourself. Based on your birth date, year, time and location, you are astrologically connected to a particular sign and color. For maximum benefit, you will want to discover your flag and hang it on your behalf. The clerk at the store can also help you determine when the next auspicious day is to hang your flag. Not all days are created equal and you want hang your flag on an auspicious day that is sunny and windy, if possible.
Some locations are better than others for hanging your prayer flags. The cotton or cotton/polyester blend you are likely to find your flag woven in will catch the wind easily. You want to hang it in a place that it will be uninhibited and receive lots of wind. Traditionally you will see flags adorning the tops of mountain passes, across rivers and streams as well as from the tops of stupas or chortens. You should treat your prayer flags with the same respect you would your national flag. A prayer flag should not touch the ground or be thrown away in the trash. It may be left in its position until it gradually dissolves away or you may take it down and burn it. When you burn a prayer flag, it releases its final prayers up into the universe. While hanging a prayer flag, you should focus on your good intentions that both you and all beings will benefit from this act.
Prayer flags are block printed with a number of symbols and writings depending on its purpose. The most popular prayer flag you will see features a Wind Horse in the center. The horse is carrying three flaming jewels on its back. Each jewel has a meaning symbolizing three aspects of Buddhism including the Buddha, the Dharma (teachings) and the Sangha (community.) When the Wind Horse's power is low, many obstacles are experienced. When the Wind Horse's power is high, you will find many opportunities to enjoy. Other popular symbols include Victorious Banners, Health and Longevity Banners, the Wish Fulfilling Prayer and Praise to the 21 Taras.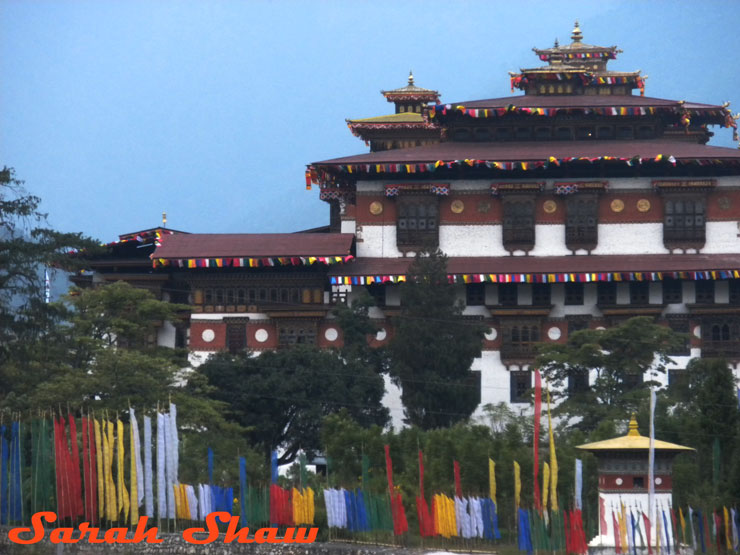 Surrounding the symbol are traditional texts, including mantras, petitioning assistance from important Bodhisattva. Mantras may be a single syllable or several strung together. Each has specific power within it that is released when chanted during meditation or when wind releases it from a prayer flag. There are several hundred that may be chosen from which will depend on the intent of your chosen flag.
In addition to the mantras, your prayer flags will also contain sutras. A written prose, sutras relate to the teachings of the Buddha and may come in long, medium and short versions. Prayer flags usually feature either short or medium sutras. One popular sutra is the the Praise to the 21 Taras. This sutra honors Tara in all her manifestations with a purpose of spreading compassion to all beings.
The wood blocks used for printing prayer flags are usually carved by a monk. Prior to the introduction of printing from China in the 15th century, each prayer flag would have been meticulously painted by hand at a monastery. Once wood blocks came into use, lay people were able to help in the creation of prayer flags. Designs would always be done by a monk but he could be assisted by others in the actual printing. Other than design, little has changed about prayer flags for over 500 years. The wood blocks used for printing the flags were quite heavy. When the Chinese took over Tibet, monks were unable to bring most of the old blocks with them. Many of the old designs were destroyed or burned by the Chinese and lost forever.
During my time in Bhutan, I came across several retired prayer flag wood blocks for sale in shops. I picked up one with Guru Rinpoche in the center as he is an important figure for me as shown by my astrological chart. It is quite heavy and I carried it on to ensure it came home safely. Mine is also carved on the back as well as having its edges encased. Decorative streamers in each of the element colors hang with beads on each of its sides. It is one of my most treasured souvenirs from my travels.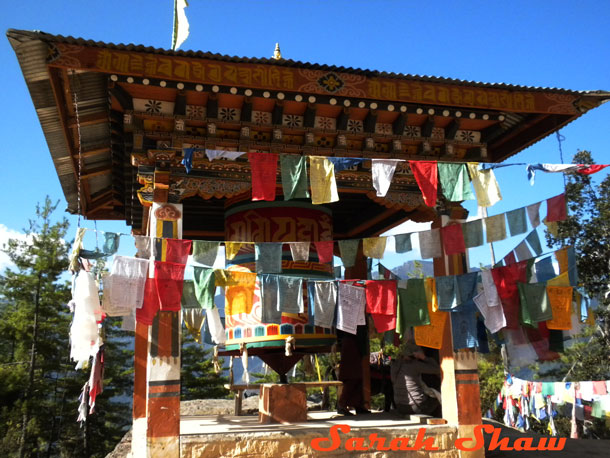 Prayer flags can be easily found during your travels in areas that practice Tibetan Buddhism. You will discover them in a variety of sizes including very small sets that are packaged in multiples. I always pick up some of these in case I need gifts for someone I might have forgotten. They also look wonderful on your Christmas tree as garland. On my last visit to Bhutan, I also visited a local shop where I purchased flags that had been prayed over by monks for friends who I knew this would have special meaning. I also brought home extra of these blessed prayer flags for my yard and personal use. Prayer flags are light and easy to pack in luggage of all sizes. They make a beautiful and meaningful souvenir of your travels in the region.
You may also enjoy reading my past Souvenir Spotlights. Most recently, I featured Spirit Houses. Please check it out. If you are interested in purchasing some prayer flags from home, I suggest you visit Dharma Shop. They have a large selection to choose from as well as many other items that help to support Tibetan artists.
Until we shop again,
Sarah