Today  I thought it would be fun to share one of the distressed furniture DIY projects I have been working on at my business. I've taken on repairing and upcycling office furniture. As a WanderShopper, I always enjoy going shopping for something new (at least to me.) I am also in favor of getting the most from the items I already own before I replace them. Being frugal when it counts is one of the ways I am able to set aside money for travel. Check out my distressed furniture DIY project and see if it inspires you to try own of your own.
At my business, we are preparing for our office space to be painted and have new carpet installed. This was the perfect time to make sure all out existing furniture was cleaned, repaired and would be contributing to a professional working environment. My company is staffed mostly with college students and there is something about a bored young man with a pen or paperclip in his hands that sets off a cycle of destruction. (Think frat houses and men's dorms.) I can't explain it but I've seen it over and over again through the years. Our furniture takes a beating and can look junky quick. I hate to throw it away though as it is usually functionally ok, it's just cosmetically ugly.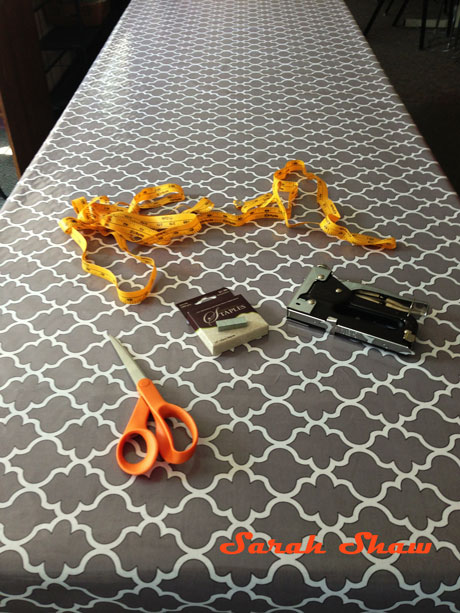 I decided to recover the seats on some chairs myself as well as change the surface on a large folding table. I have done similar projects before when changing out the fabric on my dinning room chairs so I knew I could easily apply the same techniques to our office furniture. I made a quick visit to our nearby craft store and picked up the supplies. They included black vinyl fabric, batting, laminated fabric, an upholstery staple gun and stapes, fabric shears and a measuring tape. Back at the office I was ready to go.
I first tackled a large folding table. Over the years, people have picked the edges off its faux wood laminate top. About 5 years ago, we have recovered the surface with a wood grain contact paper and that looked good and held up for a while. Recently, the edges have begun to peel back up and they are irresistible to some. Before it started looking really bad, I decided to move into action and turn this eyesore into one of the chicest items in our whole office.
After finding only clear contact paper at the craft store (that wasn't going to work for this project!) I reconsidered the bolts of laminated fabric I had discovered. I usually see these being used for attractive outdoor tablecloths. I decided that I could use this as a permanent new table cover. I selected a black and white Moorish tile pattern. Our company colors are black and red so it fit with other choices we had made. I also thought the more formal design made sense for an office setting as opposed to the others which were mostly floral and casual in feel. I also like its repetitive pattern which made it easy to line up over a large space like this table so I could easily lay it out so it looked good.
I began my removing all the old contact paper that would come up so I had a mostly even surface that wouldn't continue to release from the table and create lumps underneath my cloth. Next I cut the fabric to the size of the table, adding extra width and length to wrap around the edges and extend under the table a couple inches. I checked to make sure that my design was lined up properly from side to side and end to end. Now it was time to staple. I added one in each corner on the left side. Then I pulled the cloth taught and anchored one on the right corner with a staple. I went to the final corner and added another staple. Once I had the staples holding the cloth in position, I could continue down one side adding staples. With each one, I made sure the cloth continued to be pulled a uniform tension.
I left the corners for last after completing all sides of the table. Corners are a little trickier and require more attention. Think about when you've had to make a bed with a flat sheet for the bottom instead of a fitted sheet. Remember making hospital corners? That's one way to do it. You can fold the cloth into a hospital corner and then anchor it in place with staples. Another way I do corners is to divide the left over fabric at the corner into thirds. I first pleat on side's third, then the far side's third and then bring the center fabric pleated over the other two thirds. Then I anchor it all in place with staples. To finish, I went around with a hammer and tapped flat any staples that might stick out a little. I didn't want anyone to accidentally cut themselves or snag a sweater on a slightly exposed staple.
I am really pleased with the result. It looks much better than the old peeling contact paper. The laminated fabric should hold up to some spills and clean up easily. Spending about 20 minutes to cut and staple the fabric on allowed me to save a perfectly good, but ugly, table. The cloth was a bit of an investment at $18.99 a yard (plus a 30% off sale so that helped!) I think it was well worth it for this sharp looking table. Depending on what furniture you have, I could see this technique being used on kitchen tables, side tables, coffee tables or card tables. If your furniture doesn't have an overhang to allow stapling to the underside, you could have a piece of wood cut to the size of the table top and wrap the fabric around that. Then lay the wrapped wood on top of your table for a new look. What do you think you could try it on?
The other salvage project I have been working on this week is recovering the seats of some of our chairs. There is not doubt in my mind that a pen or paperclip originally stabbed this chair and the hole created expanded over time and abuse. No one wants to sit in chairs like these, especially women in skirts with tights or hose. I purchased plain black vinyl for $9.99 plus a 30% off sale and I will be able to get 3 chairs per yard. So in other words, each chair repair will only cost around $2 max after all the supplies.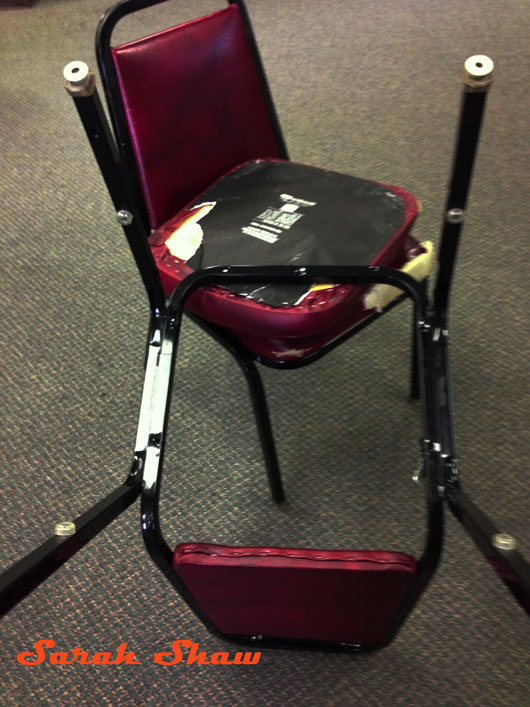 Let's look at how to repair the seat of these chairs. Most seats are attached to the frame of their chair with screws underneath. Those may be hid underneath a piece of cloth or paper covering the finishing work under the chair. Remove the screws and the chair seat will come loose from the frame. I used some polyester batting to wrap around the exterior of the damaged seat. I cut it to the same specifications as I did the table above. I pulled the batting taught to help hold the stuffing that had been emerging from the seat back into place. The batting also creates a cushioning over the torn vinyl of the original seat cover.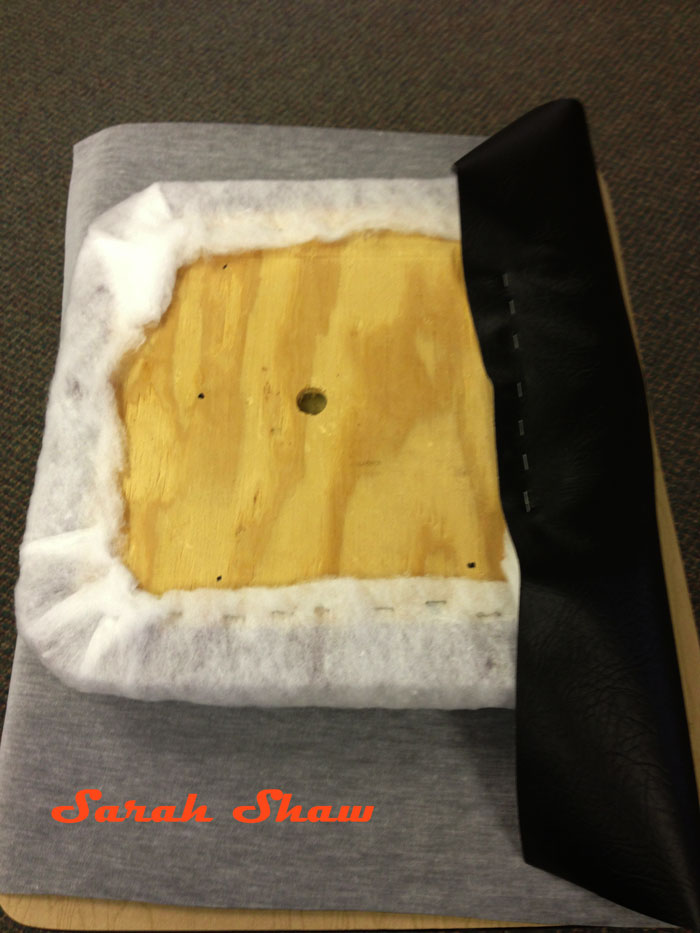 Next I used a piece of black vinyl, cut to size, to wrap around the top of the seat. One thing to be mindful of is the holes in the seat where the screws go. I marked with a sharpie in the center of the seat the approximate position of the holes so I could find them again as I recovered it. I used the screws to poke a hole through the vinyl in the correct position and screwed them in a little to hold their place as I anchored the vinyl all the way around with staples. I also paid special attention to the corners as you want the chair to be comfortable to sit in and legs may press against them when someone sits in it sideways. After completing the recovering of the seat, I attached it to the frame with the screws and I was done.
Looking at a before and after side by side, you can see this is a tremendous improvement. For just a couple dollars, I saved my company the expense of buying new chairs (at around $35 each) as well as kept these chairs from the landfill for a few more years. I figure that once I get the system down, I will be able to start moving through these chairs fairly quickly at about one every 15 minutes.
An obvious application for you would be to recover your dining room chairs. You may also have other chairs with cloth seats that are easily changed out in other rooms of your house. You can be inventive with fabrics too. Of course upholstery fabrics are always a great choice but I would encourage you to explore nontraditional sources. I have seen vintage table cloths found at flea markets, yard sales or antique stores used for really interesting patterns and colors. You might have an old rug that has a tear or stain in one area. The rest of the rug could be re-purposed as a chair covering. Sheets and blankets can make interesting covers. I also like the idea of using a vintage sari for a bit of worldly glam.
I hope I've inspired you to try a project like these in your own home or office. Taking old items you already have or finding distressed furniture in a market gives you a new canvas to create something special for your home. And nothing compares to the pride you will feel when a friend compliments your new find and you tell them that you did that! Good luck and let me know your results!
Until we shop again,
Sarah