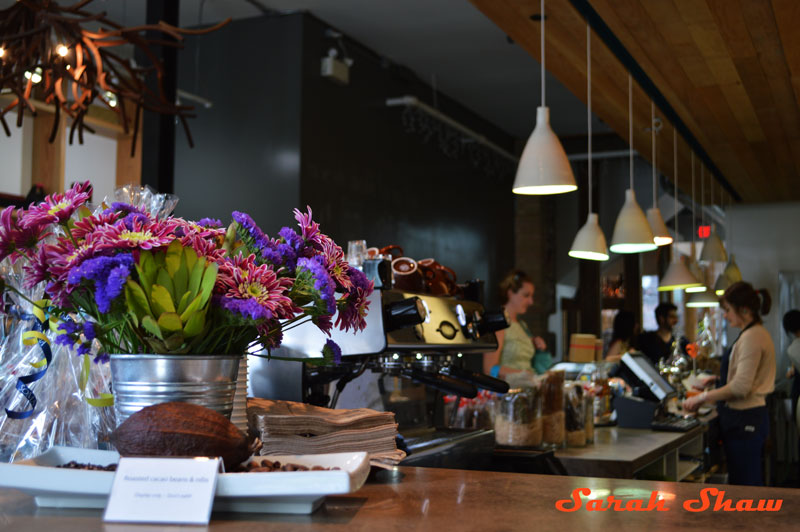 All of your chocolate dreams come true while sampling the amazing offerings at Soma, Toronto 's favorite destination for all things sweet and cacao. I had heard wonderful things about Soma Chocolatemaker so when I had some free time I grabbed WanderFood's Lauren and we headed out for some serious chocolate tasting. Soma offers something for every craving including chocolate bars, truffles, caramels and Italian cookies to name a few. Those who prefer their chocolate hot will want to try their drinking chocolate while some seeking it cold will be satiated with some gelatto or sorbetto. Soma describes themselves as "a place to eat, drink and worship chocolate." Hungry for more? Read on!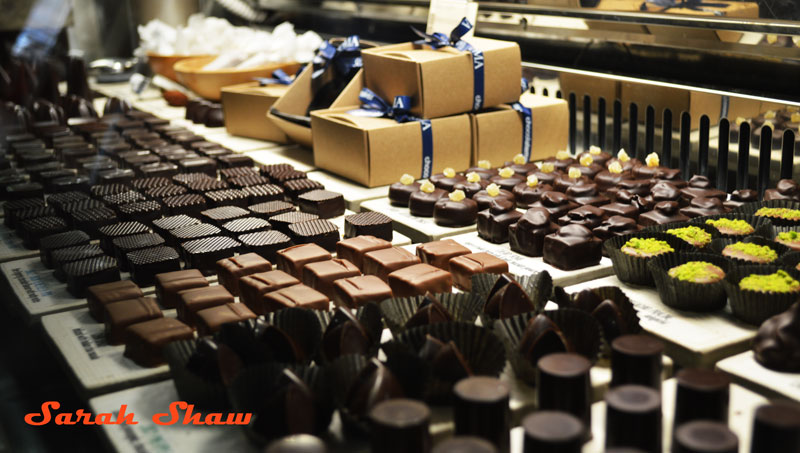 Satisfying Toronto's confectionery cravings since 2003, Soma can be visited in two locations. We enjoyed a variety of Soma's concoctions at the newest source on King Street West. The original shop in the Distillery District is still where Soma turns beans into chocolate. That's one of the things that makes Soma chocolate so extraordinary. They are one of the only chocolatiers in North America that completes the process from "bean to bar."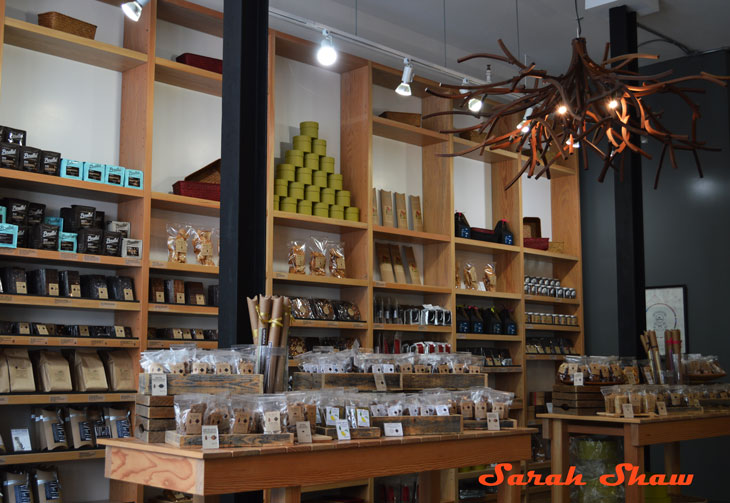 I'll speak to Soma's wonderful decor in a minute but one of the thoughtful details you'll appreciate is the giant chalkboard wall that visually tells the story of how Soma chocolate is created. Soma doesn't just satisfy your taste buds, it also stimulates your mind. The tale begins in the jungle where your beans are harvested on a cacao farm. After being carefully cleaned and sorted, Soma roasts the beans. Next they are winnowed, or dehusked, so now we are really getting down to the good stuff.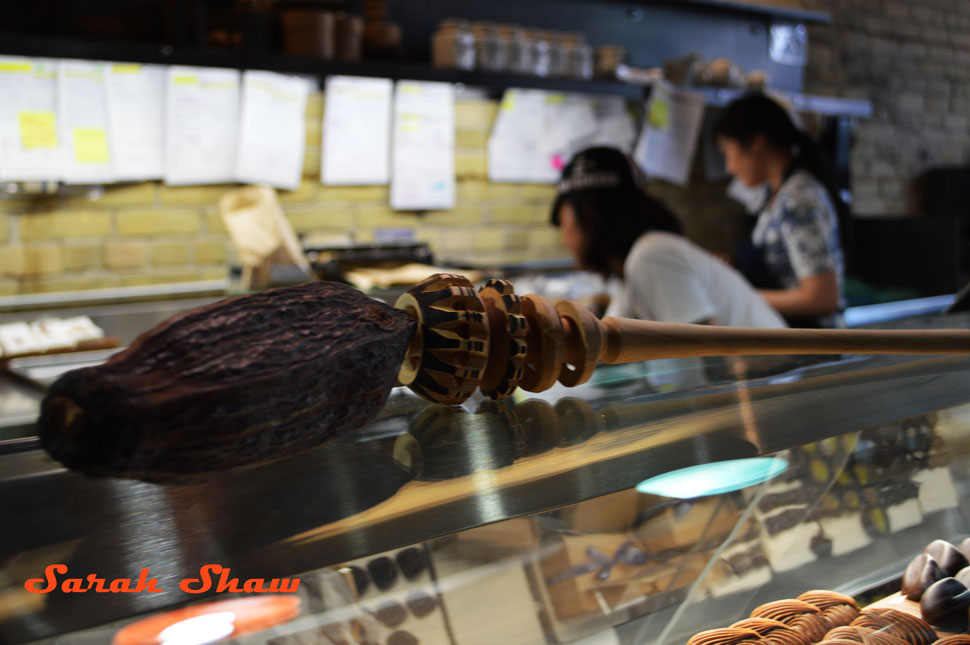 Your beans are moved into a melangeur which is a special machine used to grind the chocolate nibs into a thick paste which then turns into a thick, oily chocolate liquid when heat is added. Sugar is also introduced to the chocolate. Now it is time to refine, or conch, your chocolate. This is a mixing process, with the addition of heat, that gives chocolate its complexity of flavor as well as its texture. Conching may last for days. The chocolate is nearly yours when it is time to be tempered, which aligns the cocoa butter crystals properly, to give chocolate its shine and proper snap. And finally, your chocolate is placed into a mold to create the final shape it will be in when it meets you.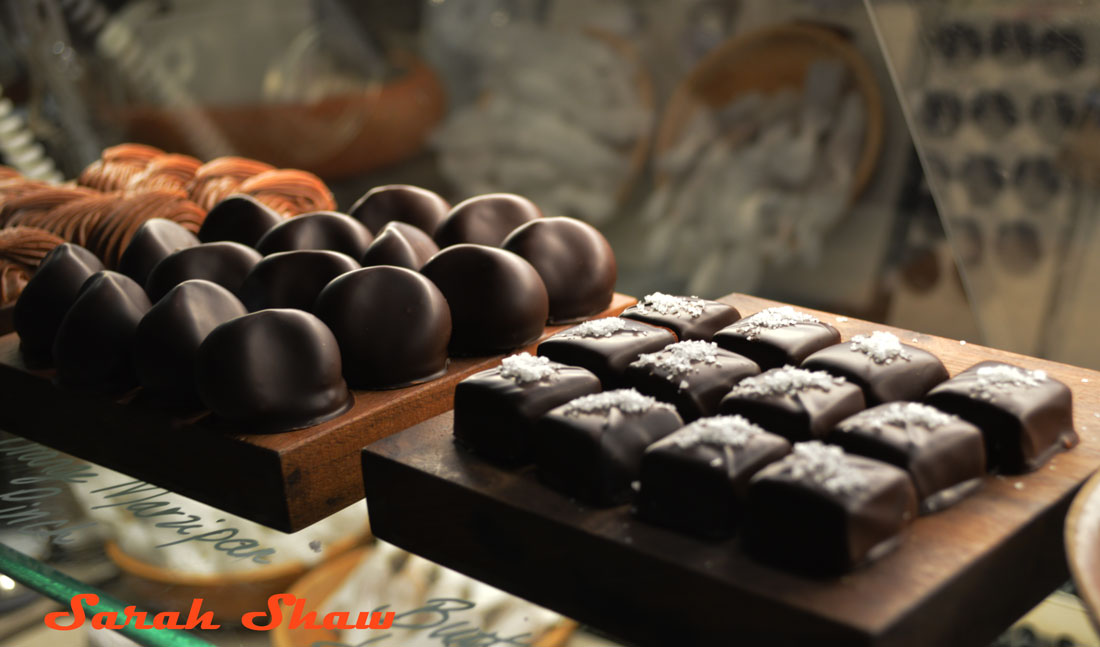 Soma is the perfect place to gather with your favorite WanderGals as the cacao beans Soma selects may be better traveled than you. Soma sources the best beans they can find and that takes them to the Dominican Republic, Costa Rica, and Panama in our hemisphere while other beans travel even further and arrive from Papua New Guinea, Madagascar and Ghana. Although being the best flavor graded cacao beans on the planet is the first criteria, Soma also requires that they are Organic and meet Fair Trade standards. When you bite into one of the Soma chocolate creations, your conscience can rest easily knowing that you are enjoying chocolate that is guilt free, at least ethically speaking.
Now let's pause for a moment to admire the appealing decor at Soma on King Street West. Cynthia Leung, co founder of Soma with her husband David Castellan, holds a degree in architecture. Her design aesthetic embraces clean, modern lines of glass and stainless steel while also including generous amounts of natural materials of wood and stone. She worked with the Brothers Dressler, accomplished woodworking twins, to include some amazing creations like the branch chandeliers. It gave me visions of trees uprooted straight out of the ground and what was visible to us was the root structure as if some giant was holding them aloft. The interior, as well as the chocolate, is the stuff of dreams.
In the rear of the space is a kitchen in full view of all visitors as it is an enclosed room in glass. Another chandelier hangs above the additional seating to watch the magic happen while you tuck into your chocolates. Imagine enjoying a selection of truffles while you watch others being created by expert hands. As you head back up to the front of the store you will pass the display case with its rows of truffles, pralines and caramels all created on location. Opposite is a wall of shelving where you can find an array of prepackaged gift assortments, sleeves of elixirs to make your own hot chocolate at home as well as the bars of chocolate and various coated treats.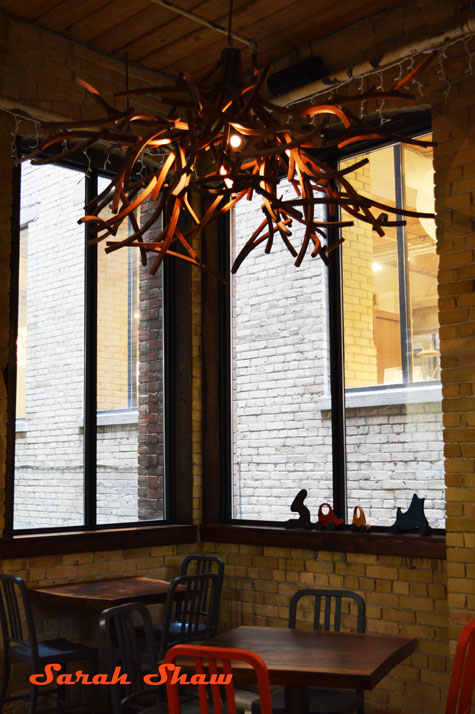 Between the case of individual chocolate pieces and the wall of chocolate goodness is a center island of tables where you can find many of their much sought after cookies. Soma has taken traditional Italian cookie recipes and transformed them into "sublime bites of texture and flavor." Of course you'll find biscotti featuring chunks of Dark Peruvian Chocolate, Costa Rican Milk Chocolate and slow roasted almonds. And if almonds are your weakness, also grab some Amaretti for their fragrant and chewy reward. Chocolate Shortbread, Flourless Walnut Fudge Cake and Baci di D'ama (Ladies Kisses) are among the 14 other choices tempting you.
If you are seeking truffles, I think you will be thrilled with your discoveries at Soma. Sometimes taking as long as 3 days to create, the truffles are crafted with fresh cream and butter which adds to their deliciousness. Regular offerings include Chai Spice, Espresso Crisp, 8 year aged Balsamic Vinegar, Bergamot, Cherry Bomb or the Spicy Mayan Dome. Soma offers many other rich and flavorful combinations to savor one at a time.
If you're a praline and caramel girl like I am, you are in luck as your needs will be more than met at Soma. Sure I looked over all of the offerings in the case but I knew at least one of the pieces headed into my personal stash was going to be the Butter Caramel with Fleur de Sel. Soma describes it as "a slow cooked buttery vanilla caramel enrobed in dark chocolate and finished with a pinch of fleur de sel." As far as I am concerned, anything that is enrobed in chocolate will always make my short list when it comes to my chocolate dream team. There are a number of other pralines but one that always grabs attention is the Sparky Gianduja laced with Poprocks. You read that right, your Gianduja (a hazel chocolate blend) is combined with Poprocks. Talk about making a tradition contemporary!
Many regulars of Soma chocolate head straight to their favorite in the Revolution Collection. Referring to the revolving pan technique used for centuries to tumble tasty bits of goodness with chocolate, the Revolution means more enrobbing! Yes! So what sorts of bits might Soma enrobe? How about some roasted cashews coated with milk chocolate spiced with their aromatic chai spice blend? Or almonds, hazelnuts and green raisins, oh my! Australian Ginger? Sure. Organic Coffee Beans? Yup. What about Toasted Corn? That's there too, satisfying those who want the sweetness of corn that has also been salted and enrobed in chocolate. Those are just a few of the sleeves of chocolate snackin's that are leading the Soma Revolution.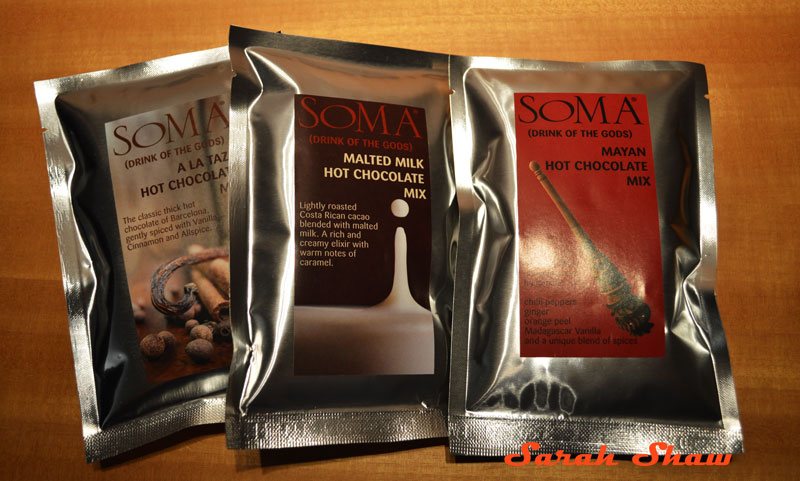 Another serious contender for my favorite take home from Soma was the packages of drinking chocolate I chose. Soma aims to transport you back to enjoy chocolate as it was originally consumed and craved as far back as the 17th century. Because of their packaging, and that they will be melted and combined with milk back at home, these are obvious choices for a traveler as they will hold up well through the rigors of baggage claim. One I selected was the Mayan Hot Chocolate which was spiced with Ginger, Madagascar Vanilla, Orange Peel, Chilli and their special blend of spices. I also brought home and enjoyed immensely the A la Taza. This thick elixir was like what is served in Barcelona with hints of cinnamon, vanilla and allspice. I also fell for the Malted Milk Hot Chocolate. All of them were fantastic. Next I'll try the Dark Side of the Mug which is pure dark chocolate without any additional spices. Soma considers it a "drink of the gods."
If you don't have a trip to Toronto planned in the near future, I have great news to share with you. Soma is working on adding online ordering to their website. Although that has yet to debut, you can still access their entire product list with full descriptions and pricing. Soma is happy to ship to you and will advise you on the best method as well as choices of chocolates for you to enjoy in your home or to send to someone special as a dreamy gift. Their gift assortments offered when I was there were beautifully packaged with many nice selections grouped together by themes. Any chocolate grouping you chose would be gratefully received for any occasion.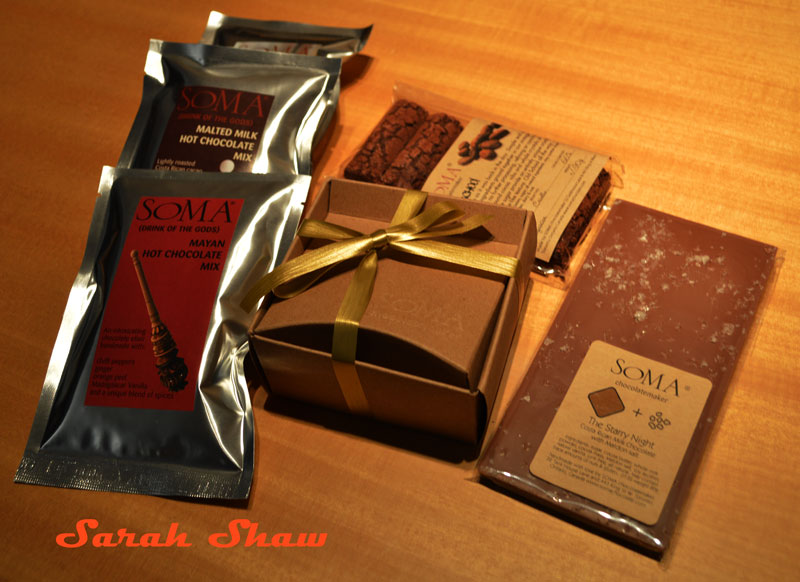 I found so many intriguing creations among the Soma chocolate that I had a hard time deciding what to bring home with me. I wanted to sample something representative of a few of their specialties, so I ended up with a collection that would have made a wonderful gift basket. As I had a few more days ahead of me in a hotel room, it was nice to have some really good chocolate to add some comfort in the evening and lead me into a great nights sleep. I choose a few pieces of chocolate including the Chai Spice Truffle, a Butter Caramel with Fleur de Sel and a piece of Feuilletine Caramel. I purchased the three Hot Chocolates that I had mentioned earlier, the Starry Night Bar in Milk Chocolate with Maldon Salt and lastly the Old School which is a bar of chocolate as it was first enjoyed with just cocoa nibs and cane sugar. I really enjoyed everything I selected and I would buy them all again.
I was really pleased to have discovered an artisan chocolate maker who prioritized quality ingredients which are organic and fair trade. The love and pride everyone felt for their creations was obvious in the taste was well as the wonderful atmosphere that embraced me as soon as I set foot in Soma. I knew right away that I had entered a place I was supposed to be. If I lived in Toronto, I know I would be a regular WanderShopper of Soma Chocolatemakers.
Of all the items I shared with you today, which would one would you order first? What ingredients would be in your dream chocolate if you were going to help Soma create something new?
Until we shop again,
Sarah