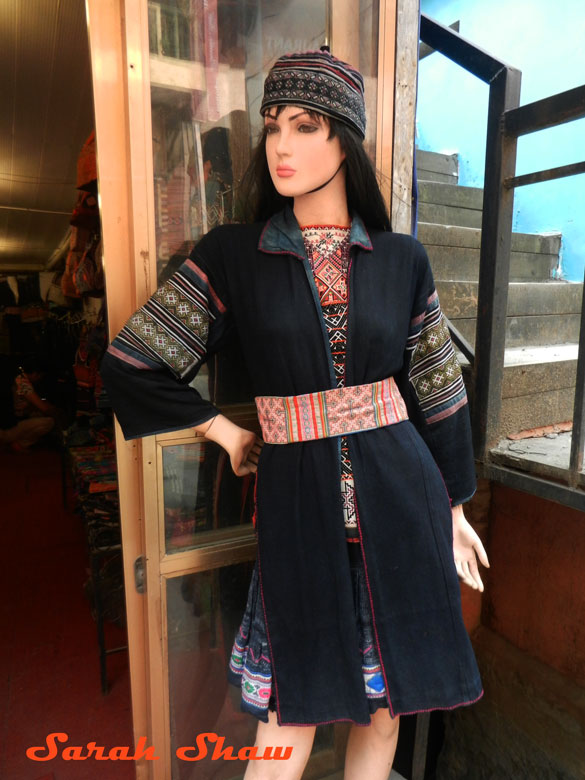 Fashion Week is always such an exciting time for us WanderShoppers as we get a clue as to what trends we will see in the coming seasons. Top designers are showing us their inspirations be it destinations, moods or colors and how they translate those into clothing. This week in New York, the fashion world will tell us where our hemline should be for dresses and skirts as well as what height heel we should wear on our feet. It's also fun to take the presentations of haute couture and think about how we can make that into a look that makes sense in our own home town and lives. So thinking about everything we can learn during Fashion Week, I thought it would be fun to pick up the whole event and move it to another location. Maybe somewhere you dream about traveling to and let them host the event. Last February I posed the question, "What if Bhutan Hosted Fashion Week?" and it has been one of my most popular posts. This go round for Spring and Summer 2014, let's take a look at "What if the Hill Tribes Hosted Fashion Week?" What would their influence mean to our wardrobe next summer? Here's what I think we could expect.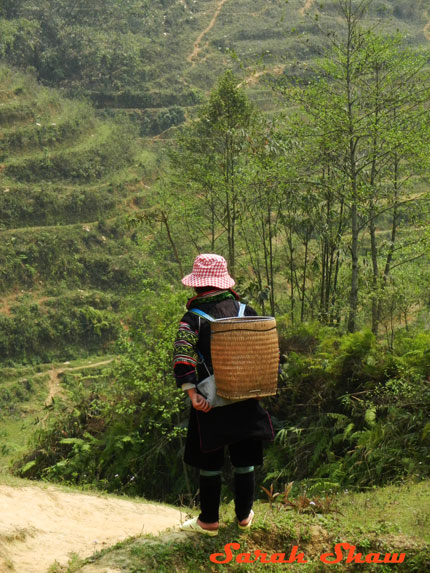 First let's talk about who are the Hill Tribe people and where should we show up for the runways? Although there are indigenous people living in the hills and mountain regions around the world, today we are going to focus on the people found in southeast Asia. This area will include sections of Thailand, Laos, Cambodia, Vietnam, Myanmar (Burma,) China and even Assam in India. Each tribe is centered around its people and they identify less with any one individual country. In fact, some of them are migratory and inhabit areas that regularly cross borders. If you were to add up all of the members of each of the tribes, they would reach nearly 100 million people in total so we are talking about a significant group of people. Sadly, many of the Hill Tribes have experienced a life that has been marginalized by their host country. It is believed that they probably migrated to their general areas from China as the ruling ethnic groups either encouraged or forced the people to move off  their land and head south. What was left to them in their new surroundings were the less desirable areas that were more difficult to live in which was why they were still uninhabited and available. Those regions included the hills and mountains throughout southeast Asia.
You have probably heard of some of the Hill Tribes before. In my hometown of Lansing, Michigan we have a significant number of Hmong people who have settled here as refugees after the Vietnam War. Our new neighbors have taken an active part in our community and regularly contribute to local festivals to teach us about their customs. Perhaps you have Hmong living in your community as well. There are hundreds of ethnic groups that are then further sub-divided. And to make figuring out identity even more confusing, the name they are given changes sometimes depending on the language you are speaking. When you want to differentiate who is Hmong versus who is Akha or Yao or Padaung or Karen sometimes one of your first clues is the clothing they are wearing. Just as the clothes we choose to wear tells everyone else something about us and who we identify with.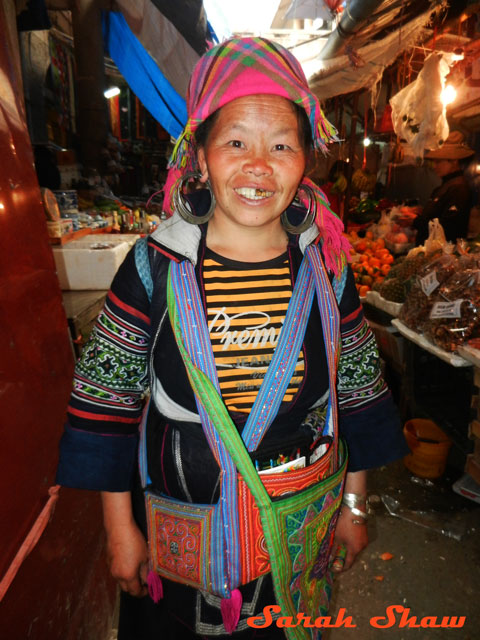 As influences from the west have continued to suggest what is fashionable and progressive across the globe, the dress of the Hill People has also started to change. Whether they have seen western movies or TV shows or see it on a website, more of the standard dress of t-shirts and jeans have started to creep in, especially with the men who seem to have more quickly abandoned their fashion traditions. Looking at the women of a group is the most likely way to receive clues about which tribe they belong to. But even with the women, they may be wearing a t-shirt layer under their traditional jacket these days.
Before I go any further, I should share that I do not consider myself to be an expert in Hill Tribe culture in any way. I have admired their traditions for a long time and am always seeking ways to learn more. In that quest, I have had a number of really wonderful experiences that have given me some good instincts but I do not want to present them as full proof. If I misidentify a tribe or influence it belongs to, please forgive me. And let me know. Sharing accurate information is important to me as my goal is to help everyone learn more about these amazing people. So with that being said, let's take a look at how the Hill Tribes would influence Fashion Week, if they were invited to host the event.
The first thing straight away that you will notice is color. And lots of it. I'm talking about deep or bright colors that contrast against each other. Shades that scream pay attention to me – now! Colors that you never would have thought about pairing together. Not only is color embraced in small patches but throughout their entire wardrobe. You will see neon greens and pinks with splashes of orange and red. At first glance it may even seem gaudy. But as you start to look, really look at the details, everything begins to make sense. There is a beauty and a life to these designs that is seldom expressed in our safe and commercial fashion sense. When you first meet a person from a Hill Tribe, they may seem quiet and reserved. But underneath that shy exterior is a rich and vibrant person that will come out and embrace you if you take the time to get to know them. It is the same thing with their clothing, you have to spend time examining the color choices and then you learn to admire, and later crave, them.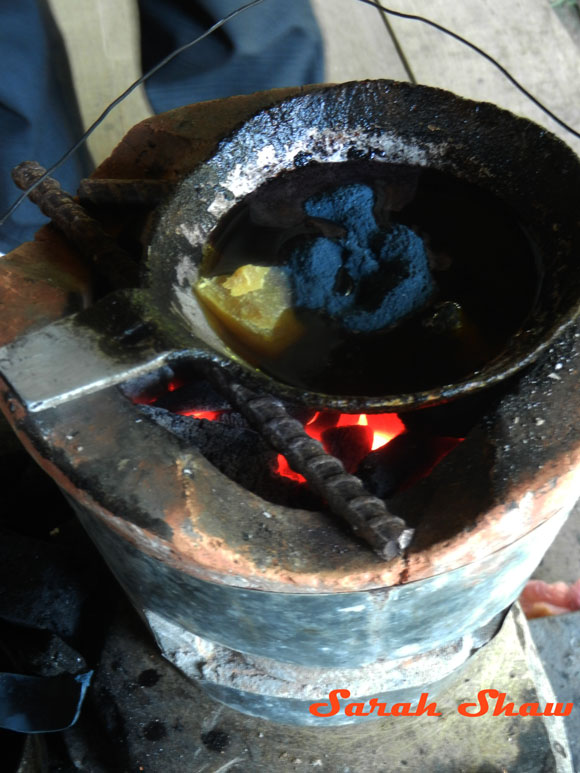 Another trend you will notice with many of the Hill Tribes is their use of indigo as a dye. Sure the bright colors are there, but they are all anchored by vast swathes of indigo. To me indigo is a dreamy blue that I can't get enough of. And the more items I buy that were naturally dyed with indigo, the more amazed I am at the variety there is in shades of blue. The color can be influenced by how long the cloth was left in the dye solution as well as many other factors. Indigo is naturally gathered from the leaves of the Indigofera tinctoria plant.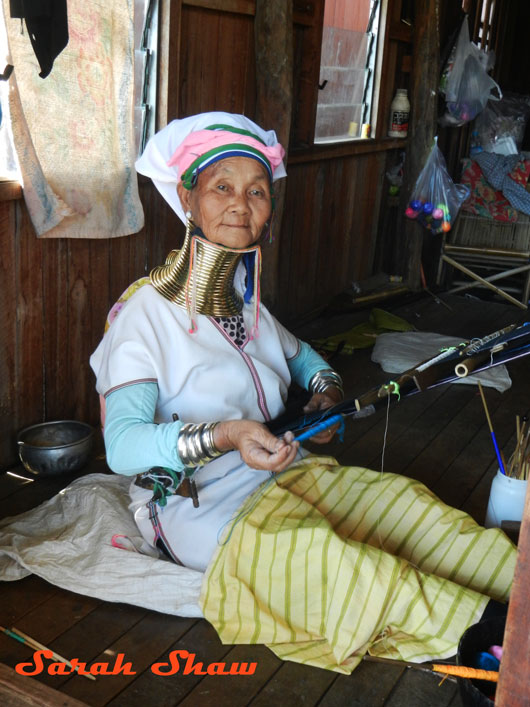 Clothing has traditionally been made by the women in the family for many centuries. Especially for the Hill Tribe people who were more isolated in their locations and were self-sufficient, not needing to visit the larger towns and cities where cloth could be purchased. From an early age, girls were taught the art of harvesting the items needed and then how to weave and decorate the clothing. Your ability to do that well would determine how marriageable you were when you came of age. The men would weave sometimes, too, but it tended to be more basket weaving versus cloth.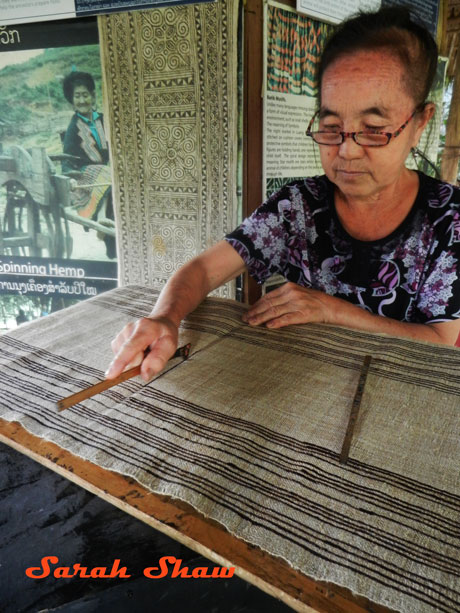 Indigo would definitely be a trend you would see during Hill Tribe Fashion Week. You would also see indigo used in conjunction with batik. A resist dyeing method of decoration, batik involves using wax applied in decorative patterns which repels the dye that is later applied to the cloth. This technique could be layered many times to achieve multicolored cloth. The Hmong embrace batik and indigo especially. Their women wear wonderful pleated skirts with intricate indigo batik patterns all the way around. Weeks and months are invested into the making of a skirt from weaving, then applying the design, dying it in indigo and then folding it into the tiny accordion pleats and letting it set so they would take. Never once using an iron, the elaborate pleating is a fascinating process we can look at in detail another time.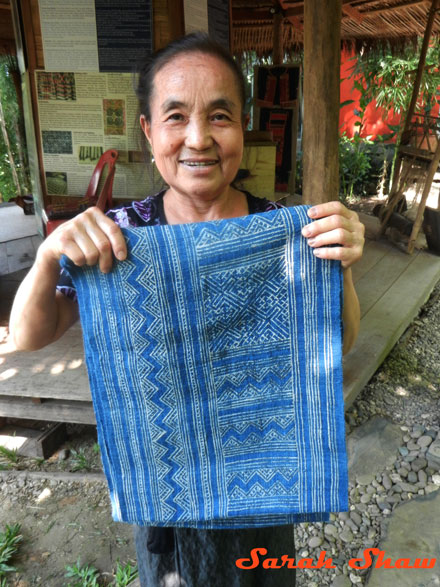 For many centuries, the Hmong did not have a written language and instead would sometimes use symbols which would be included in the batik design of a woman's skirt. Most of the Hill Tribe people practice an animist religious tradition which is based in nature. Symbols from nature are honored in their designs such as fiddlehead ferns, snails or different seeds. These designs may give you clues on how to plant your garden or how to get to a neighboring village. They have developed over the years into intricate and detailed patterns which are in high demand today by interior designers in the west who love their graphic nature.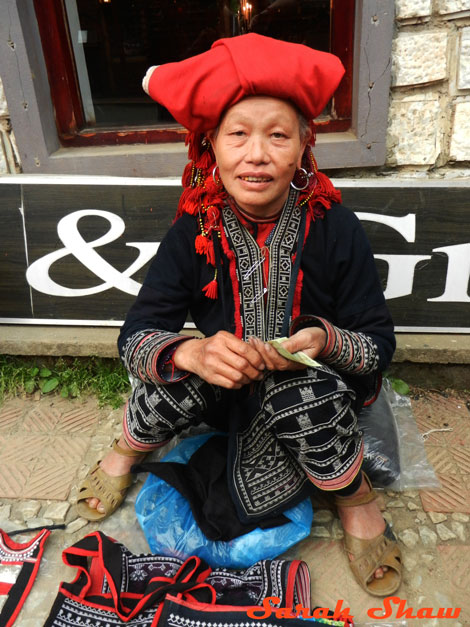 Another Fashion Week trend you would notice going down the runway would be a love of ornamentation. You might see long tassels in bright colors. Or silver coins, beads and baubles may be applied to a jacket or hat. Shells are prized and may be strung together to form a tassel of their own or stitched tight into a pattern. Pompoms in a rainbow of colors might decorate a lapel to form a textured collar. They may also be stitched to bags for decoration. Ornamentation is everywhere in most of the different Hill Tribe ensembles.
Which brings me to another fashion trend, layers. Many of the women will have on a multitude of layers. Outwardly you will see a fine coat, jacket or vest. It may be waist length or fall nearly to their ankles. On the bottom, some women will be wearing skirts as is the tradition with their people. Other women will wear pants that have been highly decorated with elaborate embroidered designs or patterns created during the weaving of the material. If you are wearing a skirt, you legs will probably be covered with a wrap of cloth that extends from your knee down to you ankle. You will probably have a ornamented belt or sash that keeps your jacket in place. You may also have an apron that hangs in front or back or both or even over your shoulders. If you have a young child, you will also have him on your back in an ornamented cloth baby carrier. Think the opposite of a baby bjorn – on your back instead of front. And then there are the satchels and bags. You may have one, or several, that you wear cross body. And you usually will wear something on your head too. It may be a hat, or a scarf or more of an elaborate turban, but something will probably be on your head. If you don't have a baby with you then you may have a large woven backpack basket strapped over your shoulders to collect the harvest or to take to market to trade for what your family needs.
And let's not forget the silver. Generally speaking, the Hill Tribe women love their silver jewelry. As do I, so this is a trend I have already adopted. Jewelry in the form of necklaces or earrings may be worn every day. Some of the saved wealth of the family being carried by the women as it is in many cultures throughout the world. For festivals, holidays and events like weddings, you will be encourage to really break out the good stuff. You may sport a brilliant crown of three dimensional flowers. Or you may display a large tubular necklace that is impossible to miss. There are so many options to make sure you are beautiful and stand out. If you are Padaung, you may have begun wearing brass rings around your neck when you were a girl. And as you were able, more rings were added giving the appearance that you have an extraordinary long and slender neck.
Beauty means different things in each culture. What is desirable to one culture may send different cues to another. Just like the Padaung tradition of wearing many rings around their necks and sometimes legs may seem extreme to our culture. Another trend you may see is ear plugs. Instead of the small hole many of us have in our earlobes for earrings, some women like the Karens, stretch large holes in their lobes and insert ear plugs. The plugs made be large silver disks or hollow circular tubes inserted through the enlarged holes. Other women, of the Palong, choose to blacken their teeth. Dyeing their teeth permanently black or having them capped in gold is a sign of maturity and beauty.
As many of the Hill Tribes have a strong connection to nature and respect for the earth, they also have a wonderful tradition of recycling in their fashion. Many of the women are skilled at embroidery and spend a great deal of time on the decorations and ornamentation of their clothes. They tend to work in smaller sections at one time, embroidering a collar or a cuff. This habit  makes it easier to transport along with you a smaller piece, rather than a full garment, so you can work on it as you have time. These sections can also be easily reused. If your jacket or pants wear out at the stress points from hard work, you could create a new garment and pull the decorative panels off the old one to use again. Not only could you reuse your own but also gather pieces stitched by your mother, grandmother, sister or aunt. This sharing creates a legacy in your fashion sense.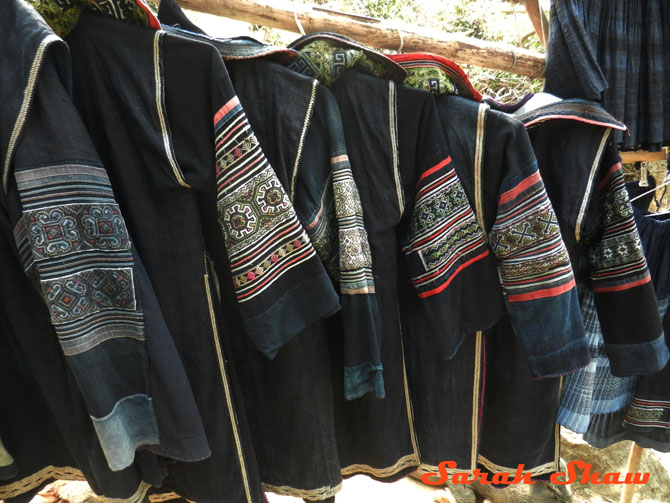 The final trend I will mention today is that creative women throughout the region are reinventing fashion. They are taking the traditional skills they learned from their mothers and grandmothers and translating them into modern garments. This is an exciting development for western women as they are designing jackets, skirts, pants and footwear that can be easily worked into your everyday wardrobe. Let's face it, as much as you love the look when you are visiting and amongst the Hill People once you get back home and take the clothing out of context, it becomes more challenging to wear. You have to be really confident in your personal fashion sense to take clothing designed for another culture and wear it in exactly the same way in your own. I do it with pieces but rarely everything all together. I'm sure many of you have experienced the same thing. What these young designers are doing though is taking the wonderful embroidery or ornamentation and adding them to silhouettes that work easily into your domestic wardrobe. I love it when traditions are reinterpreted for a modern setting. This merger creates something really special. I will do a post soon about some of my favorite sources for Hill Tribe inspired clothing, footwear and jewelry so you can add touches to your own wardrobe.
So, what have we learned today? If the Hill Tribes hosted Fashion Week we would immediately see their influence in the looks coming down the runway. You would notice it in the use of colors and ornamentation. You could expect to see lots of layering as well as nature represented in the patterns used for decoration. Natural dyes like indigo help to define the palate as well as the use of batik. Silver jewelry would be everywhere and its presence would be big and bold. And lastly there would be a respect for reusing and salvaging of embroidered or beaded pieces through the generations. That sounds pretty appealing to me.
Thanks for coming along with me to my fantasy Fashion Week. I have many more fashion images than I am able to share in this post so I have shared a few more on WanderShopper's Facebook page in the What if the Hill Tribes Hosted Fashion Week? album. Please check it out. And check back as I will add more images later this evening.
I'm curious about what you think. What part of the Hill Tribe fashion aesthetic appeals to you? What would you most like to have in your wardrobe after seeing the Hill Tribe collection at Fashion Week? Have you already acquired some pieces and how do you like to use them?
Until we shop again,
Sarah