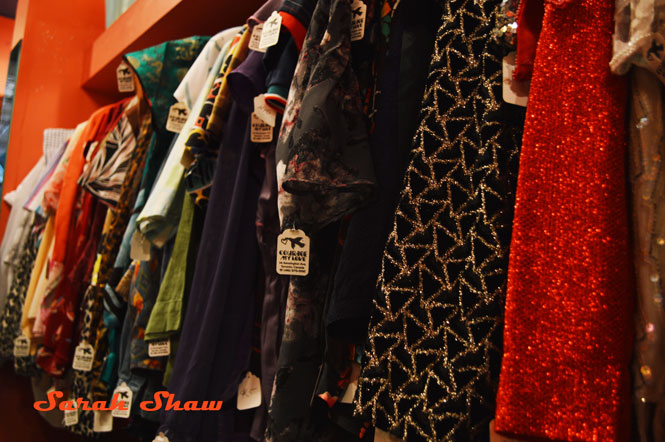 As one of the great cities in Canada for shopping, make sure to set aside some time to explore vintage Toronto and its institution Courage My Love.  Founded in 1975 by Stewart Scriver and Patricia Roy who were pioneers in the second hand goods movement. At that time, most Canadians and Americans viewed used clothing as disposable and the idea that someone might want to purchase clothes from another time period was new and radical. Today savvy shoppers embrace vintage boutiques as hip places to find one of a kind treasures while saving a few dollars at the same time as you keep something out of the landfill. Courage My Love is far more than just a collection of clothing and accessories from eras gone by. They also offer finds from their travels around the globe so they become the prefect destination for a WanderShopper in search of vintage Toronto.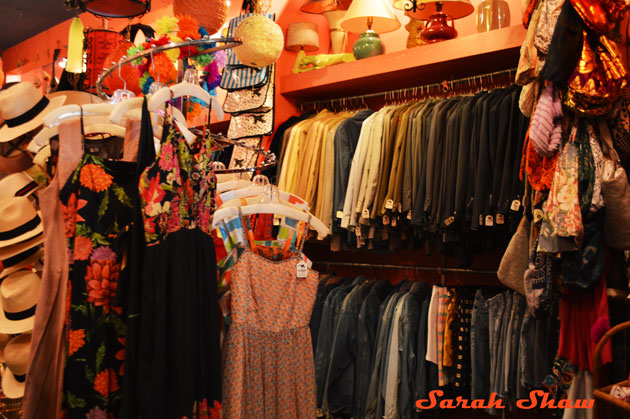 Today you find Courage My Love on Kensington Avenue and may discover the visit feels like arriving at a different place and time. Just a few blocks from Chinatown, Kensington is a strip of houses converted in to funky, colorful shops that include an assortment of second hand stores, boisterous hippie boutiques, restaurants and the produce and food shops of Kensington Market. The neighborhood has been impacted by the waves of immigrants who have settled there over the decades moving from Jewish clothing shops to Portuguese food stores. In addition to the shopping, there will be cafes you can stop and rest at, to take in the ambiance and gawk at the mix of tourists and locals as they hunt for their finds. It is important to pace yourself as a visit to Kensington can be overwhelming from the sensory overload of colors and incense that give it an almost festival atmosphere.
You will find Courage My Love by its brilliant blue paint job and the mannequins hanging from the upper story deck which explodes with Mexican paper garlands fanning out across its concrete lawn. You may find some sale items outside as well as an assortment of boots and shoes like the day I was there, but go ahead and step up inside to get to the good stuff. Courage My Love is long and narrow and you may find that you need to traverse it several times before you really get a good idea of everything you are looking at. Every bit of space is packed with nearly everything you could ever want and some things you hadn't realized you desperately needed until you see them. For me, that was a pair of baby pink cowboy boots.

Sourcing merchandise for Courage My Love has evolved over the years. In the beginning, they hunted around Salvation Army and Goodwill stores when few, other than the truly needy, would have considered it a shopping destination. They also quickly discovered that general stores in small towns throughout Ontario and Quebec were going out of business and parting with stock that had built up over generations. Clothing and accessories from many eras were discovered as their storerooms were searched. Items were purchased at 50 cents a pound and might include Edwardian dresses, handmade blankets, imported silks or 1920's flapper paraphernalia. There was little competition so items could be purchased for near to nothing which made it easier for Courage My Love to stay afloat as they developed the interest in their fellow Torontonians for vintage finds and collectables. Over the years it has become harder to find quality, resalable stock. Scriver estimates that only about 2% of what is discovered today merits inclusion in Courage My Love where as in the beginning it was closer to 20%.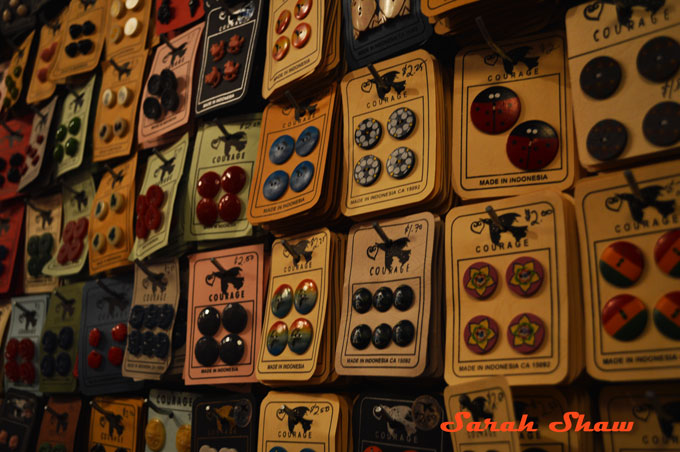 Courage My Love has stayed successful due to their flexibility. They began to make trips outside of Canada to source items for their store during their vacations. Beads and buttons were some of the first finds in the United States, Mexico and later in Africa. Quality used clothing can be hard to find because in many other cultures it is used until it is worn out instead of the disposable treatment it receives in the West. The humid climates also contribute to a decreased life of fabrics as compared to in the U.S. and Canada. Through foraging opportunities, Courage My Love was able to locate a closed hat and glove factory in Mexico City which contributed "hundreds of artificial flowers and five thousand pairs of hand sewn … gloves from the 40's and 50's" as offerings to their customers. Other global finds include amber from the jungles of the Dominican Republic, beads from Java, handwoven shawls as well as beads from tribes in Burma. Trade beads from China were also sought out and obtained. Originally their children were brought along for the adventure. Now their grandchildren join them for their sourcing trips.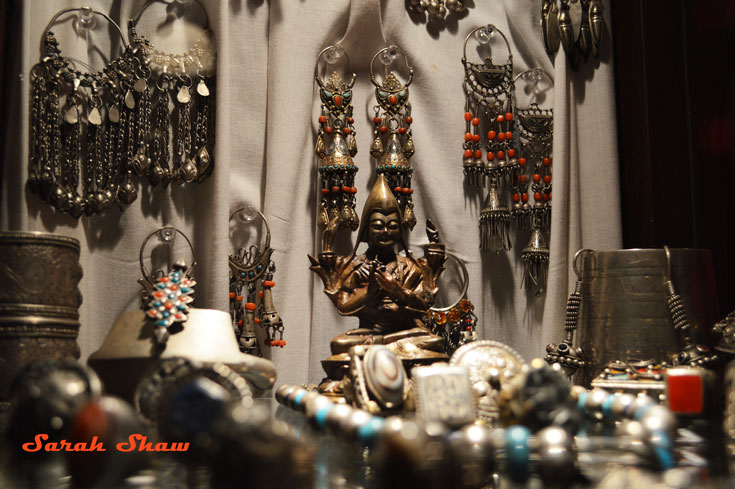 Over the years, interest in vintage and antique items has increased. Some people treasure their finds for the history and quality of how it was made. Others feel it is important to move away from the disposable society we have become and find ways to reuse other people's unneeded clothes, accessories and furniture. Courage My Love has not only become a destination for treasure hunters but has also evolved into being a valued source for museum exhibits. They are also regularly contacted by movie productions searching for period clothing and accessories for help in tracking down appropriate pieces.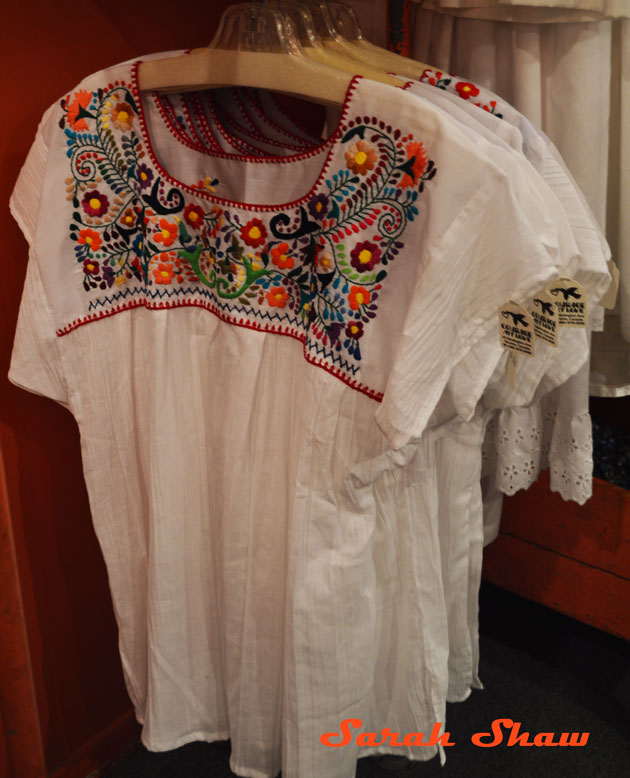 While perusing the racks of clothing at Courage My Love, I discovered vintage items as well as finds from around the globe. If you seek a silk kimono, you will have a variety to choose from. Want a Mexican embroidered peasant blouse? They have those too. Maybe you've taken up belly dancing. Courage My Love can help you put together the entire ensemble from skirt to fitted top as well belts draped with bells and coins.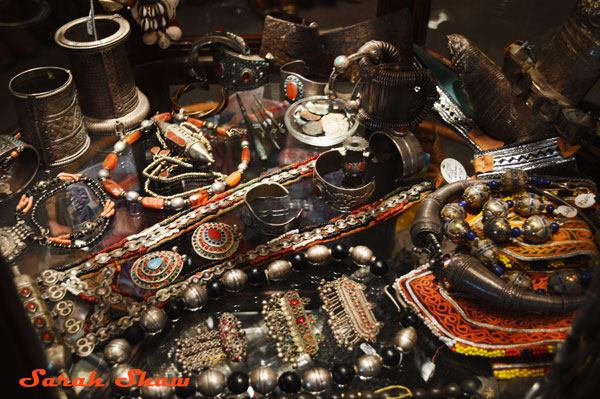 Courage My Love is also known for its wonderful selection of beads and jewelry. If you like to create your own baubles, you can find beads from all over the world as well as from many time periods. Materials include glass, carved bone and gemstones. If you prefer your necklaces already strung, you will be overwhelmed by your options. I personally love silver tribal jewelry and Courage My Love has case after case of offerings. Earrings, rings, necklaces and amulets from Tibet in addition the tribes found moving through the "stans" are found in abundance. There is also a collection of colorful fringe earrings to capture your eye and pocketbook. I was also surprised to find a collection of Native American jewelry that I associate much more with our Southwest.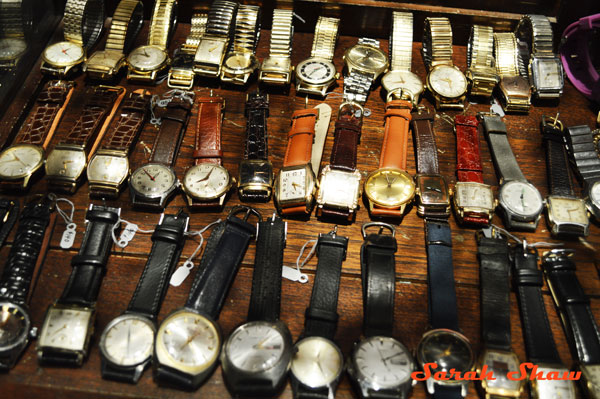 I've only tapped into a small portion of the offerings at Courage My Love. If you have some more time, and would like to see some more of my finds, please visit WanderShopper's Facebook page and the album Toronto WanderShopper Finds to see more images. Courage My Love is an amazing store to visit as it has something for everyone. Clothing is offered for both men and women, from many periods and many places. I dare you to go and leave empty handed!
Until we shop again,
Sarah
Much of the historical information on the evolution of Courage My Love came from Stewart Scriver's writing on their website. I appreciate his detailed and entertaining account of Courage My Love and how it became the destination for vintage Toronto seekers today. Thank you, too, for the gift of the postcard documenting an early moment at Courage My Love.