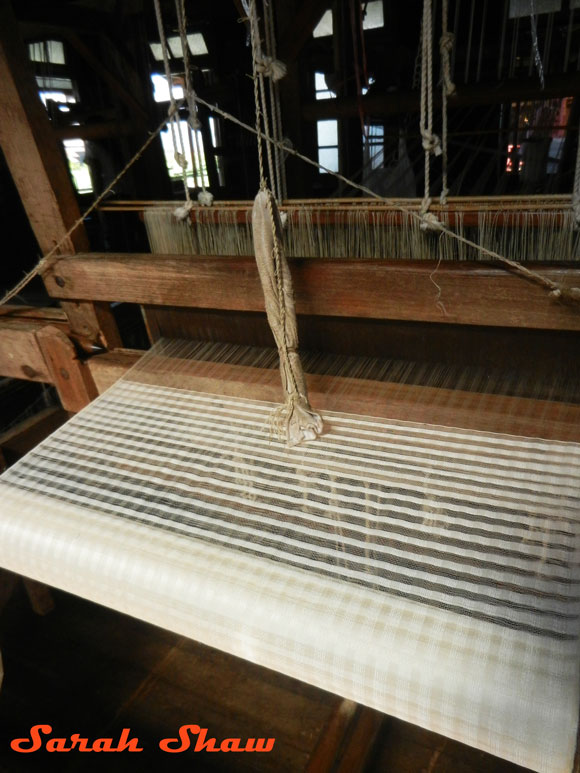 Discovering lotus weavers  during my travels in Myanmar introduced me to a whole new fiber for clothing. I immensely enjoyed my time traveling around the country and my days spent exploring Inle Lake were some of my favorite. Inle Lake is found in the Shan State in a valley surrounded by lush green mountains. The lake is freshwater and is home to around 70,000 people who mostly survive through fishing and farming. Inle Lake is shallow, especially in the dry season when it can be only 7 feet deep in some sections. These conditions are prefect for plant growth and are both a blessing and a curse for the residents. The innovative people around Inle Lake have harvested the weeds and used them to build up islands and create land. Farmers and villages have thriving plots of vegetables, like tomatoes, growing in perfect hydroponic conditions. Lotus plants also grow in abundance in Inle Lake and I learned more about their use when I visted the Khit Sunn Yin Lotus, Silk and Cotton Hand Weaving Centre.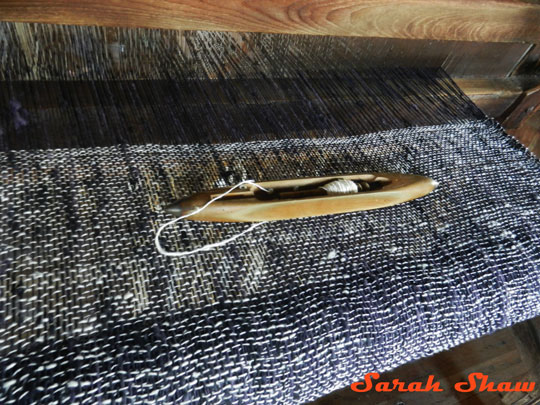 As you travel around the different villages on the lake in your hired boat, you will discover many cooperatives of artisans who will welcome you into their studios to teach you about their craft traditions and give you demonstrations. Eight different ethnic groups reside around the 50 square mile lake and each contributes to the cultural traditions of the region. Weaving has been an honored practice by women for centuries as they were providing the clothing needs for their family. Weavers in the area regularly work with silk and cotton, fibers that are flexible for both summer and winter wardrobe requirements.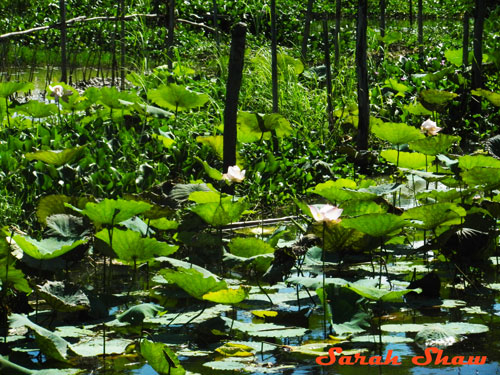 While visiting Khit Sunn Yin, I learned of the story of when the practice of the lotus weavers began. It is said that about 100 years ago, a woman named Paw Sar Ou wanted to give a special robe to the head Abbot at the Buddhist temple she visited. She discovered that she could cut the stem of a lotus plant and that when she pulled the halves gently apart, threads appeared. Paw Sar Ou was able to collect enough of these threads to spin them into longer fibers and then be able to weave cloth from them on her loom. From this fabric, she created a special robe to give to her Abbot as an offering.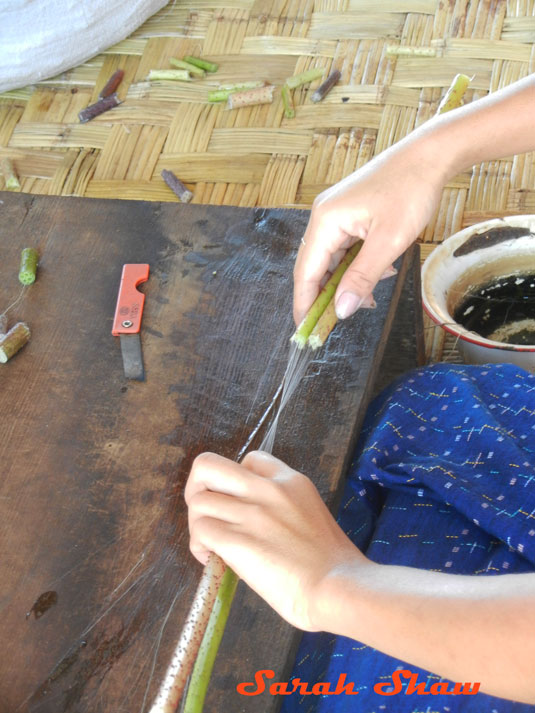 Most of the residents around Inle Lake are Buddhist and have a natural affection for the lotus plant. It is seen as a great symbol for the possibility in life. The roots of the lotus are always buried deep in the muck of the water but shooting up through all of it comes an exquisite blossom enjoyed by everyone. The lotus is an example of how we as people can become something more than we may first appear. It is fitting that it was discovered through cutting and carefully pulling the stem of a lotus apart, that fibers can be created which could be used in weaving. There are many kinds of lotus that grow around Inle Lake but I understand that the best known and holy of all of these flowers is the Padonmar Kyar. Through the efforts of Paw Sar Ou and her wish to make a special offering to her Abbot, we now all can enjoy the beautiful textiles woven from the humble lotus plant. At Khit Sunn Yin, they use the lotus fibers to create fabric, scarves, robes to be used by monks or to dress sacred images in their temples as well as shirts, jackets and neckties. The lotus weavers believe that by wearing something made from the lotus can help to absorb bad things from our bodies and help to bring us good luck.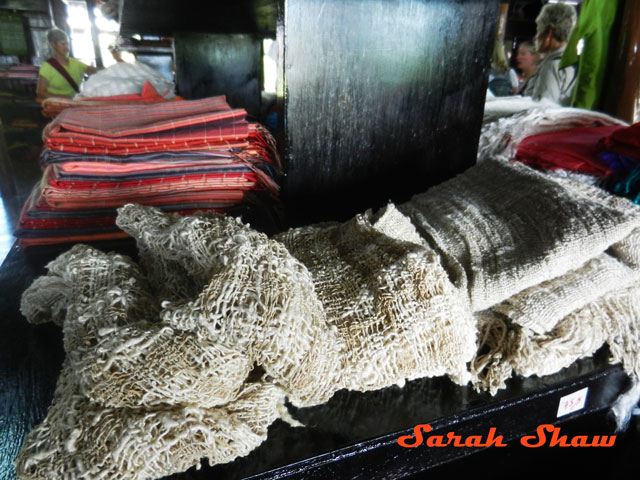 In addition to the items created by the lotus weavers, Khit Sunn Yin also makes many beautiful creations using silk and cotton. When we first arrived, we were treated to a demonstration of how the lotus fibers are harvested. I was quickly drawn to a scene taking place in the building behind us and wandered in to discover a woman working quickly dyeing batches of silk as well as a few already woven pieces. She worked rapidly as she pulled the deep orange and purple items from their boiling vats. At the back of the space was a stove set up where pieces of wood were burned to heat a large metal pot with the dye ingredients inside. Most of the colors used at Khit Sunn Yin are created from natural items such as the bark of a tree, flower petals, leaves and fruit. The building itself was rather dark except for the occasional window where light flooded in. It created a dramatic effect when the brilliance of the color met the rays of the sun as the master dyer hung her creations on a line near the bank of windows to dry.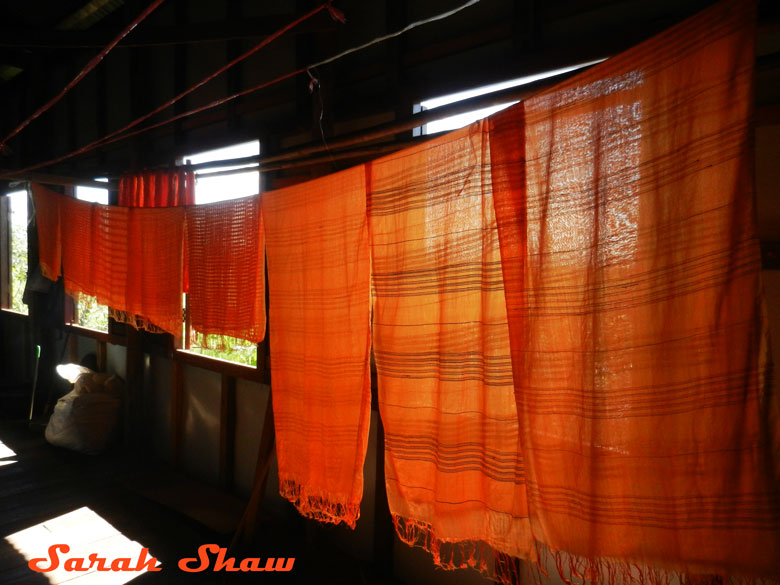 In another corner of the same space. I woman walked diligently back and forth, pulling fiber from one end of a long wooden frame to the other. With each lap, she wrapped the thread around a post to secure it in place. I have visited many weaving cooperatives before but have never come across a device like this one before. I believe that she was using it to create the long strands of thread that weavers use on their looms known as the warp. It was fascinating to watch her moving back and forth so quickly. She had clearly done this task hundreds of times before.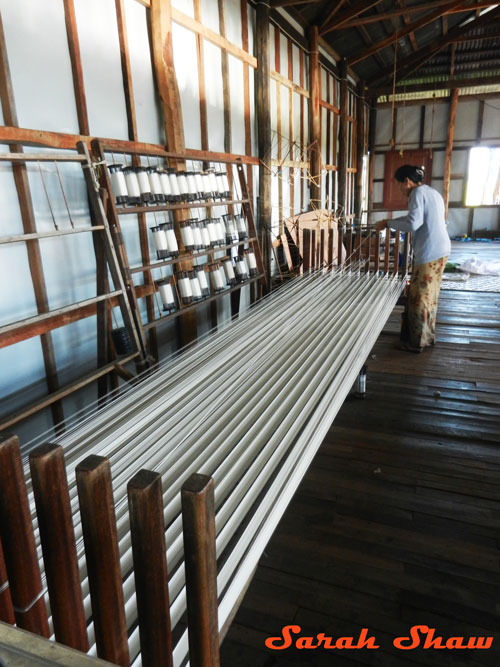 In the next building, all of which were on stilts up over the lake itself, was a spaced packed with around 20 large floor looms. Unfortunately, we arrived just after the weavers had left for their lunch break. We were allowed to walk around and examine the project each was working on that day. For some the size and intricacy of the design may even require them to spend days, weeks or even a month to complete. Each loom had many warp fibers strung from front to back. The weft is the fiber which is woven between all the threads of the warp which creates the fabric. To make long lengths of weft easy to maneuver through the intricate designs, the thread is wound around a shuttle or the bobbin holding fine threads of silk may reside within the shuttle. Passing the shuttle from right to left and then back again from left to right will weave the fabric. Designs are created by varying colors and by adding and subtracting some of the warp as the shuttle is feed through on the loom.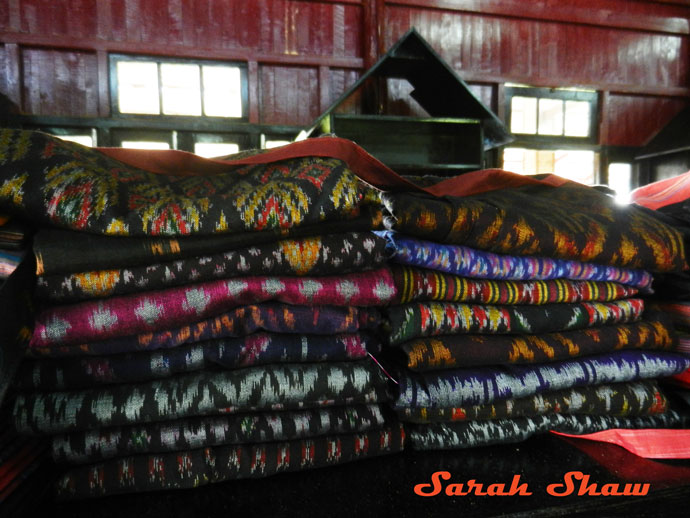 One of my favorite forms of weaving is ikat and is widely admired and practiced in Myanmar as well. I was really excited to discover than a number of the looms had projects involving ikat designs for me to examine up close. In ikat either the warp, the weft or both are dyed in places in advance of the weaving. You can think of it as a sort of tie-dying of the thread as areas of it are bound to help it resist taking on the color of the dye in some places. Ikat is an advanced weaving technique that was believed to originate in Indonesia. Examples of ikat have been found all over the world so weavers through the centuries have discovered this design technique and embraced it.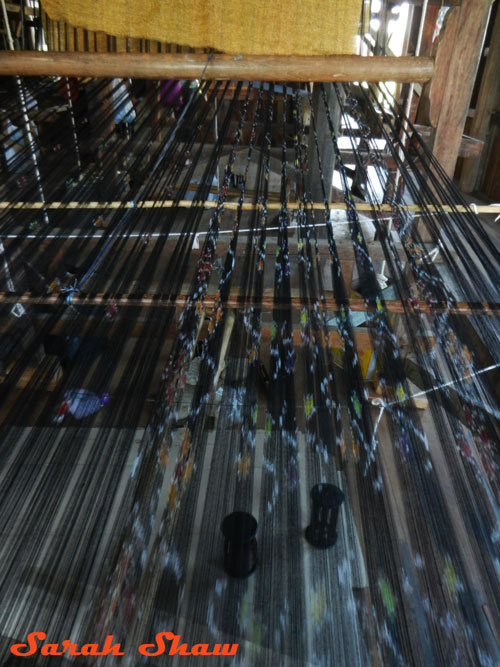 In Myanmar, ikat designs are favored for the beautiful and colorful longyi that both men and women wear everyday and for special occasions. A longyi is a long piece of fabric that hangs to the ankles and is wrapped around the body at the waist and secured in a knot. To the western eye, it may not always be immediately noticed the subtle differences in how and where the overlap and tying take place. How that is done does communicate a great deal to people in Myanmar. One of the women I was traveling with had her luggage lost for most of our time in Myanmar as her flight left right as Hurricane Sandy was beginning to hit the east coast and she was on one of the last flights desperately trying to take off. After a couple of days without her luggage appearing, she went out and bought an assortment of longyi to wear. She noticed she kept drawing the attention of the locals and that some of the women were giggling. One of the braver ones pulled her over to explain that she had tied her longyi like a man would and the problem was quickly corrected. To me, learning the intricacies of the local customs is one of my favorite things about traveling. Body language and social cues can vary so much throughout the world.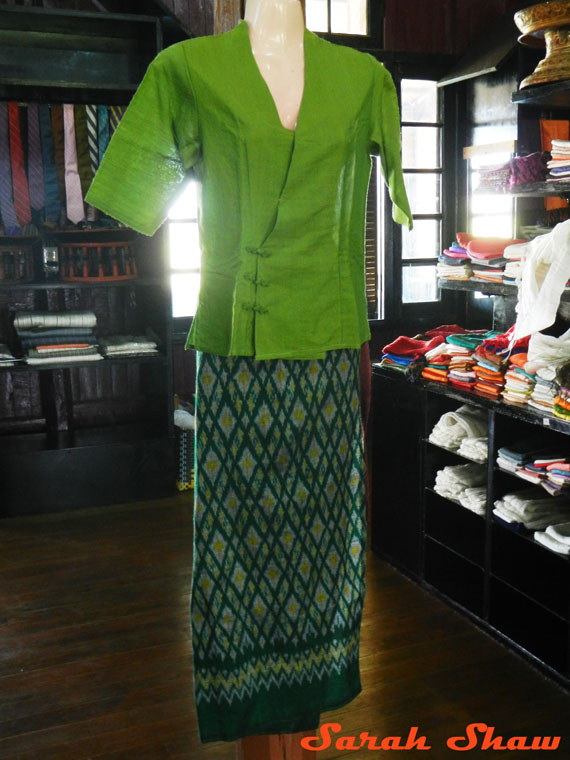 After we finished exploring the weaving studio, we headed to the shop. I found myself in a textile lovers paradise and was immediately overwhelmed by the quantity of options. The space was an enormous sales floor with rows and rows of racks and shelves offering nearly every color, design, size and fiber one could every wish for in Myanmar. Not only were there stacks and stacks of scarves or fabric but they was also an area full of ready made garments. Khit Sunn Yin has a large sales staff available to assist you so I was lucky to connect with a woman early on who could help me navigate through all the aisles. I would let her know the kinds of things I was most interested in and she could quickly take me to the section where I could find those items. Ordinarily, photographs are not allowed in the sales room but they graciously agreed to allow me to take some photos when they learned I would be sharing them with all of you WanderShoppers.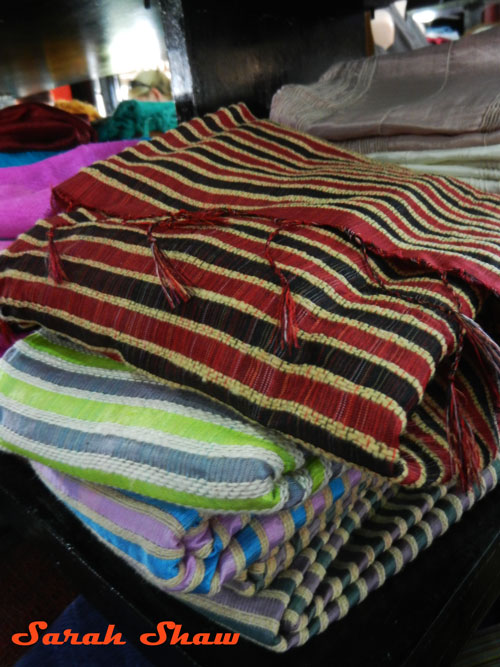 I hope I have passed along some of my enthusiasm for the lotus weavers, Khit Sunn Yin and encourage you to visit them when you find yourself on Inle Lake. You will locate them in the East Quarter near Inn Paw Khon Village. I couldn't begin to share all the photos I have just within this post. I have included more of them in the WanderShopper Facebook album called Myanmar. Please check them out. WanderShopper is also expanding its presence on other social media outlets. Please look for me on Twitter as @WanderShopper. I can be found on Pinterest where you can explore boards of what inspires me as well as now on Etsy as "Sarah Shaw" where I am starting to build listings of my favorite finds. And last, but not least, I am also starting to make posts and share photos over on Google+ as Sarah Shaw (WanderShopper) so where ever you fancy, you can join me in shopping the world.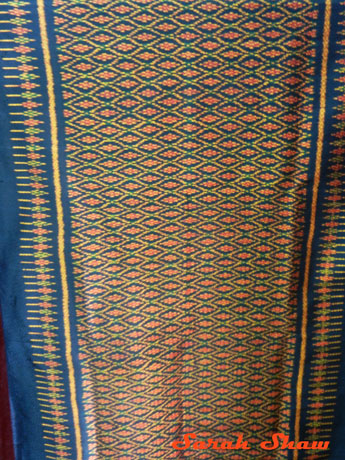 You may also enjoy checking out some of my other posts from my travels in Myanmar. One on Shopping the 5 Day Market takes place on Inle Lake, as well. Another post you may enjoy explores the traditions of Thanakha, the colored paste you find smeared, or decoratively painted, on faces throughout Myanmar.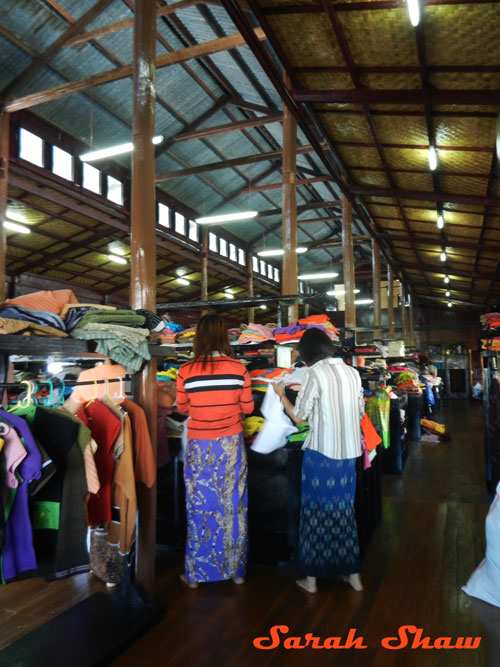 What is your favorite fiber to shop for? Do you prefer cottons or are you more of a silk girl? Both are natural fibers that are better for your skin than synthetic materials. How about lotus? Have you ever found a lotus scarf during your travels?
Until we shop again,
Sarah
To reach Khit Sunn Yin you may call them at 09-5213689 or email at [email protected].