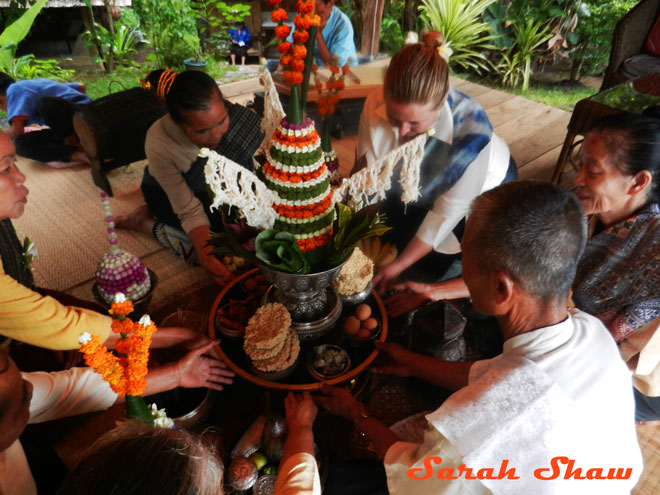 A baci ceremony called parts of my soul back to me while I was in Luang Prabang, Laos last year. I had expected it to be a special event and a way to participate in an important local custom. What I hadn't expected was how powerful and moving I would find the baci to be for me. Today is my birthday and it is the perfect opportunity to share this tradition with you. Most of the time, I write to you about things you can buy. Sometimes the most important way you can spend your souvenir dollars ends up not being for objects at all, but for experiences instead.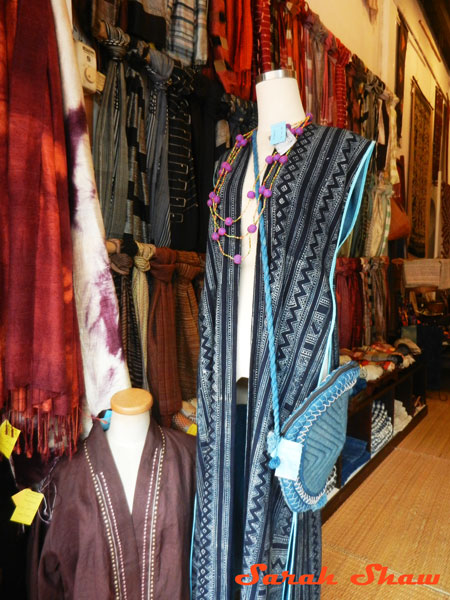 I had decided to spend some time in Laos after my WanderTours adventure in Myanmar. While looking for lodging, I discovered Ock Pop Tok and that they offered rooms in their villa at the Living Crafts Center. Ock Pop Tok is an organization that seeks to preserve and share the craft traditions of Laos. They do so by supporting artisans, selling the creations in their boutiques as well as offering educational opportunities to visitors. I knew immediately that this was a place I had to be and reserved a room right away. I took classes on weaving, natural dyeing as well as batik. I used some of my time to explore Luang Prabang and recharge before heading home. I had heard a little about baci ceremonies and learned that Ock Pop Tok could arrange for one to be performed for you. I scheduled mine for my final night in Laos.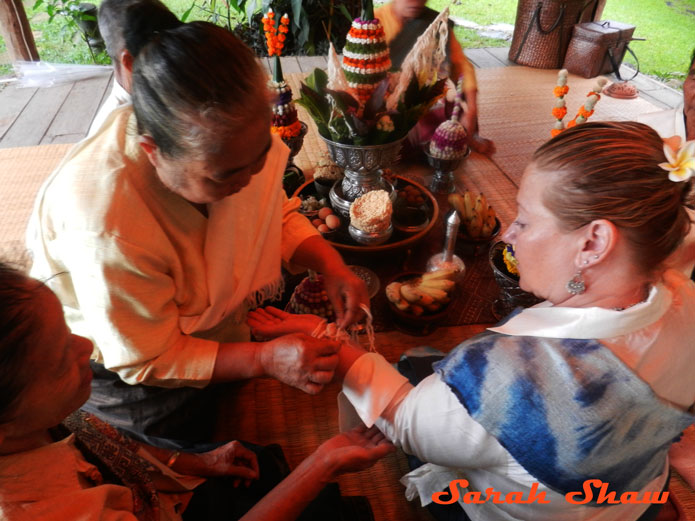 A baci ceremony is an old rite dating back to when the people of Laos practiced mainly animist traditions. It even predates Buddhism's influence. As a result, the baci is not associated with a specific religion. The baci, or su kwan in Thai, means a "calling of the soul." In this ancient belief, every person was a union of 32 different organs or spirits. When these spirits were out of balance or when some of them had wandered away from the body and gotten lost, it could result in illness. The practice of the baci ceremony is a calling of the spirits to return to the person's body so that they can be healthy and happy. Once all of the spirits have returned, strings are tied around the wrist to hold the spirits in place and prevent them from wandering away again. A baci ceremony brings good luck to the person, or people, being honored and it has now become a national custom in Laos.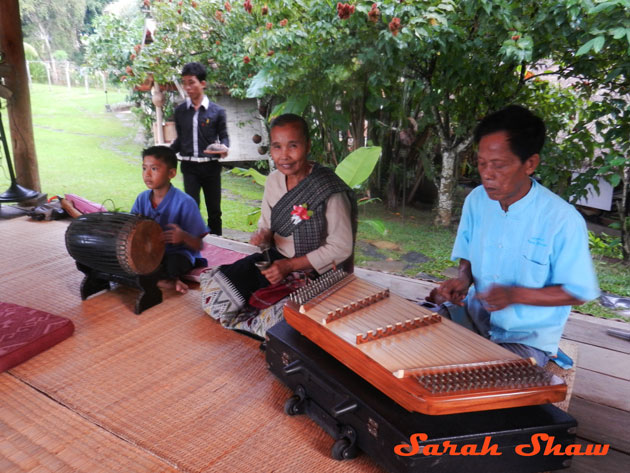 A baci ceremony can be practiced for many different reasons and at almost any time of year. It is common to hold a baci ceremony for events you want to celebrate such as a wedding or birth of a child. It may also be held as a house warming or to start a new business. When guests arrive you may want to welcome them with a baci ceremony as their spirits may have been lost during the journey. The Laos New Year is another popular time to hold a baci ceremony.
During troubled times, a baci ceremony may be given to help improve a outcome. If someone has been sick, it is believed that their spirits may be out of balance or that some have strayed. This is true not only for physical ailments but also for mental health struggles. If a mother has had an especially hard child birth, a baci can help reunite all of her spirits that may have left her during labor. Families often hold a baci after there has been a death. In this case, it is held to honor the spirits as well as help the family become unified again.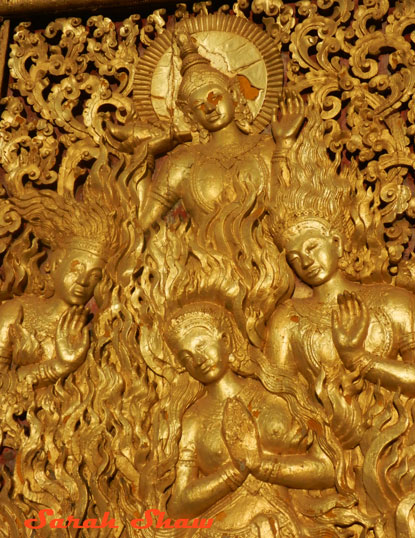 I love traveling in southeast Asia. If I had to pick a region, it would be my favorite place to travel in the world. And I seem to return again and again. But I went there last fall with a heavy heart. Although I was grateful for the many experiences I was able to have and the gracious people I met during those weeks in Myanmar, Thailand and Laos, I was still burdened with pain and sadness from a loss in my life. I sought the baci ceremony because I hoped this ancient tradition would heal me. Would bring the broken parts of me back together again. Looking back, it was such a big expectation to have for a ceremony performed by strangers in a culture that was not mine. The magic of Luang Prabang had begun to work on me already that week and I was finding a new sense of peace. I went into my baci with reverence and hope.
As a baci ceremony is an important event, attendees want to be nicely and properly attired. I had sought out the advice of some ladies in one of Ock Pop Tok's shops and they had helped me make some wardrobe choices. I initially picked out some fabric woven to be used to create a sinh, the traditional skirt worn by women in Laos. The pattern, color and fiber convey a lot of meaning and women choose carefully what they will wear. Many women are taught to weave at a young age and may make their own sinh. The skirt is a long tube of fabric that you would step into and fasten or tie across your waist. It may hang close to your ankles in length although many modern women wear it near their knees. My initial choice of material was decided to be inappropriate and I was lead to a better collection of colors and designs for me and the occasion. In the end, I selected a beautiful indigo blue silk with a tonal pattern woven around the hem. I selected a white silk wrap blouse. After some measurements, the fabric was whisked away to a tailor who had the custom garment ready for me the next day. Women also wear an elaborate sash draped around their core and hanging back over one shoulder.
Baci ceremonies are held by the elders in the village. In advance of the baci, the elder women are very busy with preparations. They create a pha khuan which is a large pyramid shaped flower arrangement of marigolds and other flowers. Banana leaves may form the base. There are elaborate designs with the flowers grouped together to create bands and designs. The particular flowers chosen may symbolize love, happiness or longevity. It will be the centerpiece of the ritual and is often placed inside a silver tray. Bamboo stakes are tied with dozens of white silk or cotton threads to be used during the baci. These white flags are inserted into the pha khuan. The senior women also prepare food to be blessed during the ceremony and enjoyed by everyone present at the end of the gathering.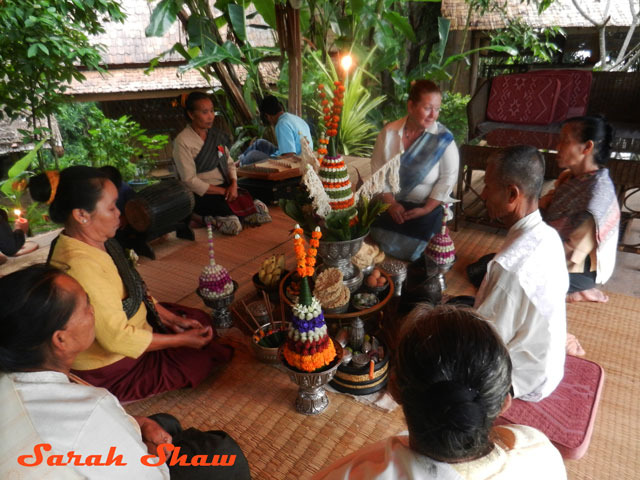 Ock Pop Tok made all the arrangements for my baci ceremony. Around the appointed time, two vehicles pulled up and a grouping of elders spilled out carrying large baskets over to the pavilion where my event was to take place. Three individuals were musicians and were there to provide live music for me during the ceremony. Another individual was immediately obvious to be very important. He was the mor phon, or the leader of the ceremony. The mor phon has usually spent at least part of his life as a Buddhist monk and is known in the village to be a very knowledgeable person. There were also three elderly ladies who were there taking the place that my grandmothers or older aunts and cousins might have filled for me if I were from the village. In addition, Ock Pop Tok had arranged for a Sociology Professor from the local college to come and act as an interpreter for me. She not only translated what the others said (as no one else spoke English) but her area of study was cultural traditions so she was able to help me understand what was happening during the ceremony as well as making sure I would follow protocol correctly. The ladies scurried about setting up the pha khuan and all the other additional flower arrangements and the food dishes. The band took their place to one side and began to play and we all sat down around the pha khuan. As in many societies, it is rude to point your feet towards other people or something revered or holy. So too for the position during the baci ceremony. We knelled down with our feet angled away from the pha khuan.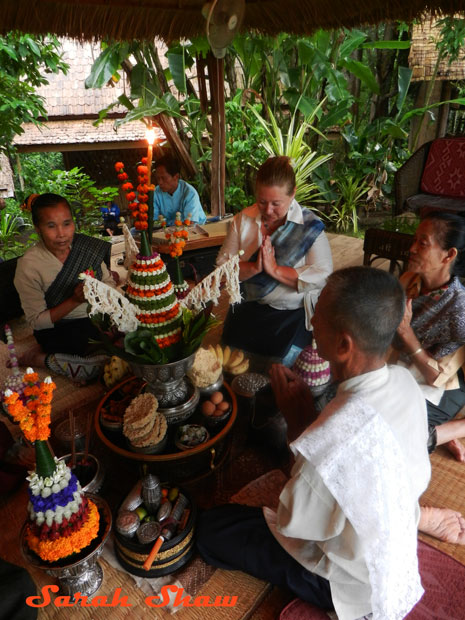 The mor phon began to chant a series of prayers, blessings and sometimes poetry. What is said depends on the occasion for the baci ceremony. A candle adorns the top of the pha khuan pyramid and after some time, the candle is lit by the mor phon. All of the participants lay their hands around the edges of the pha khuan. The leader will take the wand of white strings and brush it over the hands of the person who is being honored with the baci while saying something along the lines of "bad is swept out, good is swept in."
The chanting continues, sometimes with the others joining in. A baci ceremony usually lasts between 30 minutes to an hour. There is a point in the baci when everyone chants "ma der khuan euy" or "please come spirits." Once the mor phon had determined that my spirits had all been invited back and completely returned in to my body, it was time to secure them in place. He began by pulling one of the strings off the bamboo stake, leaving the knot in place. White is used to symbolize purity as well as peace, harmony and good fortune. In modern times, other colors of string may be chosen. Red for example symbolizes bravery. Yellow may be used for faith. And a black string shows a loss or grief. The string can be made from either cotton or silk.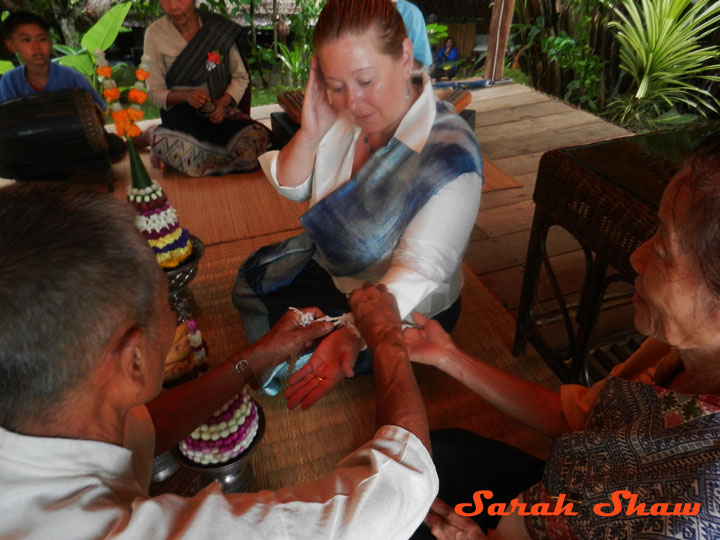 The tying of the strings begins by the mor phon tying one of the already knotted strings around my left wrist, using additional knots to secure it in place. I hold my arm up at chest level as a sign of respect, with my palm extended up. My opposite hand cups my ear as I take in the blessings he offers to me while he secures the string. Then he slides another string off the bamboo stake and repeats the process tying it on to my extended right wrist. After the mor phon has finished, each other member of the ceremony repeats his actions. Tying a string on my left wrist and then my right. For me this was the most special part of the baci ceremony. Although my interpreter was sharing the sentiments expressed such as that I live to be 123 and that I have a happy and prosperous life, what moved me most was the energy and generosity these wise elders shared with me. They didn't feel like strangers but that I was enveloped in grandmothers who were healing me with their love. The way the grasped my hands after the strings were secured and held them tightly while they gazed into my eyes. I felt that I had known them for an eternity, from a past life, and that I was being healed through this reunion.
Once everyone had extended me their blessings, the mor phon concluded the formal ceremony with some closing chants. Then the group began to enjoy the food. The bowls containing the offerings had been placed around the pha khuan for the baci. By sharing in the food, it is a way for everyone to share in the blessings and good energy of the event. Some of the food included fresh rice cakes, sweets, bananas as well as hard boiled eggs. The musicians played as everyone socialized. At some events, there may be dancing following the baci ceremony. Once mine concluded, the ladies set about quickly and efficiently packing everything up and distributing item appropriately. I had a small pha khuan to keep as well as generous helpings of all the food. Within a few minutes, everything was packed away and loaded back up. Baci ceremony groups like the one who did mine, work together often and are hired to perform the ceremony whenever needed.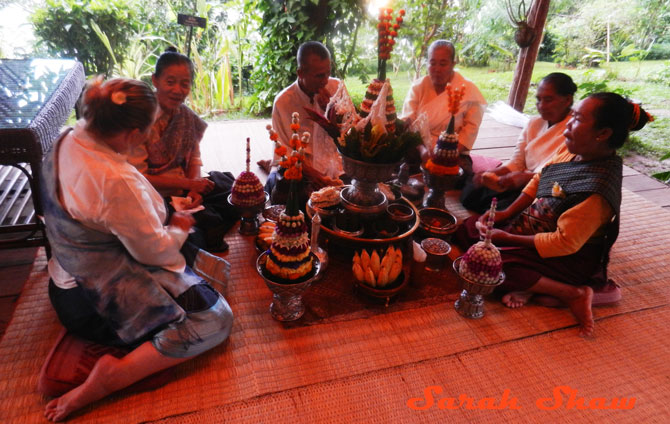 Some of the ladies stopped to say goodbye and give me more well wishes. One of the staff members at the Living Craft Center told me later that he had overheard the ladies talking about me as they waited for their ride to arrive. They were discussing that they felt that I was Hmong. I was thrilled that he had shared this with me. I think very highly of the Hmong people and greatly admire their culture. For these grand women to feel that I was "Hmong" was a huge compliment and an honor I would never have guessed. I took to the batik work very rapidly and find myself drawn to the Hmong culture, so perhaps I have been Hmong in a past life and have finally just started "coming home."
The baci ceremony had a wonderful effect on me. I felt the healing power of this wise community of elders begin to work on me immediately. I left the ceremony feeling more at peace as well as the impression that I had centuries of healing power at work upon me. The strings are to be left on for a minimum of three days. Ideally, you should leave them on till they fall off. The strings are there to keep you spirits in place in your body and it helps them readjust to where they should reside. If you remove the strings too early, you are in danger of your spirits wandering again. When you must remove your strings, untie them. Never cut the strings off or you will be breaking the protection they once offered. I found that wearing them in Laos and Thailand gave me a different status when I spoke with people. (They were impossible to miss as they formed a thick band of cotton wrapping around each wrist.) I was someone who had immersed myself in their culture and respected it. In return, I was shown even greater respect. I can't promise this consequence for everyone who has a baci, but when I reached Bangkok, my hotel upgraded my room to the top floor penthouse suite. I also had some of the best flights back home with a bump up to first class for one leg. The power of the baci ceremony at work? Possibly.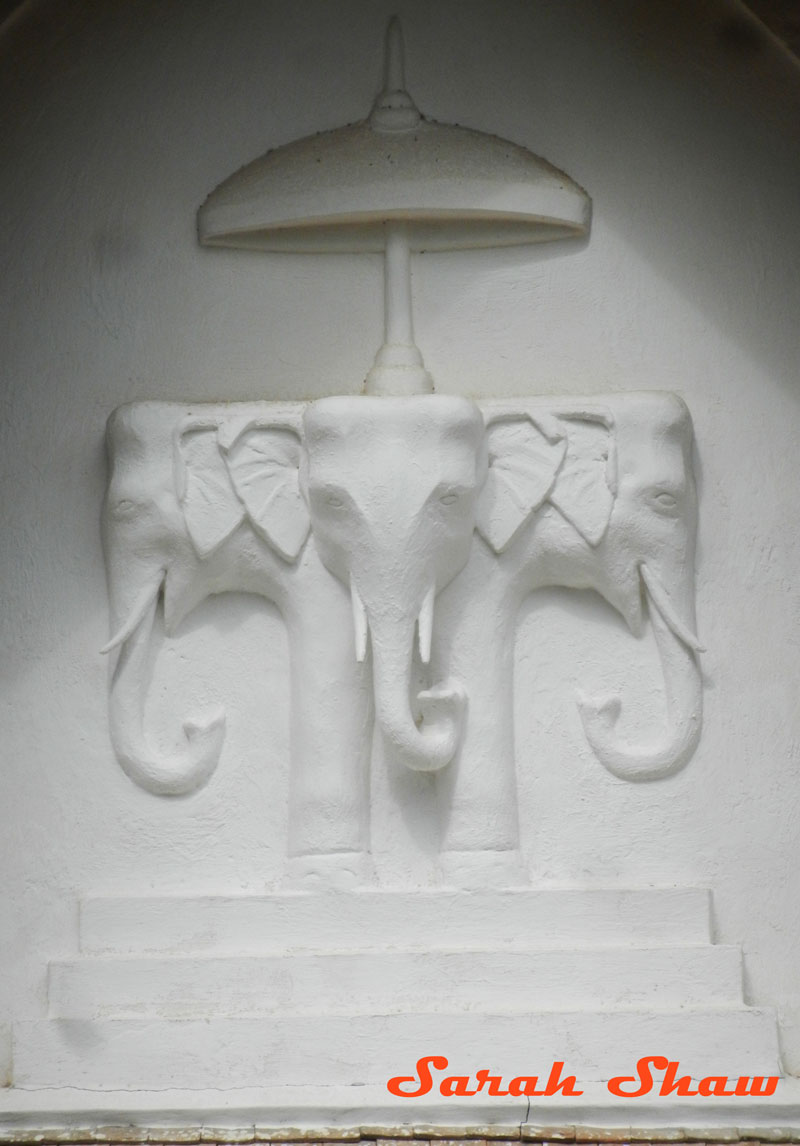 I did wear my strings for four days. It felt very strange to remove them but it did make life easier in the U.S. where the thick chunk of cotton on both wrists looked liked bandages from an accident. No one recognized their power of protection here and instead gave me concerned looks. I also came home to weather that was solidly winter in Michigan and the strings took a long time to dry after a shower. I have kept my bands strings and I have glanced at them several times as I have written today's post. To me they still hold their power and meaning. When I have a down day, sometimes I remember my generous Hmong grandmothers who offered their blessings and protections. I also successfully brought home my pha khuan, which was no small feat. Mine was made from dried flowers and was quite fragile. It also had a spike of flowers that was secured through the top. I wrapped it in tissue, placed it in a handled paper bag and guarded it with my life as part of my carry-ons through several connections and multiple security checks.
I am excited to return to Laos next year and already know that I will enjoy another baci ceremony. This time I will be including some girlfriends from the WanderTours Hill Tribe Tour. There are still just a few slots left if you would care to join us in this magical experience.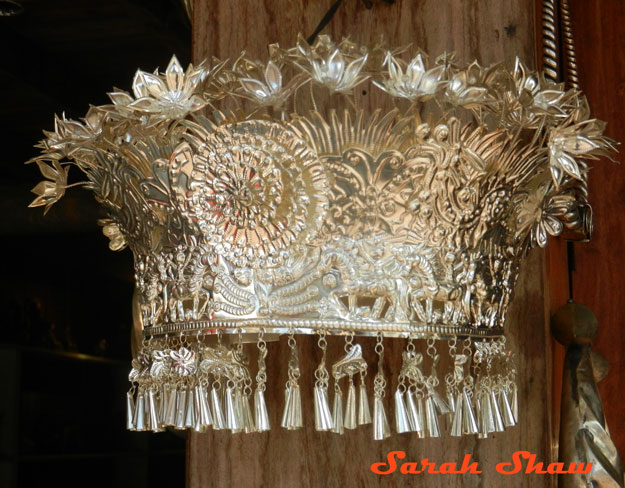 As I looked back on 2012 at the beginning of this year, I wrote a couple posts detailing my 12 favorite shopping experiences. My baci ceremony was one that I featured. If you would like to read more about those highlights, please visit The Best of the Rest of 2012.  You may also enjoy reading my post on learning Hmong batik techniques or about shopping at Ock Pop Tok which you can do online as well as at their boutiques in Laos.
Have you ever taken part in a traditional ceremony while visiting another country or culture? What was your experience like? Were you able to feel a part of the happenings and that you benefited from it? I would love to hear about your experiences so please consider sharing them in the comments section below.
Until we shop again,
Sarah
I want to extend my appreciation to the staff member at Ock Pop Tok who volunteered to take photos of my baci ceremony so that I would have some pictures of this special event. He jumped in as it was about to start without having any time to learn how to use my camera. Although not always quite in focus, I think the dreamy quality of the images matches that of the baci ceremony and I greatly appreciate his help in capturing these images. I wish I had recorded his name so I could thank him specifically.