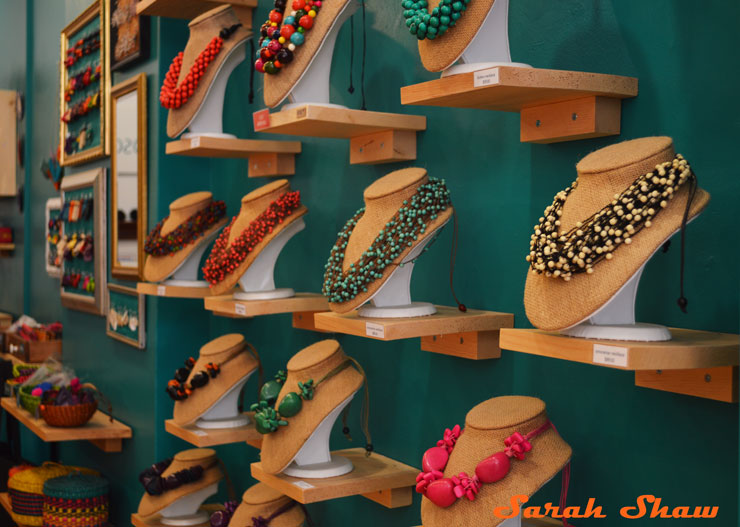 While I was in Toronto exploring the Queen West neighborhood's Art and Design Venues with expert guide Betty Ann Jordan, I was thrilled to be introduced to Lady Mosquito. Owner and design maven Cynthia Villegas founded Lady Mosquito in 2008 to introduce Canadians to the artistic traditions from her native Peru. As I entered her gallery and boutique for the first time, I knew immediately that she had curated a collection of jewelry and accessories that WanderShoppers would love. Cynthia and I quickly made plans for me to return later in the day, after the tour, when I could spend more time exploring her treasures and learning more about Lady Mosquito. And before we get too far, you should know that most of her items are available online and can be shipped anywhere so everyone can obtain something special, even if you don't have a trip to Toronto in your near future.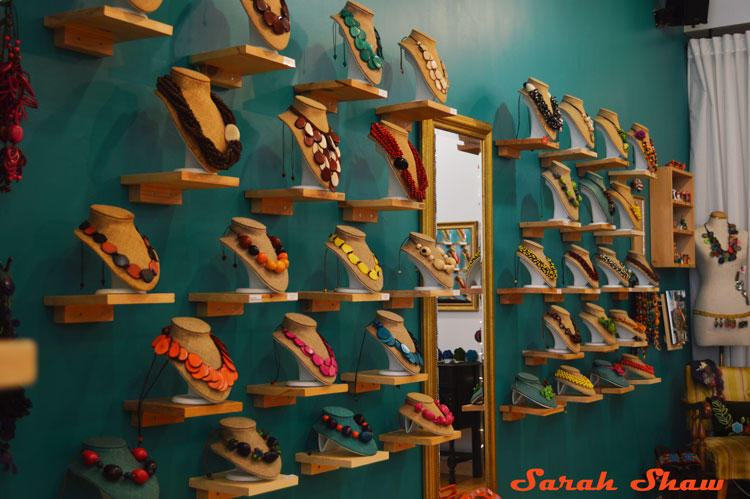 My first impressions of her collection were of the fun and lively combinations of color found in most every piece of jewelry, in the handbags and the sandals. It's easy to imagine yourself having a great day ahead whenever you wear one of Lady Mosquito's offerings. Although playful, they are also sophisticated, well thought out designs with  techniques perfected over the centuries by artisans around Peru as well as Peruvians now in Toronto. The more I looked around Lady Mosquito, the more I found I loved. And wanted.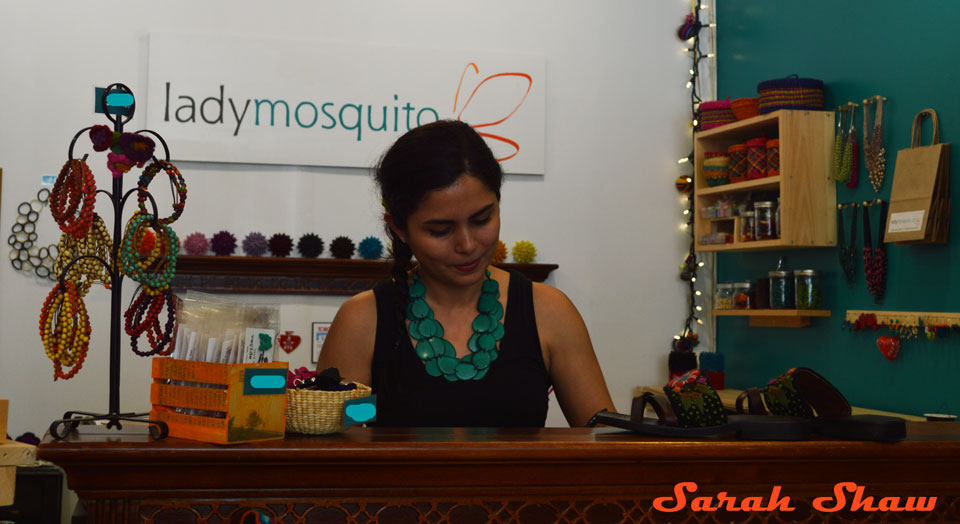 Although born in Lima, Peru, Cynthia Villegas is clearly one of us, a WanderShopper. She has lived all over the world before settling in Toronto. Years ago she spent time studying the cello at the Rimsky Korsakov Conservatory in St. Peterburg, Russia. Before putting her creative talents to work at Lady Mosquito, she also lived for a time in the Middle East. Although the jewelry and accessories have been crafted in Peruvian traditions, they would be equally as compelling and beautiful anywhere else in the world. Villegas' practiced eye has collected an amazing selection of Peruvian chic that any woman would love to wear.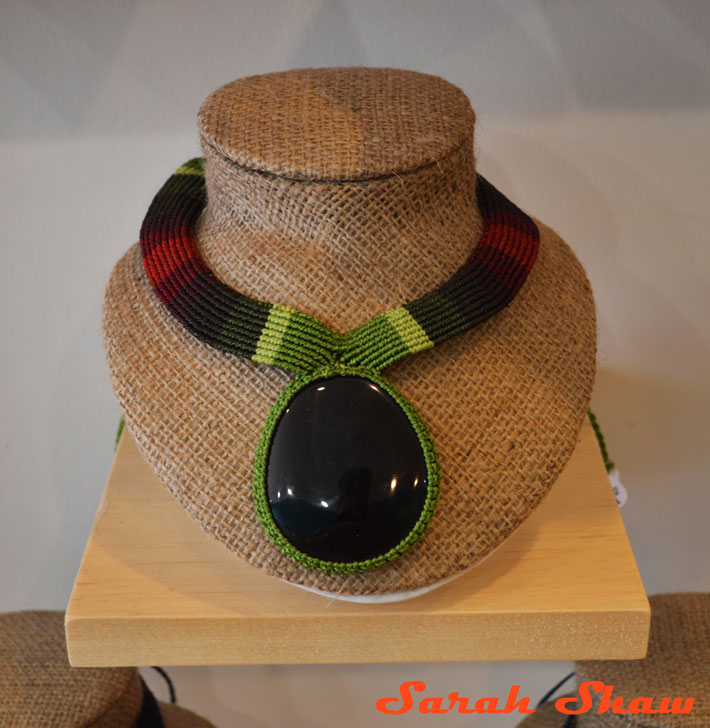 One of the styles I was immediately drawn to were a series of necklaces and bracelets of macrame and gemstones. When an artisan works in macrame, they are creating a textile with a series of knots as opposed to weaving or needlework like knitting or crochet. The delicate and intricate knots meld together to create a textural rope of sorts that replaces the need for a metal chain. The knotting also embraces a gemstone and features it prominently. I really like the gradation of colors shown in the Cleopatra Necklace pictured. This time a Peruvian Obsidian is showcased. Anywhere you would choose to wear this piece you would be sure to receive comments and compliments. I think it would work wonderfully in both casual situations as well as elegant affairs.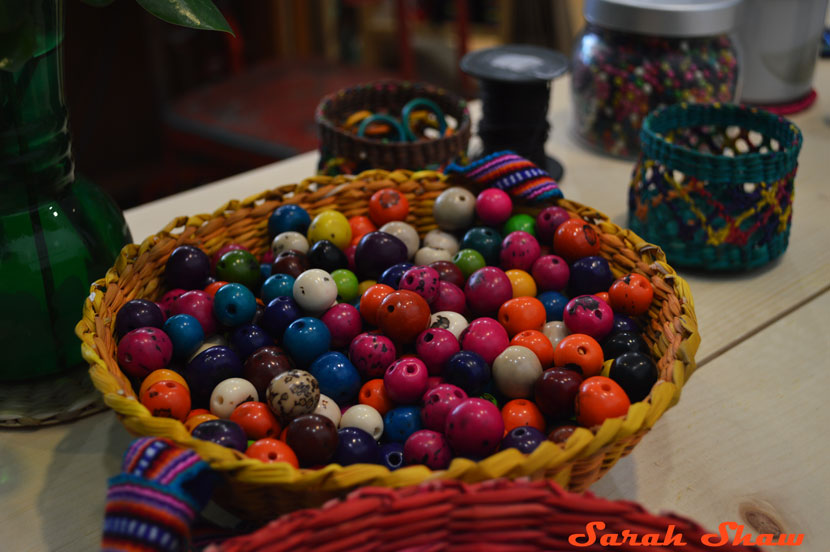 Another design style that you will find a near endless variety of necklaces in are those made with beads of tagua. Coming from a kind of palm tree known as ivory palms or ivory-nut palms, tagua is their seeds. The hard nut center is about the size of a avocado pit and its white interior resembles ivory. Due to the ethical and animal welfare concerns of how ivory usually necessitates the killing of elephants to obtain, as well as international restrictions on the sale of ivory, tagua has become a popular substitute. Once dried, tagua becomes a very hard substance and it can be easily carved, sliced as well as dyed. It holds brilliant colors really well and Lady Mosquito takes full advantage of tagua with unusual shaped beads and pieces made from slicing it in different planes as well as creating both large and small traditionally shaped beads.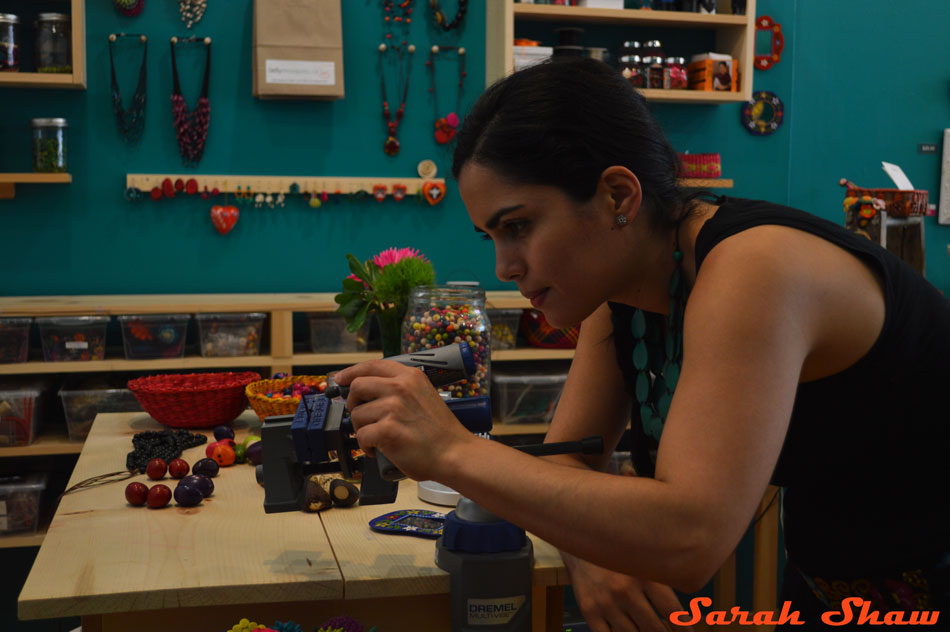 Towards the back of Lady Mosquito is a studio space where jars and containers of colorful beads are lined up. It looked like it would be tremendous fun to play with all the options and create fantastical jewelry designs. Villegas pulled out some of her favorites and let me see how she went about creating an original Lady Mosquito treasure. With so many colors and shapes, the possibilities seem endless.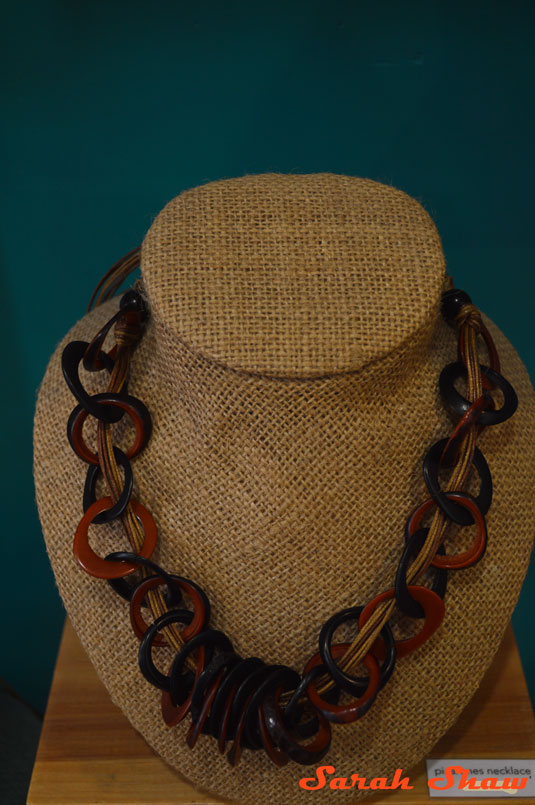 Dozens of tugua bead designs are already on display and ready to be adopted into your own jewelry collection. There were so many styles I liked. I really loved the layers and clusters of smaller colored beads such as in her Amar Necklace design. I also was really drawn to Picarones style which had layers of oblong open disks interwoven with cording in a really interesting way. The Black/Brown Picarones Necklace , pictured, reminded me of  vintage tortoiseshell  creations I had seen offered by designers for hundreds of dollars. Choosing a Lady Mosquito piece made from tagua is a friendly choice, both for your wallet and the turtle!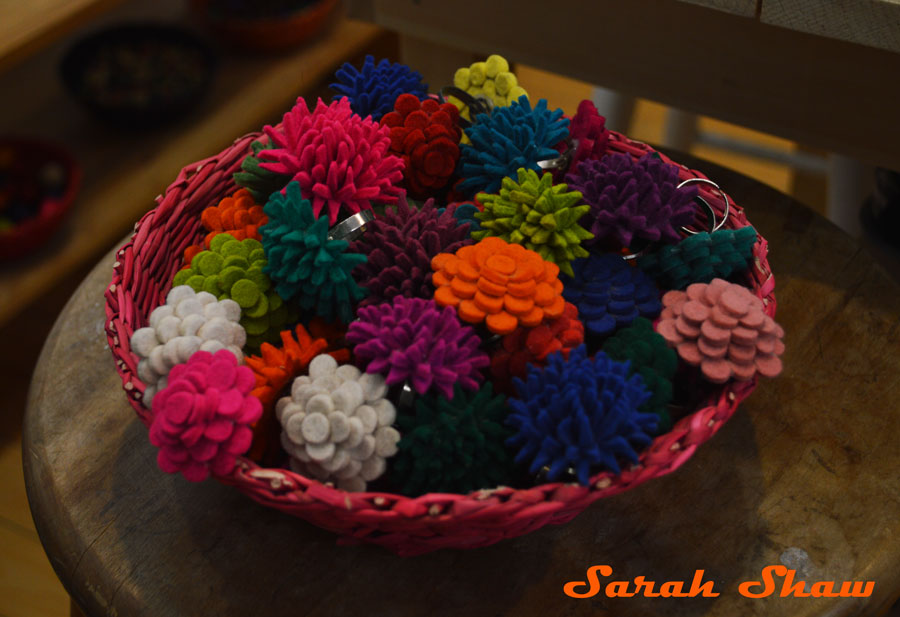 Some of the artistic jewelry creations at Lady Mosquito are made from felt. Resourceful artists like Vacide Erda Zimic collect the scrapes of wool from Andean hat factories. Not only is this up-cycling at its best but some truly beautiful and unusual pieces are created. Felt, like the tagua, takes well to dyeing and the wonderful range of colors are used to full advantage. I especially liked the design of the Starburst Brooch where dozens of little triangles have been cut and pieced together to form and explosion of form and color, much like a mum in full bloom. It would be wonderful on a dress or jacket but I would also love to see it attached to a purse or handbag.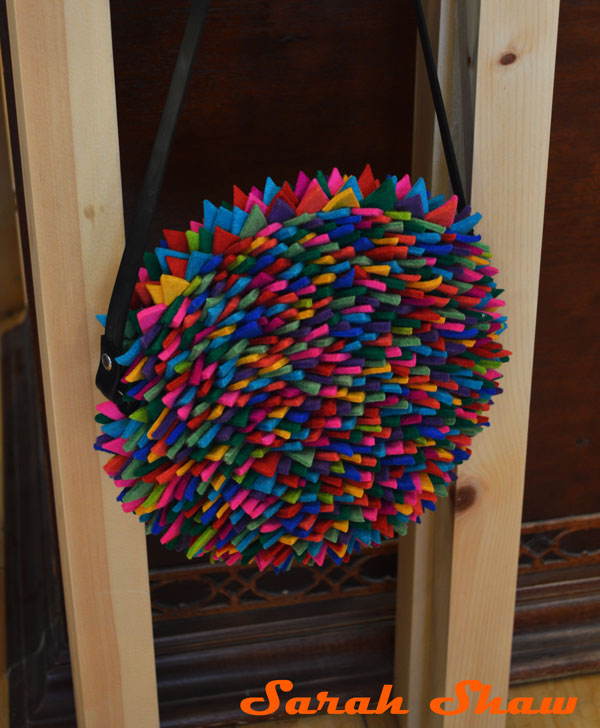 And speaking of handbags, Lady Mosquito offers many wonderful designs to choose from as well. One of my favorites is similar to the Starburst Brooch as it is a riot of multi colored triangles completely enrobing the bag except for its long, leather strap. This technicolor porcupine of a purse, known as the Tantrum Messenger, could easily be worn over your shoulder or cross body. I kick myself that I didn't buy it and it is first on my list to order and have shipped to me as I love it so much.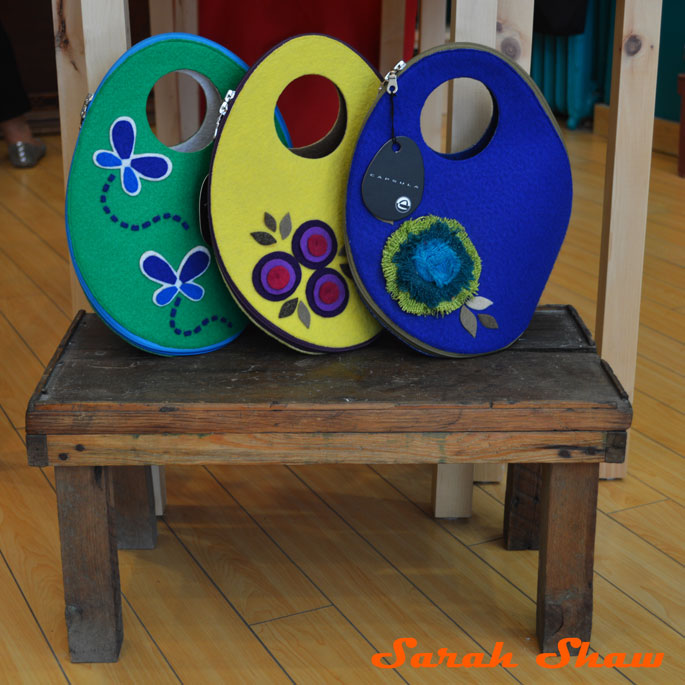 Another style of felt purses offered are the Capsula line which include the Oval and the Baguette. The Oval Capsula, pictured, sits upright with an oval slot punched through it just perfect for your hand to grasp. Each design is distinct and original as no two will be exactly alike. I think the Baguette Capsula is also tremendous fun. Owning it will be like carrying around a little artful and oblong treasure just as if you were bringing home a loaf of French bread from the bakery.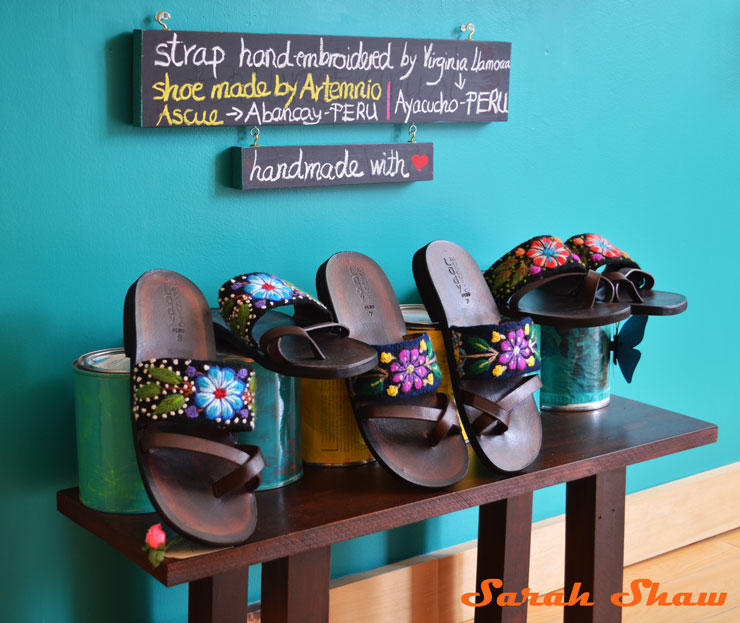 In addition to jewelry and handbags, what I found I couldn't leave the boutique without was a pair of Andes Sandals. I'm sure many of you, like me, have a small collection of the beautifully woven and embroidered floral belts from the region. What I am guessing none of you have yet is a pair of Andes Sandals. I can safely say that after I had expressed my delight when I discovered them at Lady Mosquito, Villegas told me they were her design. She had worked with weavers and embroidery artisans in Ayacucho to create the colorful band and then had it paired with sandals crafted in Abancay, Peru. This original and fair trade design is a sure winner. I had a hard time choosing which pair should come home with me as all the options were beautiful. They are incredibly comfortable to wear and required no time at all to break in. I've also received compliments on them every time I've worn them out in Toronto, Santa Fe and then back home in Michigan.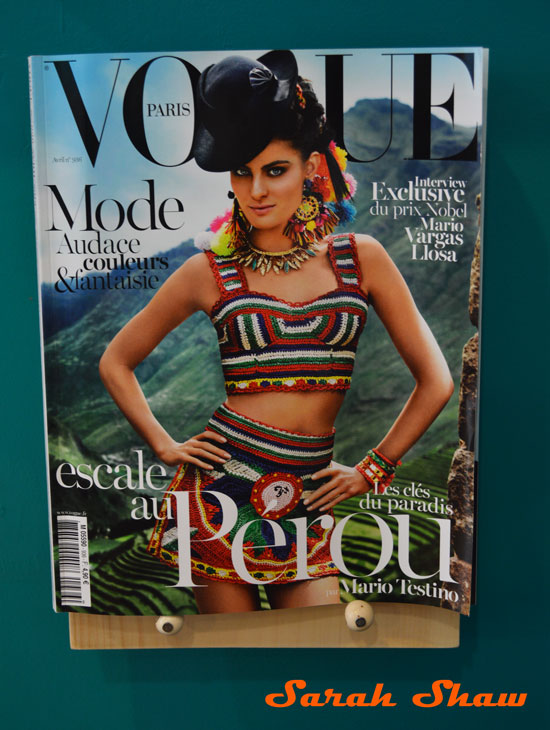 Villegas' design esthetic of Peruvian chic is not just something limited to her neighborhood in Toronto. Recently Vogue Paris dedicated an issue to the vibrancy, colors and textures of fashion from, and influenced by, Peru. You will be right on trend to pick up and wear one of Lady Mosquito's finds. You may not have a trip to Peru, or Toronto, in your immediate future but it is easy to place an order online from the wonderful selection of accessories at Lady Mosquito's website.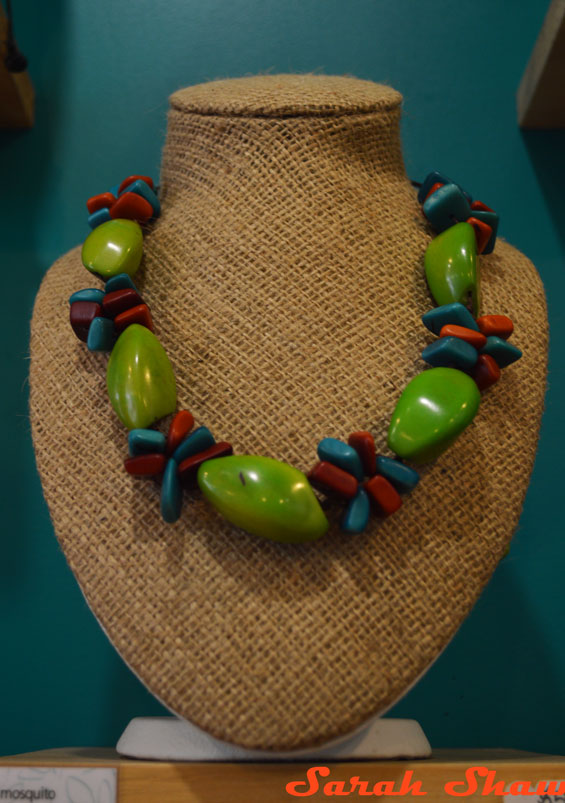 I really enjoyed my time at Lady Mosquito. I found Cynthia Villegas to be a really passionate and creative businesswoman. Her instincts have curated a really interesting collection of accessories from the amazing country of Peru. I am excited to watch as she continues to develop, and grow, Lady Mosquito. I will be sharing a few more images from my visit to Lady Mosquito on the WanderShopper Fan Page in an Album titled Toronto WanderShopper Finds. Be sure to "like" WanderShopper while you are there so you are notified of future posts as well as Facebook only content. When you visit, please let me know which pieces from the Lady Mosquito collection you like the best. Is it a certain style? Or color? What would you like to wear and where?
Until we shop again,
Sarah