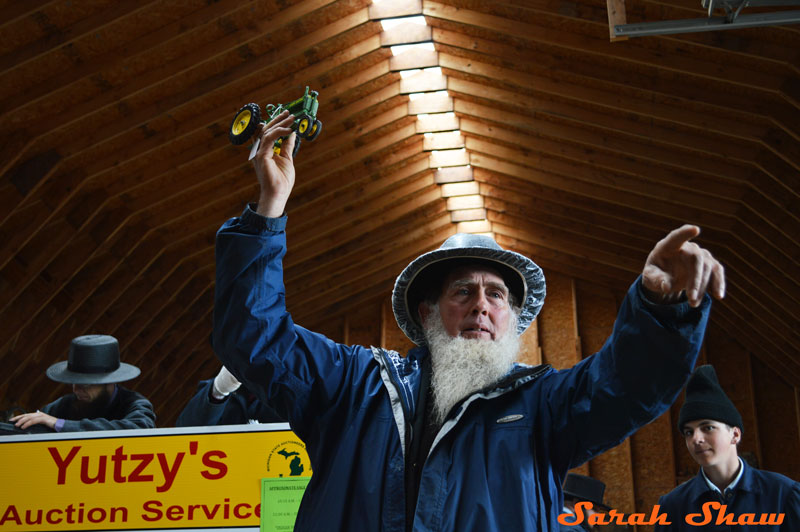 Last week, I joined my father for an Amish Farm Auction. I grew up in Charlotte, Michigan which is surrounded by farmland and boasts of having the first chapter of FFA (Future Farmers of America) in the state. Farming is an integral part of our community and so are the Amish. For as long as I can remember I have seen Amish families riding in to town in their buggies to buy supplies or running into the women at a fabric store purchasing cloth to make their own clothing. Our shopping centers all have places in the parking lots where horses could be tied up as well as the more traditional spots for cars. Everyone always knew the locations of the corners out in the countryside where one day a week, an Amish family would set up a stand by the side of the road and offer Amish bake goods like pies, cinnamon rolls, cookies and breads. When my father suggested I join him for an Amish Farm Auction coming up, thinking WanderShoppers would like to read about this unique experience, I decided he was right. So please come along with us as I share my three days of shopping and bidding with the Amish.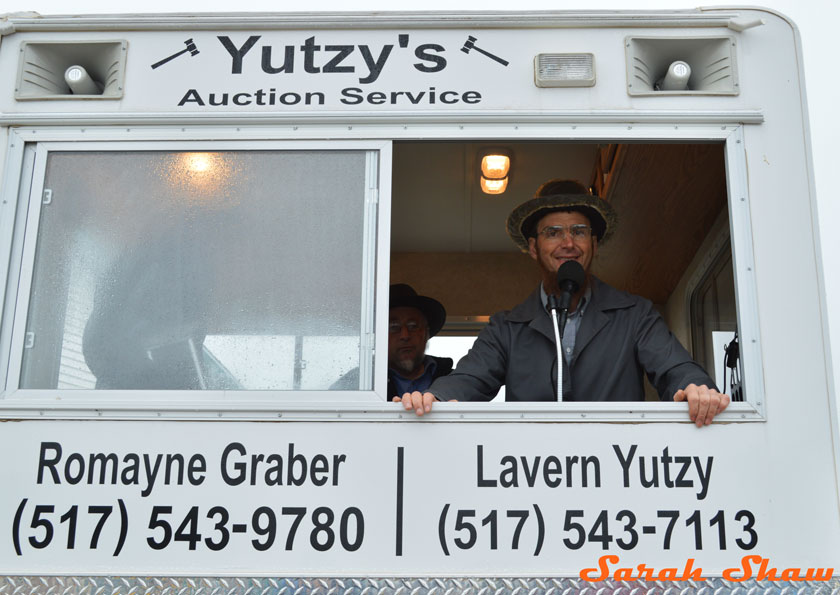 Our host for this shopping extravaganza is auctioneer Lavern Yutzy. Twice a year, Lavern invites people to bring items they want to sell to his farm located between Charlotte and Vermontville. What results in a little bit (and sometimes a lot) of everything. Lavern has been hosting these consignment auctions for the past 15 years and does so twice a year – the Friday and Saturday before Mother's Day in May and the same days again right after Labor Day in September. My father likes to make a visit on Thursday night so he can check out the items before the day of the auction. This is a great idea as there are less people around which makes it easier to see everything. Once the auction is underway, areas can get pretty crowded with masses of people and it would be hard to evaluate the quality of the offering or sometimes to even see it.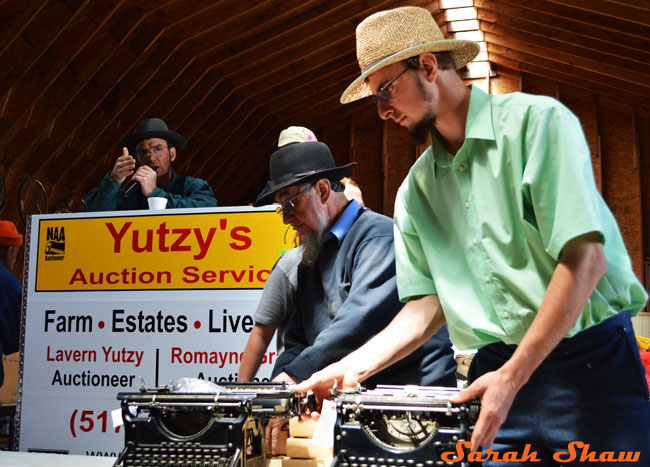 Lavern Yutzy attended the Missouri Auction School and became an auctioneer in 1992. He had been attending livestock auctions for many years and had been inspired by what he saw and wanted to become a part of it. After classes and lots of practice, Lavern did his first solo auction in 1995. Since then, he has seen his business flourish as the need of a good auctioneer is great. He estimates that about 80% of his auctions are held around the greater Charlotte area. He thinks he's been so successful because of the values he stands for including honesty and integrity. He has inspired other men in his community who have now also trained to be auctioneers. Lavern is also proud that this is a family business and his wife and children are all involved in making his auctions a success.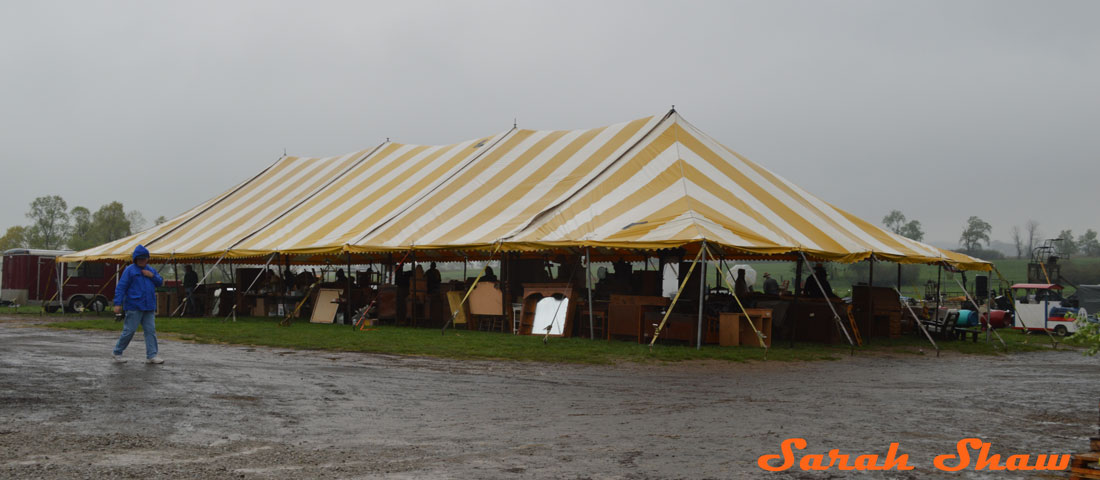 Yutzy's Auction and Appraisal Service holds sales all year round. Lavern tells me that there are definitely seasons though when he and his team are really busy. By March things really get going for the year as everyone has cabin fever. Regardless of the weather, everyone wants to get out and do something, see some friends and go to an auction. Some of his best sales take place in March and continue through spring. His service will set up sales for farms, livestock, estates, liquidation and real estate. Whatever your auction needs are, Lavern and his team can take care of you. They also offer appraisals so you can be sure that you know the value of your items.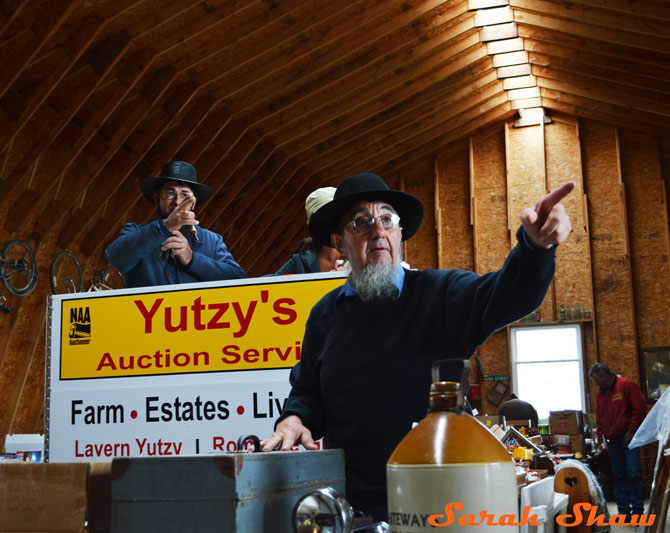 During this Spring Consignment Auction I attended, Lavern had 50 people working each day and ran seven rings simultaneously. A ring is the area where an auction is taking place. It will contain an auctioneer who will tell you information on the current item being offered known as a lot and then begin the bidding process. He will shout out the opening bid to get things started and then off we go. He will keep shouting out the current bid as well was what the next bid will be needed to bet the current winning bidder. It can be really exciting and face paced if a number of people are interested in the same item. The auctioneer with also have a spotter who will be watching for people to bid. Once there are no more bids, the item is then sold. In my next post, I will be sharing more specific information on how to successfully bid on an item as well as tips on strategy.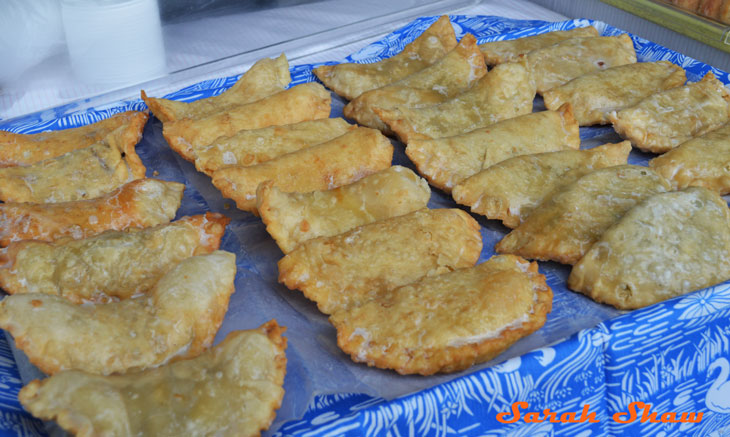 Attending an auction is really more than just a sale, it is an event. At this auction, it allows families who are usually busy the entire day on their farms, a chance for a break to buy needed items while they socialize. Children come along with their mothers and fathers.Knowing that it is an event, the local Amish community sets up food stalls throughout the grounds so that people can eat as they shop. The Amish are known for their good cooking and delicious bake goods so there is always a line to buy things. More than once I found myself standing in line for a fried pie that was way better than Hostess ever achieved. Later in the day, that stand also made fresh ice cream and offered root beer floats. Another stand offered egg sandwiches for breakfast and later hotdogs, hamburgers and french fries for lunch or dinner.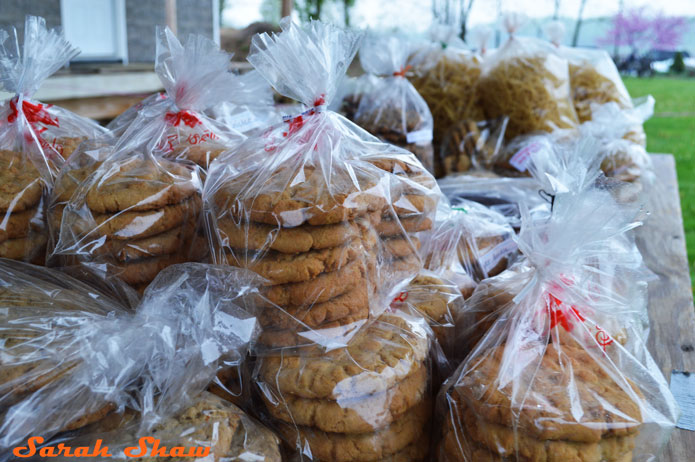 All of the food sales throughout the grounds of the auction went to benefit the Amish schools. Amish families prefer to educate their children within their community as a way of continuing their values and traditions. Most children begin school when they are 6 or 7 years old and are likely to finish by the time they are 14 years old. Around Charlotte, there are three districts with the sale being held in the South District. There are 17 Amish families in this district and currently they have 27 children in their school. The other districts in around our area are the West with about 30 families and the North with about 20 families as members. All the families with children prepare food for the sale such as baking hundreds of the pies that are served or bought to take home. The parents and grandparents also work the food stands. The semi-annual Yutzy sales provide all of the funding for the Amish schools in this district. The money will be spent on books, supplies and the teachers salaries. Some teachers come from their community. This year, they also had a teacher from an Amish community in Indiana.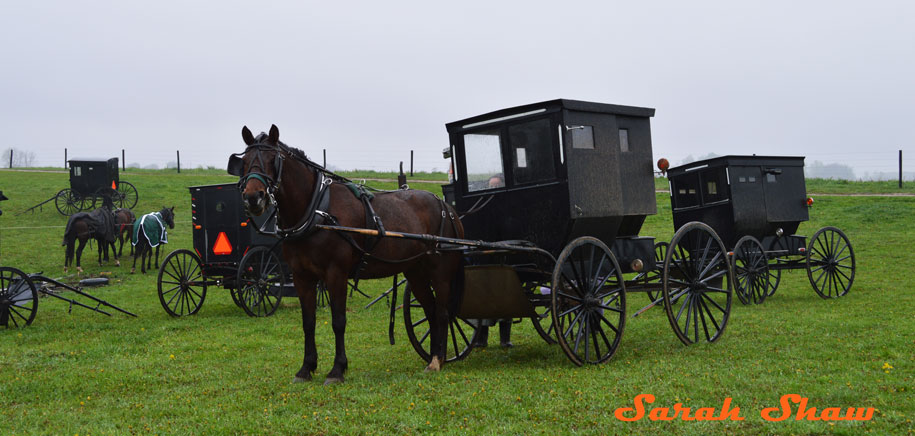 The Amish can trace their heritage to Mennonites who immigrated to the United States from Germany and Switzerland beginning in the early 18th century. Many of the early settlers choose Pennsylvania and even today most Amish speak a dialect of German known as Pennsylvania Dutch, or sometimes Pennsylvania German, in addition to English. Currently there are somewhere around 250,000 Amish people living in many states in the eastern half of the United States. They are unified by their traditional Protestant religious beliefs and have long practiced pacifism, being against war and violence. Their way of life stresses simple living, plain dress and a rejection of modern technology. Most of the Amish people I met did not want to have their pictures taken and I honored that request, only photographing the men who were actively working the auction after getting permission from Lavern.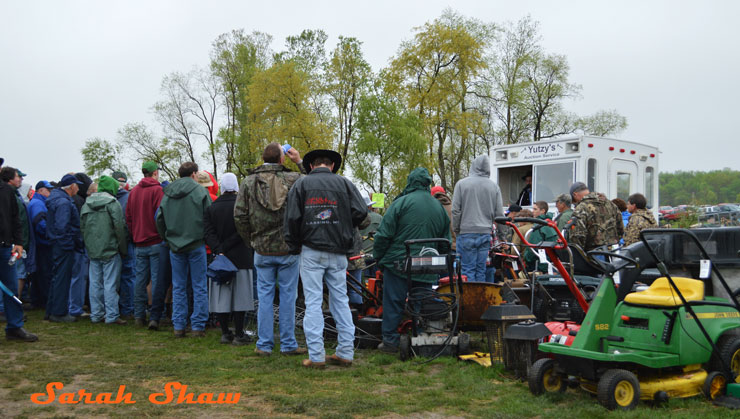 The auction I attended offered thousands and thousands of items for sale. Everything was grouped into different areas generally around a theme. A large tent was erected that contained furniture including beautiful antiques as well as contemporary finds. The large barn housed smaller household items such as pottery, trunks, kerosene lamps and also included many collectables such as baseball cards, coins and marbles. Outside the barn was a section of the lawn that showcased row after row of larger household offerings like washers and dryers, patio furniture and hundreds of bicycles. To the other side of the barn was a collection of plants and trees for sale from nurseries where you could buy flats of flowers as well as some unique planters. Heading out to the pasture will bring you to large rows of outdoor equipment. They started with items like lawn mowers, snow throwers, weed wackers and the like. Scattered throughout were building supplies like siding, wood, screen doors, wood burning stoves and power tools. Walking deeper into the field and you would discover farm equipment, tractors, cars and buggies. The last area contained the livestock and tack auction. Horses, ponies, goats, calves, pigs, chickens, peacocks, rabbits and more were all to be auctioned to new farms. Everything was sold in just two days of frantic bidding.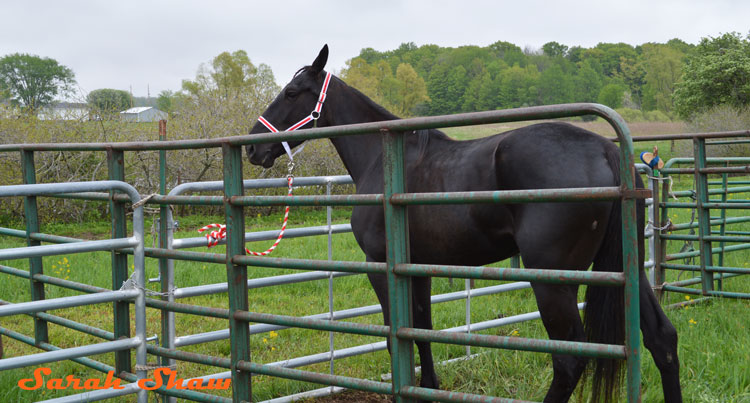 Just as the items offered were varied, so were the people attending the auction. Present, of course, were many farmers but the auction also attracts collectors, antique dealers and flea market vendors. People like to shop at an auction because it is one of the best ways to get a wide selection of items at low prices. All of the items are sold unless the seller has placed a reserve, or minimum sale price, and it is not met. Because of this "everything must go" policy, the price will be determined by the people who are interested in the items and how high they need to go until no one else is willing to bid higher. Most items will sell for significantly lower than you could purchase them at a vintage store.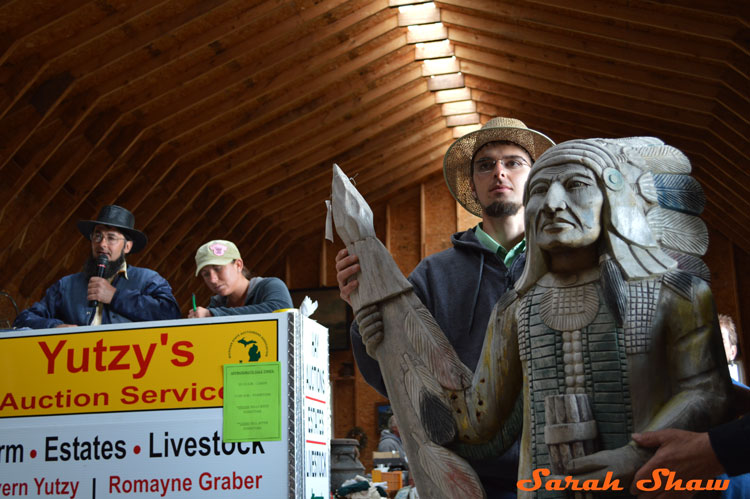 I really enjoyed my time at the Amish Farm Auction. I found everyone to be really friendly and it had the atmosphere of a community event. I also really liked the food stands throughout the grounds and brought home some delicious baked goods and fresh caramel corn. I will definitely go back to Yutzy's for future auctions. In addition to the Semi-Annual Sales in May and September, Yutzy's also hosts a Quilt Auction of over 100 beautiful, handmade Amish quilts and wall hangings on the last Saturday in July starting at 9:30 am. I hope I am in town for that event this year and will definitely share my findings with you.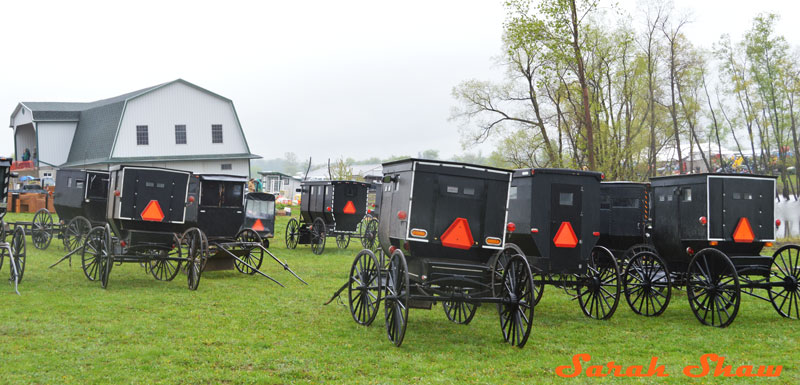 Attending an auction is a fun way to acquire new pieces with a unique history for your home or to source equipment you might need for your yard. Bidding is easy and you are likely be able to buy things well below the price you could find them for in a traditional store. Look for my next post where I will be offering tips for successful bidding strategy so you can go to an auction and look like a pro. I'll also be sharing more details on the items I discovered as well as which items I won and came home with me at the end of the day.
Have you ever gone to an auction? What did you buy?
Until we shop again,
Sarah