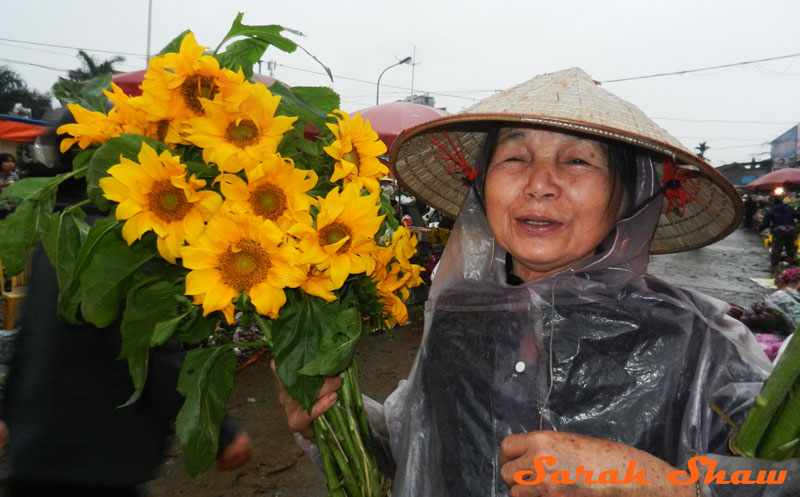 One of the best things about returning from Sapa on the overnight train was that I was awake early enough to catch the Hanoi Flower Market. We arrived in Hanoi around 5:00 am and took advantage of the opportunity and headed straight to the flower market. This is primarily a commercial market, supplying all the floral shops and roving flower vendors for the city of Hanoi. Just like the produce markets that supply restaurants, they are at their peak in the middle of the night. Things really get going around midnight with florists flooding into the market to select the flowers they will need for the coming day. By the time we arrived at 5:30 am, things were coming to an end and slowing down. Visiting a large commercial flower market is an incredible experience and well worth the early morning effort. Join me for a stroll around this institution in Hanoi.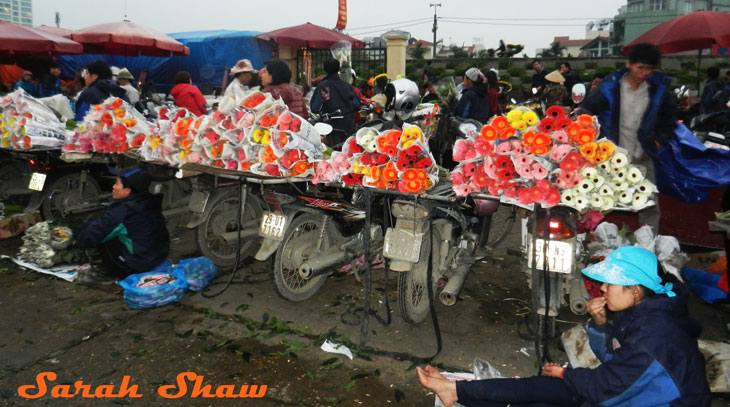 Although there is a permanent, roofed structure at the Hanoi Flower Market, most of the vendors set up their offerings on the backs of their motorcycles, scooters, trucks or carts. At a glance, it seems rather informal but vendors surely have their favorite places to set up and those go to who ever gets there first. Many specialized in the flowers they offered so a florist needing a variety of flowers would need to visit many vendors in a morning.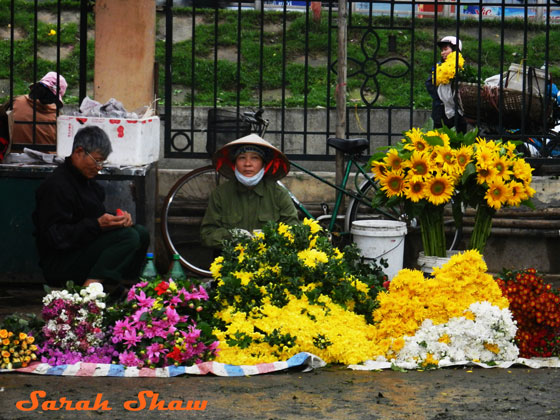 As the display space is limited to the back of their scooter or a tarp they have laid on the ground, vendors are really sensitive to having their offerings blocked by non-shoppers. A visit to the Hanoi Flower Market is a memorable experience but it is important to be a good tourist while you are there. Be aware of your surroundings and do not block someone's display while you photograph another.
Once customers have made their purchases and loaded up their motorcycles or scooters, they will be exiting the Flower Market on the same paths you are walking. With all of the flowers secured to the back, they can make a pretty wide load! You will also find carts of flowers being pulled through the aisles. By staying aware of what it happening, you will stay safe as well as help the people who are working and a shopping there get to where they need to be. Just remember you are a guest there, in their space, and be respectful to the vendors and customers who depend on this market for their livelihood.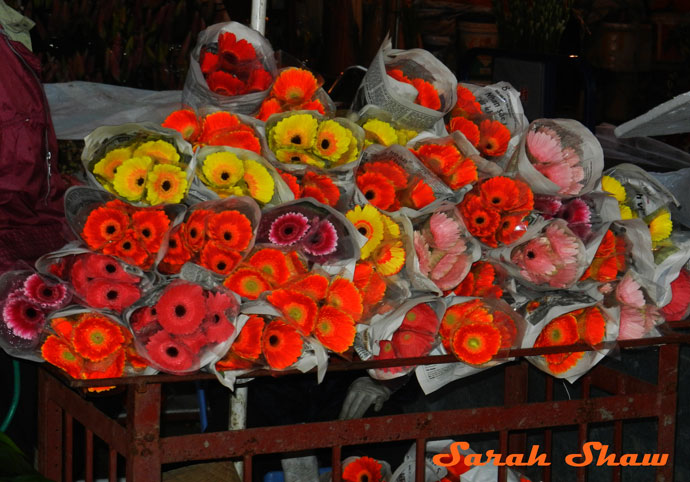 One of the thrills of visiting a commercial flower market is to be able to see flowers you love in huge quantities. I always like to have Gerbera Daisies in my home, especially in the summer. Their hardy stems keep them looking fresh for a long time. I like them in little bud vases with a single flower or in a larger bouquet up on my mantel. Their bright, happy colors seem perfect for summer.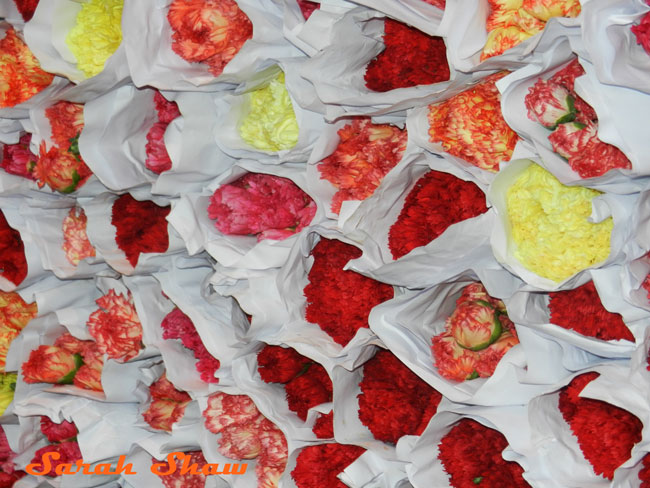 Another familiar flower is the carnation. Florists love them as they are another sturdy flower that will last a long time in arrangements. They also have a distinctive, sweet, old fashioned scent. Carnations come in a few colors naturally like white, red and pink. They are also a flower that can be dyed easily by adding a bit of color to the water, carnations will take up the dye which is how you can find them with different colors gracing the edges of their petals.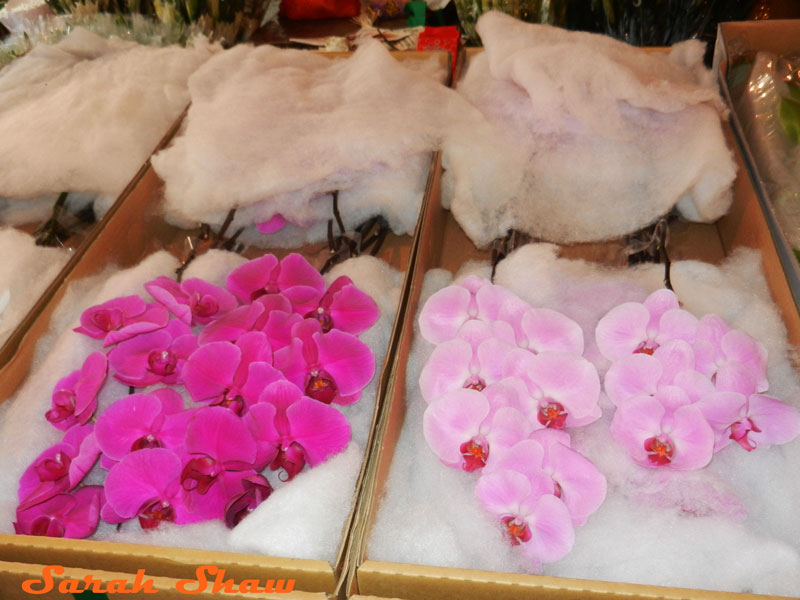 Orchids have long been revered for their fragile beauty and fragrance. I found several vendors specializing in orchids as I strolled through the Hanoi Flower Market. Sometimes the orchids had been carefully bundled together and wrapped in a bouquet of cellophane. The orchids above were packaged with special care. Not only are they boxed and pillowed on some batting, each of their stems where in a water pic to ensure that they would continue to receive the water they needed to keep their blooms at peak performance.
Another hardy flower you will recognize is the mum or chrysanthemum. A lot of time, I associate the mum with Fall as it is a popular choice to have potted mums giving color to your autumnal yard. Florists work with longer stemmed mums frequently in their arrangements as they have a long life in bouquets outlasting many more delicate flowers. Many of the formal flower arrangements I saw at temples around the city frequently used many mums.
I was also glad to find some of my favorite pastel flowers. This customer's woven basket, strapped to the back of their bicycle is loaded with bundles of dianthus and stocks. I would love to see the arrangements that would be made with these. In the summer, you can frequently find them are farmers markets and are pretty to add in with other flowers like snapdragons, bachelor buttons and zinnias for a country bouquet.
Flowers are not the only thing for sale at the market. Florists also like to add greens into their arrangements. The bright green adds a contrast that allows the colors from the flowers to pop in a bouquet. Greens also add different shapes to an arrangement that you can't find in flowers so they add interest in any creation. I came across bundles of palm fronds in different shapes and sizes as well as boxwood and other green materials. They may be added into an arrangement just as they are to frame the flowers or they may be bended, twisted or cut to create other elements in the floral design. I also saw a couple vendors who specialized in woven baskets which could be purchased to be the decorative base for a floral arrangement like the one featured below.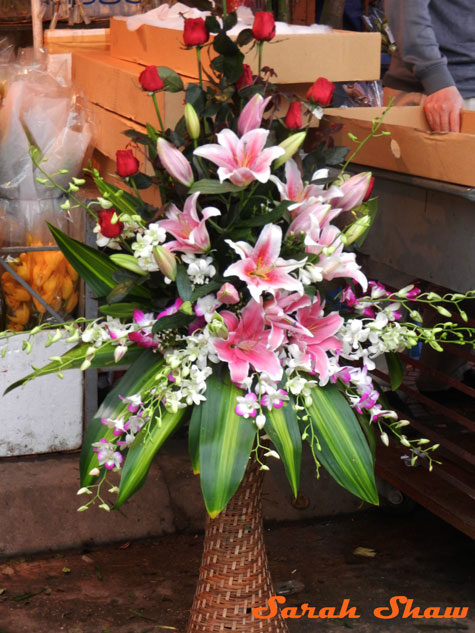 Most of the items offered were loose flowers or bundles that florists would take back to their shop for creating arrangements for their customers. Right at the entrance to the market were a couple stands offering ready made arrangements for purchase. The one above features lilies, roses and sprays of orchids. You can also see how the greens frame the bouquet and add visual interest. The woven vase it is displayed in adds another texture completing the presentation.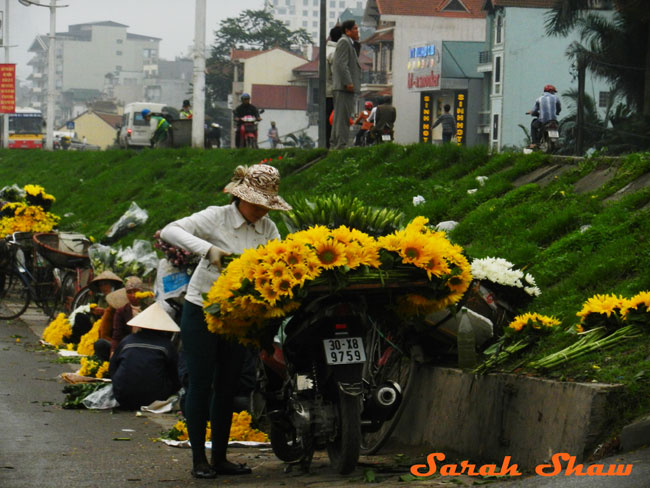 Once a shopper's purchases have been completed, they load everything on the back of their motorcycle, scooter or bicycle. Many customers leave their transport near the entrance to the market, returning with their purchases to secure to baskets and platforms on the back of their cycle. The standard of living in Vietnam is significantly below that of the United States. Purchasing a car is far beyond the means of most people there. Instead they rely on two wheeled transport. They are very skilled at strapping most things they need to the back of their scooter and heading to work or home with their purchases. I've seen large furniture, giant plates of glass and even balled trees tied to the back of scooters. Families also travel together on their scooters and bicycles with the children sandwiched on the seat between mom and dad. Motorcycles, bicycles and scooters also allow the drivers a quick way to weave through the oppressive traffic in bigger cities like Hanoi so they are practical in many ways.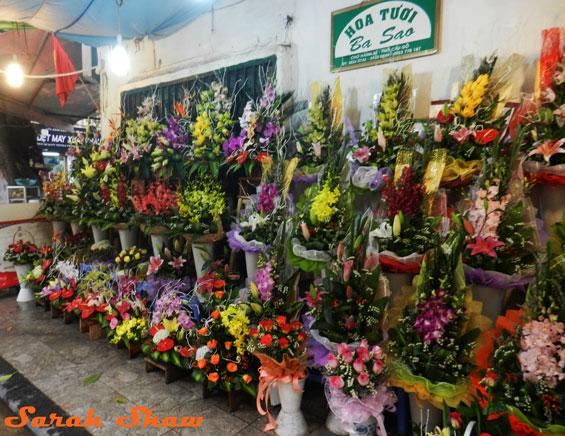 Once on the streets of Hanoi, you regularly come across florists offering their designs. People in Hanoi buy flowers for many of the same occasions we do. You may be buying some to celebrate the opening of a new business or as an offering of respect when someone dies. Flowers are also taken as offerings to the many Buddhists temples found throughout the city. This day was an especially busy day for florists as it was a full moon and everyone was purchasing fresh flowers for their home altars as well.
Later that morning, I arrived at the Hanoi Cooking Centre for a street vendors food tour I had registered for after really enjoying one of their cooking classes. Learning more about the food, as well as visiting local markets, is a great way to experience another culture. In the courtyard of the Hanoi Cooking Centre was this beautiful ceramic dish, filled with water and decorated with floating flower blossoms. I love to do this with my birdbaths, picking water flower is in season and floating a few flowers to add some beauty for everyone to enjoy.
Not far from the Hanoi Cooking Centre, a bicycle flower vendor had paused to deliver some flowers to a customer. The basket strapped to the back of the bike is loaded with roses and lilies. Throughout the streets of old Hanoi, you will find vendors moving through the neighborhoods offering flowers, prepared food and daily needs like face masks or brooms. Homes and apartments are quite small and have minimalist kitchens so many Vietnamese will eat their meals from the street vendors throughout the day.
Florists may also set up shop on a spare bit of sidewalk. People in the neighborhood may purchase some flowers on their way to work, the temple or while they are out running errands. These women were about a block away from a busy produce market so they were sure to get some business from people drawn to the area by the market.
While visiting the Temple of Literature in Hanoi, you will have the opportunity to see many beautiful flower arrangements. Surely most of the blooms have been purchased from the Hanoi Flower Market. There are many floral displays depicting symbols and words in Vietnamese, propped up like signs along the paths as you work your way back to the Temple. Once inside, you will find bouquets of flowers that have been offered to the images of Confucius and his disciples. The site of Vietnam's first University, the Temple of Literature was constructed in 1070 A.D. Offerings are regularly made to Confucius and other sages and scholars represented in the hopes that they will assist students in passing their exams. They day I was there, a number of soon-to-be graduates were having formal portraits taken there so that the Temple and its beautiful gardens and ponds could be used as a meaningful backdrop.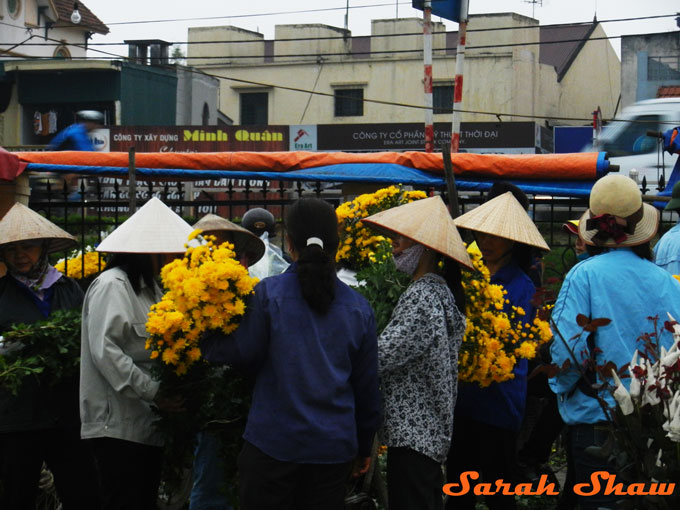 I hope you have enjoyed our visit to the Hanoi Flower Market as well as seeing how flowers are used in the city. This was an easy way to do it as you didn't have to get up in the middle of the night, travel there in the dark and walk through the open air market in the rain! I would still do it exactly the same if I had the opportunity again. I hope I've given you something to talk about, like the group of ladies catching up on gossip, in the photo above. If you would like to see more images, please visit WanderShopper's Facebook Fanpage and the Vietnam Album. Be sure to "like" my fanpage while you are there so you will be notified of feature posts as well as Facebook only content. Thanks for joining me at the Hanoi Flower Market.
Until we shop again,
Sarah