Last Saturday, I attended the Antique and Garden Fair at the Chicago Botanic Garden as part of a trip organized by Southern Exposure. You may remember my post in December where I enthused about the holiday decorations at Southern Exposure's Herb Farm. In addition to their classes and special events, Southern Exposure also offers day trips and international tours. I has heard a lot about how great this trip to the Chicago Botanic Gardens was so I was thrilled that I was able to join everyone this year and it did not disappoint. I will be making this an annual event moving forward.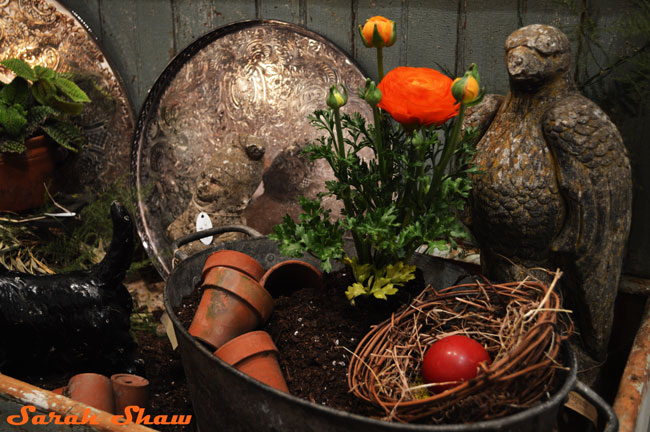 This is the 13th year the Chicago Botanic Garden has offered their Antique and Garden Fair. For three days, over 100 exhibitors from the United States and Europe display an amazing selection of items. Botanical art, garden furnishings as well as home and garden design is on view. Items range from classical to the contemporary. This year's theme was Color in the Garden: An Artist's View. There is lots of opportunity for shopping as well as attending lectures and eating some wonderful food. This year, wine was offered to participants from Bonterra Organic vineyards. And of course, there are always the beautiful gardens throughout the property should you require a break from the Fair although sections were under water due to flooding.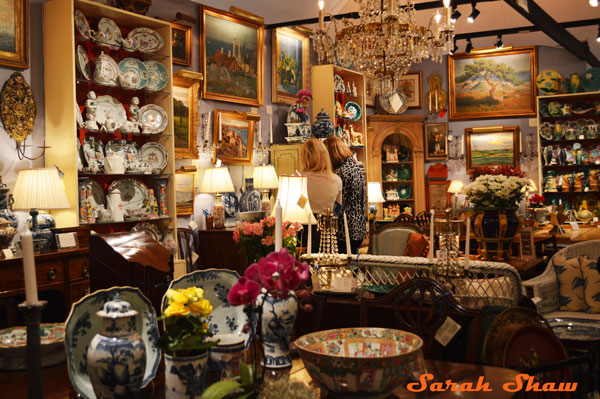 I was really impressed with the quality of the exhibitors and their items at the Antique and Garden Fair. In virtually every space, I found multiple items I would have loved to bring home with me. Through strict self-discipline, I was able to focus on taking pictures of the finds and displays so I was able to share with you some of the highlights and keep my personal load light. For this initial post on the Antique and Garden Fair, I will focus on trends I think you will want to know about so you can try them in your own home and garden. Over the coming weeks, I will also offer posts of some of my favorite exhibitors who really impressed me and that you should come to know as well. So come along with me, WanderShoppers, and let's get shopping!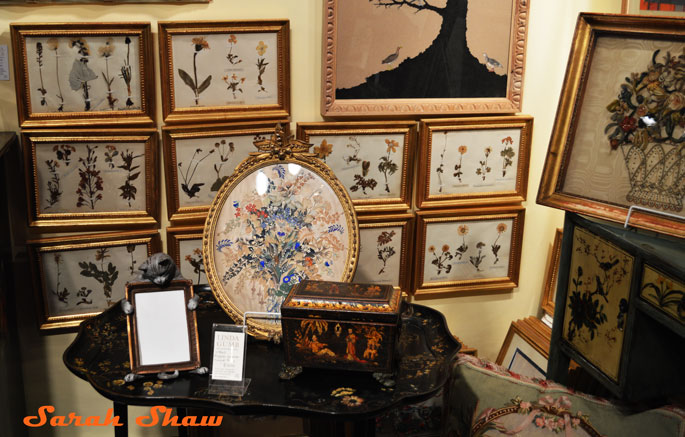 Pressed botanicals were prominently featured in many of the exhibit spaces. Some were truly antique or vintage pressing from personal collections. Often the entire plant had been pressed and dried before mounting on paper. Many contained labels mounted on the paper identifying the specimen as well as were and when it was collected. For some, a more informal approach was taken by writing with ink or pencil directly on the paper. Each botanical was then carefully framed for display. One dealer offered a number of framed collages of pressed flowers. I also found an exhibit that had printed versions of pressed flowers for a modern, and more affordable, version that allows you to get the look without investing in an antique. I have often during my travels, saved the flowers I was given or picked up a blossom here or there and placed them between kleenex and then pressed them in a book I had in my bag. Over the years, I have gathered a nice collection of the pressed flowers and they would make a nice souvenir if I now mounted and framed them. I encourage you to think about the ways you could capture your memories from a trip or special event and symbolize them by pressing meaningful flowers or plants for a permanent keepsake.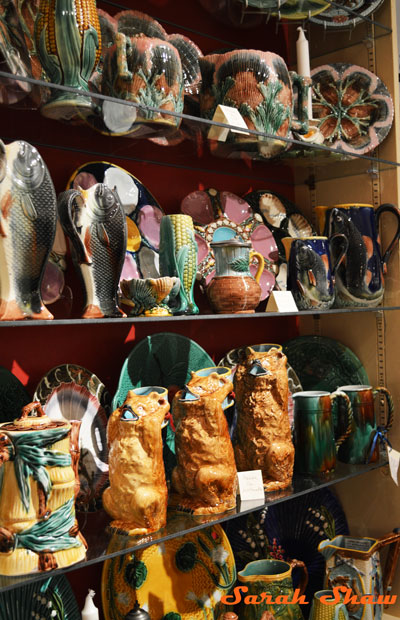 I was thrilled to discover that majolica was everywhere. Victorian majolica is a kind of earthenware pottery that has been decorated with colorful, clear lead glaze. Beginning to be produced in the mid-nineteenth century, it's molded surfaces regularly depicted forms from nature including plants and animals. Majolica became very popular and many potteries throughout Britain, Europe and the United States produced many options. Some majolica was made to be used such as teapots, jugs and serving plates. Other majolica was created purely for decoration such as plates with elaborate three-dimensional fruit displayed on its surface. Popular depictions include asparagus, pineapple, corn, berries, seaweed, coral, seashells and ferns as well as basket weaves and oriental themes. Quality, antique majolica can be a significant investment. As majolica has been continued to be produced, make sure you understand how to spot the difference between new and old before before you make your purchase. Whether you choose one piece or develop a large collection, majolica always adds a colorful and interesting accent to your shelves, walls or dinner table. The majolica pictured above was from Lynda Willauer Antiques.
For the past few months, I have seen a resurgence of the art of terrarium gardening. Creating beautiful little mini worlds for you to tend and enjoy, terrariums are a wonderful way to add life to an indoor space. There are so many interesting glass containers available from which to choose as well as many sizes. A terrarium can have any theme you desire and can me tiny tropical rainforest or a whimsical fairy garden. With the increase in interest and popularity, I am also seeing more and more terrarium accessories available such as miniature wheelbarrows, birdhouses or even lights to go around an arbor. There is also a beautiful range of materials to scatter across the surface around your plants which adds both a functional and decorative element. Many exhibitors had terrariums scattered throughout their displays so it should be easy for you to pick up a ready made terrarium at a store near you or to create one yourself. Later this season, I will be doing a post on how to create a terrarium. The cloche terrarium above was part of a display at Leftovers Antiques.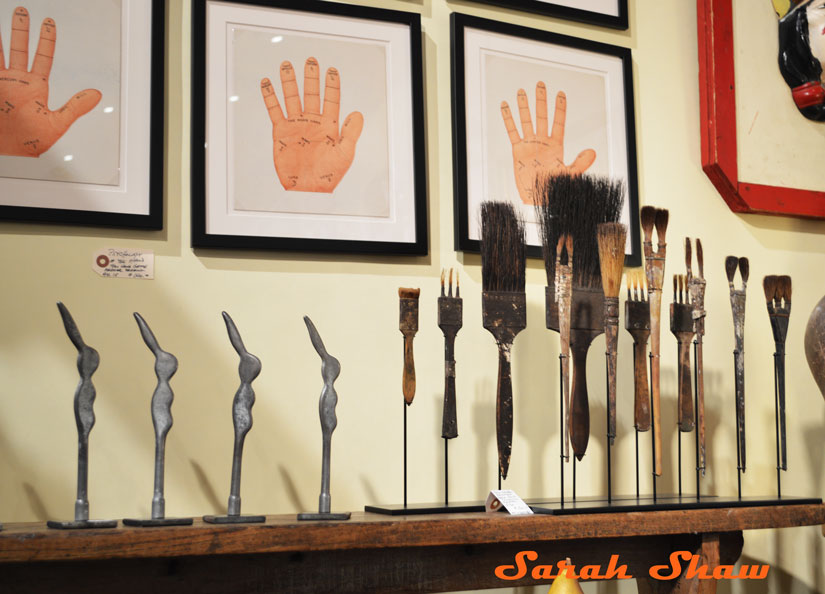 One decorating idea you see being used by many of the exhibitors is to group collections together. For them, it serves a practical purpose of keeping like items together for customers to choose their favorites. In your home, grouping things together creates interest. Clustering small treasures together increases their presence such as the silvered bottles with the tulips in the first photo of this post. If only one of the bottles were on the mantel, it would look small and out of place. Together, small items hold their own near larger pieces. You can also take a collection a spread it out to fill up an empty space yet still have it tied together by a common theme. In the photo above, you can see two different collections being displayed. On the left are metal forms used to create rabbit shaped balloons. The work together as a group or could be spread out over a few different places on bookshelves. To the right is a collection of vintage artist's brushes. This grouping has been mounted on a custom metal stand, holding the brushes upright with each one spaced evenly apart from its neighbor. I think these would look nice in front of a mirror so you could see them from behind or somewhere they could cast interesting shadows on a wall. The collections above were offered by R. Ege Antiques.
Another trend I really appreciate is reusing and reinventing items. Most of the offerings from exhibitor Unearthed fell into that category. In the photo above, their tulips are displayed in old milk bottles held in their original carrier. The bottles rest on a picnic table that had been given a strong orange presence with a fresh coat of paint. Along the back wall, flanking the blue trunk, are metal tree guards. Removed from their intended environment and mounted to a wall, they become an interesting piece of sculpture. Above them on the wall is an industrial floor brush. Its wire bristles fanned out cast interesting shadows and give the illusion of the sun. Also in their booth were some wonderful pillows created by overdying grain sacks. Additional, Unearthed had found a supply of vintage Swiss army wool blankets. One was used to reupholster a bench with the stripe and familiar cross centered creating a rugged look that would be nice for a cabin. I also admired a large bowl created by welding washers together creating an open yet sturdy design. Next time I get to Madison, Wisconsin I'm going to love looking through their store.
Global chic seems to be a popular trend for decorating and fashion heading into spring and summer. Nods to treasures from all over the globe were found in many of the exhibitors spaces. Of course I immediately fell in love with the old Indian chests in photo above. The wonderful colors on the lower one as well as the carving and details on both made them truly special finds. They had an amazing patina only found on items loved and used through the years from one generation to the next. This same booth had a couple sets of vintage doors from India with handmade metal grills set into the upper panels. Another exhibitor, The Golden Triangle, offered an amazing carved, giant door from India. If only I were building a mansion, it would have been perfect! They had an treasured selection of items sourced throughout Asia. Photos from their space are in my Facebook album.
Easily one of my most favorite finds was discovering Le Nouveaurose and meeting designer/owner Jill Garber. I loved the inspirations she took from vintage Chinese embroidered silk and how she transformed them into garments, belts and pillows. She had an amazing collection of vintage Chinese silk shoes. Each handmade pair had been embroidered with colorful flowers, birds or other animals. These were still from an age when many women had their feet bound as girls and as a result the slippers ran to the small side. I was delighted when I found a pair I could fit into which I took as sign that they were meant to be mine. One of the things I was happiest to learn was that Jill and Le Nouveaurose are from Michigan which means it will be easy for me to visit her and see more of her stunning collection. I plan a trip up to Saginaw this summer to see her and will definitely share all the details with you in a future post.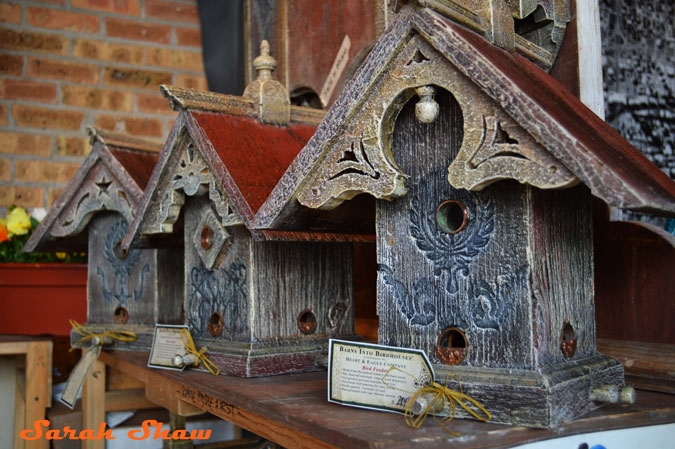 Another Michigan exhibitor were a husband and wife team who salvage wood from old barns and recreate them into bird feeders, birdhouses  and bat houses. Just as with some of the other vendors I've featured, I love that they are taking a material with a previous life and reusing it in a meaningful way. And these are not your everyday birdhouses. John Guertin and Barns to Birdhouses create new structures that are guaranteed to defy the elements for at least 20 years. That is really saying something with the long, hard Michigan winters we have each year. Each entry point is fitted with copper for durability and to prevent squirrels from taking over. As important and practical as functionality is, it is the beauty that wins people over. Attractively designed with many details from the roost to the roof, each one of these would be sure to attract the best of tenants.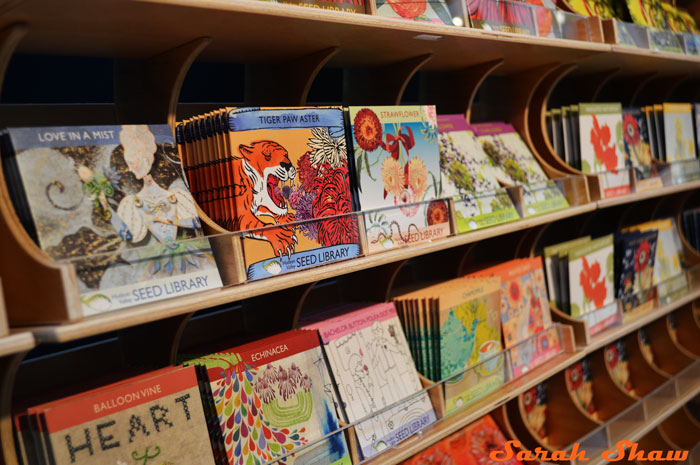 Preservation is another important trend from the Antique and Garden Fair. Many treasures are heirloom items that will be passed down from one generation to the next. A different sort of heirloom, but at least as important, are heirloom seeds. The Hudson Valley Seed Company began saving heirloom and open-pollinated seeds nine years ago. They started their seed company five years ago so that people across the country could have the benefit of these proven winners. Not only will you be able to grow time tested, winning produce and flowers but you will be helping to guarantee that they continue to be available for future generations. An added bonus are the beautiful seed packets all of their offerings are packaged within. Each one is a work of art designed specifically for the seeds within. They are so wonderful that you are sure to want to save the packaging and would be unique artwork once framed. To get free shipping with your order, use the code MINI at the checkout online.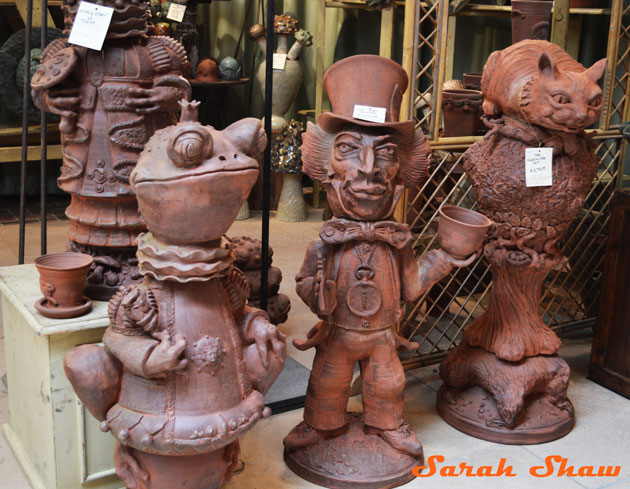 A final trend I will leave you with today is that of adding whimsy to your surroundings. From the moment I approached the exhibit space of Goff Creek Pottery, I knew I was going to love their creations. They offer an interesting selections of ceramics to add joy to any outdoor space as well as many items that would work just as well indoors. They create a lovely collection of pots decorated with rabbits, dragonflies and other creatures of the garden. I loved their toad houses which may be in the form of a bee skep or a rabbit perched on top of a head of cabbage. They have a number of large ceramic figures that reminded me of the cast of Alice in Wonderland. They have birdbaths and bird houses and little figures to stick in pots to add interest. I could go on and on. And someday I will. I plan on doing a feature post on Goff Creek Pottery and hope to some day visit them in upstate New York.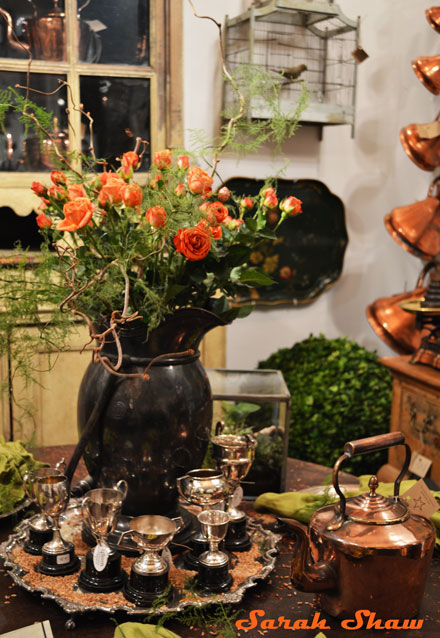 The Antique and Garden Fair had so many wonderful exhibitors and I want to tell you something about all of them. Obviously there isn't enough space to do that today so you can be assured that I will be featuring more inspirations for shopping and decorating ideas in future posts. If you would like to see more, please visit the WanderShopper fanpage on Facebook and the Antique Garden Fair photo album. While you are there, be sure to "like" WanderShopper so you are alerted to future posts and Facebook only content. I hope you have enjoyed my overview of some of the trends I noticed while walking through the exhibit space. Which one has inspired you and how do you think you can use it in your home and garden?
Until we shop again,
Sarah