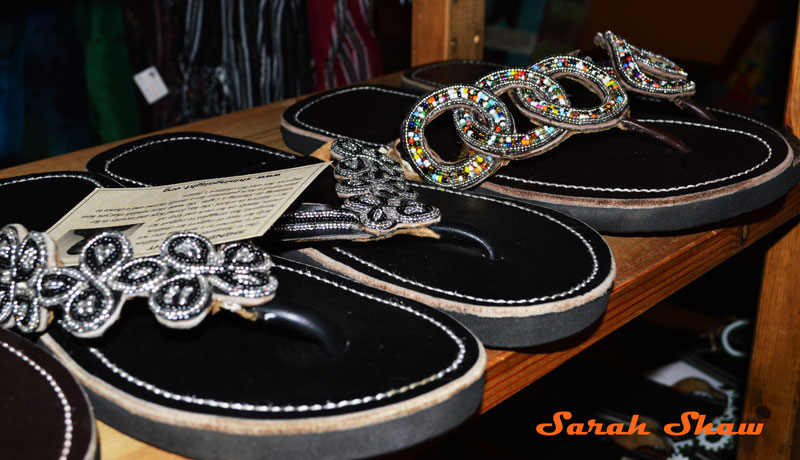 Recently I learned how purchasing Tanzanian Beaded Sandals through Shining A Light provides funding for life changing job training and life skills for women in Tanzania. I met the Founder of Shining A Light, Jennifer VanderGalien, at Kirabo, my local fair trade store. Jennifer had brought along hundreds of sandals made by Shining A Light participants in Tanzania and I had a lot of fun shoe shopping while I learned more about her foundation. I knew right away that the sandals, and their impact, were something WanderShoppers would want to learn more about themselves.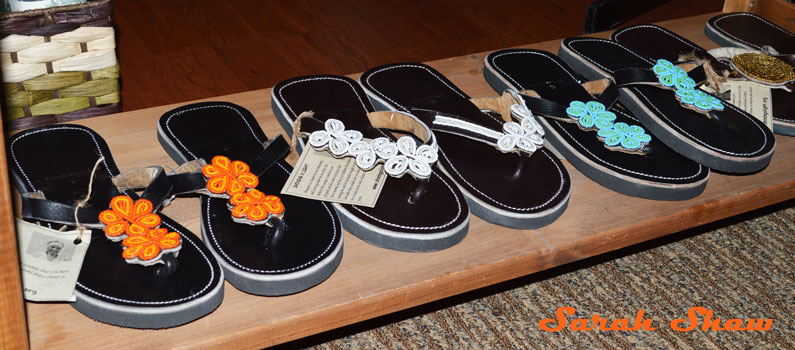 Shining A Light works with widows and single mothers in Arusha, Tanzania. Their Women to Work program offers job skills training for women who have had few opportunities to provide for their children. Often these mothers have had little schooling themselves and face a day-to-day struggle of how to feed and send their own children to school. Sometimes women are so desperate that they are even forced to leave their children in an orphanage as they just don't have the ability to care for them any longer after their husbands have died or abandoned them. Shining A Light offers an chance to break this cycle. Jennifer has seen the women in her program take the skills they acquire in making the beaded sandals Shining A Light sells to raise funds for its programs and begin to use them in other ways such as sewing school uniforms for their children or designing other products like jewelry.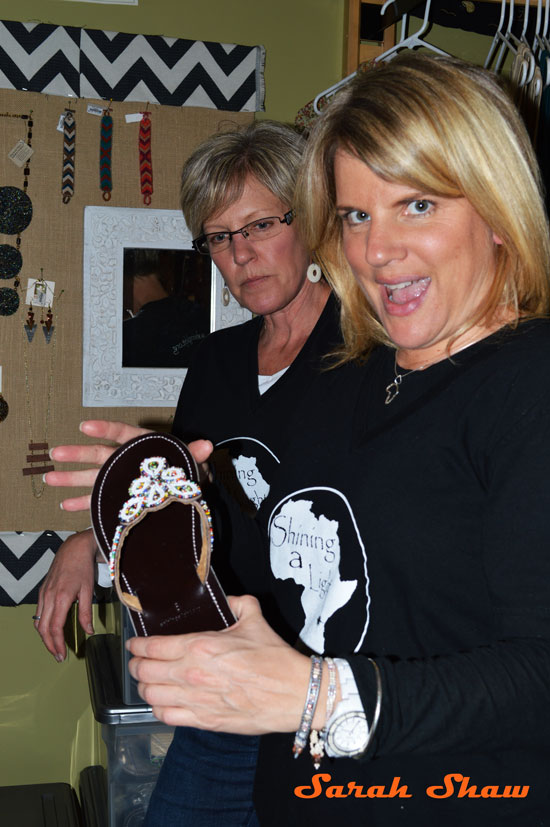 The goal of the program is to graduate the women to be better prepared to face the challenges of being single heads of households. In addition to job skills, women at Shining A Light learn leadership skills, life skills as well as education basics of reading, writing and studying the English language. This past year saw the graduation of the first 12 women from the program. They currently have space for 18 women. Several of the graduates are returning for additional leadership training as well as new women are being brought into the program. Shining A Light has also brought on a permanent leader in Tanzania which allows Jennifer the time to come back to the United States and continue her fundraising efforts to allow for expansion. They believe that through the 12 women who have graduated, they have touched 45 lives including the children and family members these women care for and inspire. This is about changing expectations within a community of women who had lost hope.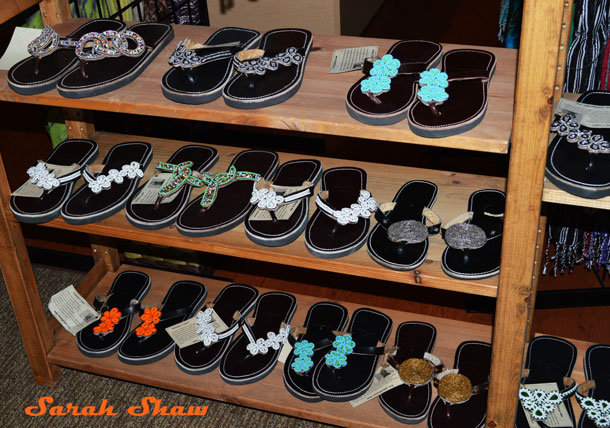 Despair is something founder, and Michigan native, Jennifer VanderGalien understands. Her story is one of triumph over drug addiction. Finding herself increasingly dependent to prescription pain killers following an injury, she continued on a downward spiral that lead to more addiction to lethal drugs like heroin. After hitting her bottom, Jennifer credits her reconnection to God as providing her strength and direction to eventually overcome her addiction. She sought out service to others and first visited Tanzania as part of a mission trip several years ago. She was touched by the people she met and assisted. Soon she began to look for a way to have a larger impact on the local women. Seeing the popularity of the beaded sandals, it struck her that through job skills and a stable income, she could transform the lives of these women and their children. Shining A Light was formed and Jennifer spends anywhere from 6-9 months a year in Tanzania working directly with the participants in her program.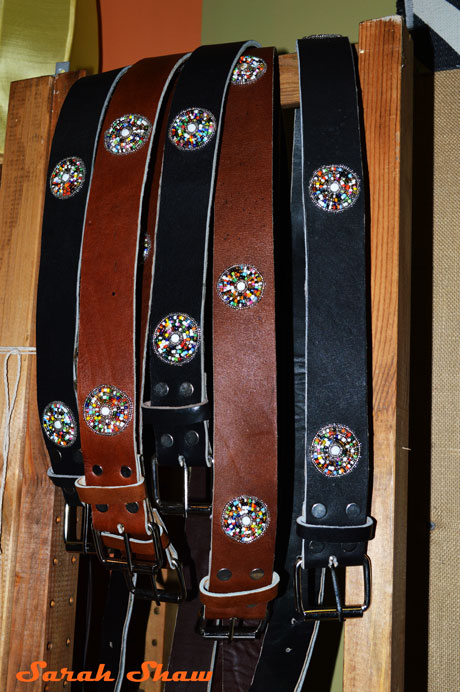 Shining A Light currently offers fourteen different sandals to choose from. Many are beaded with a variety of bright colors. Some are made with a two contrasting colors like blue and green or black and silver. One of their most popular is a nod to her hometown of East Lansing where Michigan State University Spartan fans prefer the green and white. Sandals are available in sizes for both women and girls. In addition to the sandals, they have also begun to offer leather belts in either black or brown which have been decorated with colored beads as well. Some of the women in the program have also begun to take their skills learned during sandal making and have begun to design jewelry. The primary focus will be the sandals but it seems that Shining A Light will only be limited by the enthusiasm of the women in the program so I expect so exciting innovations in the future.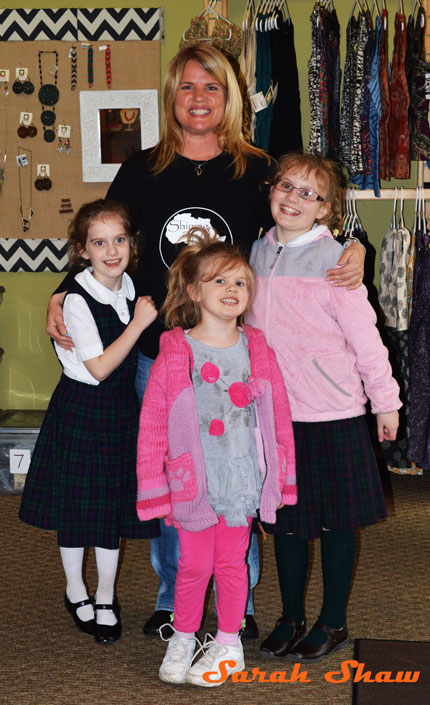 While I was at Kirabo trying on sandals, Steve and Beth Hayward stopped by with their three daughters Marie, Savannah and Maryann. They had heard a little about Shining A Light and wanted to learn more and support the women in Tanzania. Plus their daughters were anxious to pick out some new sandals for the summer. Jennifer's sister, Tiffany Kennon was on hand to help get the perfect fit. She also helps keep Shining A Light going in the U.S. while Jennifer is in Tanzania. After everyone had selected the pattern and colors of their choice, we settled down to a presentation by Jennifer. She told the group about Shining A Light and the difference attending the programs have made in the lives of these women in Arusha. Jennifer is always happy to come and speak to a group about her foundation and how they "transform lives, one sole at a time."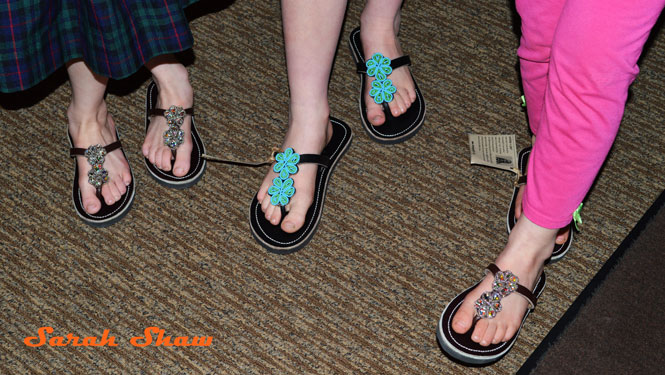 I found I really liked a number of the different sandals and my biggest struggle was deciding which ones to buy. In the end, I selected two multicolored styles, one called Friendship and the other Button. I also selected one of their leather belts in black. (My purchases are pictured below.) One detail I especially liked was that the each of the belt holes had been decorated with beads as well, echoing the circles of beads extending down the length of the belt. I've already gotten compliments on it and know I will wear it a lot. Another thing I really liked was that each item comes with a hang tag that tells you about the woman who made the item. You get to see her beautiful, smiling face and learn about her family as well as how Shining A Light makes a difference in their lives. I really like that direct connection to the craftswoman and it feels good to know that I have helped her family, even if it is in a small way.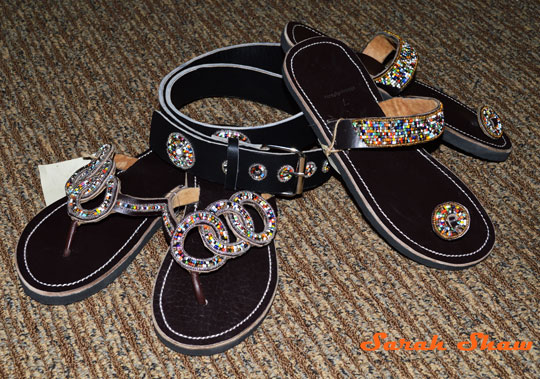 If you are interested in purchasing some Tanzanian Beaded Sandals or would like to learn more about Shining A Light, please visit their website. They also welcome donations, which are tax deductible, to help cover the expenses of the programs they offer the women participants in Arusha, Tanzania. Jennifer will be heading back to Tanzania in mid May and I know I will be excited to follow the progress of the women in her program as well as Jennifer's successes with Shining A Light.
Until we shop again,
Sarah