Part of being a good world citizen is knowing how to be an earth friendly shopper. It seems that so many places you go and purchase things, the cashier's first instinct is to place your items in a plastic bag which will be destined for a landfill. There are many functional and stylish alternatives. Whether you are are shopping around the corner, across town or in another part of the world, having the right shopping accessories can help you to make earth friendly shopping choices. Today as we celebrate Earth Day at WanderShopper, take a look at some of my favorites that I use regularly while I shop and pick out the ones that will work best for you during your purchasing adventures.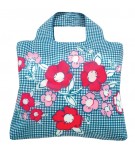 For years I have been a big fan of Envirosax. You may recognize them as the colorful, graphic sacks that go from a small rolled up little bundle into a large double handled tote. They come in so many colors and patterns that they offer something for everyone including men and children. What I especially love is that you can get a set that comes in a pouch (or buy a pouch to corral yours) which makes it easy to take into a grocery store. I keep several pouches in my car, toss it into my purse on the way in to shop and then while I am in line waiting for the customer in front of me to finish, I pull out all my Envirosax and open them up for my groceries. I always get comments from the other customers and the staff at the store about what a great idea they are and how nice they look. I have received them as gifts as well as given them as gifts. I don't think you can go wrong with these. I also frequently put a single sack in my purse or daypack when I am out for a day of shopping in a foreign city. These sacks are really strong and you don't have to worry about them breaking or ripping through with all of your precious finds for the day. Shown at right Cherry Lane which is from the Spring Fever collection. I also like that Envirosax is now offering options in organic cotton, linen and hemp.
Another of my favorite sources is Jeanne Beatrice as they offer beautiful woven market baskets and totes just like you would find in Morocco or the south of France. I own several different ones and always find more I want to add to my collection. They are all so well made and finished with beautiful details like their leather straps. They are securely anchored which is really important when you are carrying fragile produce from the farmer's stand or antiques sourced in a flea market. One of my absolute favorites is the La Vie Backpack. I love that you can place the sturdy leather straps over your shoulders and bike home with your purchases or carry your picnic supplies, food and wine to an outdoor concert in the park or for a hike to a secluded spot. The straps are adjustable too, so everyone can take turns using it. Because they are so well made, they will last you forever and you'll always be thinking of new ways to use these special baskets.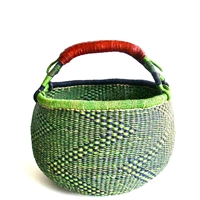 You can also take international shopping inspiration from The Loaded Trunk's Bolga Market Basket. These baskets are woven by artisans from the Bolgatanga region of Ghana from elephant grass. They are extremely durable and the handle is covered in a strong piece of leather. I love all the beautiful colors and patterns that The Loaded Trunk carries. The one pictured at left is the exact same basket I have from them. I found the vertical zigzag pattern in contrasting colors really spoke to me. When you want to make a fashionable statement at the grocery store or market, this Bolga basket is the way to go and you are sure to get comments on your global style. I also see this being really popular with those of you who love to knit or crochet. Take this to your favorite fiber store and load up with yarns and then you can continue to use it as you carry your projects to meetings and get togethers. Check out all of the different colors and patterns offered and find the one that works for you.
When I think of a classic, eco-friendly bag, one of my immediate images is of one of EcoBags String Bags filled with produce. This durable classic seemed to always grow and stretch to the size that was required of it over and over again. During a recent herb conference, I found these bags again being offered and was happy to add them back into the line up. Not only to they have the classic creme color but EcoBags has updated their looks with many different collections including the Jewel Tones at the right. I own the Lapis and Garnet colors currently but am eying the rest of the group including the amethyst, peridot green and dark topaz. These bags are certified organic. I see them being perfect for shopping and a day at the beach as sand and water would run right through it instead of being held and absorbed like in other bag options. These string bags come in many colors and can be bought in sets or individually. While you are visiting EcoBags, check our their Produce Bags too so you can do away entirely with those plastic bags they offer at your grocery store to separate and protect your fruits and vegetables.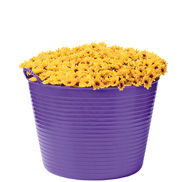 This time of year, I know a lot of your are out working in your yards like me. One item I find indispensable are garden trugs. They are perfect for shopping too. When you head off to the nursery to pick out some plants, load them into a Garden Trug from Gardner's Supply Company which makes them easy to carry them off to your  planting bed once you're back home. Because they are flexible and washable, they keep any dirt or moisture contained and not in your trunk or car. You can also buy some of your yard materials in bulk and load them into a trug to take them where you need them instead of buying plastic bags of mulch or pea gravel. I keep a trug loaded with my garden tools ready to go where they are needed in the yard. It always has a set of gloves, a trowel, pruners, a kneeling pad and a recyclable waste bag. I also love how many colors they come in now so you can code different ones for different jobs, coordinate it with your flower bed  or just choose the one that strikes your fancy on a given day. Gardeners Supply also offers them in several sizes so you are sure to find the one that's right for the job. I like a variety of sizes and store them stacked inside each other until I need them.
When you are traveling the world and shopping in local markets and from artisans, you may find that you have purchased more than will fit in your suitcase. I plan ahead and bring along Baggallini's Zip Out Travel Bagg. Storing in its self contained pouch, I stick it in my suitcase and pull it our when I need an extra bag. It is made of light weight, water resistant polyester and has a spot on the zipper to insert a lock for security. I regularly add my clothes and textile purchases into the Travel Bagg and keep my more fragile items in my framed luggage. I have used it dozens of times and all my items have arrived perfectly back home with me. I have also give this as a gift to some of my traveling friends and family. Don't pay extra baggage fees on the way to a destination just to give yourself shopping space. Instead, buy one of the Zip Out Travel Baggs in many colors and a couple sizes and use it to get your finds back home.
With so many stylish options, why would you ever want to accept a boring (and environmentally destructive) plastic bag again? I hope I've inspired you today to think about new ways to bring your purchases home that will both protect your items and the earth. I own and use every single item above and can highly recommend them all. With a little planning, you can have it both ways and do some earth friendly shopping. I'd love to hear about your favorite earth friendly shopping supplies. What do you never leave home without?
Until we shop again,
Sarah
Product pictures courtesy of merchants listed
Earth Day image courtesy of Wings, Worms and Wonders