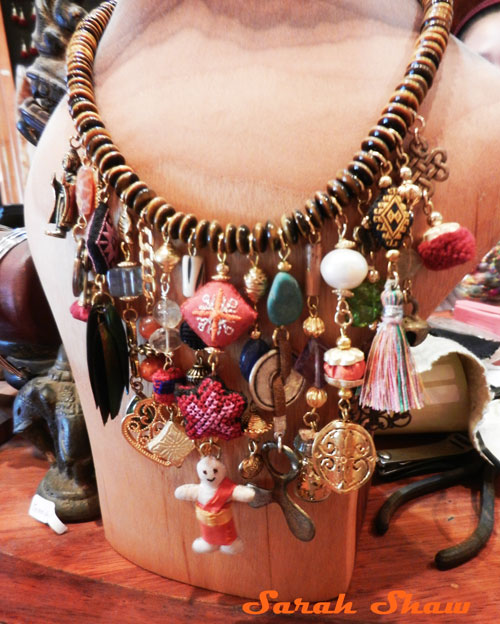 While exploring the shops of Luang Prabang recently, I was completely charmed by the Laos jewelry offered at Naga Creations. Founded by French jewelry designer Fabrice Munio a little over a decade ago, Naga Creations was the kind of treasure I love to discover. Munio had been charmed himself by beautiful sleepy village life in Luang Prabang as well as the rich culture and heritage of the many tribes found around Laos and decided to permanently stay. His designs incorporate both the artistic traditions so richly displayed by groups like the Hmong and the contemporary sophistication of jewelry found on display in trendy French boutiques. This blending of traditions and societies produce jewelry that is unique and timeless. Join me as we explore Naga Creations and enjoy Munio's amazing designs.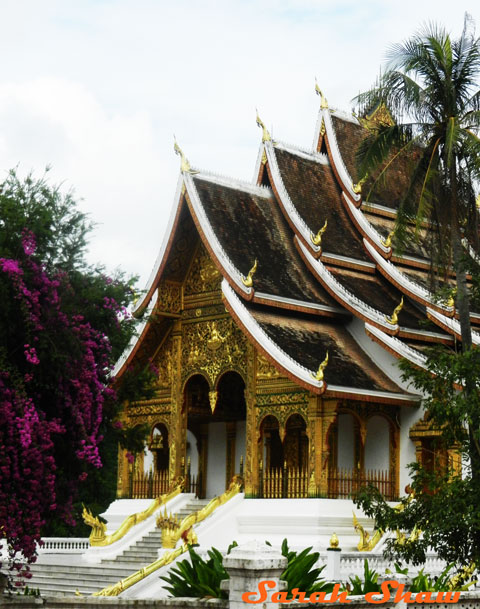 Visitors to Luang Prabang are fortunate in many ways. Beautiful architecture has been preserved mixing traditional designs of the Buddhist temples alongside influences from the French colonialists. Luang Prabang had once been the capital of Laos and you can tour the former palace and get a taste of how things once were. The village's commitment to preservation and tradition has been recognized and Luang Prabang is now a UNESCO Heritage Site. It is this combination of eastern traditions meeting western influences that informs Fabrice Munio's creations. Not only will you have hundreds of designs to choose from while you shop but you will be delighted to find that Naga Creations occupies two spaces in town, one up the block from the other, so you will have twice the opportunity to purchase gifts and treats for yourself.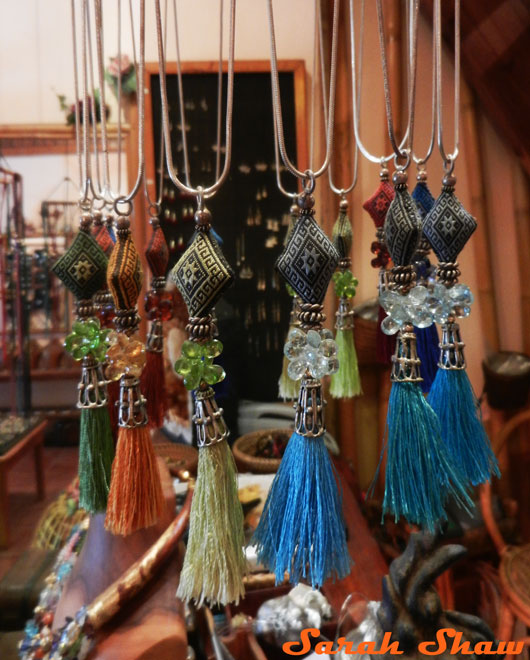 Many of the tribes around Laos have extensive craft traditions. The Hmong are known for their hand dyed batik fabric which is often elaborately embroidered. Hmong women begin learning their skills as little girls from their mothers and grandmothers and perfect their embroidery of tiny, colorful cross-stitches long before they marry. Their textile art is beautiful and it stands well on its own. Munio's genius is that he takes their incredible creations and reinterprets it for a modern western woman. For example, he may take a small pillowed piece of Hmong embroidery and mount it with a surround of sterling silver, turning the piece into a pendant. Or in the picture above, the tasseled pendants begin with a small pillow of Hmong embroidery, followed by a silver bead, a cluster of gemstone briolettes and then a detailed silver cap just above a silk tassel. Of course the favored links for your pendants at Naga Creations would be a snake chain! Nagas are Hindu or Buddhist deities that take the form of great snakes.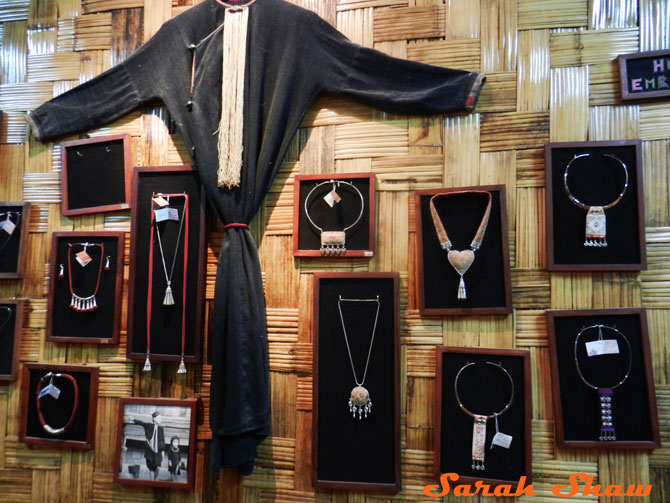 Walking through Naga Creations, you'll notice how great attention is paid to teaching their customers about how items are traditionally used and worn by tribal women. Then you can see how their artistic creations complete your jewelry wardrobe. In the photo above, a traditional jacket, with fringe at its collar hangs amongst framed examples of Munio's jewelry. The fringe is echoed in the jewelry designs either directly as fringe or interpreted as clusters of beads gathered along the bottom of a pendant or collar necklace. You can see that photos of tribal women wearing traditional clothes and jewelry have been displayed. Women from Laos have a great love of silver jewelry themselves. The wealth of a family was frequently worn by the women in the form of jewelry. The shapes of the silver beads, their design and details are all reminiscent of the traditional jewelry worn by local women.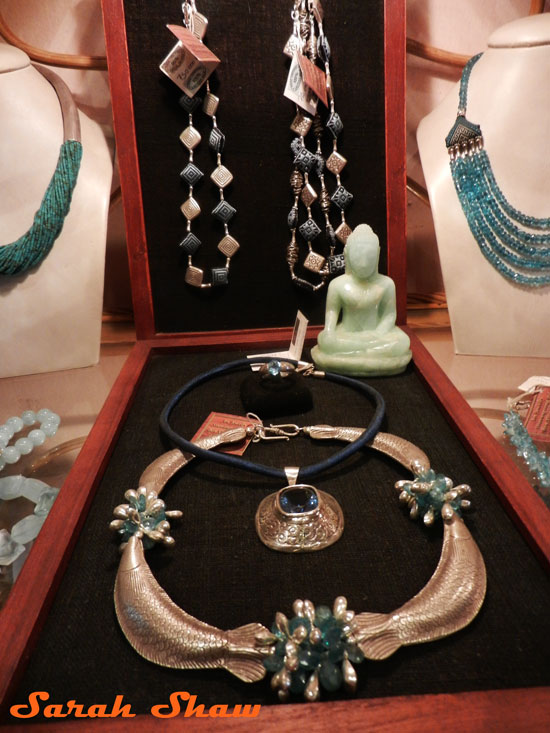 The designs at Naga Creations take many directions as you can see in the photo above. The silver necklace has large beads that would cover your collar bones which have been separated by clusters of blue gemstone briolettes and tiny silver beads. Just above it is a more contemporary looking pendant with a large gemstone set in a textured piece of silver. Behind the jade Buddha, hanging on the frame is a collection of necklaces that alternate Hmong embroidered silk pillow beads, with small silver beads and larger beads made from a wrapped and coiled silver wire. I was so taken with that design, that I purchased one of those necklaces to wear with my traditional wardrobe I had made for a Baci Ceremony a few days later. On each side are necklaces with clusters of strands of gemstones. The necklace on the right has each strand stationed along an intricate silver piece. The necklace on the left has its torsade of bead strands pouring out of the large tube of silver along the back of the necklace. Each piece is distinct and beautiful yet all are made from silver and gemstones or silk in shades of blue.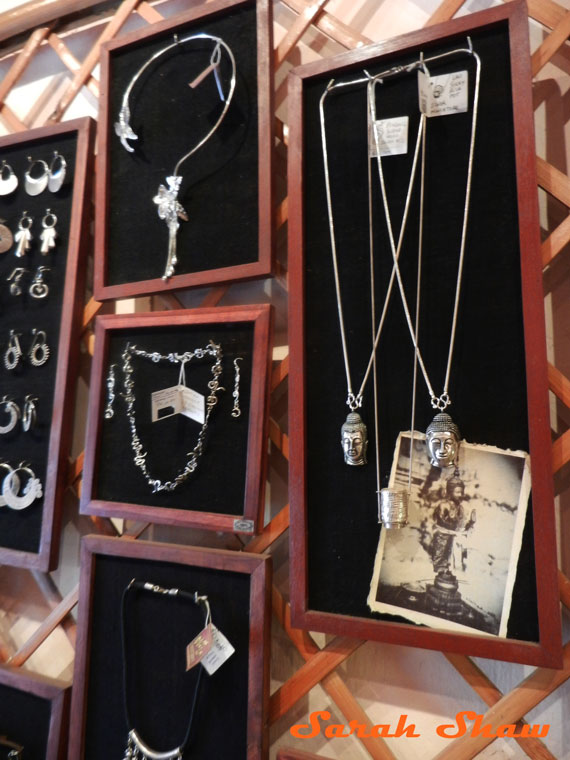 Some of the designs you can choose at Naga Creations primarily feature the silver rather than a focus on gemstones and color. The pendants hanging on the right are heads of the Buddha. These are intricately carved designs with many fine details. During your days spent in Luang Prabang, you will surely visit some of the many temples around the village. The statues of Buddha featured throughout the temples will be lasting images of your time there. A Buddha pendant would be a significant souvenir or would also make a special gift for someone back home. I also love the uniqueness of the wrap necklace on the top left. Chances are that you do not already have a piece like it in your collection.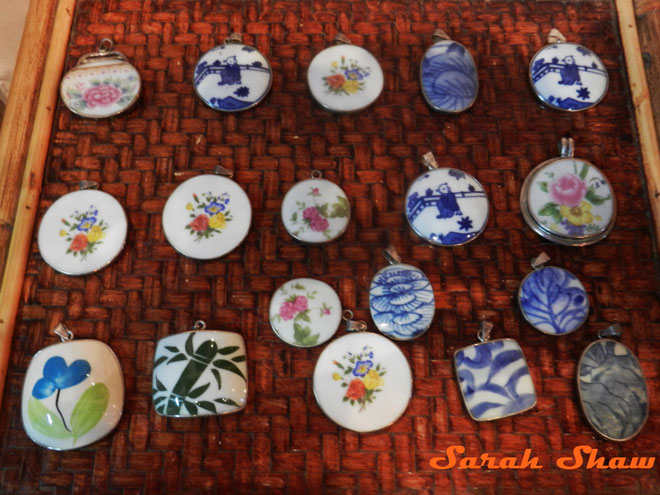 Another design of pendants that I really liked at Naga Creations was the repurposing of old china. There are so many beautiful patterns with colorful designs that may have been cracked over the years or maybe only one remains after others have been broken. These mini works of art are salvaged and revived by cutting a small piece of the porcelain, wrapping it with silver to finish the edge and then once the bale is added, it can be worn as an unique piece of jewelry.
Many of the offerings are fun and playful. Naga Creations selections include many long necklaces that have gathered strands of small seed beads in many colors together with large fabric beads that had been embroidered. The examples on the left, in the picture above, have simple spiral designs embroidered on to the large cloth beads. Further back, the beads are more intricate and contain traditional Hmong designs on cloth beads of many shapes, like hearts. The entrance to one of the locations has long garlands of these designs hanging from ceiling to floor, en masse, across the expanse of the doorway. It formed a colorful beaded and embroidered "curtain." I loved the look and bought five giant garlands to bring home with me. In a house full of cats, I have to pick just the right place to hang them as they will be as irresistible to them as they were to me. I think they would also look wonderful used as garlands on a Christmas tree or swagged across a mantle or window.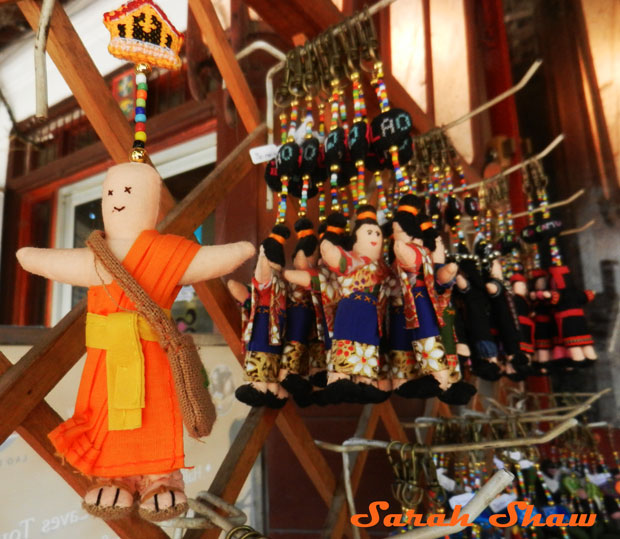 Much more than Laos jewelry is offered at Naga Creations. They have a number of small items that would make perfect souvenirs to bring home to people, especially if you are sourcing group gifts where you need a number of the same thing. Maybe you need to buy for people at the office, letting everyone know they have been remembered and that no one is favored but the price still needs to be affordable. I really liked these key chains. Each one is made to represent something special about your time in Laos. Maybe you most remember seeing the young monks wandering the streets with their bags. An embroidered temple tops the one on the left. There are also a number of figures dressed in the traditional garb of local tribes. They also have animals. I picked up a turtle for my turtle collecting friend from Naga Creations. These work as key chains but could also dress up a child's backpack so they always have their special little friend from Laos with them.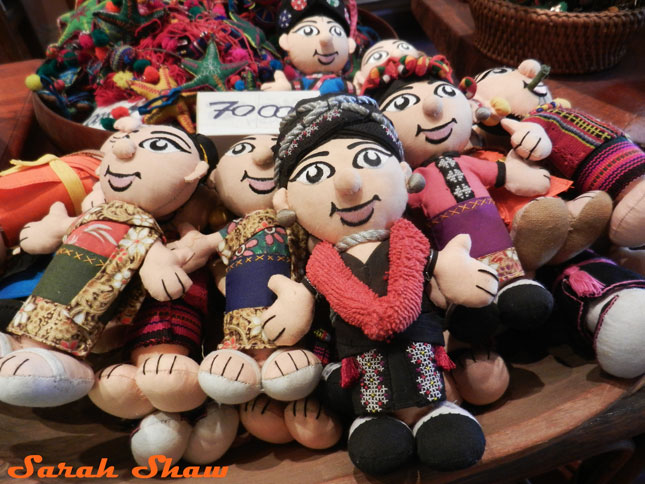 Another offering I really liked were these dolls. They are all clothed in traditional dress of different tribes or the skirts you see all the women wearing in Laos. The embroidery, like all of the Hmong work, is done in tiny cross-stitches. Although they are marked an impressive 70,000 Kip, in U.S. Dollars today that works out to be about $8.95. When you think about all the time and effort that went into creating their costume, that's a very reasonable price whether you are purchasing one for a little friend or to keep you company back at home.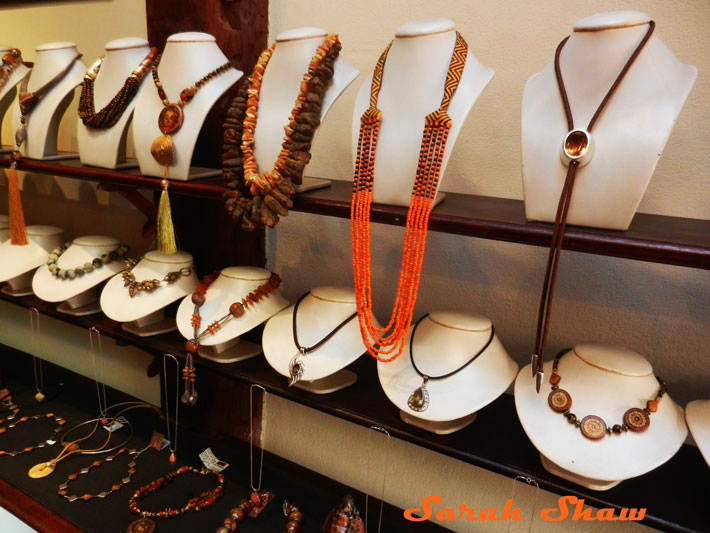 I love shopping at Naga Creations. Farbice Munio, and his team of artisans, offered so many pieces of jewelry I wanted to bring home. I really liked how they took traditional designs and gave them a modern twist. I also loved the humor they worked into many of their pieces. I encourage you to visit Naga Creations next time you are in Luang Prabang and to buy some Laos jewelry to add to your own collection. In the meantime, if you would like to see more, please visit my WanderShopper Facebook Fanpage where I am sharing additional pictures I took while shopping at Naga Creations. Be sure to "like" WanderShopper while you are there so you are alerted to future posts and to Facebook only content.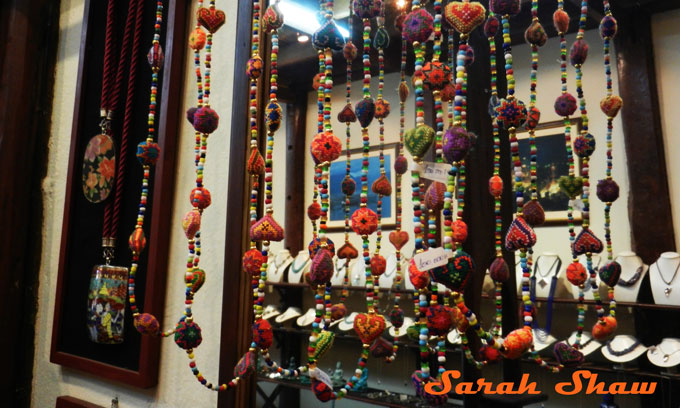 You may also enjoy some of my other posts about my time in Laos like Hmong Batik Technique where I share my experiences of taking a class from a Hmong Batik master and learn traditional designs. If you are looking for more shopping inspirations, check out my post on Ock Pop Tok in Weaving Wonderland. They have so many amazing handwoven items including clothing, tapestries and pillows. I'm sure you'll fall in love with them as quickly as I did!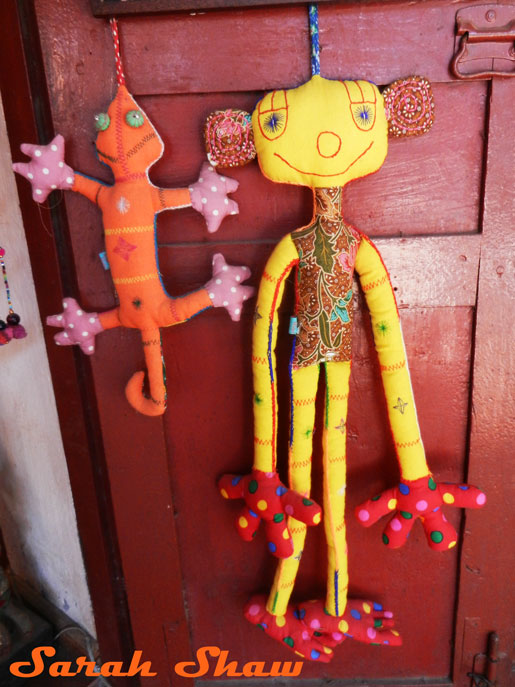 Are you like me and have a passion for jewelry? Do you like to purchase unique items while you travel? What has been your favorite piece and where did you find it? We would all love to hear about your discoveries!
Until the next shop opens……
Sarah