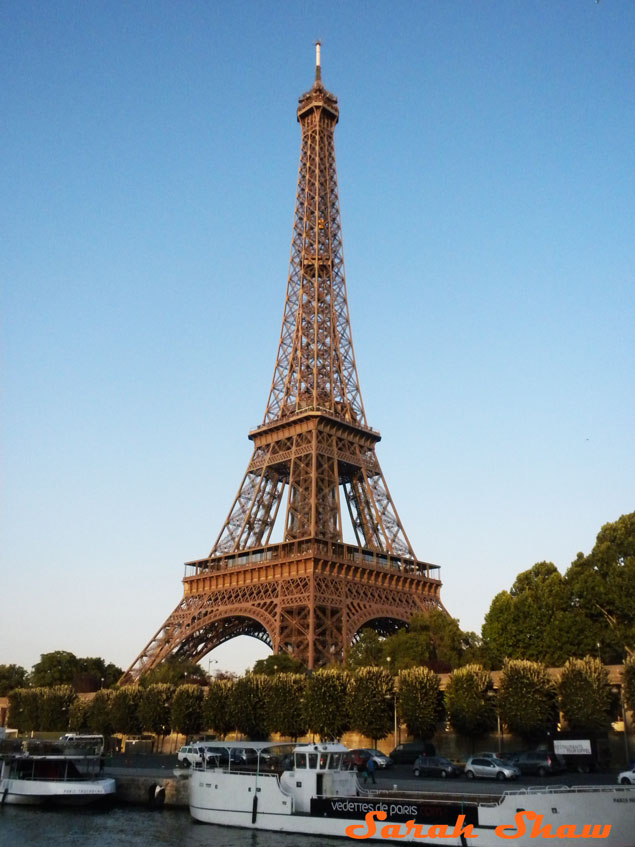 This spring, let WanderShopper help you plan the best strategies for Shopping Paris Markets. With such a large city that has so many options of things to see, places to eat and markets to shop, you may want to do some planning before you ever leave home. I've gathered together my favorite books, from my own collection, to share with you the best resources for your spring romance with the City of Lights. And even if you don't have a trip planned to Paris, you'll still savor a number of my selections so you can enjoy a virtual visit or remember a past adventure. Join me as we explore shopping Paris markets together.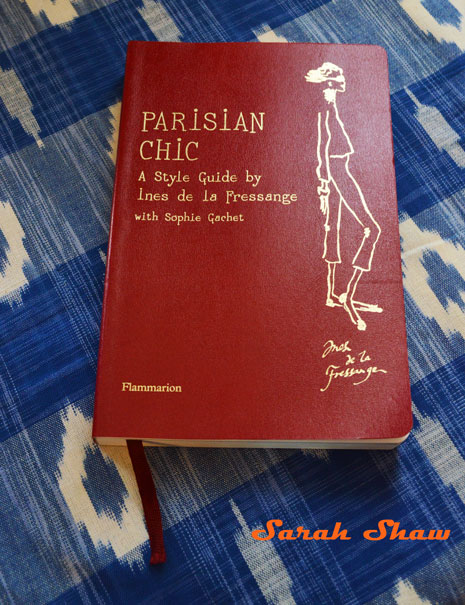 One of my favorite books on Paris is called Parisian Chic: A Style Guide by Ines de la Fressange. The first sections of the book will show you the secrets of dressing like a Parisian. Covering the staples you should have in your closet and how to put them together into a looks that will convince anyone you have been living in Paris your whole life. The book is loaded with photos and illustrations so you can easily follow all of the suggestions and see their effect. The later sections of Parisian Chic tell you where to shop, eat and sleep while in Paris with lots of insider tips. If fashion and style are part of your inspirations for visiting Paris, or just looking like you have, you should pick up a copy of Parisian Chic: A Style Guide by Ines de la Fressange
.
Another great book that will make you ache for Paris is Vintage French Interiors: Inspiration from the Antique Shops and Flea Markets of France by Sebastien Siradeau. French interior design details are shared from sources throughout the country. Whether you are looking to decorate a tabletop or an entire room, you are sure to be inspired by the many styles covered including family heirlooms, rare finds, rustic charm, natural beauty and flea market finds. Siraudeau offers itineraries and sources for shopping throughout Paris as well as stops in other regions of the country. Click here for your own copy: Vintage French Interiors: Inspiration from the Antique Shops and Flea Markets of France
.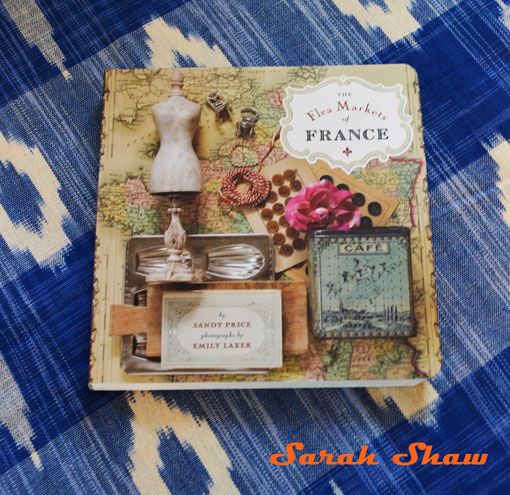 The Flea Markets of France by Sandy Price is another resource for those looking to shop for their home throughout the country. This would be a great choice if Paris was one of several stops you will be making while touring France. In addition to shopping Paris markets, you can also learn about treasure troves in Provence, Cote d'Azur, Bordeaux, Rouen and Lyon among many others. This paperback is loaded with gorgeous color photography as well as tips on what to bring when you go out shopping and how to communicate in French at a flea market. Price also shares when to go to each region, how to get there and what you should shop for while you are there. I know my life will not be complete until I have visited all of the stops suggested in the book! Click here for: The Flea Markets of France
.
If your interest while shopping is in The Best Vintage, Antique and Collectible Shops in Paris, then Edith Pauly's book is for you. Sixty separate recommendations are listed including the addresses, phone numbers, hours and metro stops for each entry. This guide is loaded with color photographs that will again not only help you prioritize your shopping time but will also give you inspiration for how to decorate with French collectibles at home. Not all listings are for French goods either, there are many shops with Asian or Indian themes as well as specialty stores featuring vintage cabinetry hardware, doors of the world or even kitchen goods. Even if you like to travel light and don't have a lot of extra space in your suitcase, you should be able to find something special to bring home with the help of Pauly's book, to remind you of your time wandering Paris. For your own copy: The Best Vintage, Antique and Collectible Shops in Paris
.
Forget stores, never mind the boutiques, you strictly want to be shopping Paris markets. I hear you! You will want to grab Dixon Long and Marjorie R. Williams' book Markets of Paris. Every type of market is covered including antiques, crafts, books, food, stamps, flowers and more. It is also arranged by arrondissement so you can group your shopping along with the other sights you have planned for your day. They also suggest their favorite restaurants in each arrondissement so you can re-energize before heading to your next market. Another helpful resource is the "Open on Sunday" listing so you can enthusiastically continue your shopping even when other attractions may be closed. Again if Paris is only a brief stop as part of a larger tour of France or Europe, you will appreciate their "If you have limited time…" section which will help you prioritize the best of the best of shopping Paris markets. Want your own? Click here: Markets of Paris, 2nd Edition
.
A charming little book I think you will enjoy is Wandering Paris with the artist Jill Butler: A Guide to Discovering Paris Your Way. Butler has painted her way through Paris and gathered her recommendations into fourteen theme days of what to do. One day focuses on A Flea Market Expedition. Another day is An Arts and Crafts Day where you explore craft studios and boutiques. Shopping a la Parisienne  focuses on both designer and bargain buys. There is also A Home Furnishings Day where you browse for fine fabrics and unique accessories.  Butler offers days for other pursuits as well with each moment well thought out. I think you could adapt some of her theme days and reproduce them at home with options around your community or use them as templates for how to put together a fun day in another city you may visit. And even if Paris isn't on your tour roster for this spring, you can still bring home a bit of it with souvenirs from her website all accented with her beautiful artwork. Acquire your own here: Wandering Paris: A Guide to Discovering Paris Your Way
.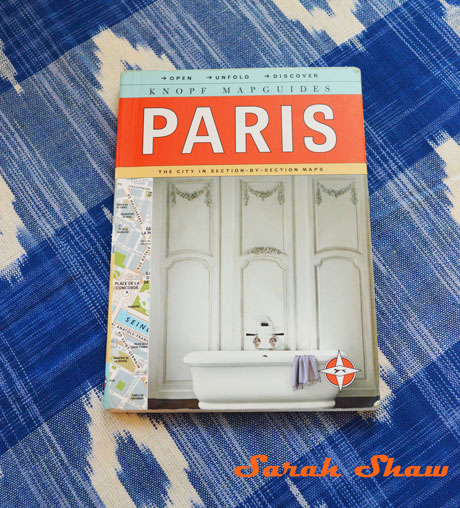 I find most traditional guidebooks much to large to tote around when I am actually out discovering a new city. I was lucky to spend a couple weeks in Paris in 2011 and I can honestly say that the Knopf Mapguides Paris went out with me every single day. This small book easily fits in any size purse or backpack without a lot of weight. What I loved about it is that each page folds out into a larger map page four times the size of the book. In each of the ten sections are highlights of things to do, restaurants, shopping, a very detailed map and photos. So if I found myself in an area with extra time, I could pull out my Mapguides and see what was close by to do. I also never got lost as I could always easily see where I was in relation to where I wanted to be. The back also contains a very convenient copy of the Paris Metro map so you can plan what stop to use or your route to get somewhere else. This is a great resource that everyone should have as they explore Paris. Need it today? Click here: Knopf MapGuide: Paris (Knopf Citymap Guides)
.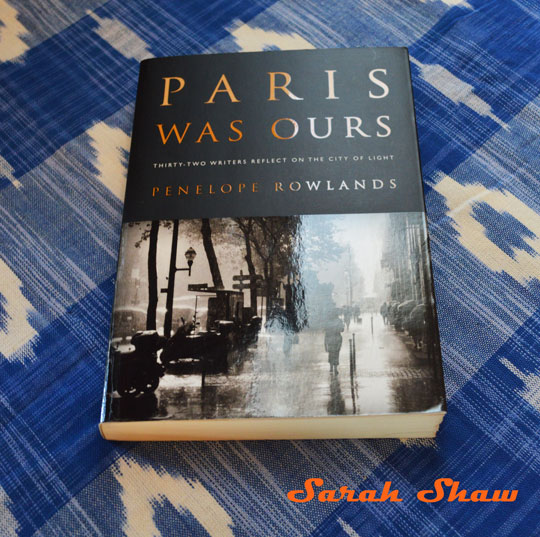 My final recommendation is for a book everyone will love. Whether you leave for Paris next month, have lived there for years or doubt you will ever find a way to go, everyone will enjoy Paris Was Ours: Thirty-two Writers Reflect on the City of Light compiled by Penelope Rowlands. This beautiful collection of short stories, excerpts and poetry was my France representative for the Around the World in 52 Books challenge I am reading for this year. Men, women, young, old, French and foreigners – all walks of life are represented as they share their impressions and experiences with Paris. For some you will remember what you have loved and hated about the city. If you haven't had a chance to visit yet, you'll learn about what you can expect and maybe be a little more prepared for what your joys and challenges will be once you arrive. I advise you grab a copy of Paris Was Ours for this weekend, put on your Edith Piaf CD, pour glass of wine and sit back and visit Paris from the comfort of your own home. Keep for yourself or offer as a gift: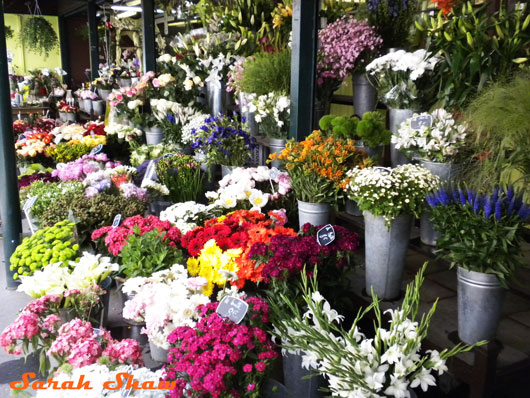 Paris Was Ours
.
Us WanderShoppers aren't the only ones thinking about Paris this spring, either. Wanderlust and Lipstick is launching a Travel Photo Contest and this month the theme is Paris! Select your two best images and submit them by April 29th and you will have a chance to win a phenomenal prize package from XShot. To see some beautiful images of Paris that have already been submitted and to learn more about the contest, please visit the Travel Photo Contest page.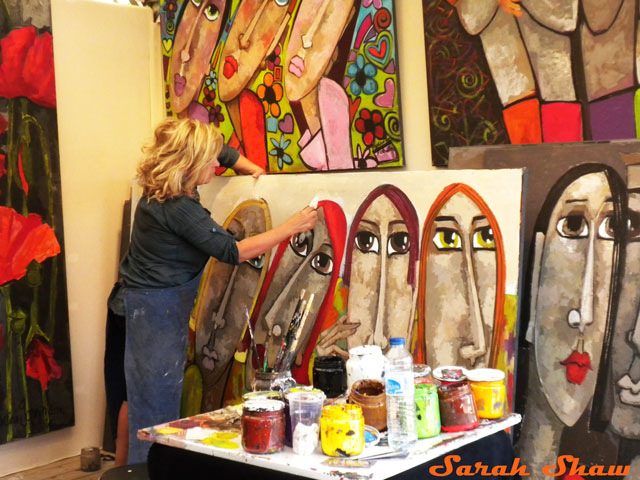 Paris offers so many opportunities for shopping, eating, museums, historical sights, and more. You'll also want time to do absolutely nothing and practice the art of lounging in a cafe for hours. I hope you have a chance to pick up the books above that speak to you and let them help you plan your dream vacation. And when you get back from shopping Paris markets, I hope you'll drop me a line and tell me all about it.
Merci et Bonjour!
Sarah