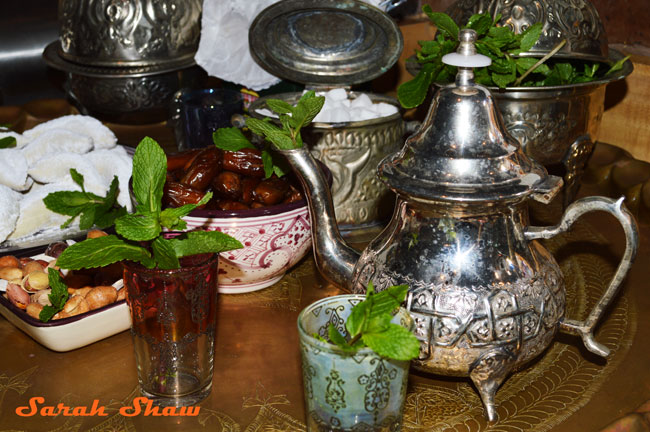 Today we are celebrating Moroccan mint tea and the fun of throwing a Moroccan tea party. Sometimes when you travel, the tastes of food and drink stay with you and sum up your experiences in a country. Moroccan mint tea is one of those flavors. Incredibly sweet with a potent dose of spearmint, taking the time to relax and savor it over cookies, pastries and other snacks gives you time to slow down and reflect. Luckily for everyone, you don't have to be in Morocco to indulge in lounging around while drinking mint tea. On WanderFood today, I have written a post about how to make traditional Moroccan mint tea. Please be sure to visit that post so you have all the details of how to do it authentically for your family and friends. Here on WanderShopper, I will share with you some sources for purchasing the items you will need as well as tips for what to buy and how to set up your tea party. In addition, at the end of this post I will share a delicious recipe with you for Morocco's favorite cookie called Gazelles' Horns that will be easy for you to make and serve along with the mint tea.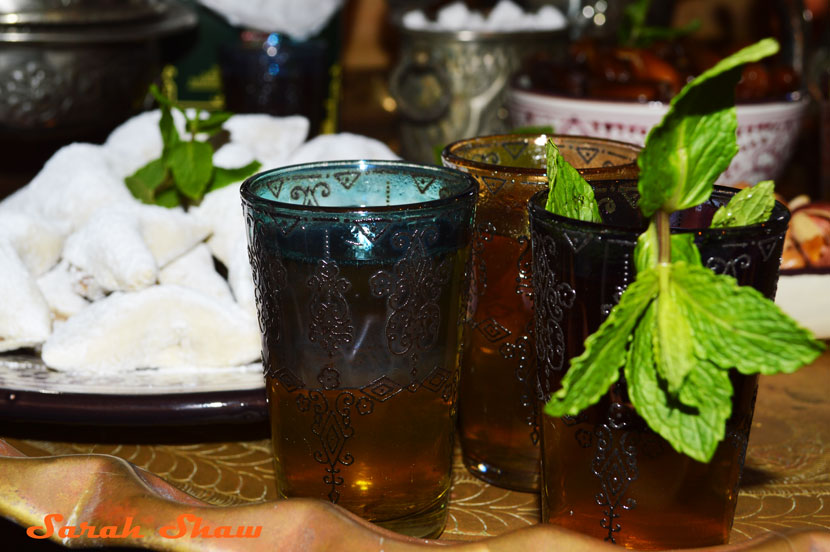 Moroccans serve their hot mint tea in glasses that can be decorated in many colors and patterns They are small and fit easily in the hand. They may remind you of a juice glass or an overly generous shot glass. They are usually sold in sets of six. You will find many uses for your tea glasses in addition to serving tea. They make beautiful tea light holders lined up on a windowsill or clustered together on a tray. You could also use them as vases for short stemmed flowers. I find that some vendors in the U.S. only carry a few designs or colors. To see the wide variety that are available, just as if you were walking through the market in Marrakesh, I suggest you look here at what I've found through an Amazon search: Moroccan Tea Glasses
.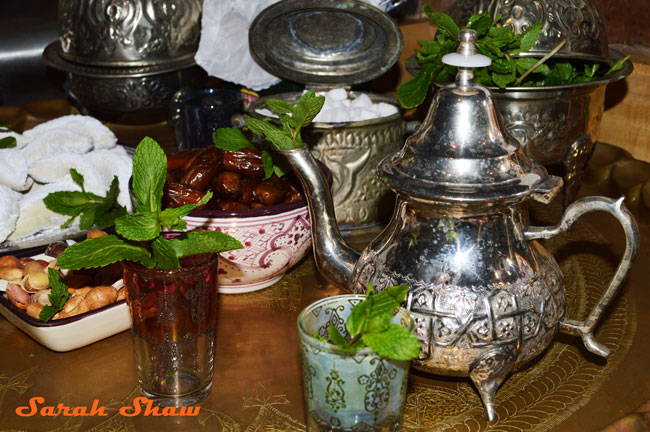 Having the proper teapot is also important in looking the part. Moroccans often serve their tea from a silver teapot that is bulbous in shape similar to the British 'Manchester.' It has a long spout which makes it easy to direct the tea as you pour it from a long distance to the tea glass to cool and aerate the tea. The tea pot also has a domed lid. This Moroccan Tea Pot
from Treasures from Morocco is very similar to the one I purchased from a stall at the market in Marrakesh.
The teapot and colorful tea glasses are all brought to the guests on a coordinating tray. Is is usually the same silver color and has a similar pattern as the tea pot. Quite often they can be bought as a set. In fact, the vendor I made a purchase from in a Marrakesh market stall offered a package of the tea pot, tray and tea glasses at a better price than buying them individually. If you would like to buy just the tray, this Moroccan Tea Tray
from Treasures of Morocco again is very similar to the one I brought home from Morocco.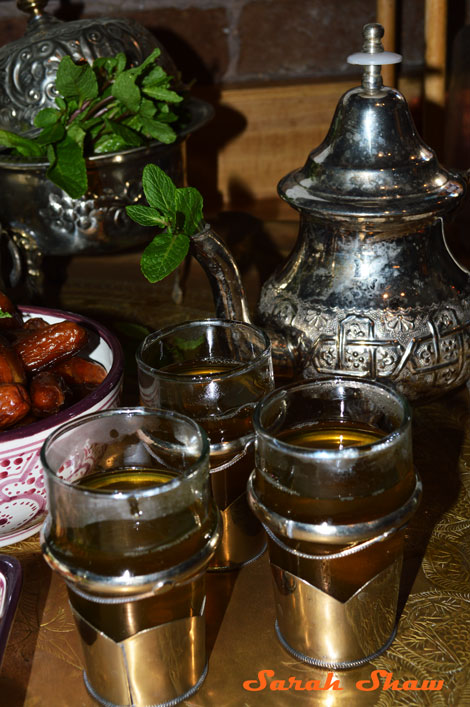 One of my favorite places to shop, The Loaded Trunk, has a beautiful selection of Vintage Moroccan Berber Sugar Pots. I have a couple from them that I featured in my photographs. They would traditionally have been used to being cones or blocks of sugar to the the table to add to the tea in the pot. They may also have held the tea itself. I used one to hold a big bunch of mint. They are beautiful accessories in your home whether you use them as part of your authentic Moroccan tea ceremony or to collect small items like on a desk or to gather your jewelry. While you are visiting The Loaded Trunk, look at the other great items they have brought back from a recent trip to Morocco. They have an amazing collection of Moroccan blankets, pillows and poofs that would be perfect to scatter around on your floor for guests to lounge on as you serve the tea.
The tea of choice for making Moroccan mint tea is Chinese gunpowder green tea. That really is what everyone there uses. I was thrilled to find the exact same brand of the tea available at my local Asian grocery as I had purchased in Morocco. It is called Temple of Heaven. If you can't find it locally, I found Temple of Heaven – Chinese Gunpowder Green Tea
on Amazon for only $4.99.
The mint used in Moroccan mint tea is spearmint not peppermint and that is an important distinction. Be sure to visit the WanderFood post today to learn about the varieties that will work. The best source for mint would be your own herb garden. When you grow it yourself, you know that it has been grown without any chemical fertilizers or pesticides which you wouldn't want leaching into your tea. You really need a generous handful when you make just one pot so you will need a lot. If you aren't currently growing any, I recommend visiting your local Asian grocery store again. I was able to purchase an enormous bunch for just 99 cents. If you absolutely have to, visit the fresh herb section in your grocery store but you will need about 5 of those $3 packages to get enough. You can't skimp on the mint here as its the star ingredient of the tea. Also, don't try and substitute dried mint. That is not the same thing at all. It must be fresh, green spearmint leaves.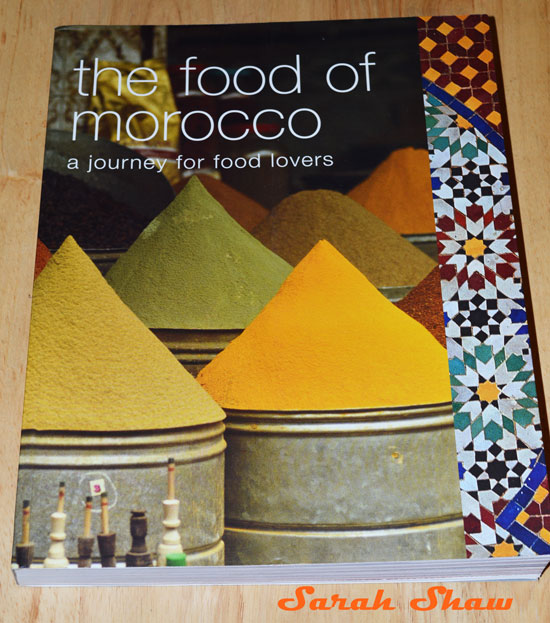 While shopping in Essaouira, I came across a fantastic book on Moroccan food that was loaded with gorgeous color photographs, lots of information on the culture and a wealth of recipes. This was a big book, heavy and took up some much needed space in my suitcase but I have never regretted lugging it home. I absolutely love this book and can't recommend it enough. I was really thrilled to find a source for it for you. If you do nothing else, buy this book so you can learn more about Morocco and enjoy the beautiful photography. The Food of Morocco book
is only $17.60 new which is pretty cheap for a trip to Morocco!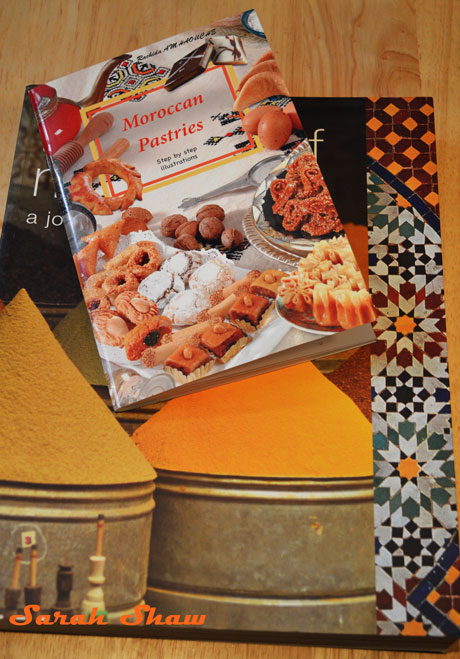 Another book I purchased in Morocco was Moroccan Pastries by Rachida Amhaouche
. This is a great cookbook which has 37 recipes for a variety of pastries. It has color photographs which include pictures of many of the steps required in creating the goodies. I also really appreciate that is has the same measurements we use in the U.S. as well as an equivalency chart as sometimes foreign cookbooks can be tricky once you go to make the recipes.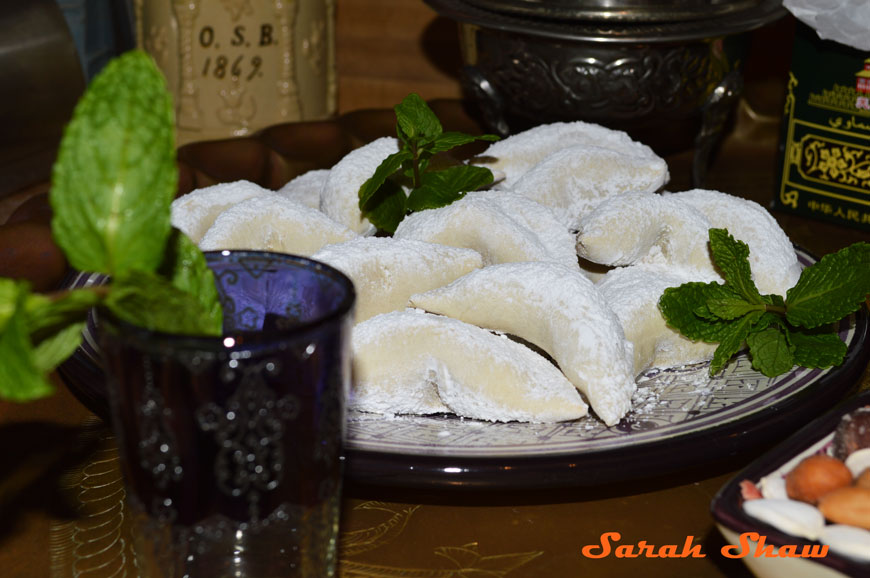 Gazelles' Horns Cookies
One of the most popular pastries in Morocco are Gazelles' Horns or Kaab El Ghzal. These two-bite cookies are filled with a sweet almond paste and sprinkled with powdered sugar. They are teased into the shape of a gazelles' horns with your fingers before baking. You will regularly see these cookies at street stalls, patisseries as well as made my families for holidays and celebrations.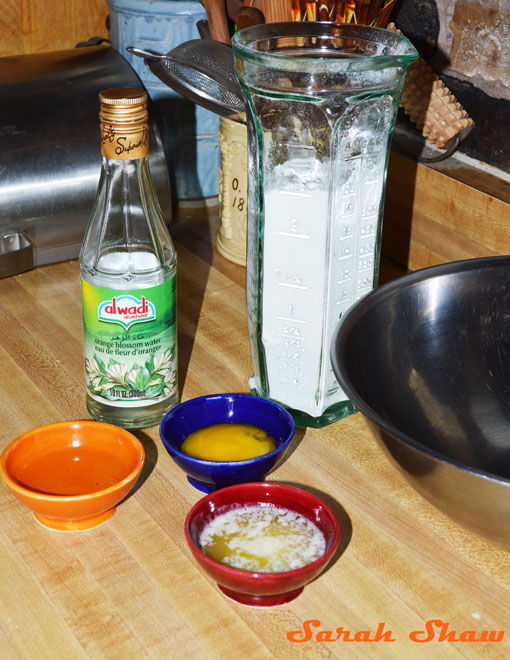 Pastry Ingredients

2 1/2 cups of all purpose flour
1 egg yolk (save the white for almond filling)
1/2 cup of water
1 oz unsalted butter, melted
2 tablespoons orange flower water
To make the pastry, sift the flour into a bowl. Create a well in the center of the flour. Beat the egg yolk with the water and pour it into the well along with the melted butter and the orange flower water. Mix to a soft dough, then knead in the bowl for 5 minutes to form a smooth, elastic dough. Divide in half, wrap in plastic wrap and rest for 20 minutes.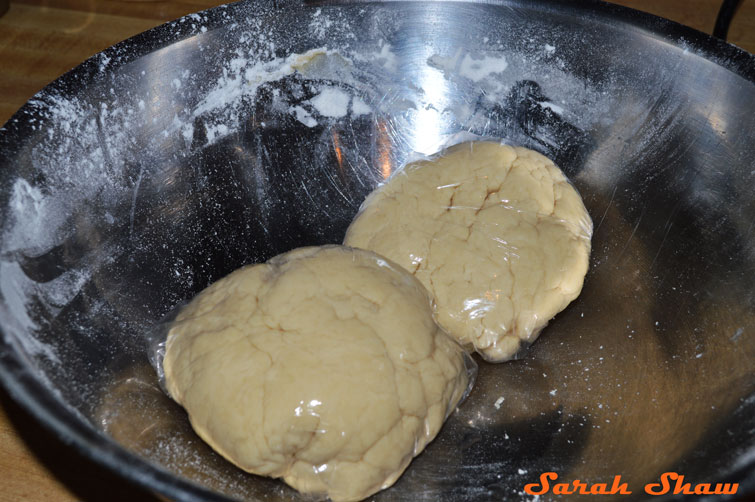 Pastry Tips:
*During my most recent bake of these cookies, I found the pastry dough needed some extra water. I added around 1-2 tablespoons. Depending on your climate and how dry it is, you may need more water too on some days. Start by adding a few drops when you are mixing the ingredients together. You should find the dough starting to pull together. If it stays dry and in floured bits, add a little bit more water. You can always add more water but you can't take it back out of the dough so be conservative as you adjust the recipe. If you have too much, you can tell as the dough will be mushy and will smear as you try to kneed it. The only solution would be to add a little flour back in but that will make for a tougher dough and a less delicate cookie.
*I find this dough is easiest to mix with your hands. As you will need to kneed it anyways, get in there and use you fingers. Touching the food you make is a great way to add love as a special ingredient!
*Orange flower water can be easily found in many foreign groceries such as Middle Eastern, Indian and Asian stores. It really adds a special flavor to the pastry so don't omit it or substitute orange flavoring which is not the same. If your community lacks those stores, WanderShopper favorite King Arthur Flour's website has wonderful baking supplies including Orange Blossom Water for $9.95. Once you've tried it, you will love it and find many ways to bake with it.
*I found the dough easier to kneed directly on the counter. I like to roll and cut dough directly on my counter too. Pull the dough out of the bowl and get into it. You can get rid of some of your stress from the day by giving dough a good kneed. Kids like to do this too! If you don't want to do it directly on your counter surface, lay down a large piece of wax paper or baking parchment and kneed on top of it.
*Be sure to wrap the dough in plastic wrap so that it doesn't loose moisture as it rests. A dough that is too dry will rip and tear when you try to work with it later to make the cookies.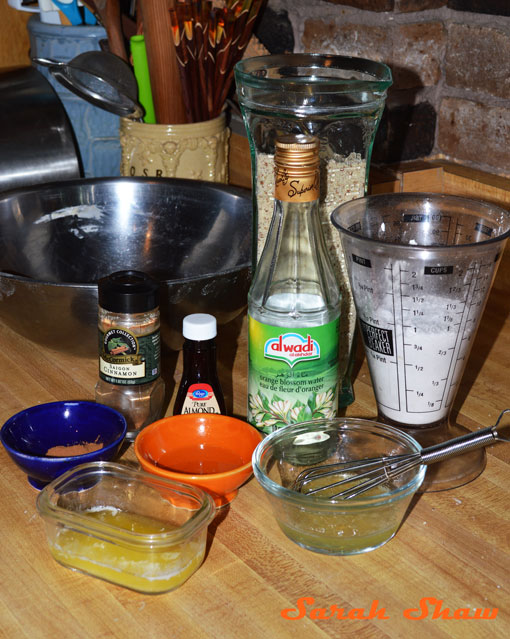 Almond Filling Ingredients

3 cups ground almonds
3/4 cup confectionery sugar, plus extra for dusting
1 tablespoon orange flower water
1 egg white, lightly beaten (use yolk in pastry)
1 oz. unsalted butter
1/2 teaspoon ground cinnamon
1/4 teaspoon almond extract.
To make the almond filling, mix all the ingredients to a stiff paste.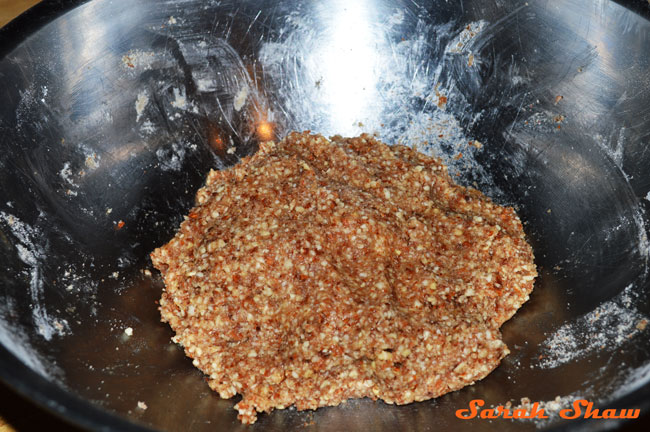 Almond Filling Tips:
*Like the dough, I found the almond filling mixed easiest by using my hands. The filling does become a sticky paste which is hard to mix with a spoon as it just sticks to in. Squeezing the mixture through your fingers is the fastest.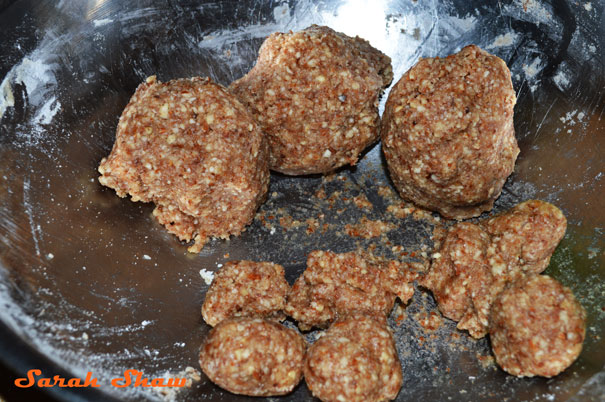 *This recipe should yield 28 cookies. To divide up the filling into equal amounts, I first divided the filling into two equal balls, then I subdivided those in half again so that I had 4 even balls. From each of those, you need 7 small balls. So I took one quarter ball, split it in half and got 3 balls out of each then pulled a small bit from each to make the 7th ball. After you get a feel for the size of it, you can move faster and maybe skip some of the subdividing.

*I like to use a food processor for grinding my almonds. I used raw almonds which is fine as you will be baking them anyways. Raw almonds are easy to find in the bulk food sections of grocery stores. You want the almonds to be ground very fine so that it is more of a meal with small bits of almonds. Think of it as the stage before you would reach almond butter. If you leave the almonds in too large of pieces, it wont' make a nice paste to add to the cookies as well as all the sharp edges could tear your dough. The photo on the far right above shows how fine you should grind your almonds.
*Traditionally, Moroccan women would peel all of the almonds before grinding them so that the darker skin was off. You could make that easier by blanching them first if you wanted to put the extra effort in. Not doing this will not effect the flavor at all. Your paste will be a little darker with the skins left on. I always rationalized that if I was adding cinnamon anyways, I didn't mind the brown color.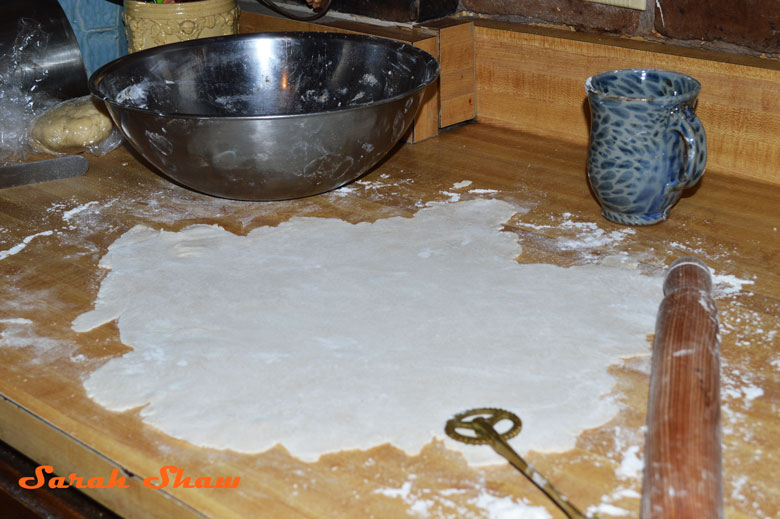 Forming the Cookies
Roll out one ball of dough thinly on a lightly floured surface to a rectangle, of about 12 x 16 inches, with the shorter side towards you. Place 3 almond shapes 2 inches in from the edge of the pastry closest to you and 1 inch apart from each end. Lightly brush pastry along edge and between almond shapes with cold water. Lift and stretch end of pastry over the filling and press firmly around the filling to seal, Cut around filling with a fluted pastry wheel, leaving a 1/2 inch border of pastry around filling. As each pastry is placed on the baking tray, bend it upwards on filling side into a crescent. Prick the tops in four places with a cocktail pick. Straighten edge of pastry with a knife and repeat until all filling and pastry is used.
Cookie Assembly Tips
*Flatten each almond filling ball into an oval shaped bar before laying it onto the pastry dough.
*Lightly coat your rolling pin with flour so that it glides over the dough. Try not to add too much flour to your dough as you work though as it will make the dough tough. Make sure the water you use to seal each cookie does not drip onto your work surface or dough will stick when you roll it out again. If it does get wet, dry it and add more flour before placing dough down.
*Try to get all of your cookies from your first roll out of the dough. I find that it is hard to get the dough scraps back together to make a nice looking cookies. They will still taste fine but will look a little scaly.
*Don't forget to brush the pastry dough with cold water before you seal the dough over the almond filling or it won't seal well. In the oven, your cookies may pop open and come out looking more like clams or oysters! If you need a pastry brush, King Arthur Flour offers a Small Silicone Pastry Brush for $7.95. You will find you use this for other recipes when you want to brush the top of things with butter or egg whites too when you want them to brown like rolls.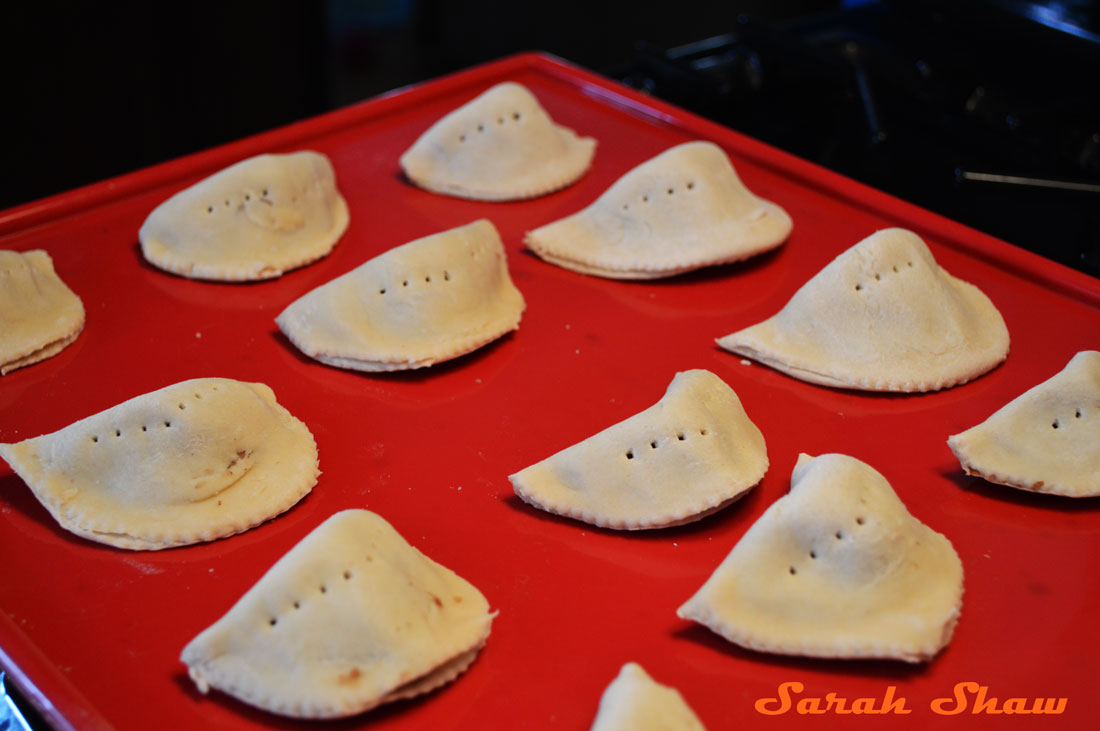 *Make sure you pierce the top of the cookies before you bake them so that the hot air has a place to escape or your cookies may be forced open by the steam. I used a fork. A tooth pick or bamboo skewer would work as well. You will be dusting the cookies with powdered sugar so no one will see the holes when you serve them.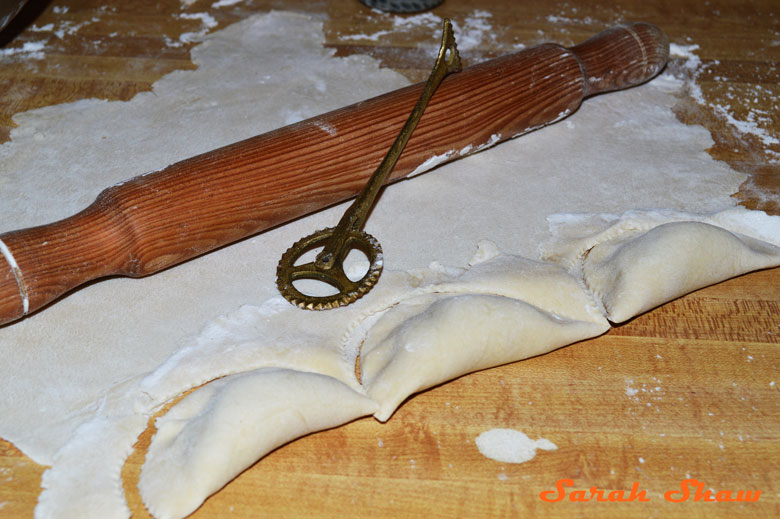 *To get a pretty decorative edge, as well as the seal the top and bottom parts of the pastry dough around the filling use a fluted pastry wheel. Mine is an antique from Sweden. You can purchase one online through King Arthur Flour. They have a snazzy one that is a Double Sided Pastry Wheel so that you can have a straight edge or a fluted one like this recipe requires. It costs $10.95.
Baking and Finishing Cookies
Bake for 12-15 minutes in a 350 degree oven until cooked but still pale. Transfer immediately to a wire rack and dust with sifted confectionery sugar while still hot. Store in an airtight container when cool.
Finishing Tips
*Place wax paper under your cookie rack to collect the powdered sugar that falls through. This will make for an easier cleanup as you can just fold it up and either pour it back into the bowl for reuse or throw it away.
*Putting your powdered sugar into a sieve will make for a fine dusting as opposed to potential lumps. Put a couple tablespoons in at a time and knock it with a spoon over the cookies so it "snows" all over them. Flip the cookies so the sugar is on both sides. I flip back to the top and give a little extra dusting to cover any finger marks.
*Do store the cookies in an airtight container. That will keep the dough part crisp as well as make the sugar last longer. Over time, humidity will cause the sugar will dissolve and seem to disappear. Add more, if you need to, when you are ready to serve.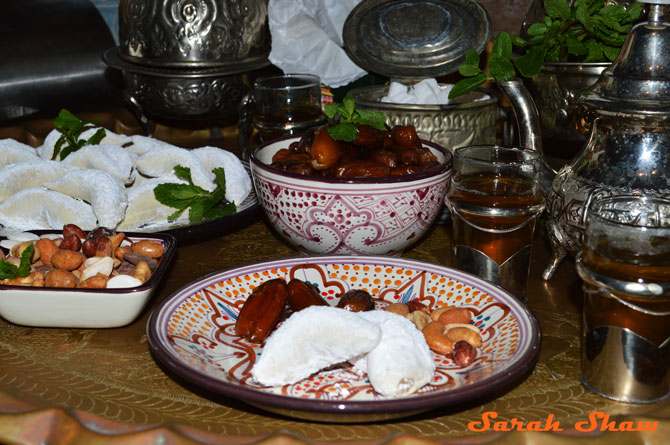 I hope you are inspired to host your own Moroccan Tea Party. You should be able to put together everything you need from the sources in this post. Also, by visiting WanderFood, you can learn the specifics in making Moroccan Mint Tea. Please let me know how it goes!