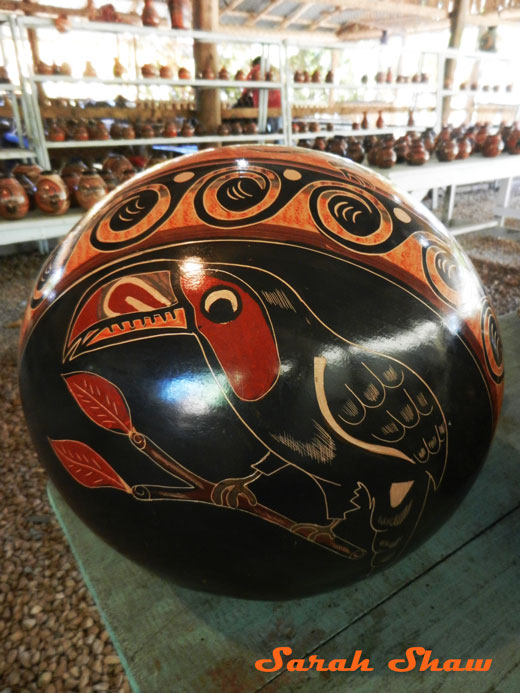 Yesterday's WanderShopper post visited the pottery village of Guatil in Costa Rica where we watched potters working at their benches throwing pots. The village of Guatil has around 50 families making the pottery the same way they have through many generations over the past 200 years. Guatil has one of the largest concentrations of people of Chorotegan descent in Costa Rica. The Chorotegas are an indigenous people who have been making pottery for over a thousand years. In case you missed yesterday's post, you can get caught up on this artistic tradition by using this link. Welcome back! Our pots have had a chance to dry overnight and now we are ready to get going on the decorating before they head to the kiln. And then comes the best part, shopping!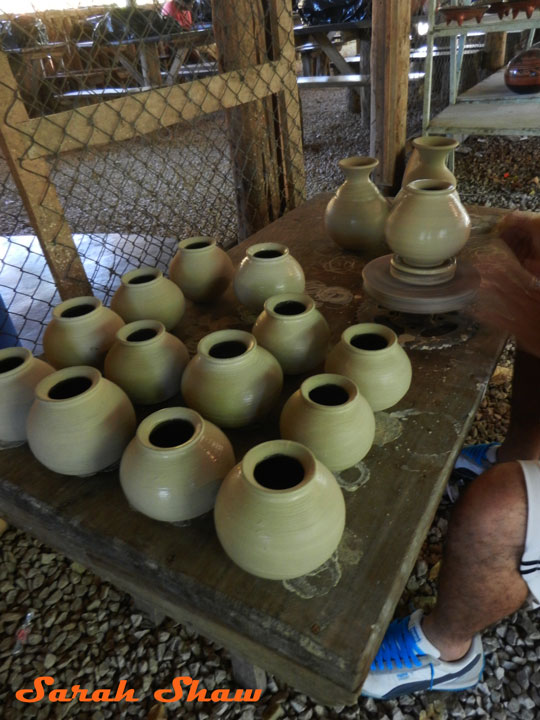 After the pots have been finished and the potter is satisfied that the exterior is nice and smooth. They are left to dry in the sun for a day or so. Then an apprentice takes all the pots and paints on 7 coats of a white glaze made from zinc oxide. Each pottery studio contains potters from the same family. At Willy's Pottery where I spent my time in Guatil, they have been creating ceramics for six generations. The owner, Willy Villafuerte Ramirez, works along side brothers, cousins and sons. When you are first starting, you are given simple tasks to do like painting on the zinc oxide base coat before you learn how to throw pots or how to paint patterns on them. Once the pot has received its seven coats of base glaze, it is left to dry again for another day.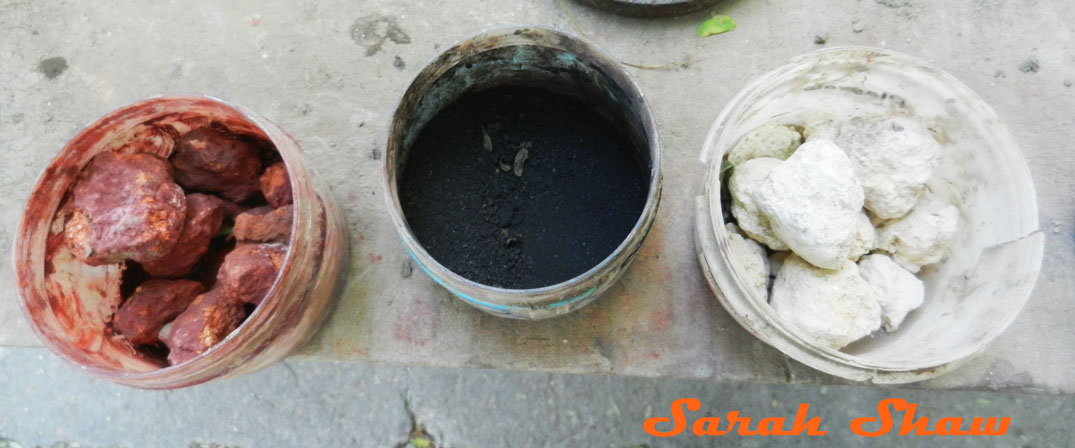 The potters in Guatil work with glazes they create themselves with minerals gathered from the nearby mountains. A glaze is a substance which gets fused onto the clay when fired in a kiln to either decorate a pot or to make it stronger or more waterproof. At Willy's Pottery, they work with three glazes. When they want white, they use zinc oxide like with the base coat. When they want a black color, they use manganese. When they want red, iron is used. They may grind the minerals with a mortar and pestle and then mix them with water into a consistency like paint. They use paint brushes to apply the glaze to the pottery.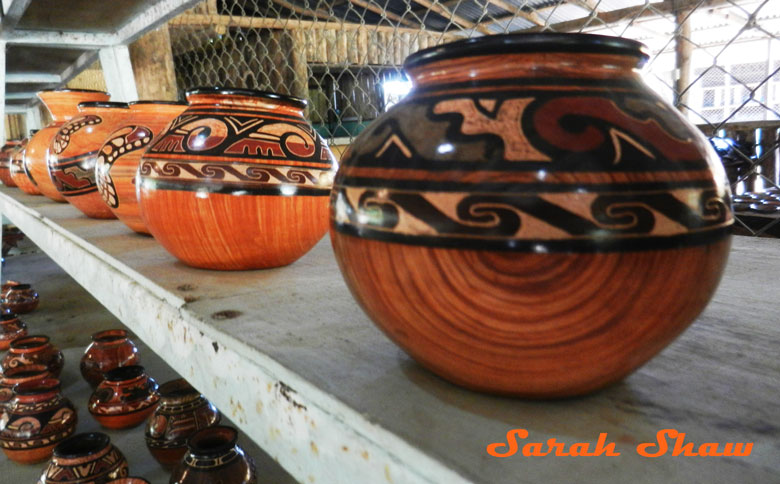 Before an artist begins to paint a design with glaze on a piece of potter, they may decide to add an interesting background. They like to create an interesting speckled pattern by taking a toothbrush, loading it with a contrasting glaze and flicking it at the piece of pottery. They may also lay down background stripes by holding their brush steady, loaded with glaze, and rotating a potter's wheel. With a little practice, this technique makes a perfect circle on a flat plaque or around a jar. I also found in the store at Willy's Pottery a number of pieces that looked like they had been carved from wood. The artist who made them painted on a wood grain pattern before he added the decorations and traditional patterns. In the photo above, you can see the wood grain effect on these jars which I loved and brought home one in a jaguar motif.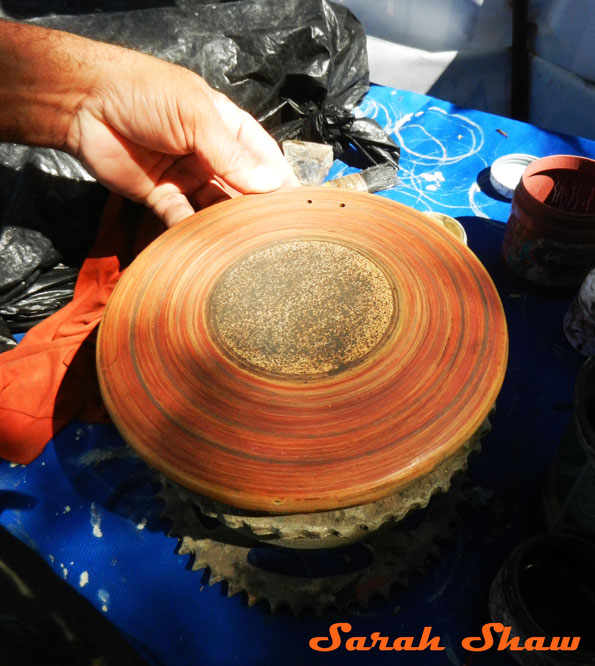 The first piece we will watch an artist decorate is a plaque meant to be hung on a wall. You can see that stripes have been added in a few colors over the zinc oxide base. around the outside. In the center is the speckling technique I described above. After these decorations were added, the plaque was allowed to dry again before a design could be painted on it. If the artist worked while the base layers were still wet, there is a chance that the lines from his design may smear or become mixed with the background.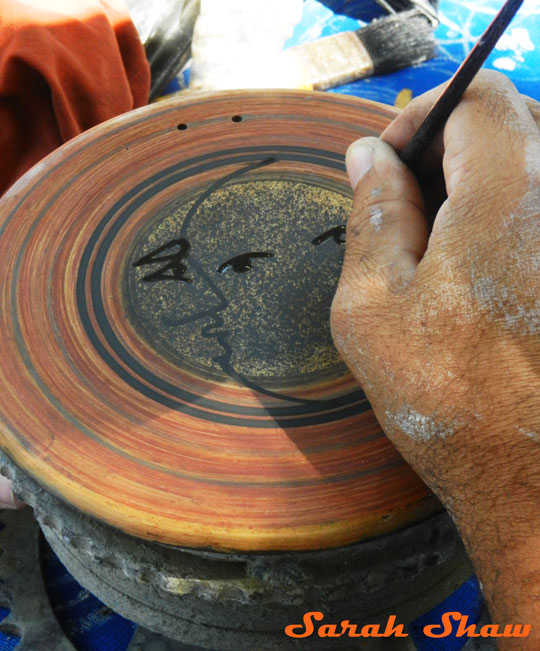 This artist works quickly to add some lines he has painted many times. He confidently traces the outline of the profile of a moon up the center. Adds an eye on the left and then starts to add the sun's eyes on the right. The sun and moon are iconic symbols in many societies including the Chorotega.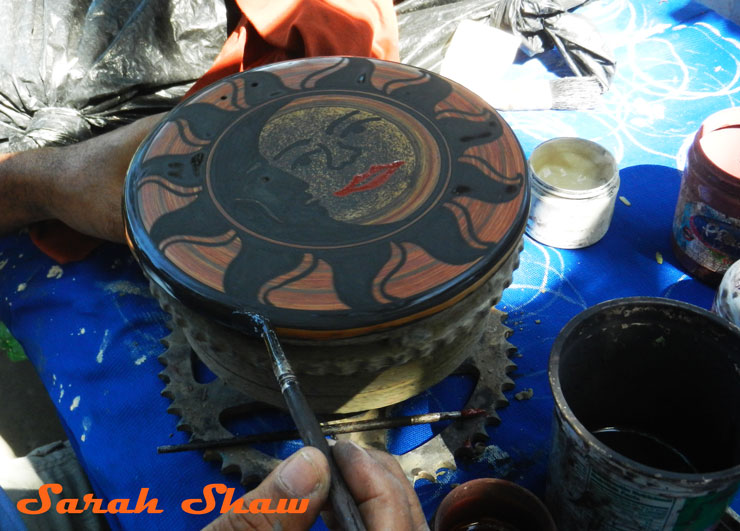 With the sun and moon design nearly complete, the artist adds a heavy black line around the perimeter. Not only does this make the piece look more finished but it also helps to cover any irregularities around the edges. Once this design is dry, it will head to another station where it will be burnished. We will look at that more in a little bit.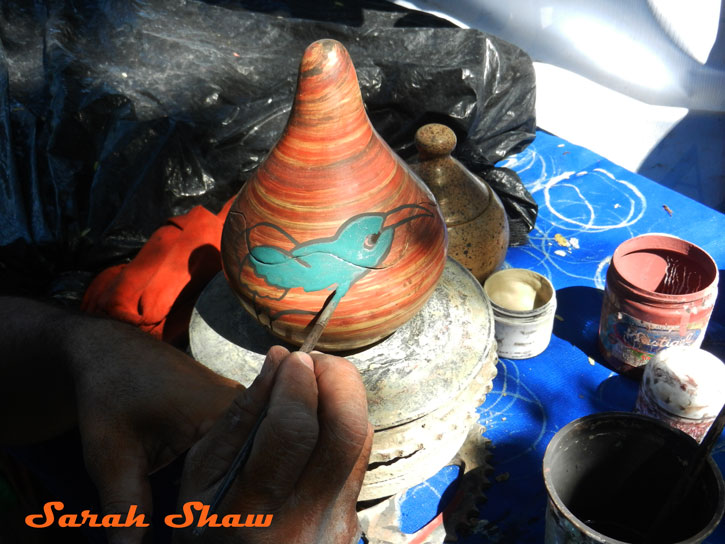 Next the artist begins to work on a jar shaped like a gourd. It again has had a background of stripes added as a base. He starts to paint a hummingbird on each side, sketching out the outline of the body in black and starting to fill in the beak, body and contrasting wing and tail tips.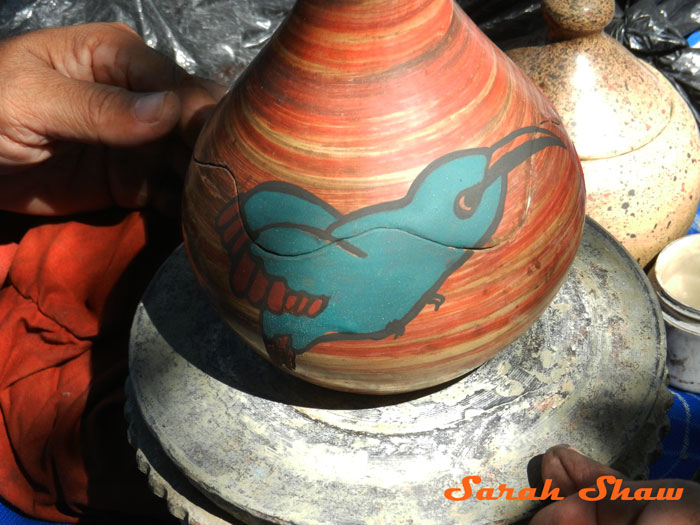 Once the hummingbird is completed, he adds a flower for the hummingbird to be visiting, adding it to each side of the jar before he his done. Again, it is amazing how fast he works. You can tell he has drawn this design many, many times before.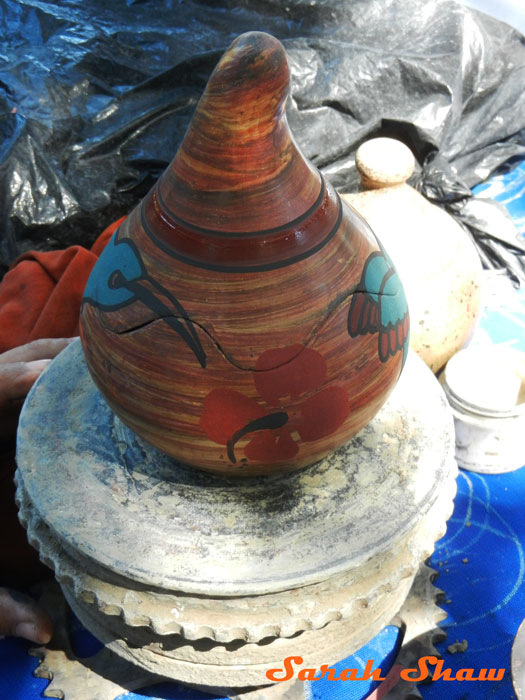 After he is finished, he send the pot to be burnished before it head to the kiln.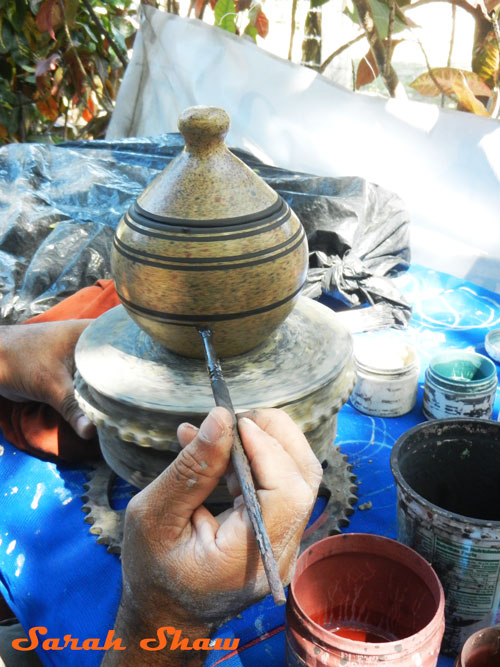 Next the same artist shows how he likes to decorate this style of lidded jar. He begins by adding some stripes. He loads his paintbrush with glaze, places the bristles where he wants his line and then rotates the jar on the wheel to create a near perfect line all the way around.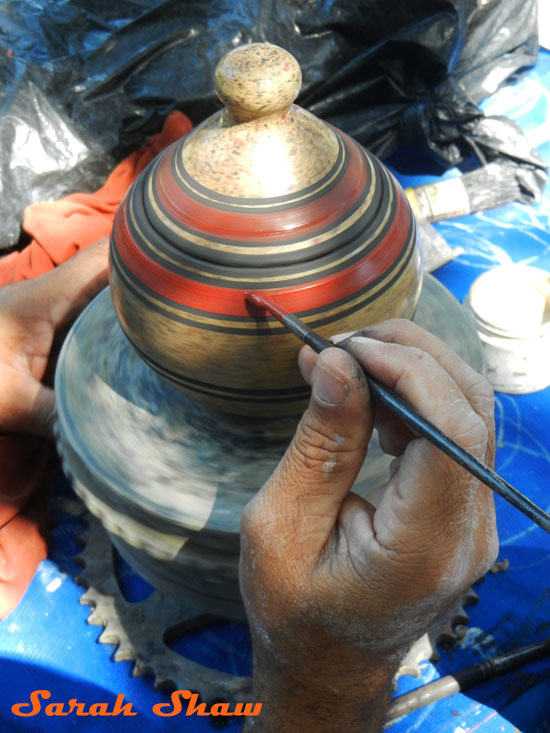 The artist also wants some bands of color using a red glaze made from iron. Once he has completed his horizontal stripes, he will be adding some traditional designs.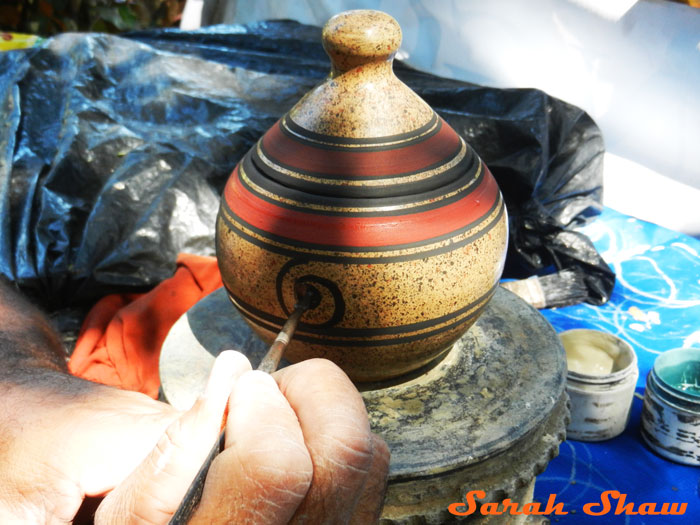 Now he starts in the wide central band and starts to paint some lines and shapes that come from a traditional Chorotega design.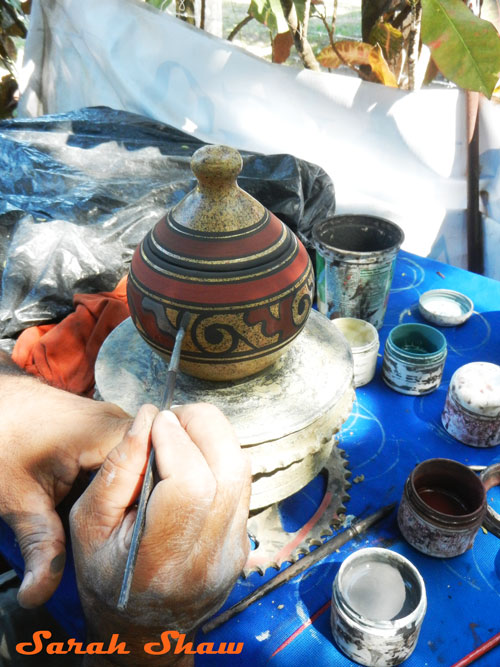 The spiral the artist was painting in the previous picture has now turned into a wave motif. Worked in to are ruffled areas. He adds other colors to create a vibrant band all around the center of this jar.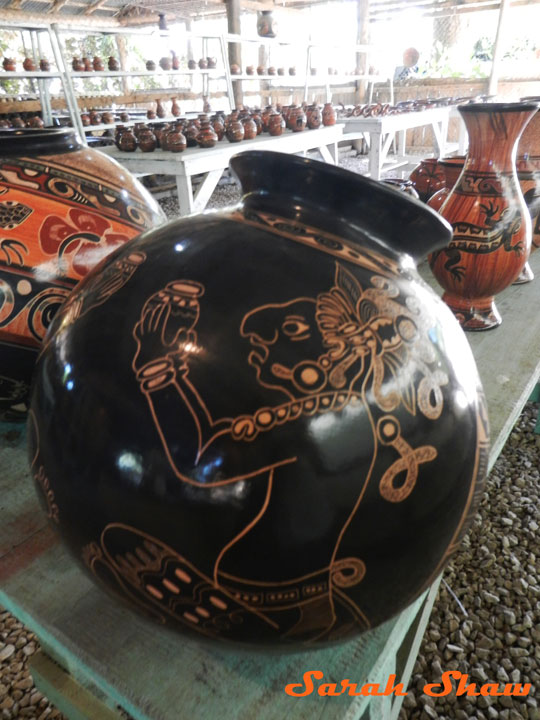 Sometimes an artist wants to decorate his piece using other techniques instead of paining on glaze. He may have his pot painted with the seven layers of zinc oxide for a white base. Then after it has dried, he will have it painted with another 2 layers of either black or a brown. After that has dried for a day, he can take a tool and lightly scratch or carve his design into the pot. This incising reveals the white layer underneath and this becomes the design. The item above is a huge spherical pot. The design depicts a Chorotegan Chief offering a pot of chocolate.
bur
Another design style I found at Willy's Pottery left part of the pot completely unglazed revealing the natural terra cotta color of the clay. Around the rim of the pot, the artist has carved a traditional Chorotegan design. He has also added a whimsical gecko resting at the top.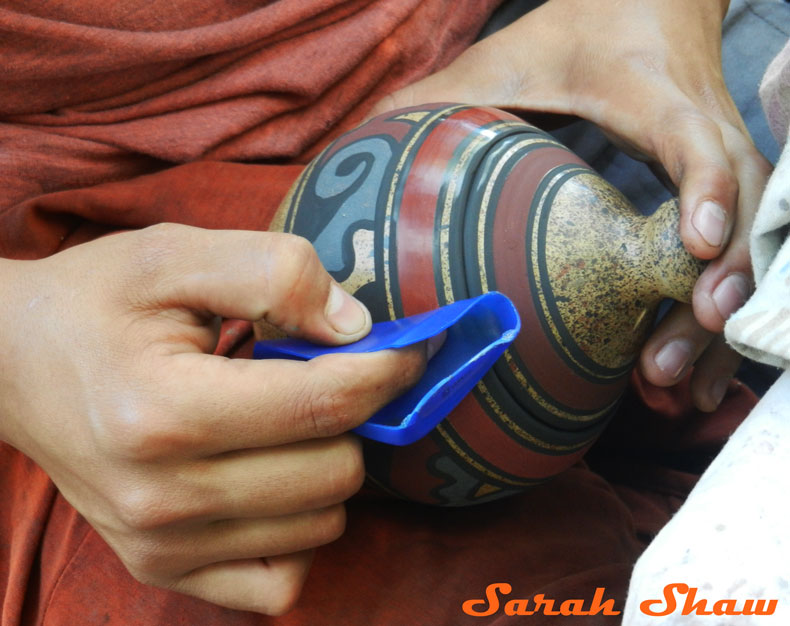 After an artist has finished decorating his pot, an apprentice carefully picks it up from his bench and takes it to be burnished. The glaze must be dry or the design will smear and ruin the pot. Here he uses a small piece of plastic cut from something like a milk jug. By going over the pot again and again in a circular motion, he polishes the pot and the glaze. This is how the pots get their shiny appearance. They do not have a top coat of a clear spray like a polyurethane. Simply by polishing it before heading to the kiln gives it this high glass look so distinctive to pottery from Costa Rica.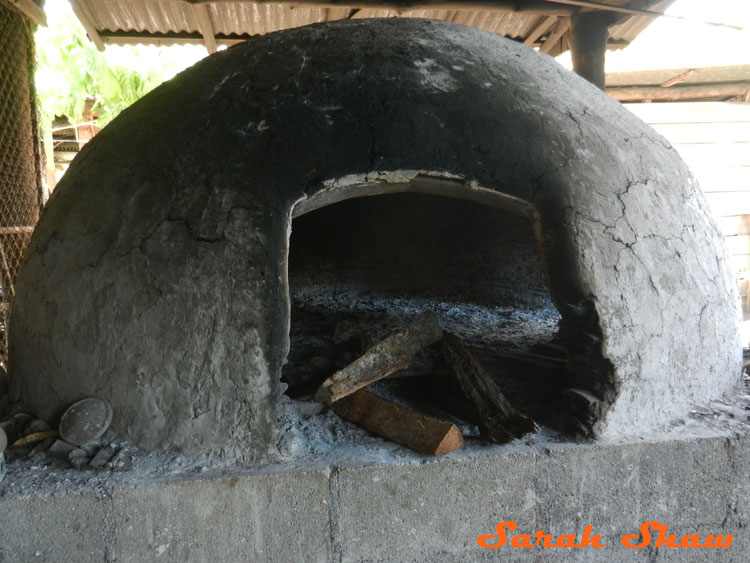 All the working potters contribute pieces over the course of a month. Once the kiln is full, it can be fired. A kiln is a large oven used for baking the pottery at very high temperatures known as firing. a chemical reaction takes place in the clay when it is really hot causes the pottery to harden into a permanent piece of ceramic.  In Guatil, they use a wood burning kiln. It requires a lot of wood the heat the kiln up to the high temperature required but once there, small pots will be fired in as little as 25 minutes while larger pots may only require 45 minutes. Firing makes the pottery very strong. Everything at Willy's Pottery is microwave safe. It is also safe to drink from or use for serving food.
I thought you might like to see some other examples of pottery available in Willy's gallery at the front of his studio in Guatil. I really liked the big footed bowls they offered. The one in the front with the flower inside came home with me. It was the most expensive piece I purchase at around $100 but it was so beautiful and substantial that I decided I had to have it.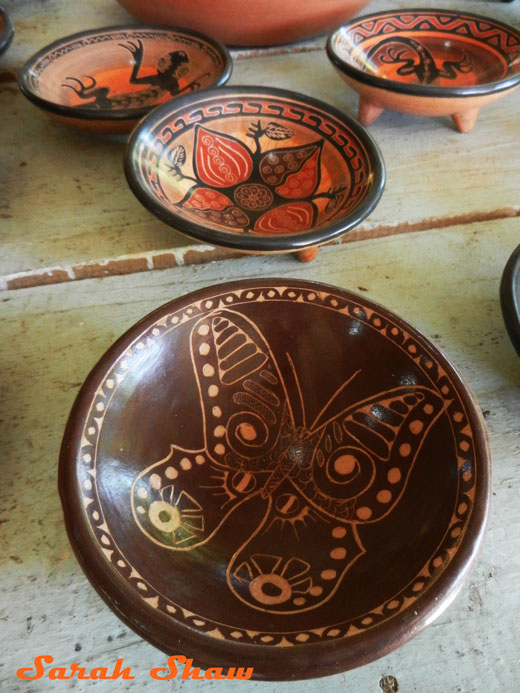 I also really liked these footed dishes. They were much lower to the table and more like a concave plate as they were not especially deep. This design in front was done by carving away the dark brown top coat to reveal the undercoat of zinc oxide. Butterflies are a symbol of fertility. Monkeys are for good luck. Other animals like toucans, iguanas and owls are added for their beauty.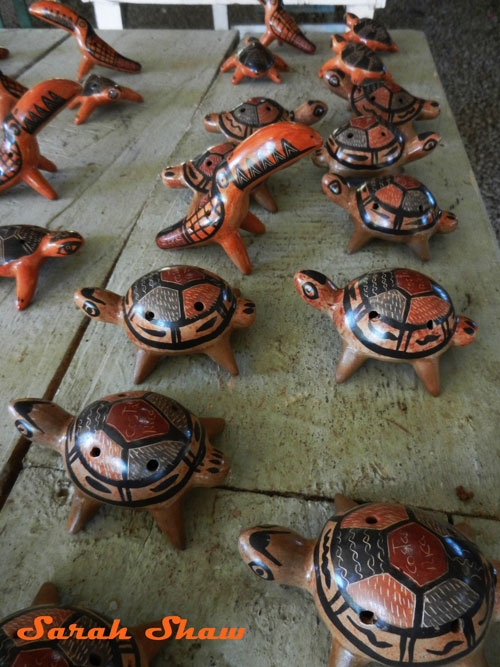 While you travel around Costa Rica, you will see many opportunities to purchase these figural whistles. Some are in the shape of animals like the turtles and toucans pictured here. Other times, Chorotegan figures will be sculpted. I liked the idea of buying directly from the potter they were made by instead of from one of the many wandering vendors who will visit you at the beaches or while you eat in sidewalk restaurants.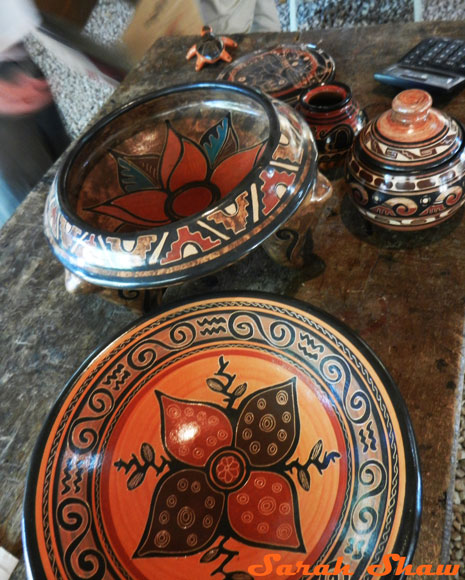 I selected a number of pieces of pottery to come home with me from my visit to Guatil, which are pictured above. They included the big footed bowl and a lower one of the flower shown in front. I bought a lidded jar with a traditional design, a smaller jar with a jaguar as well as a turtle whistle for a turtle collecting friend. I also bought a plaque with a Chorotega musician beating on a drum. Willy's will either wrap and box everything for you to bring on as carry-on luggage or you can have the items shipped. I had been traveling light so far that trip and elected to carry them home myself. I don't know that I would do that again. I have a very hard time with these going through security. I was completely searched three times between entering the airport in Costa Rica and boarding my flight for Detroit in Atlanta. The handle the potter made for me to carry the box was cut off and everyone seemed very suspicious that something was hidden in the pottery, which of course there wasn't. I think I would have to recommend that you have your items shipped home for you and skip the extra hassle I encountered. This pottery is so beautiful that I don't regret buying it and now it has an extra story to share each time I use it!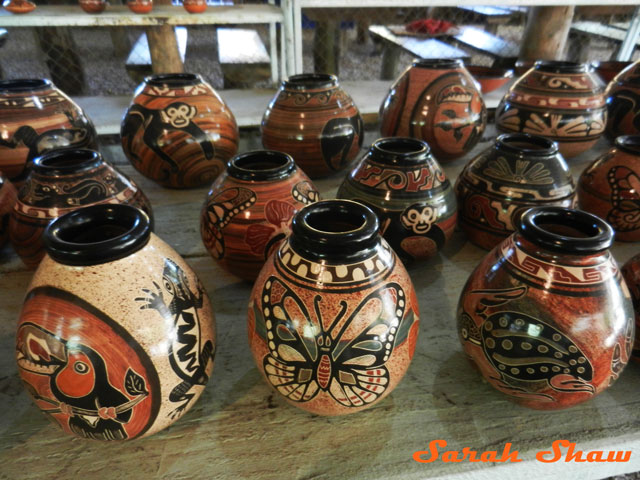 Are you inspired and want to try your hand at creating traditional pottery while visiting Costa Rica? I have found the Guatil Pottery Studio, located in nearby Tamarindo Beach where you can take classes for both adults and children. They offer 3 day lessons or a 5 day workshop. One of my favorite things to do when I travel is to take a class where I can directly learn something about a culture from a local skilled in a craft. I will definitely consider signing up and trying it out myself next time I am in Costa Rica.
Are you in love with the pottery but not planning  a trip to Costa Rica any time soon? I've discovered the Blue Coyote Gallery in Cave Creek, Arizona offers some beautiful pieces from Willy Villafuerte. I am sure they would be happy to ship them to you where ever you may be.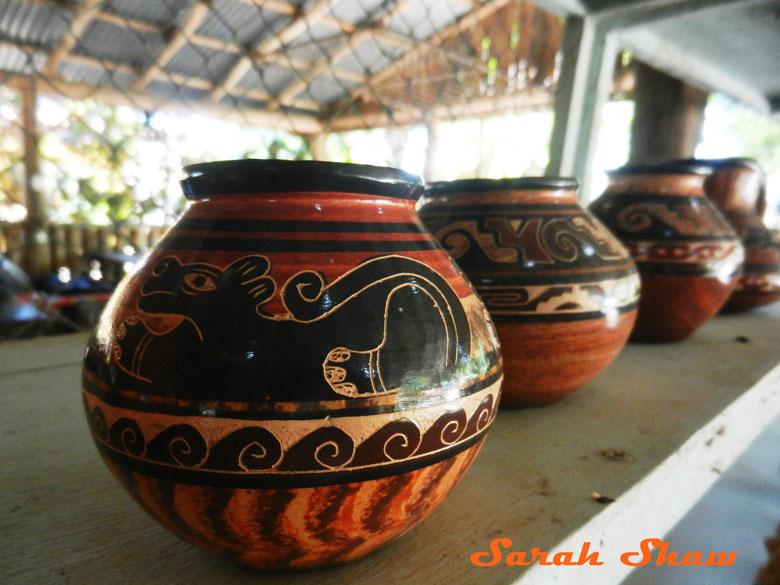 Which piece of pottery did you like the best? Which one would you like to bring home with you? Have you every tried to make a piece of pottery before?