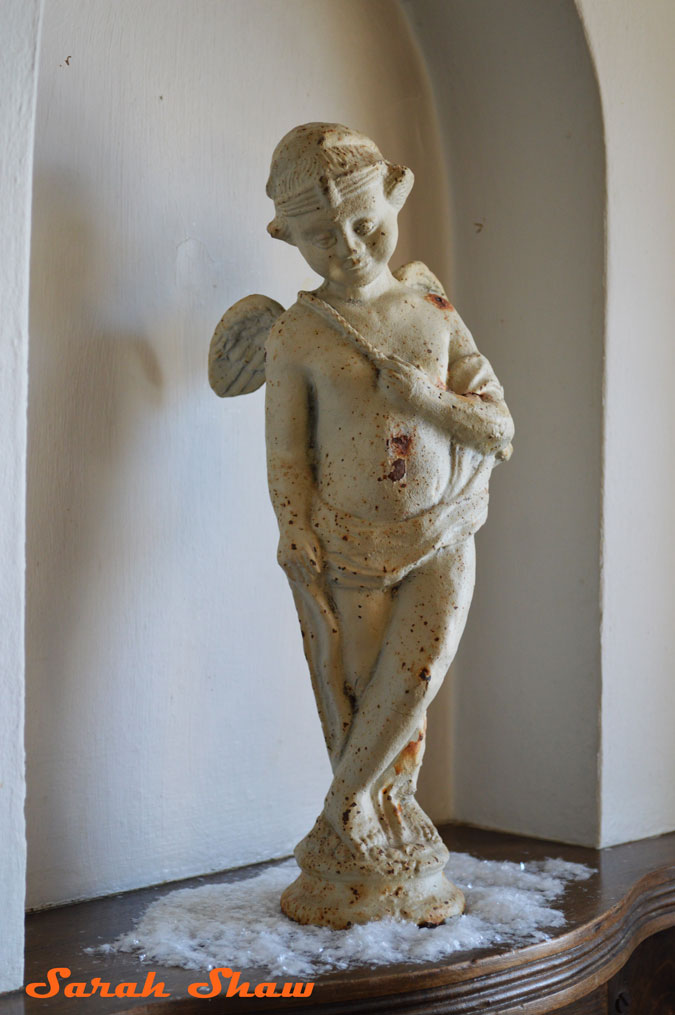 As Valentine's Day approached, I decided it was time to do some decorating and I thought you might enjoy seeing some of the ways I put my looks together. Once you get some basic pieces, the decorations can be adapted for any holiday, season or any other inspiration you may have. I'll begin by showing you some of my tricks for showcasing small items that can make a big impact. Then we'll take a look at how you can feature one special item. Lastly, I'll show you how to put together an unusual display space. I have lots of ideas to share, so let's get started!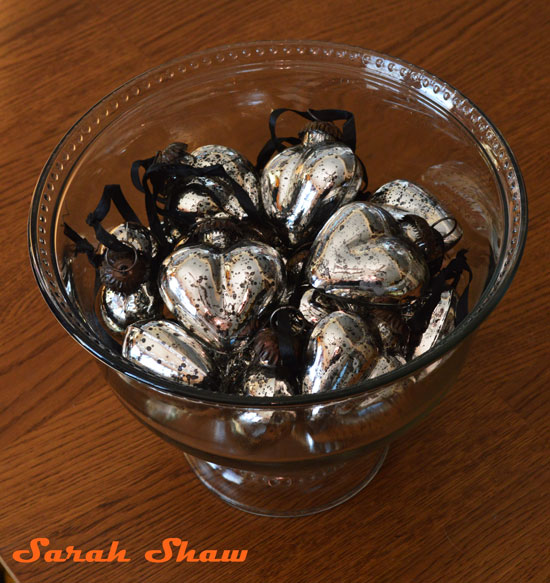 I'm still finishing putting away the last of my Christmas decorations. I always get so busy right after the holidays that it takes me awhile to get back to everything. This year I purchased several collections of Indian mercury glass ornaments from One Kings Lane. I love mercury glass because it can work in so many ways. It has a vintage appeal with its distressed mirrored finish. Yet because it is reflective, you can also make it look contemporary depending on what you surround it with. I am going to be working with one large set of mercury glass hearts. As they were ornaments (and I want to use them as ornaments again) I left the black ribbons on them. If you were only going to display them as I am showing you today, you might remove the ribbons as I think the black color and the length of the ribbon is visually distracting. I also have a smaller set of red mercury glass ornaments in several shapes including hearts. Using one or both of these ornament sets you can get different looks by changing the vessel. In this initial photo, I have piled the silver hearts in a clear glass footed bowl. I use this bowl for a lot of food dishes like fruit salad or trifles. I also like to use it to gather colorful collections as it keeps breakables safe yet viewable in a three dimensional way. By selecting a versatile piece like this bowl, you have it for many used which makes sense economically and if you want your acquisitions to do double duty.
Change to a red glass vase and you will get a totally different look. I think this would look nice as a centerpiece for your table or to brighten up a corner that needs some color. I also like it somewhere near a window so that natural light can cause that red glass to glow. Another idea that I tried, but I had a hard time getting it to translate in a photo for you, was to add in Christmas lights. I have a small string (10 bulbs) of lights that are battery operated so no awkward cord to figure out what to do with. I inserted it in the middle of the hearts so that the batteries and the cords were hidden from view. The lights glowed through the red vase. This was a nice effect as the dark red glass is obviously harder to see through so without the inner light source, you get less of the heart details than you would with clear glass. I think with the lights, this would make a romantic centerpiece.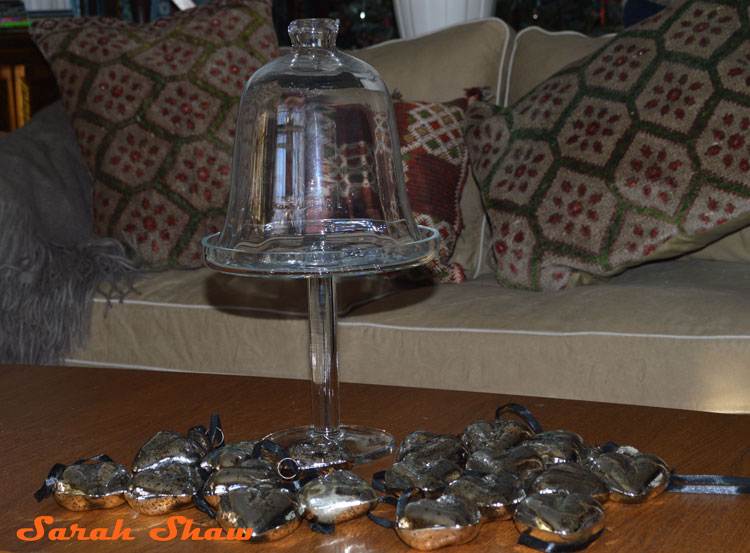 Another great idea is to display your collection under a cloche, or bell jar. I love cloches and probably have 10 or so in different sizes and shapes that I use alone or grouped together. I like the one I feature today as it was part of a set with its one matching glass stand. This gets your items up off the surface and really showcases them. If all you have is the cloche, you can substitute a plate to contain your items.  To fill your cloche, turn it upside down and place it in a sturdy glass or vase. Then you can place and arrange your items with ease. Keep in mind that what is now the bottom will become the top once you invert it so you will want to place those first few items with an eye for display. Once full, I laid the stand on top of the inverted cloche then lifted the whole group up and turned it upside down. Now it is ready for display. Many collections could be displayed this way such a colorful vintage marbles, matchbooks from your travels or knotted up balls of your favorite scarves. You are only limited by your imagination. I have also displayed vintage Christmas ornaments, artificial berries, mini pumpkins or silk flowers. Everything looks important when you feature it this way.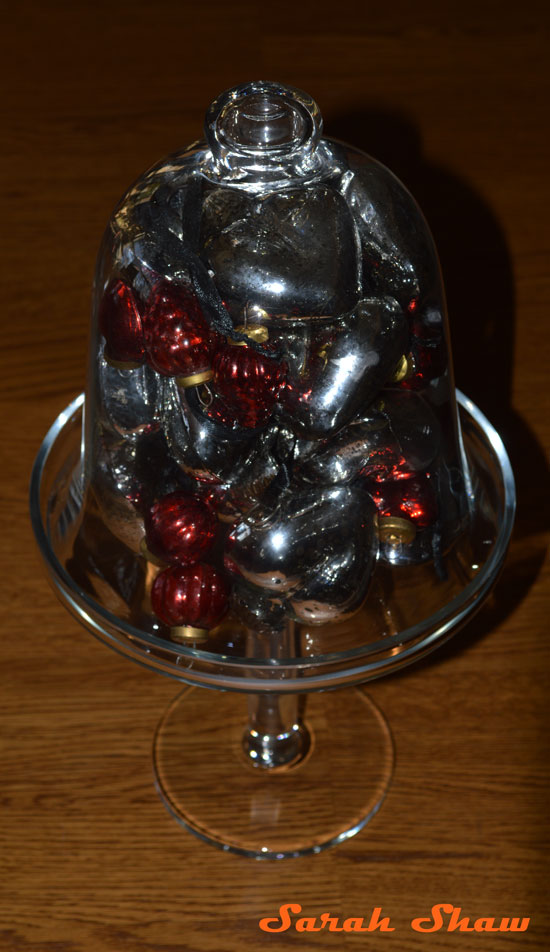 Maybe glass is a little fussy for your decor. Another option is to make it look more rustic. I have this oblong bowl made from mango wood from India. Instead of having height like the other options, this is also low and long. It would look great sitting on a coffee table or on the console in your entry hall. Here the mercury glass hearts are scattered around both in the bowl and around its edges. This gives an informal look like they just happened to fall there in place. You could do the same thing with some of your jewelry like lay out some of your colorful Indian bangles. Or drape interesting necklaces of colored beads. I also love the look of different earrings all piled together with their different shapes, stones and metals.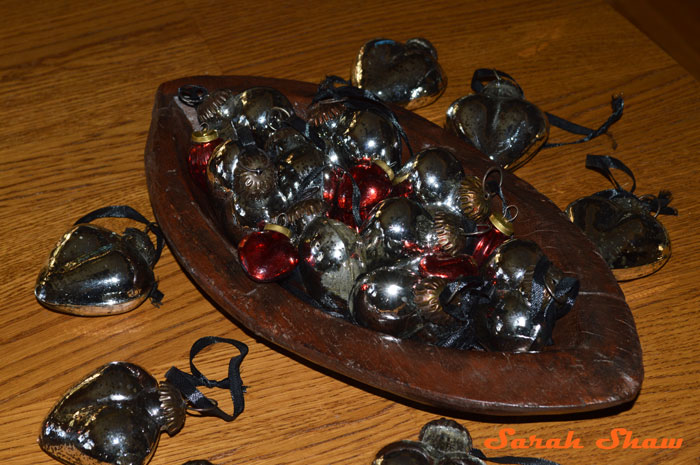 Sometimes, instead of a group of items, you want to feature one special thing. I have a nook in my house which use to be for the telephone back eighty plus years ago when the house was built. It makes a perfect space to feature things like special statues. Over the years, I have collected a couple different cupids that I especially pull out this time of year. I like them as they are all white and make a simple statement for Valentine's Day which is always still snowy here in Michigan. To accent the white, I also make a pile of artificial snow (again left over from Christmas) and spread out on the surface. Then I place the cupid in the center of the drift. Alternatively, for some more color you could do a spread of red hot heart candies which would be fun for the holiday. This would also be nice in front of a mirror so that all the details could be seen. This cupid has a glass quiver that holds three little extra arrows not seen in this photo.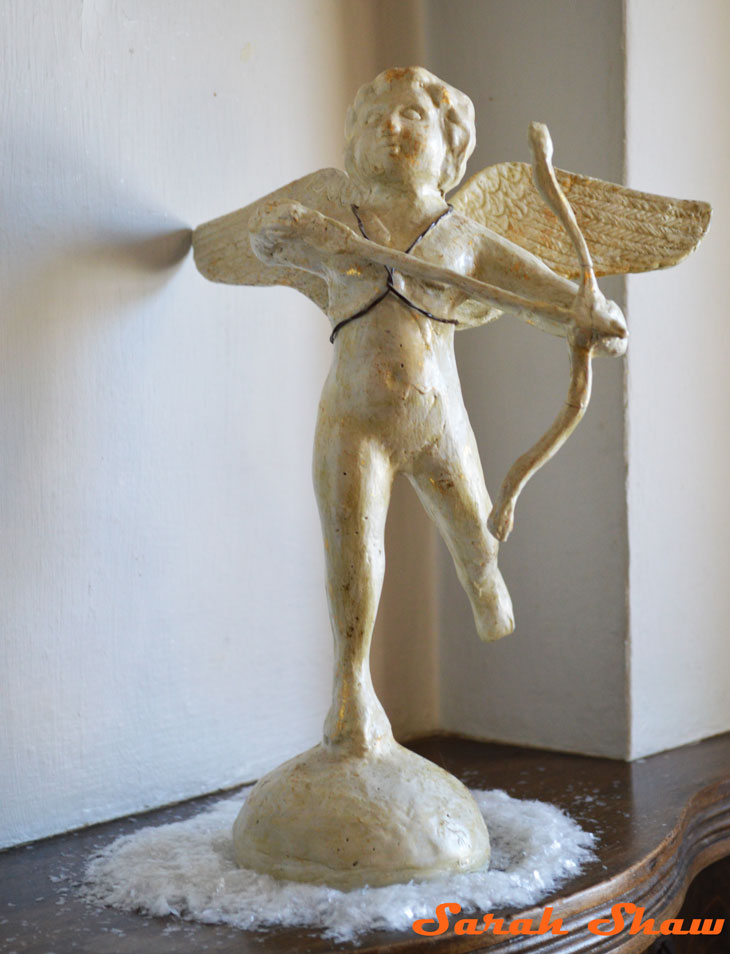 I have brought back the glass cloche from earlier and am now using it to again feature a special item. This time its a mercury glass bird. I have laid down a drift of artificial snow again and placed the bird in the center. With the cloche back in place, it makes a special visual treat from a few simple pieces. The idea with all of these is that once you own one or two of them, you can trade out different items and keep them going in different ways for different holidays throughout the year. Next, you might load this cloche with green Mardi Gras beads and shamrocks for St. Patrick's Day. Or Easter eggs for Easter. I think you get the idea.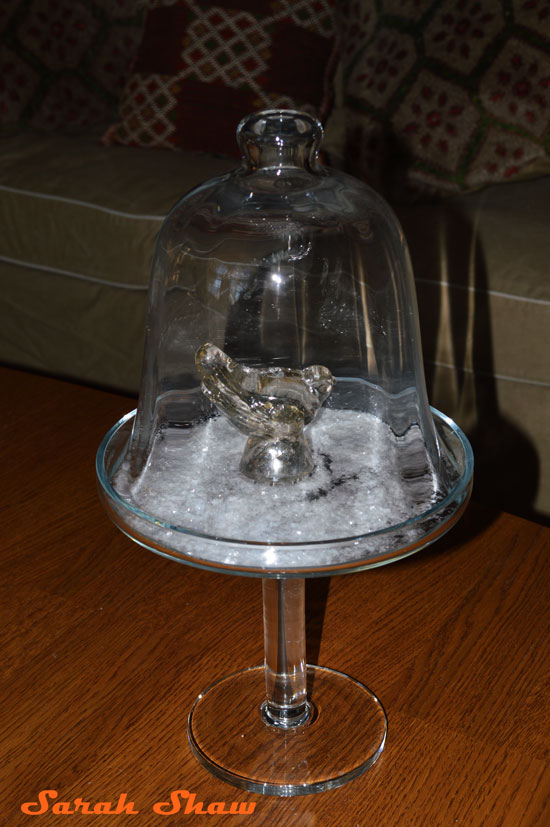 Finally, I'll invite you into my inner sanctum – my bedroom. The second floor of my house is loaded with dormer windows and interesting roof angles. Above my bed is an eyebrow window that is surrounded with items from my travels. Some are being used as there were intended while others have been reinvented. For example, the lace bits across the top of the window are antique Swedish doilies. I loved the old lace and tassels but I don't have the kind of home or furniture that would require them as intended. Instead, I have laid each one over a rod the previous owner left behind and now I have an unusual window treatment. Suspended in the center of each window pane is a crystal prism again from Sweden. It captures the light during certain hours of the day and cast rainbows on my walls which the cats love to chase. In the center is a red glass milagro that I purchased in Oaxaca, Mexico last summer. I love how the light makes it glow. Below them, on the ledge is a line of vintage French perfume bottles mixed in with cheap discount votive. In the center is a silver whirling dervish (it really spins!) that I picked up in Istanbul, Turkey. To the far right is a little mischievous tomte from Sweden. And in the far left corner is an antique Swedish candelabra that has little heart disks that hand down from its arms. Over time, items have been added, others have been removed but as its a special space for me near my bed, its is important that I've put together a collection that I enjoy waking up to!
So you have seen a few of my decorating ideas and how to gather together a collection for a holiday and put it on display. Sometimes that can mean layers of collections like in my window above. How has today's post inspired you? Do you decorate for Valentine's Day? How do you feature a favorite collection? Do tell!