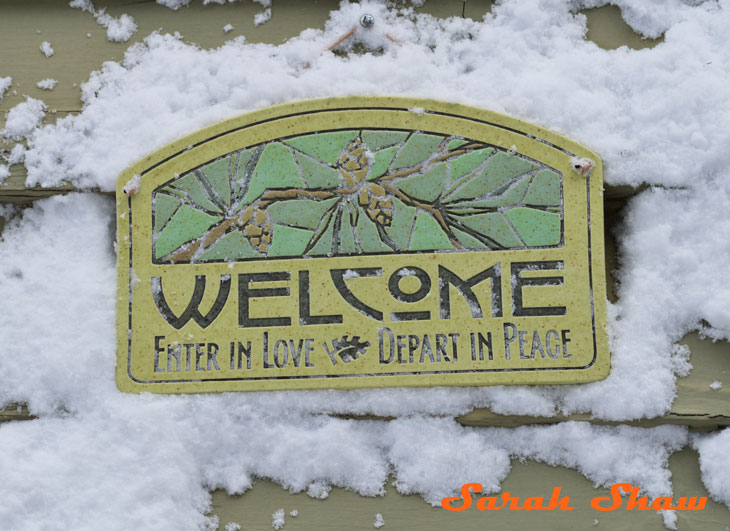 As I dug out from the great blizzard of 2013, I couldn't help but pause and notice how pretty treasures around my yard looked with a good dose of snow. Most of the moments weren't accidents either. As I transitioned my Michigan yard from fall to winter, I purposely left some items out and added others to create visual interest, even during the greyest days of the year. Some things I purchased from local artists and boutique while others I had found online. As I set about capturing the view of my yard to share with you, I was pleased to rediscover many treasures had come home with me from my travels. I am in my 13th year of living at this address and the layers of ornamentation have definitely built up over the years. I thought you might like to see what I do to make my yard special so that you can be on the look out for similar pieces to enhance your space.
Over the summer, I picked up a number of Balinese temple flags in a few colors. They were too pretty to put away for the winter and I thought they would give a pop of color in my backyard which is mainly the domain of my dogs in the winter. Every time I let them out to take care of business, I wanted to look at something that would make me smile and I decided these temple flags were the answer. I took an empty large planter and refilled it with dirt and then anchored the flags in the container. Next I fanned the flags out to the hang decoratively. I also added some heavy rocks to help anchor the planter because I discovered it was top heavy on a windy day. Plus, for some reason my neighborhood squirrels were drawn to it and when they tried to scale a flag, they would knock the whole thing over. Once the temperature dropped below freezing, the dirt froze up in the planter making the position of the flags more permanent. I think it looks at its best when there is a fresh layer of snow.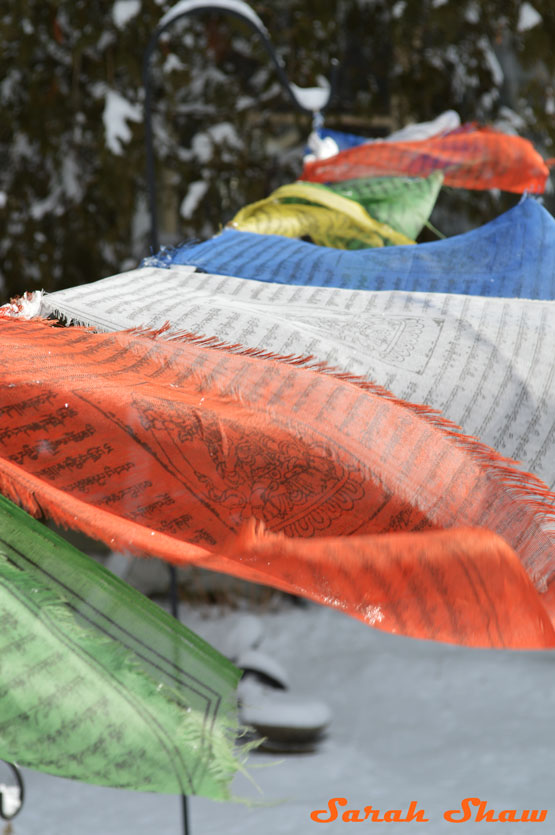 For a burst of color in my front yard, I have prayer flags from my last trip to Bhutan. These two sets are really special to me as my local guide took me to a store where the Bhutanese shop and many of the items for sale there had already been blessed by a monk. The year before I visited Bhutan, my grandmother had died and I wanted to hang some prayer flags in her honor at a special pass. My guide had insisted that I not buy the souvenir flags for tourists but to get the real thing. I bought extras to hang in Bhutan in honor of a friend's husband and anothers father who had also passed away in the months before my visit. I purchased prayer flags to bring home and gift to each of them so that they too, could honor their loved ones at home. Different color flags are associated with the day of your birth. In Bhutanese tradition, I am a fire sheep who was born on a Saturday so my pray flag is red. In my yard, I have one red set and also a multicolored set that flutter in the breeze. I strung them between shepherds hooks like you would use for hanging baskets. This has allowed me to easily change their position in the yard without untying them.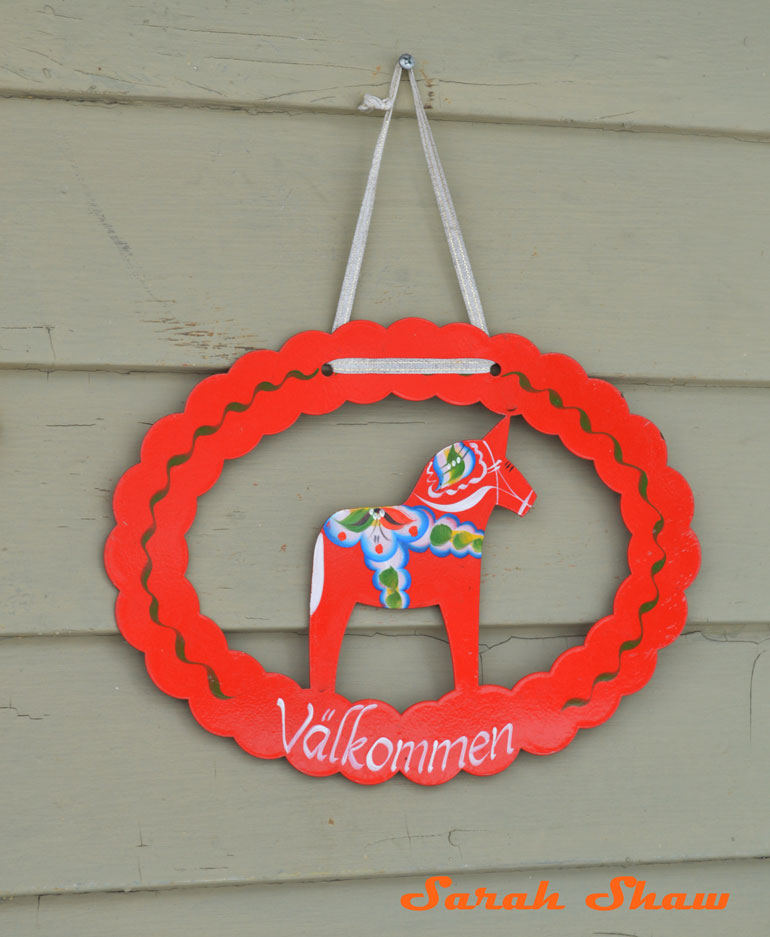 Several years ago, I took a family trip to Sweden. My grandfather and his wife, my mother and my brother and I all flew over together and spent 10 days exploring Stockholm and then moving on to other locations. It was special for us as we are of Swedish descent and we were able to visit places important to our family. One of my favorite spots was the center of Swedish folklife, the province of Dalarna. We visited Swedish artist Carl Larsson's house and studio north of Falun. We also drove to Mora and walked through artist Anders Zorn's garden (his house was closed by the time we arrived – next time!) We also went to Nusnas and visited the workshops of the Dala horse families. One of the most recognizable symbols of Sweden, the Dala horse is usually carved of wood, painted red and then further decorated in traditional design. You've probably seen them at Ikea! I have a collection of Dala horses, somewhere around 30 in number. Some are new, some old. There are also very small horses and very large ones I save to sit under my Christmas tree. I also have a number of designs from around the country. While in the workshop's store, I purchased a welcome sign (in Swedish Valkommen) that features a dala horse. It hangs next to my front door , greeting visitors and giving a punch of color year round.
Hanging by both my front and side doors are evil eye talismans I picked up while traveling through southern India. I noticed a number of the homes and buildings had variations of mine hanging by their doors. During my first trip to the south, the holiday of Pongal was taking place and as part of the celebrations, the year old talismans are broken and new ones are purchased and hung so I saw them everywhere. The majority are made from clay and my local guide advised me against buying one as she was certain it would break. I eventually came across two made from other materials. I first found a small one of brass when I toured a metal artisans workshop. Most of their pieces were created using the lost wax method where the model is carved from wax, a material placed around it to create a mold, the wax is melted away leaving a perfect copy of the original model. Then molten brass can be poured in and once cool the final creation can be removed. This talisman hangs next to my side door. Later in Kerala, I found a carved wood version that had been painted bright colors. Both figures have very intimidating expressions and I'm sure they scare bad demons away from my home!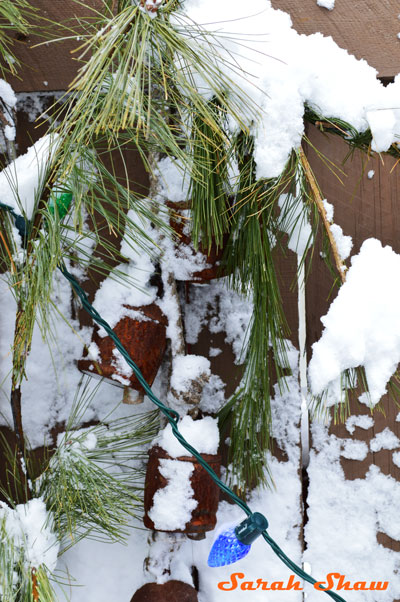 I have a tall wood fence running along the back portion of my driveway and it makes the perfect spot to display different finds. Along one section, I have a number of temple bells hanging down. I originally had four groups of four temple bells. That number was reduced by squirrels who chewed through a few of the ropes grouping the bells together to add some texture to their nests. For the holidays this year, I purchased a long garland of natural pine boughs from Hickory Corners. You might remember them from my post about Small Business Saturday back in November. I hung the garland along the length of the fence and also strung old-fashioned looking colored Christmas lights. I think it looked very pretty with the temple bells. In the photo to the right, you can see a few and some of the 5″ of snow we received overnight.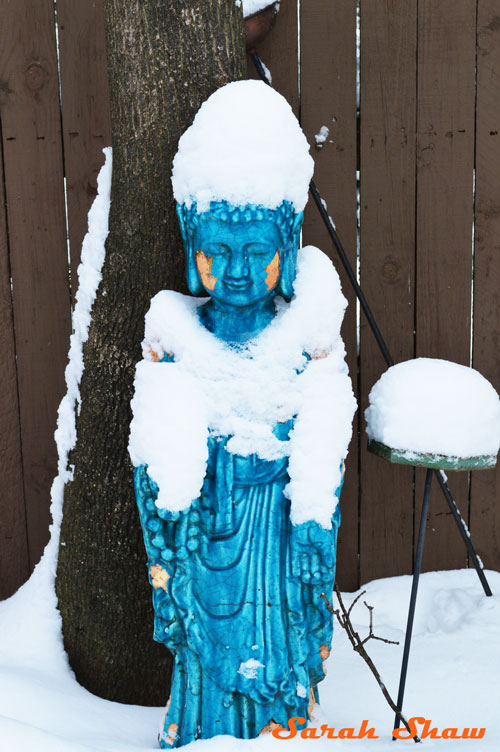 I like to tuck sculptures and figures in my planting beds around the yard. They add interest and dimension beyond what you can create with plants just like you would when you add accents in your home.  A couple years ago, I came across this incredible ceramic Buddha at a discount store. I fell in love with its bright turquoise color right away. In the summer, my backyard is almost total shade from the mature trees that grow in my neighborhood. A bright shock of color like this is really needed. I find I appreciate it even more in the winter. My area of Michigan gets more than its fair share of cloudy, grey days and my Buddha glows along the back fence.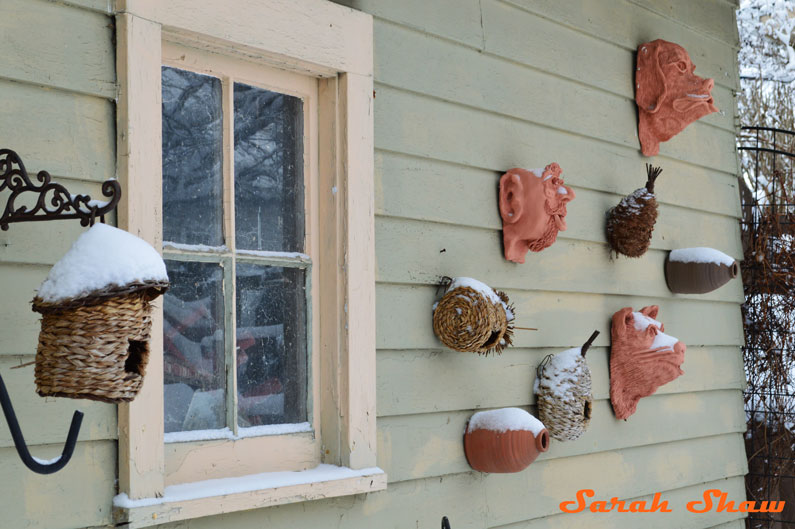 My garage forms part of the southern barrier for my backyard. A few years ago, I felt like that blank wall needed some dressing up so I started to collect birdhouses to hang there. I don't think any of them have actually been used by birds. A few wasps have found them convenient. Their primary purpose was for decoration so I haven't been too disappointed. I have picked up a number of woven English birdhouses which are attached directly or hang on mounted plant hooks. I have also collected a few nicer examples from local artists. Some of my favorites are by Williamston artist, Paul Thornton. They are made of terracotta and are shaped like a cat and dogs head with the open mouth being the entrance to the house. Paul is also known for his "potheads" which depict different people. The man I chose looks very Swedish to me. At an herb conference I attend each March, I picked up a birdhouse made from thrown clay bottles by Puddingstone Pottery in southern Michigan. I like the contrast of the different materials that make up my collection and that some are really whimsical.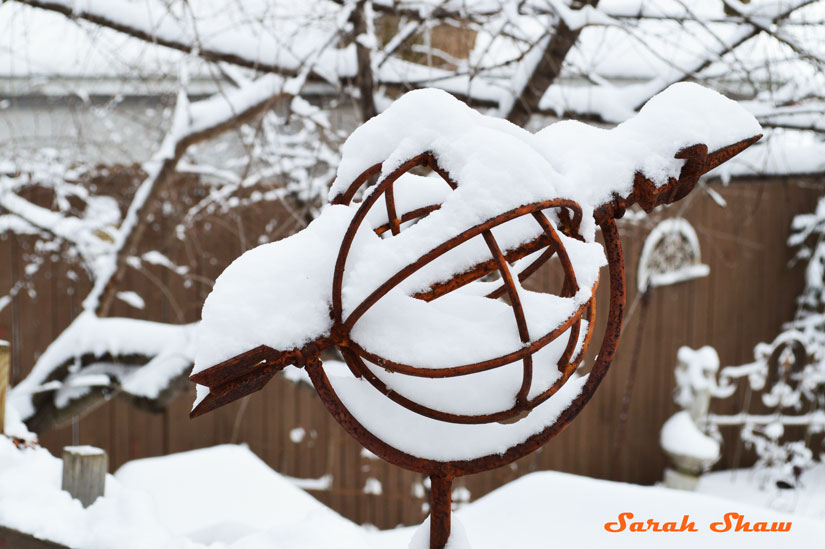 In a pot on my deck I have an armillary perched atop a trellis. I often grown morning glories in the pot for the summer as I like how their vines vigorously twine around the trellis. An armillary is a model of objects in the sky. Each one's path represented by a different ring. Created in ancient Greece by Eratosthenes, is usually meant to represent how the planets and stars move around Earth and then later the Sun when it was realized that it was at the center.  The flag of Portugal includes an armillary in its center. I leave the armillary trellis out in the winter because I like the way snow frosts the different bands and creates and interesting sight.
Another piece I think adds interest to my winter yard was created by glass artist Craig Mitchell Smith. His home is regularly featured on local garden tours and I visit every time. I have had a long love affair with colored glass. I love the way it comes alive as light shines through it. During one of my tours of his garden, I discovered that he had created hollyhock stakes as a garden decoration. Hollyhocks are among my favorite flowers and I especially like the deep purple ones. Apparently so does he as those were what Craig Mitchell Smith created too. The flower blossoms are created from deep purple glass. They are then affixed to pieces of copper tubing. Each tube is like a stalk of hollyhocks in your garden. They look best grouped together in multiples, just as you would find them in nature. My first year owning them, I brought them in for the winter. In a conversation with the artist about them, he chided me for not leaving them out in the winter. He assured me they would be fine and that the looked really beautiful in the snow. He was right! This year, I left them out and I love the bit of color they add to my dormant bed.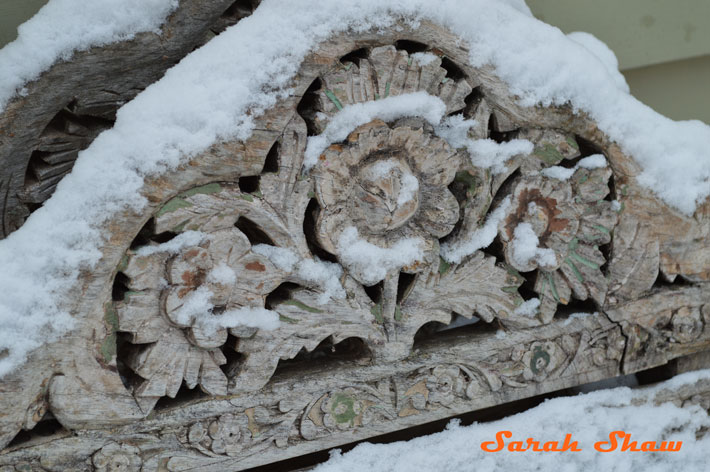 A final sight I will leave you with from the Blizzard of 2013 is a picture of some of the detail on a pair of lawn chairs. These are vintage wooden chairs from India that I picked up during a One Kings Lane sale. I grabbed them instantly when I saw them and have been enamored ever since. The carvings on these chairs are of beautifully rendered flowers. There are further details along the sides. I have never seen chairs of this design before. The way they break down and go back together is ingenious. I will have to share a photo of them in all their glory later this summer. For now, enjoy the detail at the top of each back. You can faintly see the remains of different colors of paint. These must have been stunning when they were newly painted. I had intended to store them indoors for the winter but they were wet when I broke down my furniture for the winter. I leaned them up against the house and never remember to bring them in when they are dry. At least I get to see them with a dusting of snow today which must have been quite a shock to them after their days in the hot climate of India!
I had a lot of fun taking pictures of the sights around my yard in the snow while trying out my new camera. I have way more photos than I could share in today's post so I have added them to the WanderShopper At Home Album on my Facebook fanpage. Please visit and find some more inspirations. While there, "like" the whole WanderShopper page. That will cover one of the two steps for a drawing for a $100 gift certificate to Novica. There are two days left to enter. Learn more below.
Novica has generously passed along a $100 gift certificate for one lucky reader of WanderShopper. To be entered in a drawing for the $100 gift certificate to be used at the Novica website just leave a comment on this blog telling us about your favorite Valentine's gift and be sure to like the WanderShopper Fan Page on Facebook by February 10th! It's that simple! I will contact the winner by email on February 11th.
This contest closes at 12:00am PST on February 11th 2013. The winner will be chosen at random from the comments below along with their "like" on WanderShopper's Facebook Fan Page, please only submit one entry per person. If the winner does not respond within three days of being notified, a new winner will be selected. This contest is available only to residents of the United States. Value of the prize is $100. No purchase necessary. Void where prohibited by law.