When you think about your favorite holidays, you may realize that food plays an important role in most of them. Sometimes its a big family gathering around a meal like Thanksgiving. For the Fourth of July, it may be an informal picnic. And for Valentine's Day, an intimate dinner for two. Sharing feelings for those you hold dearest through the meals you prepare, or have prepared for you, has been a tradition around the world.
Novica has a beautiful selection of cooking related items, sourced from artisans around the globe, just perfect for the chef in your life. And when you shop with Novica you know that your dollars are going to help preserve craft traditions, as well as provide stable income, for artisans around the world. Following are some of the items any cook would love to receive for a Valentine's Day Gift. Plus at the end of the post, learn how one lucky WanderShopper will win a $100 gift certificate courtesy of Novica.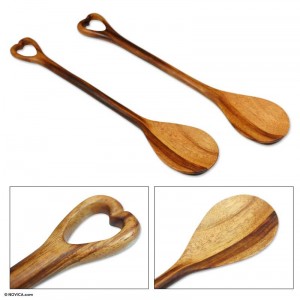 An obvious choice for a Valentine's Gift is the Heart of Maya Wood Serving Spoons Pair. Crafted in Guatemala by the Peten Wood Artisan Sculptors which started in 2000. These beautiful spoons are carved from Jobillo wood which is a sustainable source. These spoons are as good for the environment as they are for your table. Another great choice from the same group is the Heart of Maya Wood Ladle. It would be perfect for both cooking and serving a big pot of stew or soup.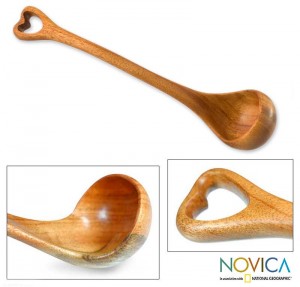 Whenever I cook, I always wear an apron to protect my clothes from any unintended splashes and spills. Plus, Novica has so many colorful designs to choose from. I really liked the Kitchen Style Cotton Apron and Oven Mitt set. Their red and white colors seemed a natural choice for Valentine's Day. Designed and created in Thailand by artisan Keawpankanlaya Kanlayanamit, as a way to help preserve her country's silk brocade traditions. This particular weaving technique is called yok dok. One of the things I like about shopping at Novica is that you can learn the personal stories of the artisans. For example, this woman studied textiles and photography at Chiang Mai University and you learn how important her Novica sales became after her mother became ill and there was a fire in her photography shop. Getting these details is almost like you are shopping in Chiang Mai and met the artisan yourself without ever leaving your home.
Maybe you have fantasized about making a really good pizza from scratch right in your home kitchen. Or maybe you just want to look like you did when you re-heat a take out or frozen pizza! One of the supplies you will need to really pull it off is the Chef's Delight Teakwood Pizza Board. Teak is another sustainable wood so this is as earth friendly as it is beautiful. This pizza board was designed by Teo Herandez to make it easy to cut and serve the pizza without getting burned. After surviving polio as a child, Hernandez has gone on to lead a workshop specializing in Guatemalan handicrafts. Again, for me, knowing the story behind the product makes it a much more meaningful gift than something I would just pull off the shelf in the store at home.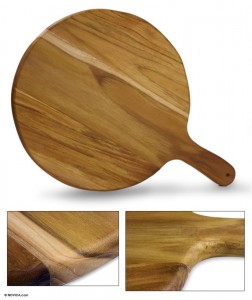 I was really impressed with Novica's collection of Talavera ceramics. Talavera is a form of Majolica ceramics distinguished by its use of cobalt blue glaze over a white background. It came over to Mexico in the 16th century and it is obvious by looking at the beautiful Happy Traditions Talavera Ceramic Bowl, that Pedro Alba is a master of the technique. Your bowl with be signed by him and is microwave and dishwasher safe. I think it looks wonderful as a vessel for fruit as displayed in the photo. The colors selected by Pedro Alba will compliment any food you would choose to serve with it.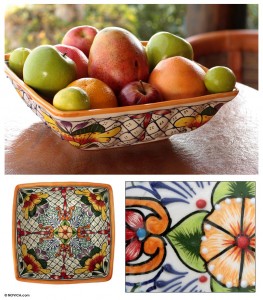 Every kitchen needs a quality mortar and pestle. You may need it to grind spices. Or perhaps you've gathered some fresh herbs from your garden that you need to turn into a paste such as for a pesto. Instead of pulling out the food processor, sometimes its fun to do it the traditional way and use a mortar and pestle especially if you are doing a smaller amount. I think this may well be the most beautiful one I have ever seen. Created from solid teak, the Cubic Nature Mortar and Pestle is a piece of kitchen art that is also functional. The pestle stores away in the cylindrical compartment drilled through the base of the mortar so the two parts need never be separated except while in use. Designed by husband and wife team of Jan (originally from Germany) and Maria Jose in their workshop in Guatemala where they began by making kitchen furniture. Their foundation helps over 500 children so imagine the impact you could have by purchasing and giving this piece as a gift.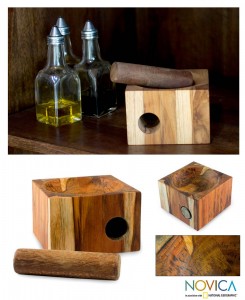 Another item I think every kitchen should have is a spoon rest. I always keep one to the side of my stove so that after I stir something, I have a place to store my spoon while keeping any drippings off the counter. When function and beauty meet, so much the better. That's the case with Novica's Forest Deer Majolica Ceramic Spoon Rest. Gorky Gonzalez, a master of Mexico's colonial Majolica ceramics, created this sweet scene of a deer pausing in a forest. With so many colors used in the design, it should go with nearly every kitchen scheme. His work has been displayed throughout the world and he studied ceramics in Japan as well as in his native Mexico so with this purchase, you really are giving a work of art. It will be signed by him but with the initials A.T. which stands for alfareria tradicional or traditional ceramics.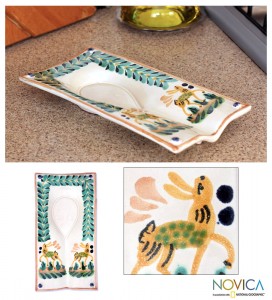 Another piece created by Gorky Gonzalez, is the Hostess Owl Majolica Ceramic Dish. This one caught my eye right away as a family member collects owl items. Whether you already have a number of owls in your home or this will be your first, I think this would be a fun piece from Mexico to add to your serve ware collection. I love that the bowl is the body of the owl and how three-dimensional this piece is. The cobalt and white colors chosen for the glaze are hues that are really complimentary to all kinds of food.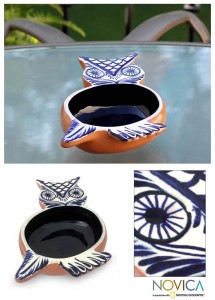 I'll share one last gift suggestion with you today, and that is the Nature's Rectangular Puzzles Reclaimed Teakwood Chopping Board. This is another kitchen staple that every cook needs – a good solid chopping board. This is a beautiful example of one created by the same artisans, Jan and Maria Jose, who create the mortar and pestle above. Here they take reclaimed pieces of teak to create the illusion of a wood puzzle. There is even a teardrop shaped hole allowing for the board to be easily hung on a wall for storage and display. This board is so beautiful that I would want to use it for serving and not just for preparation. I think an assortment of cheeses would look nice laid out as an appetizer before a meal.
Last week, WanderShopper highlighted some great travel inspired gifts from Novica. Please check out that post for some other great Valentine gift ideas. And now as promised, here are the details on how to win a $100 Novica Gift Certificate!
Novica has generously passed along a $100 gift certificate for one lucky reader of WanderShopper. To be entered in a drawing for the $100 gift certificate to be used at the Novica website just leave a comment on this blog telling us about your favorite Valentine's gift and be sure to like the WanderShopper Fan Page on Facebook by February 10th! It's that simple! I will contact the winner by email on February 11th.
This contest closes at 12:00am PST on February 11th 2013. The winner will be chosen at random from the comments below along with their "like" on WanderShopper's Facebook Fan Page, please only submit one entry per person. If the winner does not respond within three days of being notified, a new winner will be selected. This contest is available only to residents of the United States. Value of the prize is $100. No purchase necessary. Void where prohibited by law.
Photo credits: Product photos courtesy of Novica