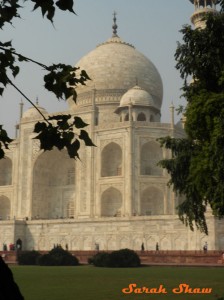 Valentine's Day is fast approaching and it's time to select a gift for that certain someone who is oh so special in your life. And if you ask me, that certain someone is you! For many years, I waited for Mr. Wonderful to show up with the perfect romantic gift for Valentine's Day. But even when by chance I had a sensitive and quality boyfriend for the most romantic day of the year, he never seemed to place the same importance in celebrating it (and by it, I mean me) in a really satisfactory way. So at some point I decided that if my man didn't have the good sense to buy me something spectacular, then I was going to have to step in and take care of it myself! Ladies, you are worth it! This year, pick out something special for your own self!
So as I started to think about what I might want me to give to me, my mind instantly went to Novica. Associated with National Geographic, Novica aims to create a bridge between you and artisans around the globe. I feel like we are all part of the same team – the artisans create the treasures, Novica provides the website for us to buy them, WanderShopper sources out the products you want and you get access to truly unique items. You can learn more about the artisans who partner with Novica on their Mission page. Check it out – their stories are really inspiring! I'm also really excited to announce that Novica has provided a $100 Gift Certificate that I get to pass along to one lucky WanderShopper to help make for a really nice Valentine's gift! Details on how to win are at the end of this post.
I find time, and time again, the gift items I choose for myself tend to have their inspirations from my travels. A detail I have seen in the architecture, jewelry on a statue or the way my food was served. These little moments appear as details in the beautiful items I find on Novica's website. And even if I haven't visited the country where the artisan works, I can still be an admirer of their culture and want to honor their traditions in my home as well. With this in mind, I have curated a collection of some of WanderShopper's favorite items that would make a great Valentine's gift for yourself or someone you adore. Let's explore together…..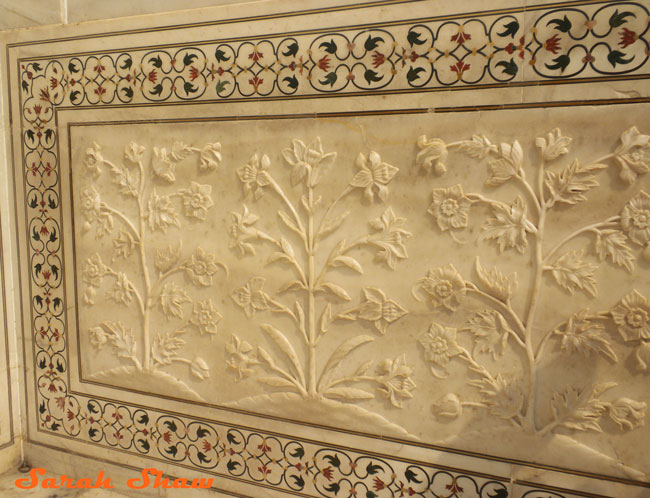 A universally recognized symbol of love, the Taj Mahal is a popular destination for couples on their honeymoon. It became a UNESCO Heritage Site in 1983 as the world embraced it as one of the most romantic examples of architecture anywhere. Built of white marble that gleams different tones depending on the light and time of day, visiting it is awe inspiring. As you approach the Taj Mahal and walk right up against its walls, you see all the magnificent detail decorating its facade. Intricate vines and flowers wind their way along the wall, their colors in stark contrast to the white marble. Inlaid gemstones of yellow marble, jasper and jade are cut into fine shapes. The technique is known as pietra dura. I was really excited to see Novica was offering a number of jewelry boxes that look like they have come from the descendants of the artists who built the Taj Mahal. One of my favorites is the Summer Roses Jewel Box. You may not have checked the Taj Mahal off your travel list yet, but you can have a piece of it at home thanks to Novica this Valentines Day.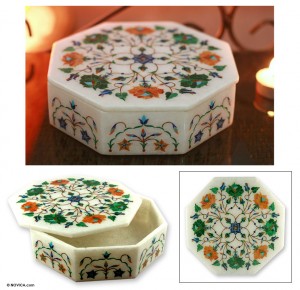 Another thing you notice right away when you are traveling through India is the phenomenal jewelry all the women are wearing. In some areas, it is layers of gold and in other parts they prefer to be draped in silver. Bangles are stacked up from wrist to elbow. Earrings swing and sway with their graceful movements. Anklets jangle as they walk. You will also find layers of necklaces gracing their necks. And you know this has been the custom for centuries. While touring temples in Tamil Nadu, I came across many statues of voluptuous women showing off more than their jewelry!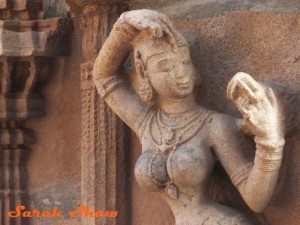 Capture the essence of their sensuality this Valentine's Day, by donning your very own Dancing Queen Necklace from Novica. I love this design. Each individual drop of a pearl and a garnet will undulate as you do whether you are working at the office or romancing back at home. Garnets are the gemstone for January and are said to promote feelings of strength and peace. June babies choose pearls which are thought to promote love, wealth and purity. It is also believed that pearls were an essential part of Cleopatra's love potion and are sometimes referred to as Aphrodite's "tears of joy."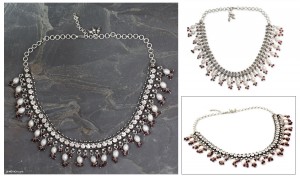 While visiting temples around southeast Asia, it would be hard not to notice all the nagas. Serpents, sometimes multi-headed, create the banister on each side of steps up to a temple. Their images are seen in sculptures, murals, paintings and architecture. Nagas have held an important place in both Hindu and Buddhist religions. Naga is a Sanskrit word meaning a hooded snake – think cobra. A female is called a nagi or nagini. Nagas are believed to have a combination of both snake and human traits and are often are seen as a positive force. It was a snake that sheltered the Buddha as he meditated to reach enlightenment. Nagas are believed to be protectors of water in all its forms; rivers, streams and wells. They are also associated with rain so they have come to symbolize fertility. My photo below was taken at a temple complex in the Golden Triangle where Thailand, Myanmar and Laos meet. In the picture, nagas are the guardians of the pathway to the temples at the top of a steep hill.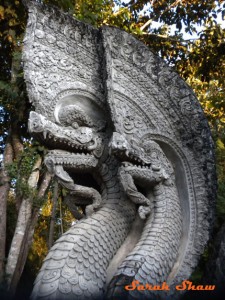 The Novica Naga I chose for you captures beautifully the essence of this mystical creature. The Thai Naga is made from carved rain tree wood which is found easily by its artist, Tay Notawat. In this sculpture, he has adorned his Naga with lotus flowers. One of the things I like so much about Novica's site is that with each product, you can read the individual story of the artist. To learn more about Tay Notawat, scroll down past the product description. I found it interesting that he comes from a village of wood carvers. This sculpture is meant to be displayed on a wall and comes with a hook to make it easy to hang. As nagas can symbolize fertility, I think this sculpture would make a beautiful gift for someone who is wishing for a baby or expecting the arrival of a little one in the coming year.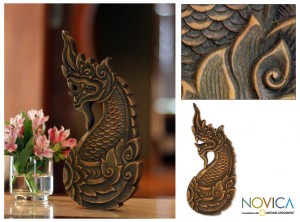 Another memory visitors of southeastern Asia bring home with them is of all of the beautiful figures of the Buddha on display in temples. Some of the images are quite large, like the one I have pictured in the photo below. It is a giant, golden Buddha who floats on a treasure boat on the Thai edge of the Mekong River with Laos and a Chinese casino across on the other side. Light reflects off the figure causing it to glow. The entire area of the Golden Triangle is a very special place to visit and offers many vacation highlights including spending some time with elephants at one of the sanctuaries in the area.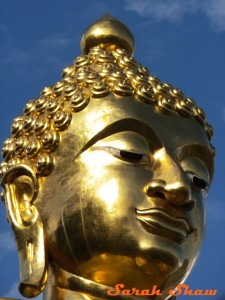 I instantly was drawn to Novica's Wise Buddha Mask for many reasons. It represents for me a silver version of many of the Buddhas I have seen while traveling in southeast Asia. (And I am a silver girl more so than gold!) I also like to have images of the Buddha in my home. I think the Buddha is artistically beautiful. I like what the Buddha represents, striving for knowledge and enlightenment, and like to be regularly reminded of that in my often fast paced life. Whatever your reason, this luminescent Buddha will radiate love on Valentine's Day and every day after.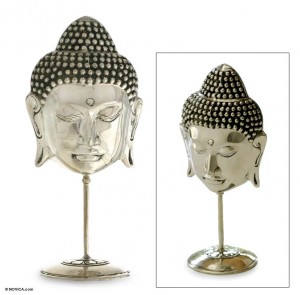 On many occasions while traveling through India, I was served meals on a banana leaf. They make the perfect natural plate which is much more sensible than our Chinet disposable plates. Once bananas are harvested, the tree is chopped down and a new one is planted. There is always a surplus of banana leaves around. Banana leaves are also earth friendly as they naturally decompose back into the soil, that is if a passing cow doesn't decide to enjoy it first. For a meal, a banana leaf was laid before me on a table or even in front of me as I sat on the floor in someone's home. Servings of the various dishes were scooped out and placed at specific points around the leaf. The photo I am sharing here was taken in Assam in India's northeast. Here, the trunk of a banana tree also makes an easy soup bowl. While driving to the southern most tip of India, Kanyakumari, I paused for lunch at a rest stop. I was offered a traditional vegetarian thali plate but discovered that even the metal tray had been lined with a fresh banana leaf. Whenever I see a banana tree, I remember the meals I've enjoyed with friends served traditionally on the leaves.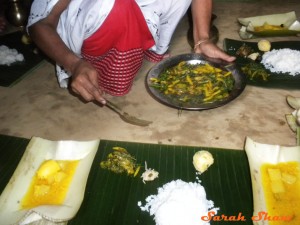 If you like to cook dishes at home inspired from cuisines around the world, you are going to want to pick up Novica's Green Garden, Set of 3 Ceramic Plates. They provide you with everlasting banana leaves to serve your creations during a special dinner for two or for your whole family. And don't feel like you can only serve Indian food on these. Created by an artist in Bali, Indonesian food would be equally at home as would many of the food traditions throughout this area of Asia. If you love to cook or love someone who does, this set will make a perfect Valentine's Day gift.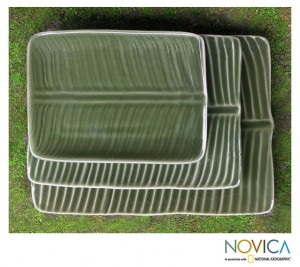 I couldn't begin to share with you all of the unique products Novica's team of artisans have created in my post today. Be on the look-out for future features showcasing other products I think you will enjoy from Novica's collection. If you would like to get shopping right away, check out the following links which have gift ideas grouped by themes at Novica's site:
Necklaces for Her      Romantic Gifts for Her         Cooking Gifts
Jewelry Box Gifts        Romantic Gifts for Him        Spiritual Gifts
Novica has generously passed along a $100 gift certificate for one lucky reader of WanderShopper. To be entered in a drawing for the $100 gift certificate to be used at the Novica website just leave a comment on this blog telling us about your favorite Valentine's gift and be sure to like the WanderShopper Fan Page on Facebook by February 10th! It's that simple! I will contact the winner by email on February 11th.
This contest closes at 12:00am PST on February 11th 2013. The winner will be chosen at random from the comments below along with their "like" on WanderShopper's Facebook Fan Page, please only submit one entry per person. If the winner does not respond within three days of being notified, a new winner will be selected. This contest is available only to residents of the United States. Value of the prize is $100. No purchase necessary. Void where prohibited by law.
Photo credits: Product photos courtesy of Novica