So, I'm a dedicated spa collector. Meaning anytime I travel, I like to visit a spa and sample the local specialties. I find it's a perfect way to get over jet lag, work out those muscle cramps brought on by tiny airplane seats and release the stress built up from preparing to leave home for a while. I love the peaceful, tranquil environment of a spa as I pour over the menu of services and come up with my strategy. I also like to linger in the spa's shop after a treatment and select items to take away to recreate the experience back at home or even in my hotel room a few days later.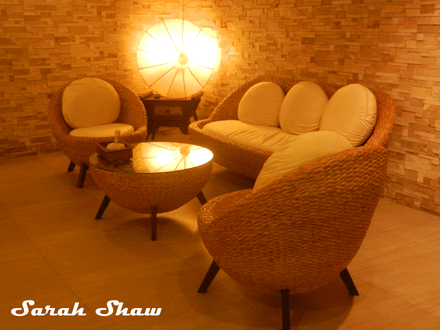 My spa of choice in Bangkok is Lavana. For me, it is the perfect combination of professional treatments in a nurturing environment at incredibly reasonable prices. Lavana opened in 2007 off Sukhumvit on Soi 12 so it is likely to be a few blocks from your hotel. They are open seven days a week from 9:00 am with last appointment for the day beginning at 11:00 pm.  Lavana has 48 rooms, many with en suite showers, so you are always likely to be able to walk right in, although reservations may be needed for prime times on Fridays and Saturdays. And if you have a treatment before 1:00 pm, you are even served a free breakfast (and it's a full hot breakfast, not just a muffin and a cup of coffee!)
That's one of the things that sets Lavana apart for me. The little extras they do to show you how appreciated you are as a customer. When you arrive, you are seated in their spacious lobby which has a number of comfortable seating groupings. As you fill out your information card, you are served Bael Fruit tea in one of their signature tea cups as well as given a chilled, lightly-scented face cloth to help refresh you from your steamy walk to Lavana. After your service, you are treated to a glass of chilled fruit mousse topped with crushed pistachios while your mind re-enters your body. All these little details add to the restorative powers of your spa visit.
One of the treatments special to Thailand is the use of an herbal ball compress. Lavana has a residential herbal ball creator on staff. The ball is made from 18 different fresh herbs and wrapped up in guaze. It is heated in a steam bath and then used to massage and press along the energy lines of your body. They offer 5 different blends depending on your needs. You may choose one for relaxation, as a treatment for rheumatism, to help with female hormonal balancing, one for your complexion and the last is a traditional blend which addresses many of the above concerns. They also have dried herbal ball compresses you can buy in their shop which makes it easy to take home and try again.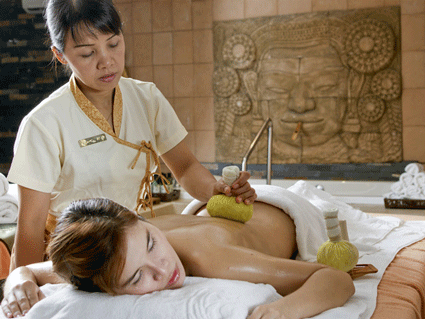 Another treatment you can receive is a Thai massage. This is a healing massage that was originally practiced by Buddhist monks in Thai temples. This is a very physical massage and is more for someone looking for the benefits of increased energy and flexibility. You can expect to be moved and bent into many positions much like assisted yoga. For a Thai massage, you are given an ultra-comfortable pair of pants and a shirt to wear for your treatment to preserve your modesty. If you are looking for relaxation from your massage, I would suggest you consider an aroma oil massage. While still in the lobby, you will be presented with a tray of bottles so you can select the scent that feels right for your current needs. I always listen to my nose. One day I might prefer the rose and jasmine combination while on other days, lavender feels right for me. You can also choose from eucalyptus, peppermint, ylang ylang, mandarin lime, bergamot as well as combos of lavender vanilla or orange rose vanilla. They have a scent for everyone.
I would absolutely be remiss if I didn't mention their foot massages. You have an option of a 60 minute, 90 minute or 120 minute foot massage. That's right, 120 minutes! Nothing soothes my flight swollen ankles like a 120 minute foot massage. And it's only a little over $20. Yup, 2 hours of foot bliss for $20.  They have a community room where you can have your foot massage done so it makes it a fun thing to share with your girlfriends. You lay back in a recliner, scented pillow draped over your eyes and a blanket over your body while a talented lady goes to town on your feet, ankles and lower legs. I remember my first one well, as my massage therapist told me to close my eyes and "she would see me in heaven." One hazard I should warn you of is you may very well fall asleep, begin to drool and deeply snore. At least that's what I was told I did!
Lavana's shop is extensive. You can choose your favorite scent in a variety of products from essential oil, massage oil, soap, body scrub, bubble bath and incense. They also have a number of really classy logo items in their signature pottery glaze. You can purchase the elephant tea cups, oil bottles, candle holders and business card holders. This year I noticed that Lavana has begun selling dried bael fruit so you can brew your own tea at home. This is really nice as I had a hard time finding it before until I eventually found it in the night market in Chiang Mai. And if it's raining out, Lavana has enormous logo umbrellas available for purchase or on a loaner program.
Lavana also has a loyalty program. Each visit earns you a stamp on their business card. After you collect 10, you will receive a free 1 hour oil massage. If you are anything like me, that shouldn't be a problem. I keep their card in my passport case so I don't forget and leave home without it. I am looking forward to claiming my reward on my next trip to Bangkok.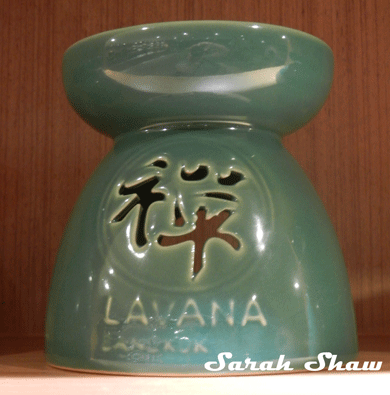 I am always looking for new spas and treatments to try. Where is your favorite spa? Any treatments really wow you?
Lavana Bangkok:  No 4, Soi Sukhum12, Sukhumvit Road, Klongtoey, Bangkok
(It's practically next door to Cabbages and Condoms so use that as a landmark if getting a ride)
Tel: 0-2220-4510-13
Photo Credits: Pictures of the treatments are courtesy of Lavana Bangkok