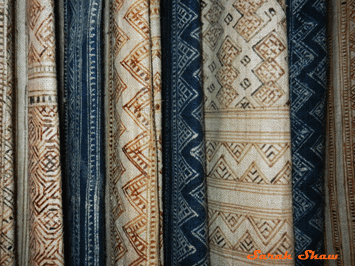 During a recent visit to Luang Prabang, Laos, I had the opportunity to take a couple classes at Ock Pop Tok's Living Crafts Centre. Meaning "East Meets West," Ock Pop Tok's philosophy is to "empower women through their traditional skills, a well as promoting the beauty of Laotian textiles across the globe." They do that through five different experiences.   Ock Pop Tok has three boutiques around Luang Prabang with an abundance of creations for sale. They offer accommodations at their Mekong Villa which is where I chose to stay, in their Hmong Room. Delicious food is served in their Silk Road Cafe. They have created a non-profit gallery called Fibre2Fabric where you can learn about Laotian culture and its textiles. And lastly they offer classes at their Living Crafts Centre where I studied natural dyeing, weaving and Hmong batik. I was an enthusiastic participant in all Ock Pop Tok has to offer during my week there. Those experiences made two of my Best of 2012 list in a post earlier this month. You can also find a WanderShopper post on shopping at Ock Pop Tok. To say  I love Ock Pop Tok would not be an understatement!
One of my favorite experiences was the class I took on Hmong batik techniques. As you know from some of my previous posts, I am fascinated by the Hill Tribes found in southeast Asia. I think of all the ethnic groups, I find myself most drawn to the Hmong. When I shop the local markets, I find it is Hmong items I tend to pick up and purchase most often. There is so much skill on display in their creations. From the ever so tiny cross-stitches that comprise their embroidery to the wonderful contrasting colors they select, Hmong women are amazing artisans. I have long had an affection for indigo and then the crafty Hmong women pair it with batik and I lose all self control! When I learned that the Living Crafts Centre offered the chance to learn batik from a Master Artist Hmong woman, I knew immediately I would be prioritizing the class. Students may choose either a half day or a full day class on batik. As I wanted to learn as much as possible, I chose the full day option.
Until recently, the Hmong had no written language. Hmong is in the Sino-Tibetan family of languages and reflects the Hmong's believed origin in the plains of Tibet and Mongolia. They migrated into Laos in the early 19th century. You can also find Hmong in Vietnam, Thailand and Myanmar. Due to the absence of written Hmong, the images represented in their textiles played an important role in communication. Symbols of the world around them are incorporated  like various seeds, animals like snails and other plant life like ferns. The Hmong skirts on display above can be found at the Traditional Arts Ethnology Centre (TAEC) in Luang Prabang. It is a great museum featuring clothing, arts and information of the different ethnic groups found in Laos. They also have a phenomenal gift shop, WanderShoppers, that I will feature in an upcoming post!
My morning began with my master teacher, Mae Tao Zou Zong, preparing the wax for our class. I was the only one who had signed up that day so I had the added benefit of a private class. I also had an interpreter assigned to me as my teacher did not speak English so we made a happy trio working together throughout the day. A metal pan is perched above a charcoal stove to melt the wax as needed. Cubes of beeswax were added to the pan along with indigo powder which allows the wax to be more easily seen once it is drawn on the fabric. Finding the right temperature is a delicate balance so the pan was moved on and off the heat source throughout the day. It needs to be the right consistency to make it easy to draw through the nibs used.
Once my teacher approved of the beeswax, it was time for me to learn to draw lines properly on a scrape piece of hemp. Everything used in the creation of a Hmong batik is naturally sourced and created. The beeswax is collected in the forests. My teacher collects indigo plants and creates her own indigo powder. Hemp comes from the cannabis sativa plant and it is harvested in October. Afterwards, yarns are made and then weaving begins to create the cloth. Obviously, this is a very time intensive process but this is the way clothing has been made by the women in the family for centuries. Today's Hmong may choose to also use cotton or synthetic fabric as it is more readily available to them. In my class, we worked with traditional hemp. Drawing lines took some practice to learn how much wax to pick up in the metal nib which was attached to a bamboo handle. Too much and the lines would be too thick. Too little wax and the lines would be thin or would break as I drew along the surface. I also had to get used to how to properly hold the pen which felt like a really awkward grip at first. Additionally, you would have to pick up more wax and learn how to blend a new start in to the line you were already drawing. After about 10 minutes of practice, it was decided that I had lines down.
Now I was able to graduate to my main project for the day which was to create a final piece of batik about 3 feet in length and 1 foot wide. Usually, a Hmong woman would work on a roll of hemp that was much, much longer. I found completed rolls of batik for purchase in the Ock Pop Tok shop's as well as other boutiques in town and at the night market. My teacher began by drawing out the horizontal lines for the design along the far edge of my piece of hemp. She made each mark less than an inch. I was responsible for carrying those lines down the length of fabric. Next she created the vertical line guides in the center section of the design. Again I extended those lines to their edge.
Once all of the grids had been laid out, it was time to start adding more detail to the design. Smaller lines were added between the horizontal or vertical lines creating a series of boxes. Hmong designs are very symmetrical and if something was done in one section, I could count on adding the same detail to the other corresponding sections throughout the design. I spent hours laying out all these grids around the design. I found it to be a very meditative process. My teacher was pleased with how quickly I was picking up the techniques and how fast I was able to work through different sections of the design. When I doodle during a meeting or a lecture back at home, I find I tend to do a series of repetitive geometric shapes so this felt like a similar process to me but using wax rather than ink or graphite. As I worked, I decided this was something I would definitely like to continue after leaving Laos, even it it was just drawing the designs without wax.
Once the grid was entirely finished, I learned how to begin to add in the decoration and ornamentation to the design. It started again with simple lines but this time diagonals were drawn within some of the boxes. Sometimes half of that box was then filled in with wax in a design motif known as a "pumpkin seed." Other times a smaller diagonal line was added on each side of the center diagonal in the box. These additions were called "cucumber seeds." And so I worked my way through the entire grid, planting pumpkin and cucumber seeds as the design required. I was really amazed how all these little lines really adding visual impact to the entire design. Small lines were creating a dramatic larger pattern on the hemp.
In Hmong culture, this design knowledge is passed down from mother to daughter and has been for centuries. Girls begin by learning how to embroider. After demonstrating competence in this art, they moved on to applique. Only after they had mastered both these skills would their mother teach them the art of batik. These were very important skills to master as they would determine how successfully a girl was matched for marriage. I felt that I had been given an amazing opportunity to learn from this master of batik even though my embroidery skills are marginal and my applique technique was even poorer. Luckily, I was never tested!
The final portion of the design, and my class, was to add the extremely ornamental section in the large center squares of the design. There were five different designs to choose from which I could select two. My teacher then took a blunt knife and etched out a grid in each of these large squares. Again, as all of these designs are symmetrical, she uses these lightly indented lines a guide for the more complicated designs that now included some curves. She switched to a different pen with a thinner nib to do this finer design work. The spiral designs each represented snails and ferns. She did part of each design for me and then allowed me to finish each by connecting some lines or mirroring the image in another section of the grid. I found this section much harder. This nib felt very different for me and I was learning how to draw curved lines in a section where it really counted. I made my way through though, and completed the design. I was really impressed with how well it turned out for my first attempt at Hmong batik design work.
At this point, the dyeing process would usually begin. Once entirely done, the hemp would be submersed in a bucket of indigo dye to take on that distinctive Hmong blue color. The process can take around 20 days. The fabric may be left in the dye for a day and then left out in the sun to dry for a day. Then the process is repeated until the desired depth of blue is achieved. Great care needs to be taken that the wax does not melt, and cause the design to be lost, in the heat of the sun. After the final dye, the hemp would then be placed in boiling water to melt off the wax. This would reveal the white color, or original color of the material, before the dye. The process described is known as the resist dye technique and is the definition of batik. Class participants at the Living Crafts Centre are unable to dye their final creations as there isn't time for a good color to develop. I brought home my natural colored design. Below, my instructor Mae Tao Zou Zong proudly displays one of her creations which I purchased in the Ock Pop Tok shop.
The photo at the start of this post is of curtains in my room at the Mekong Villa in the Hmong room. The curtains were created by using alternating strips of dyed and undyed batik designs. They were sewn together for the top foot or so and then left to hang independently to the floor. Underneath the batik layer was a sheer layer of a natural colored dupioni silk to create an additional privacy screen. I really loved the effect but can only imagine the how many hours and hours of time went into the creation of the design as they covered floor to ceiling sliding doors across an entire wall of my room.
I have a number of other photos of Hmong batik that I would love to share with you. I have included them in my Laos album on the WanderShopper fanpage on Facebook. Please head on over there next and check them out. Also "like" WanderShopper while you are there so you continue to be notified of other Facebook only content as well as a special announcement next week for a drawing you will want to be a part of!