I'm expecting 2013 to be a great year of WanderShopping and who can blame me? I got to start it off at Azul Profundo Boutique in Tamarindo, Costa Rica. I had heard so many wonderful things about Costa Rica and my first trip to the land of Pura Vida did not disappoint. Tamarindo is located on the northwest part of the country in the province of Guanacaste. One of the most popular beaches for surfers in Costa Rica, Tamarindo is also the nesting site for many leatherback turtles who lay their eggs there from November to April every year. Going along with the fun surfer beach vibe is a healthy collection of restaurants and boutiques to choose from when you are ready for a break from the sun.
You know that feeling you get when you walk into a shop for the first time and you know you've found the right place? That's what happened to me when I discovered Azul Profundo Boutique. I was greeted right away when I walked in the door and the really friendly saleswoman asked if she could help me find anything special. Throughout my visits, Azul Profundo's attentive staff were immediately available to answer questions or help with items.
I loved, too, that owner and designer Patricia Sterman was in her shop when I visited. It was great to meet her and learn more about Azul Profundo. Patricia is originally from Argentina. She was one of the first people to graduate from the Fashion Design program at the University of Buenos Aires. Patricia is really enthusiastic about her creations, and she should be, as they fit perfectly with the vibe of Tamarindo. Azul Profundo offers something for everyone in the family to help make it your perfect beach vacation in Costa Rica. Patricia stands in front of her t-shirt designs  (above) which make a perfect souvenir to wear around town and to take back home with you.
Patricia also designs her own line of jewelry, Patrula's Artesanias. I love jewelry and I was immediately drawn to the case where it was displayed cleverly on a bed of sand.  Of course, pearls are a natural addition to the line with the beach location. I loved the turquoise and coral combination as well. There are so many beautiful combinations of gemstones with interesting variations of beads that would create a beautifully draped necklace to compliment any outfit during your vacation. I love jewelry as a memento of a trip too. Every time you wear it back at home, it can transport you back to that place remembering the warmth of the sun, caress of the wind and the sand squishing between your toes.
In addition to her own designs, Patricia carries finds from her travels all over the world at Azul Profundo Boutique. She, too, is a WanderShopper at heart! Browsing her store you can discover pieces from Peru, Argentina, India, Indonesia, Italy, France, USA and Nicaragua. She also sources items from local designers in San Jose, the capital of Costa Rica. She works with them to help design and promote their creations in her store. Everyone who visits the store seems drawn to the colorful floral belts in the picture above, they were the first photo I snapped!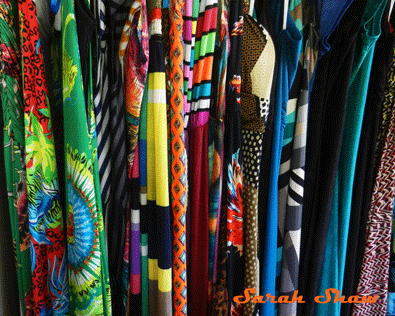 Azul Profundo really does offer something for everyone. They have clothes for people who are 3 months old up through grandmas! On their racks you can find colorful and lively patterns on the dresses (above) that can take you from day to evening. You can also find shirts, skirts, shorts and pants. Their line of accessories include shoes, handbags, hats and sunglasses. If you need beachwear, you can find it here as well, Mix and match bikinis, trikinis, tankinis and one pieces as well as cover-up are offered in abundance. They also have a wonderful collection of sarongs, which you can see in the photo below. Men have not been forgotten at Azul Profundo. They can pick out their favorite shirts, Bermuda shorts, bathing suits, hats and t-shirts.
When a business is involved in their community, it makes me want to shop there even more. Azul Profundo Boutique stays involved in a number of ways. Patricia was excited to tell me about the fashion shows they put on every year for the Gold Coast Women's Association. Fashions are offered for every body type and every age so they are items that "real women" can be inspired by and work into their wardrobe. Also for the first time this year, Azul Profundo will be doing the Surf and Turf Robert August fundraiser for the CEPIA. Events like these are what have made Azul Profundo and important part of their community since they first opened twelve years ago.
I know you are all inspired and want to shop at Azul Profundo Boutique. You can find them in Tamarindo near the entrance for the Hotel Tamarindo Diria.  They are open seven days a week so it should be easy for you to visit and shop. Their local phone number is (506) 2653-0395.  You can also find their fan page on Facebook at Azul Profundo Boutique to help you stay informed about new designs and events.
I also have a few more photos of my visit to Azul Profundo Boutique that there wasn't room for in today's post. Head on over to the WanderShopper Facebook fanpage where you can find them in my Costa Rica album. Be sure to show your WanderShopper love by "liking" my fanpage while you are there so you can learn more about my WanderShopping adventures.