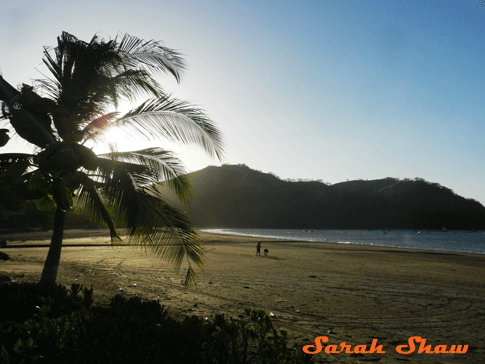 I am visiting Costa Rica for the first time this week. On Monday, I hired a driver to take me to Playa del Coco. I had heard much about this popular beach on Costa Rica's northwest coast. It is known for it's shopping, restaurants and night life as much as it is for it's beach. Initially, I found the shops to mainly be selections of colorful and cheap souvenirs. Those have their place in the shopping universe put that's generally not what gets my WanderShopper heart beating. And then a came across a little collection of boutiques near the Coco Beach Hotel. They were just what I had been hoping to find.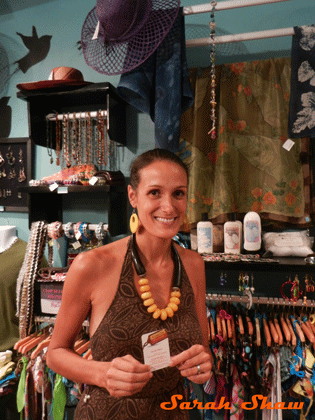 I first discovered Ciao Bella. Owners Miranda and Jeff relocated to Playa del Coco just over a year ago from Toronto. She proudly showed us "their car" as the funds from its sale allowed the creation of Ciao Bella. Miranda was a professional dancer in her Canadian life and you can see her creative design aesthetic in her own creations and the other items she chooses from local artists. We had a great time together going through all her treasures as I learned the stories behind each item.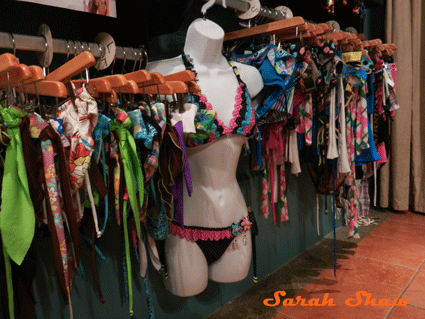 Most of the clothing in the store is Miranda's own design. She has a line of bikinis and hopes to add lingerie in the coming year. Part of that was out of necessity as she find Costa Rican women are very practical and the local stores are lacking in pretty and sexy lingerie. She also handpaints designs on tee shirts and beach coverups to reflect local images.
Many of the items for sale in Ciao Bella are sourced from local artisans. A mother daughter team creates some of the jewelry. They find creative reuses for materials as varied as orange peels to plastic bottles. I found so many wonderful pieces of jewelry that it was really overwhelming. Beautiful pendants hang from the branches suspended in the middle of the store. Stacks and stacks of bracelets and bangles to add color to any outfit. Ciao Bella would be a great place to find an accent for a special evening or a great souvenir for back at home.
To me, nothing says vacation like espadrilles. I loved the collection of espadrilles at Ciao Bella. Their bright red, blue and brown designs would be perfect for kicking around town after a day at the beach.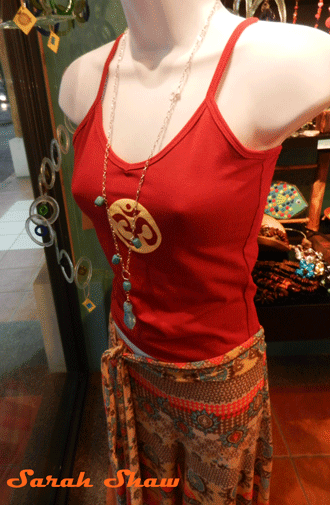 I was really taken with this red om tank paired with the flowing patterned skirt and a turquoise necklace. It was displayed in the window of Ciao Bella and was what told me that I had, at last, found a shop I had hopped for in Playa del Coco. I expect that next time I visit, Ciao Bella will have even more to offer. Along with the expansion that will include more swimwear and lingerie in their loft, they are also planning a second business. In the next couple months, Miranda and Jeff will be opening a yoga studio. That building has a beautiful courtyard and there are plans to create a market for local artisans to display their creations. Can't wait to return and see how it develops!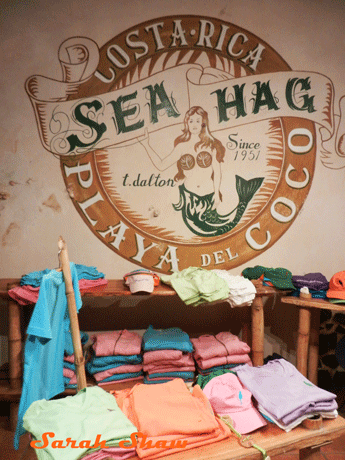 Just a few shops more towards the beach and I discovered Sea Hag. Open in Playa del Coco for just over a year, owner Heather Gazdik also escaped from the cold north hailing from upstate New York. Heather is absolutely one of us, WanderShoppers, as she finds she has a hard time staying in one place too long and loves to fly to Asia a few times a year. I definitely felt like I had found a long lost sister. I love the Sea Hag logo with the mermaid. Who doesn't have a little Sea Hag in her?!
Sea Hag carries a selection of clothing items for women, men and children that are perfect for your time in Costa Rica as well as for remembering your fantastic vacation back home. The more I spend time here in Costa Rica, the more I understand people's enthusiasm for the country. Sea Hag's loafers are created locally and use Costa Rican leather. They were soft to the touch and you could tell they were good quality. The loafers come in several colors so you may need one of each!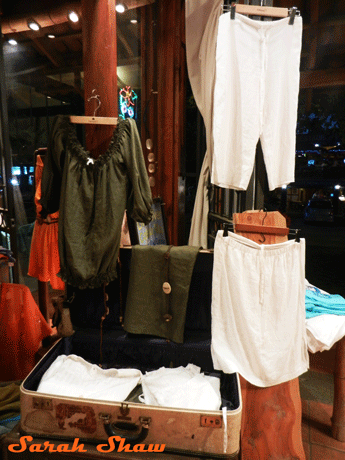 I also found that Sea Hag carries a variety of linen clothes. Blouses, skirts and pants of linen are perfect for the hot weather conditions in Costa Rica. Linen is so wispy and light and hangs beautifully in the breezes of Playa del Coco. They add polish and sophistication during the daytime and will take you into evening by accessorizing with a necklace you can also find at Sea Hag.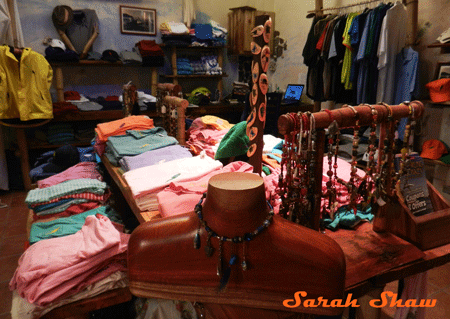 One thing you will find in abundance at Sea Hag are tee shirts in many colors. I like the v-necks with the parrot logo stitched on them. Other's are printed with "Costa Rica" or "Pura Vida." You will hear and see "Pura Vida" everywhere during your stay in Costa Rica. It means literally "Pure Life" and reflects Costa Rican's commitment to living life to its fullest, something we WanderShoppers know all about!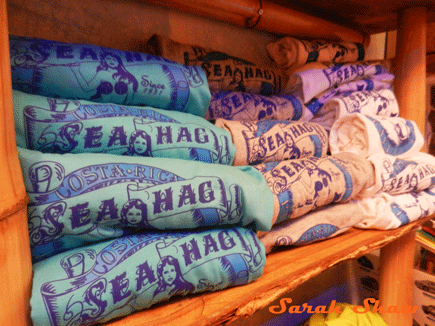 In addition to Sea Hag, Heather helps put together tours of Costa Rica for other Americans and Canadians. She found so many of her customers in the states were asking her for travel advice and help that she decided to add it to her business. She is currently considering purchasing a boutique hotel in the area so that her customers can have the total experience. She was a wealth of information for me. Next time I visit Costa Rica, I will be starting with her first so I can make the most of my days. I wouldn't hesitate to stay at her hotel either and look forward to seeing how her plans develop.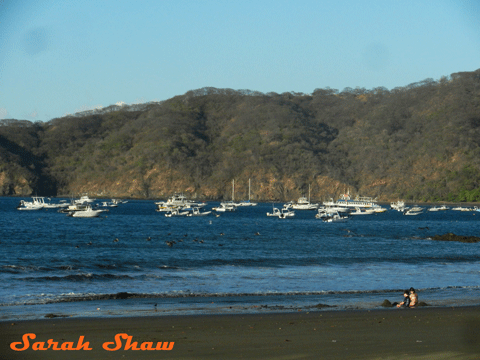 I was really glad that I continued to wander as I shopped in Playa del Coco otherwise I may never have seen Ciao Bella and Sea Hag through the countless cheap souvenir shops. But keep looking, WanderShoppers. Great shops like these exist. We all dream of escaping our life, visiting a beach somewhere and never coming back. In the case of Heather and Miranda, they did it. And successfully. That's something I think we should all support, so stop by their stores next time you are in Playa del Coco!
If you were going to leave everything behind and escape to a beach anywhere in the world, where would you choose?