2012 has been an exceptional year for WanderShopping. I was really fortunate and was able to spend quality travel time in ten different countries with long layovers in another three. I also circumnavigated the globe for the first time which will always be a highlight. Travel for me not only includes visiting all the important sights but also getting to know the people of each destination and learning about their culture. I love to visit the studios and workshops of local artisans and learn about their craft traditions. I am also happiest when I can find a market or store that has a collection of vintage treasures waiting to be discovered. All these experiences lend themselves to some pretty amazing shopping opportunities. Of all my accomplishments in 2012 starting WanderShopper, so I can share my enthusiasm for all the world has to offer you, will be my most important. Join me for a stroll through my favorite shopping experiences of the year.
January found me visiting India for the fourth year in a row and returning to my favorite source for vintage textiles. In Kerala, I discovered a man who was a second generation collector of fine textiles from Gujarat, a state in Western India. Both he and his father have collected beautifully decorated creations that today's generations have lost their taste for. This casting away of their grandmother's treasures creates an opportunity for others to acquire and care for these keepsakes. Some are beautiful tapestries, embroidered and beaded, to be hung on a wall. Others are colorful blankets for bulls to wear during holiday processions. Canopies embroidered by mothers, aunts and sisters to be used in a wedding or to commemorate the birth of a child took countless hours to create. I also found incredible torans, beautiful creations to grace the top of a doorway, in abundance. I loved that this man remembered me and immediately brought out the "good stuff" knowing that I was a serious collector.
In March, I spent some time in both Siem Reap and Phnom Penh, Cambodia. Our local guide took us to a jewelry store as some of the women were anxious to take advantage of the great selection of gemstones available there as the area is a wonderful source for sapphires. I was immediately drawn to a room to the side which held a collection of vintage statues. Some were very large and extremely heavy. I don't shy away from an item just because it may be difficult but it was early in my trip to Asia and I didn't want to weigh down my baggage so soon. I was enchanted by a number of their offerings and I ended up selecting two bronze statues. I selected one of the Buddha and another of Ganesh. They had a beautiful patina that made me love them instantly. And by purchasing two, I was able to negotiate a better price than I would have received with just one. I was able to get them to practically throw in a couple new, small, stone carvings of Apsaras I also wanted.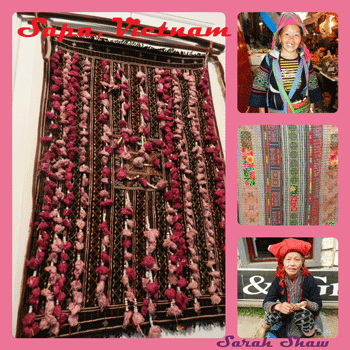 I am fascinated by the Hill Tribes found throughout southeast Asia. While visiting the Sapa Valley in northern Vietnam, I had the hardest time controlling myself when constantly confronted with opportunities to buy beautiful textiles. Anyone who has spent any time there will know that I choose that word "confront" accurately as many of the local women are extremely aggressive in persuading tourists to buy their items. I was an enthusiastic participant when the offerings were right and I hope they learn to temper their approach in the future for more timid shoppers. I spent a happy couple hours in one store trying on a variety of Hill Tribe clothes and the shop owner tailored them specifically to me. She also created some custom sashes when the designs I wanted weren't already on hand. Later, in another boutique, I found a beautiful wedding scarf. I love everything about it. The black contrasting with the pink and magenta tassels accented with white beads. A bride would wear this over her head, hiding her face from view, as our veil would do. Today I have it hanging on the door to my closet and it makes me smile every time I pass.
Back in Hanoi, I loved to go out and wander the old section of the city. Many of the vendors are still grouped together by street based on their offering. Want a musical instrument? Go to that street. Need flowers for your home altar? Head over to where all the florists are. It makes shopping really easy as everything is clustered together. Today many shops are scattered throughout offering items to the tourists that love to stroll through the misty, ancient streets. Hanoi just celebrated its 1,000th year as a city in 2010. I think I also love Hanoi because of the French influences you can still find everywhere. I am really developing a thing for old French colonial cities.
A few blocks from my hotel, I noticed on the wall of a tourists souvenir shop a few old items that suggested that maybe there was more to this store. I asked the saleswoman if she had any others like these and she smiled and lead me upstairs. I couldn't believe I had just uncovered a treasure trove of vintage Hill Tribe items. She had stacks and stacks on many shelves of beautiful embroidered clothes. Shaman masks were displayed in a cabinet. A collection of baskets were against another wall. And there on another shelf, I discovered a selection of wedding blankets. They were all so beautiful in their muted colors. The bride would have carefully woven each one to go with her to her husband's family and their marital bed. Each design had hidden meanings of her wishes for her future and memories of her birth family. After pulling out dozens, I finally narrowed it down to five to come home with me. It required a purchase of an additional suitcase and some stiff baggage fees but I always follow the WanderShopper's number one rule. If you will always wish that you had bought something, you should always buy it. (Even if you are not sure how you will use it!)
My growing collection of baggage and I left Hanoi at the end of March for Turkey. Istanbul has been one of the best cities in the world for shoppers for centuries having been the capitol for four different empires and the western end of the Silk Road. Europe met Asia and exchanged goods in enormous markets throughout the city. Everywhere you turn, you find opportunities for gorgeous, exotic treasures. In WanderShopper's New Years Eve post, Pomegranates, Istanbul and New Years Traditions, I featured two of my favorite finds. One was the pearl and ruby pomegranate necklace I discovered in a boutique in the Spice Bazaar. The other was the artist's gallery a couple buildings down from my hotel where she displayed innovative designs and materials to create beautiful souvenirs of Istanbul. I purchased a few items from her including the pomegranate and Hand of Fatima sun catchers, a silver domed candy dish topped with glass nazar and a silver ring with its pearl solitaire encased in an organic disk of enameled blue like a shell. I will do a whole post just on her gallery later in 2013. My other exciting find in Istanbul was also uncovered in the same Spice Bazaar shop as the necklace. It was a giant suzani tapestry embroidered with silk. I have long admired them and was thrilled to find one that was just right. I brought it home and had it professionally framed to protect it. It will eventually hang in that awkward space on the wall above a stairway as soon as I locate a ladder that will allow me to put it on display.
Back at home, I made an amazing discovery that I am sure many of you are already aware of – One Kings Lane. I became absolutely fascinated by this shopping website and its business and marketing model. One Kings Lane features items from boutiques, antique and vintage stores and interior designers for a limited period of time. Sales list each morning and you only have 10 minutes to buy the item or lose it from your cart. Many of the items are one of a kind and come from all over the world. What interested me most was the quantity and quality of items I considered to be real treasures. I readily became a One Kings Lane aficionado and purchased many special things for my home that I didn't have room for in my bags during my travels. I found two really special chairs from India. One a plantation chair with its abnormally long arms and the other being completely covered in embossed silver with rams head details at each end of the back cross piece. It looks like a throne! I also purchased a take-your-breath-away screen from India. It is four panels of pierced wood like you might see in a haveli in Jaisalmer.. It also has extremely detailed floral patterns painted all over it on both sides. It has made a stunning addition to my living room. I also sourced countless throw pillows made from vintage fabrics – some from the Hill Tribes again, others created from old Turkish rugs or French tablecloths. All were impossible to resist. I highly recommend One Kings Lane and suggest you check them out. Its a fun way to find treasures from all over the globe without ever leaving your couch.
But wait, there's more. As this post is growing in length, I am going to break this up over two days. Please check back tomorrow so you can journey with me to Mexico, Thailand, Myanmar and Laos as well as an incredible find in Portland, Oregon. Until then, Happy New Year!