Every year, once the last of the Thanksgiving dishes have been cleared from the dining room table and family has gone home, my father transforms its surface into a Christmas Wonderland. I think some of my WanderShopping genes definitely came from my dad. As a child, I would regularly spend weekend mornings with him scouring flea markets and sales for vintage toy tractors. Long a passion of his, he  now has thousands of tractors in every make, model and color from many decades. These early experiences wandering markets trained my eye to overlook the unimportant and zero in on the find. I also started to learn how to bargain for a fair price.
In addition to his large toy tractor collection, my father has also amassed an entire village of country Christmas figures, buildings, flora and fauna. He spends each year leading up to the holidays scouring the Christmas section of stores looking for new entries for the new year's display. Every year there is a new layout, each Christmas village unique. He carefully places each miniature to create little vingettes in his dining room in Charlotte, Michigan.
When I arrive for our Christmas celebration, he leads me into the dining room and carefully goes around turning on all the little light switches so I can see the village in its full glory. Some he can hook up to a master power strip but many require individual little toggles. The skating rink plays music. Another house has rows of luminaries added this year. The ice fisherman have a fire that glows to keep them warm. It's fun to walk around the table and discover the thoughtful little moments he has created. By the side of one barn, a family of raccoons are raiding a bag of dog food and he has placed dog figures getting ready to confront them.
In all my travels, I have seen many beautiful Christmas displays but I have never encountered anything as special as what my Dad puts together. We often joke about how he should open the house and charge admission so people can come in and admire his Christmas labor of love. Each year, I look forward to seeing his creation and thought you might enjoy touring his nostalgic Christmas Village too.
Here villagers gather as the  Christmas Doggie Parade is formed and puppies are for sale to the side.
Anyone still needing a Christmas tree can head over to the lot set up in the center of the village.
A creek runs through a forest and pools in a pond in the center of a natural scene in front of this country house.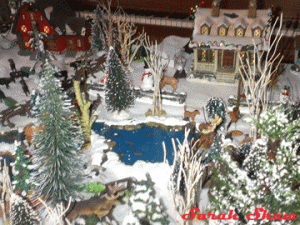 No country Christmas village would be complete without the dairy barn. My father grew up on dairy farms and it fuels his passion for this and his tractor collection.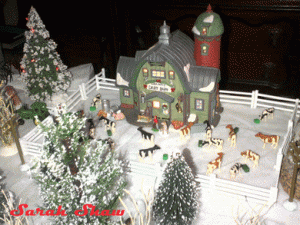 I have many other images of my Father's Christmas Village and will be sharing them in the My Father's Christmas Village album on WanderShopper's Facebook Fan Page. Click on over there to see more. And me sure to hit the "like" button on the fanpage so you follow WanderShopper as we explore the world together. Best wishes for a Merry Christmas and a Happy New Year!