As the year draws to a close, it seems the time to look back and share the best of the best in books this WanderShopper picked up in 2012. If some of these are new to you, there is still time to add them to your wish list and help out your procrastinating friends and relatives.
First up is Sibella Court's The Life of a Bowerbird: Creating Beautiful Interiors with the Things You Collect. Sibella Court is an Australian designer and stylist and you may recognize her work with Anthropologie. In The Life of a Bowerbird, Court explores how to create and display collections of items you love. The photography is beautiful and moody. I went on advance order for it and the day it arrived, I immediately sat down and went through it page by page. Court is one of us. She loves to travel and get decorating inspiration in the colors, textures and peculiar items from the places she visits. I think her two previous books, Nomad: A Global Approach to Interior Style and Etcetera: Creating Beautiful Interiors With the Things You Love should be mandatory for all true WanderShoppers. Don't walk, run….and pick up her books today.
Another book I couldn't wait to get my hands on was Julia Chaplin's Gypset Travel. You may already have a copy of her first ultra-hip book, Gypset Style from a couple years ago. Combining "gypsy" and "jetset," Chaplin coined the term to describe a movement of bohemian beautiful people living a beautiful life moving through beautiful places around the world. Her first book documents the Gypset lifestyle. In Gypset Travel, she reveals where they like to vacation. Perusing the photographs, you will wish you were Gypset too.
Although released in 2010, Half the Sky: Turning Oppression into Opportunity for Women Worldwide by Nicholas Kristof and Sheryl WuDunn, 2012 was the year I discovered it. A very painful read in sections, it covers many of the atrocities committed against our sisters in other countries. I had heard bits and pieces of many of the stories related in Half the Sky but never in such depth and in such a personal way. One of the things I most like is how it featured women rising up within their own communities with solutions to their problems. As westerners, with privileges granted to us only by the luck of the country we were born in, we need to support these efforts in every way we can. The first step is to learn and witness what is happening. I also highly recommend the PBS documentary of the same name that was aired in October. Without a doubt, this was the most important book I read this year.
In Love, Life and Elephants: An African Love Story, Dame Daphne Sheldrick relates her experiences as co-warden of Tsavo National Park in Kenya. She and her husband, David Sheldrick, reared many orphaned elephants, hippos, zebras and other baby animals with the goal always being to return them to the wild. Her moving accounts of interactions with the orphans will carry you through the full range of emotions right along with her from joy to tears. You also learn of the political struggles associated with running a wildlife refuge when your government has very different goals. I enjoyed this book so much that when I recently took over coordinating  the International Book Club, at the East Lansing Public Library, I choose it to our January selection.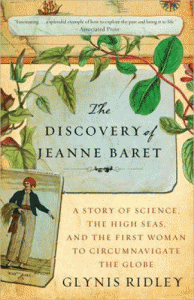 My final recommendation honors the first woman to ever circumnavigate the world. This was an especially meaningful find as I also found may way entirely around the world in March and April of this year. I have to say that Jeanne Baret had a much tougher challenge than me. Glynis Ridley provides us with the phenomenally well researched account in The Discovery of Jeanne Baret: A Story of Science, the High Seas, and the First Woman to Circumnavigate the Globe. In 1765, France's first round the world expedition set sail with Jeanne Baret disguised as the male assistant to the naturalist chosen for the voyage who happened to be her lover. She came from a long line of herbalists and her experience and perseverance was solely what lead to the discovery of many of the plants we know today. Women were not allowed to travel on ships at that time and when the crew eventually uncovers her ruse, she pays a very high price. Reading about her adventures and challenges will inspire you as well as make you glad that you are traveling in a 21st century world. This is also an International Book Club selection for 2013.
Wherever I am, you will always find a book with me. I love to read. What books have you enjoyed over the past year? I'm always looking for new ones to add to my queue as well as future reads for the book club. Please share your favorites.
Book images courtesy Barnes and Noble