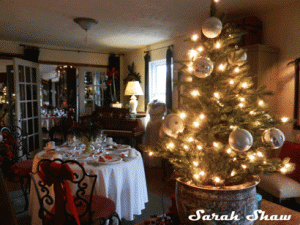 One of my favorite places to get Christmas decorating inspirations is to visit Southern Exposure Herb Farm. Since 1992, women all over mid-Michigan have been sharing their growing affection for Southern Exposure with sisters and girlfriends and today is my turn to share with  you this amazing destination. Owners Scott Stokes and Curtis Whitaker offer memorable experiences through workshops, dinners, shopping, weddings, events and cultural tours at their Calhoun County herb farm. The southern hospitality they grew up with in Georgia and Tennessee is graciously engrained in the culture of Southern Exposure and you leave with the feeling of having a just had a big warm hug from a dear friend. No wonder there are so many Southern Exposure Evangelists!
My first Southern Exposure experience was with my mother for a workshop on French flower arranging followed by a delicious lunch prepared by Chef Elsie.  We soon became Southern Exposure "regulars" working our way through all the classes, sometimes meeting other friends and their daughters for girls' days. After lunch, I would always head upstairs to the Gift Shop, where I could buy additional items shown during the workshop as well as admire how all their products were beautifully displayed. Southern Exposure's gift shop is so much more than just a store full of products. It is a living demonstration on how to decorate a gracious home and garden. Each visit is full of color and texture, taking in the layers of flowers and how to use lighting for accent.  The shop itself is housed on the first floor and hay loft of a 1837 barn.. The original barn on the farm was built in 1838 and had tragically burned in a fire about 12 years ago. Scott and Curtis were able to locate a similar barn just a day before it was scheduled to be demolished. They were able to save it and have it moved to the herb farm with a team of Amish craftsman who were able to reassemble the barn at its current location.
Customer feedback is what has allowed Southern Exposure to evolve into the phenomenal success it is today. Over the past year, they hosted 49 weddings, 110 workshops, 7 bus tours and 3 overseas trips. This is even more impressive considering that both are career military men and that Curtis has just recently retired and  Scott heading into his final year. It will be exciting to see how Southern Exposure will continue to evolve as more of their energies become free to devote to the herb farm.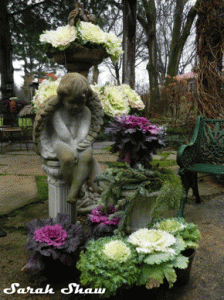 When I visited Southern Exposure on a grey December day, I found all of the beds had been put to sleep for the winter in the expansive gardens around the property. Although they are much lovelier later in Spring and Summer, there are still many pretty moments to pause and admire. Living in Michigan with its long winters, you learn early on how to appreciate beauty in the browns and greys of the landscape. Southern Exposure has created little moments and vistas where you can stop at a bench or chair and admire a statue. Maybe you stop by an outdoor room created with trellises of vines, a mirror and some lighting. Attention to detail is everywhere at the Herb Farm and one of their secrets to successful decorating. Walking the grounds you can find splashes of color in a gathering of cut boughs with a red bow added for a pop of color. Or a fountain area is dressed up with pots of ornamental cabbage looking especially showy with its contrasting colors of purple, cream and green. These outdoor moments are important to decorate whether you will be strolling around your own yard or enjoying the view from a window inside. Think about where those opportunities are around your home. What touches could you add?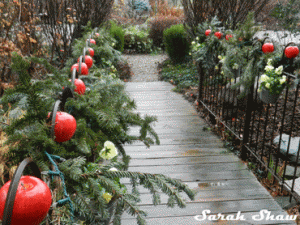 At Southern Exposure Herb Farm, the outbuildings have been restored and transformed into beautiful spaces for gatherings and meals. The Hog House, from 1840, is now an intimate setting for dinning near its stone fireplace. There is also a stone patio off to one side with a beautiful multi-tiered fountain. The path to the Hog House is bordered by a black wrought iron fence on each side that is draped with greens, pots of pansies and apples are spiked onto the metal posts for an organic splash of color. Inside, garlands are swagged across the steep pitched ceiling. Round tables are intimately lit from the center with tall table lamps each tied with a red bow. Arrangements of greens and berries as well as a few red ornaments complete the centerpiece. The tables are dressed with a red and white toile tablecloth. Another red ornament graces the napkin folded and laid in the center of each white china plate. A rocking horse, with a lighted wreath around it's neck is featured in front of a mirror on the mantle of the fireplace. Red rose petals sprinkled on the floor in front of the hearth complete the ambiance of the space. A far cry from how the Hog House has spent the majority of its days.
Right next to the Hog House is the Corn Crib which contains another space for dining, the Victorian Bridal suite as well as a state-of-the-art kitchen. You again start to notice all the details as you enter. One of my favorite moments was a collection of birds nests, in assorted sizes with different colored faux eggs in each, all collected on a silver tray. This was rested on a chair in the entry as if someone had just come back from a outing and wandered off leaving their collection there.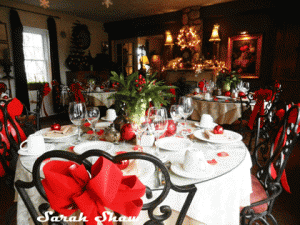 The dining space is again decorated with sprigs and swags of greens and accents of reds with berries, bows and ornaments. Here the fireplace is just a mantle, with a pot bellied stove filled with artificial flicker lights that you look so real from a distance. The Bridal Suite is also beautifully decorated for the season with little moments to linger at the piano or to sit at it's private dining table. The day I visited to take photos to share with you, the staff were all busily working in preparation for a 90 person private holiday dinner that night. Chef Elsie was gracious and allowed me to enter her kitchen, take some photos and chat for a few minutes. She even shared some of her favorite holiday recipes and asked me to pass along to you. Towards the end of this post, you will find how to make her Chocolate Creme Brulee.
Sharing is one of the things that makes Southern Exposure special. Everyone there wants you to learn how to create the Southern Exposure experience for your family and friends. One of their most popular workshops is Decorating on a Shoestring with both a Christmas and an Easter holiday edition. This winter session, Southern Exposure offered this workshop 17 times and all went to wait-list for registration which really speaks to how special it really is. During the workshop, you tour the grounds and all of their event spaces to learn about how to re-create their decoration ideas. Many of the items come from dollar stores or yard sales so they are looks that are accessible to any budget. What is amazing is how an item that on its own on a budget shelf looks really cheap and tacky can be transformed into an expensive, gorgeous part of your decor. As part of the tour you also stop in Chef Elie's kitchen where she teaches some food tricks, techniques and recipes. The day ends with a special meal and a take-home written collection of more than 100 decorating ideas and many recipes for your reference. I have taken the class multiple times as I just enjoy spending time at Southern Exposure and use many of their ideas in my own home.
Back at the barn, I headed down to the lower level known as the Milking Parlour where another dining space exists. With a veranda along the back overlooking the garden and a fountain, the Milking Parlor was the site of many of the workshops I have taken over the years. Again, it is amazing to think, as you gaze around this comfortable and luscious space that this area was a rather unglamorous barn for cows. Today it holds a wealth of decorating ideas. In one corner, on top of a hutch, an old ornamental heating grate has been transformed by adding a layer of red tissue paper behind it and a lighted bow to the front. A giant framed mirror has had a bow wrapped around it and tied like a present which also reflects all the dancing glitter of little lights everywhere. The central chandelier has been dressed up with plastic crystal snowflake ornaments, a garland of red berries and matching red little feathered cardinals.  Everywhere little thoughtful details are what add together to make a take-your-breath-away space.
I love lingering in the Gift Shop at Southern Exposure. There is so much to see from floor to ceiling in every room. I find too, that by walking around the space and approaching things from different directions, I continue to discover more things I never saw before. Like many of my favorite shopping places, my biggest problem is deciding how to narrow down what I buy. On this visit, I purchase two sets of flicker lights to created some ambiance in lanterns at home, a bittersweet berry wreath, a little tabletop faux tree with pinecone accents and its pot done up in burlap and a couple sparkling holly wreaths.
Southern Exposure is the kind of place that I think will really appeal to many of you WanderShoppers because they are amazing shoppers and travelers themselves. One outing I have been wanting to do for awhile is one of the day long Junque trips. During the excursion, Scott leads participants to his favorite secret spots for vintage and antique shopping, giving instruction on how to spot good buys, how to dicker and deal on a price as well as how to transform your treasures once you get them home. Chef Elsie packs both a gourmet breakfast and lunch for everyone and dinner is spent at a nice restaurant in the area being explored. Curtis also comes prepared with some of his famous refreshments and snacks served during transport times on the bus. A day of creative foraging supported by a team of experts with great food and drink – how could it get any better?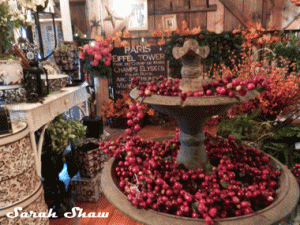 Well, they upped the ante! A few years ago, Southern Exposure started doing tours overseas. Not only are you able to do some amazing shopping but they also visit the cultural attractions and explore food traditions in the area they are visiting. Upcoming tours include Southern France aboard a private riverboat, another tour visiting  Italy, the Alps and the Riviera and another trip where you explore Ireland In-depth. Believe me when I tell you I started checking my calendar as soon as I got home. I can't wait till I can join Scott and Curtis for Southern Exposure abroad!
I had a great time on my recent visit to Southern Exposure, reconnecting with old friends and remembering past visits. I also ended up taking a few hundred photos are I really got inspired by all their holiday decorations. Obviously, I am unable to share them all with you here. I have selected some of my favorite shots and decorating ideas and added them to an album on WanderShopper's Facebook page. Please take a look. And while you are there, please hit the "like" button and become a fan of the whole WanderShopper Facebook page so that you can follow upcoming posts and special content only posted to Facebook.
Now here's that great Chocolate Creme Brulee recipe I promised. Thanks, Chef Elsie! Can't wait to try it!
Chef Elsie's Chocolate Creme Brulee
3 C heaving whipping cream
8 oz semisweet chocolate chips
6 lg egg yolks
6T sugar
6t brown sugar for glazing
Preheat oven to 300 degrees Fahrenheit. Bring cream to boil in heavy large saucepan. Reduce heat to low. Add chocolate and sugar and whisk until melted and smooth. Remove from heat. Whisk yolks in large bowl. Gradually whisk in hot chocolate mixture.
Divide the custard among 6 3/4-cup custard cups. Place cups in large baking pan. Add enough hot water to pan to come halfway up side of cups. Bake until custards are set, about 50 minutes. Remove from water; chill 2 hours. Cover and refrigerate overnight.
Preheat broiler. Sprinkle each custard with 1 t brown sugar. Broil until sugar turns golden, watching closely to avoid burning, about 3 minutes. Refrigerate until custards are set, 1 to 2 hours.