I recently heard from a friend who was heading to Cambodia soon and she wanted some WanderShopper recommendations. I was just in Cambodia myself in March as part of the WanderTours Vietnam and Cambodia trip. I visited both Siem Reap and Phnom Penh. There were attractions in both cities that I was glad to have seen but in terms of shopping, Siem Reap was the destination for me. Part of it might just be a difference in size. Phnom Penh is the capitol of Cambodia and its metropolitan area has about 2.2 million people living there. They add to the frantic energy of the place. While by comparison, Siem Reap, home to the must see sites of Angkor Wat and Angkor Thom,  feels almost sleepy with a population of a mere 171,000. I liked that I could walk easily to all the shops, the Old Market and the night market from my hotel without worrying about being run over by a motorbike. I took the photo on the left while walking around Angkor Thom, it is of an Apsara, are heavenly dancers, and their carvings are seen everywhere among the ruins.
Anyone going to Siem Reap is there for Angkor Wat so that same interest in ancient traditions should also help you prioritize your shopping there. Your first stop should be to visit Artisans d'Angkor. They have a workshop and store just 2 minutes from  the Old Market and Pub Street that will be easy to find. "Artisans Angkor has developed from the ambitious belief  that it is possible to revive ancient Khmer Arts & Crafts while improving the lives of thousands of people living in rural areas. " For over 10 years. Artisans d'Angkor has been developing and nurturing artisans in traditional Cambodian craft areas and now has over 1,200 employees. On the right is a wood carving done in their workshops of an Apsara.
At their workshop, you are able to enjoy one of their free tours which are offered in 7 languages including English. During the tour you will be able to walk through the different workshops showcasing stone and wood carving, lacquering, silver plating and silk painting.  All of the young adults working in the workshops I visited were deaf and mute. They communicated with each other, encouraging and teaching techniques in their craft, through sign language. It is the same language that someone would use in the U.S. as sign is a global language. They came to Artisans d'Angkor from all over Cambodia as it gave them an opportunity to learn a craft, gain education and earn a living – opportunities not available to them in their birth villages. The tour then concludes in the main showroom. with an exhibit of outstanding creations by their staff.  Then it is time to head to the boutique for an opportunity to purchase arts and crafts. I took many photos of the artisans at work and will do a feature post on their traditional crafts in the upcoming months. Artisans d'Angkor have seven showrooms around Cambodia. The largest store I visited was at the workshop. I was pleased to discover that they also have a store in the airport in Siem Reap so you have an easy opportunity to pick up extra souvenirs while you wait for your flight.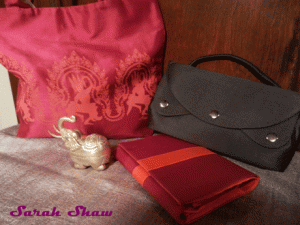 Upon entering the shop, I was almost overwhelmed by the options and wasn't sure where I wanted to head first. They have a beautiful collection of products made from silk and I purchased a number of gifts their including a printed handbag, jewelry rolls and business card holders. I also chose several of the small silver plated boxes of both elephants and turtles. I learned while visiting the palace grounds in Phnom Penh that for centuries similar boxes have been made as presentation items that the King gives to his guests. Luckily, Artisans d'Angkor also has an online shop where you too, can pick out some of these treasures for shipping throughout the world.
Another important stop to make while visiting Siem Reap is to go to the Angkor National Museum. One of my favorite things to do when traveling is to visit a museum because it is a great way to learn about the culture and to experience it from a historical perspective. The Angkor National Museum is housed in a beautifully designed modern building with exhibits covering the Golden Era of the Khmer Kingdom over several floors.  Visitors have the opportunity there to learn about the cultural traditions that inspire and influence the modern artisans creating the souvenirs you will be purchasing on your trip.  And a WanderShopper  tip I will share with you is to make sure to save time to visit the museum's gift shop. In general, stores accompanying museums usually have a phenomenal collection of items representing the museum's focus. There is usually something for everyone at every price point and for every age. I also find that the quality of the items for sale in a museum shop is usually better than average.
The Angkor National Museum has a phenomenal shop and I purchased a number of really special items there. I found a beautiful silk tapestry mounted on a carved wood hange (pictured above.) I also purchased a silver Khmer necklace and two silver bangles, all traditionally worn by the bride for her wedding. I was also happy to discover a small statue of a head of an apsara, or heavenly dancer, mounted to a block of wood. Every time I see it I am reminded of the happy days I spent in Siem Reap. I also found a silver travel candle with the silloette of Angkor Wat embossed on it. Finding a goat zodiac zipper bag was fun too as it's my sign! There were so many lovely things that it was hard to narrow down what would come home with me. The scarf they rest on is a krama from our next stop, Rajana.
Finding stores that support fair trade practices are important to me when I shop and I was pleased to discover Rajana. Founded in 1995, Rajana "aims to give young, underprivileged Cambodian people the opportunity to be trained in the production and marketing of contemporary craft." Employment with Rajana guarantees fair wages and a safe working environment as well as an opportunity for professional advancement. These are things we assume come with a job in the U.S. but they are frequently not the case in much of the world. The products Rajana carries are made by their artisans in their home villages throughout Cambodia.
You can visit Rajana at their Siem Reap location or at their store in Phnom Penh. They carry a wide selection of traditional Cambodian scarves called krama of which several came home with me in a variety of colors. They have a nice selection of jewelry, clothing and other textiles like pillow cases. I also purchased a hand fan there. Cambodia is incredibly hot and when you are out touring Angkor Thom, it is nice to have something to move the air around you at least!  Rajana is easy to find on Sivatha Street with the night market taking part in front of the store. They are open from 8:00 am – 11:00 pm so they make a great and easy stop on your souvenir hunt.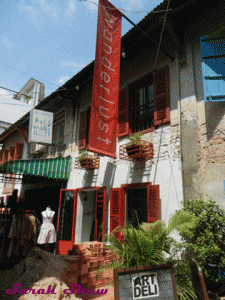 Writing the WanderShopper blog on the Wanderlust and Lipstick site, you know I got excited when I discovered the Wanderlust boutique in Siem Reap. I felt like I had found my people in Cambodia! Wanderlust is run by Elizabeth Kiester who is the former chief creative director for LeSportsac and was also fashion director for magazines YM and Jane. While traveling in southeast Asia in 2008, she fell in love with the area and wanted to have a business that dared to be different. Wanderlust is a very special boutique bringing women " well priced, limited edition clothing and accessories." The products change every couple weeks as only a few are made of each design by the skilled young seamstresses they empower and employ. Wanderlust offers modern designs in a beautiful collection for fabrics. Definitely not things you would find at the mall. You can tell these are special. I think Wanderlust appeals to the girly-girl traveler who wants a dress that she can wear comfortably out seeing the sights, then on to the pool to cool off over her suit or for a dinner date in the evening. While perusing their online store just now, I am finding a lot of fun t-shirts on sale and the great news is that they do ship to the U.S. so you can express your Wanderlust with one of their special creations without ever leaving your couch! Wanderlust also has two stores both in Phnom Penh as well as their Siem Reap location which is where I visited. Their boutique can be found on the Alley West near the Old Market. That whole area has many great shops and galleries to explore but be sure to stop by Wanderlust!
Another shopping idea for Siem Reap is to stop by De Silk Boutique and have a custom garment made for you. Rarely ever done in the U.S., it is a lot of fun to be able to select the fabric, color and garment of your choice and have it made just for you. De Silk Boutique has a huge selection of good quality silks in more colors than you would ever need. They do have nice group of ready made, on the rack clothes that you can choose from but if you have the time, custom-made is the way to go. A tailor comes to the shop and takes all of your measurements so it really is just for you. Being a fuller figured woman, one of my challenges in clothes shopping in Asia is that most Asian women are an entirely different body type and size. It can be challenging for some women, like me, to find clothes that fit properly. Going to a store like De Silk Boutique is the way to get just what you want.
I had heard many bad stories of how tourists had been taken advantage of at other tailors around Asia where the common scam gets run where the clothes are ordered but then they end up not being ready by the time the tourist needs to leave town. So I was a little nervous about the experience going into it but I really wanted the plum silk tunic I was having created for me so I decided to take a chance and see what happened. I did have 3 nights in Siem Reap and I stopped at De Silk Boutique on my first night. I gave them a deadline that was one day earlier than I absolutely needed it by to give me a little time for the unexpected. I am pleased to say that De Silk Boutique followed through and did exactly what they said they would do by the time promised. The tunic was beautiful and I was very happy with the experience. I think having custom clothes made is a really special experience that everyone should do at least once but I do recommend that unless you know that the store/tailor has a stellar reputation, that you too give an earlier deadline than is absolutely necessary. Sometimes things in Asia move at a slower, more relaxed pace and not everyone will understand the firm deadlines we are used to as customers in America.
In addition to clothes, De Silk Boutique also had a nice selection of traditional Khmer tapestries and a few different wood hangers to display them on in your home. You can also find some nice silk pillow cases to take home as well as a local photographer had artful black and white shots of scenes around Angkor Wat and Angkor Thom. I also liked a lot of the jewelry they had for sale. I selected a really special long necklace made of a variety of different colors and shapes of beads as part of a project to provide employment and income for developmentally challenged adults in the area. I think of all the souvenir necklaces I have purchased during my travels, this particular one always gets noticed the most by others back home. And it cost me only a few dollars. You can find De Silk Boutique at number 29 on Tep Vong Street in Siem Reap. As of this writing, I was unable to locate a website for them.
Siem Reap has a vibrant shopping and restaurant scene and will be a really enjoyable place to pass several days of your time in Cambodia. New stores are regularly opening so when you visit, you may find other great opportunities. Be sure to drop me a line and let me know about your WanderShopper discoveries. What shops did you uncover? What items spoke to you? What did you find that was a great value?