Last month, after a lot of anticipation, I arrived at Ock Pop Tok. Having just discovered them in September, I was excited to explore a WanderShopper's dream place to learn, create, shop, stay and eat in Luang Prabang. Founded in 2000, Ock Pop Tok was created by two friends – a local weaver and a visiting English photographer. Their vision was to blend their passion for textiles with their desire to be a positive force for change. Ock Pop Tok means East Meets West and is a perfect expression of what visiting one of their shops, or the Living Crafts Center,  is like.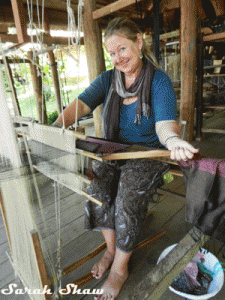 Ock Pop Tok has two boutiques in Luang Prabang. Just outside of town is the Living Crafts Center. Another shop is located there, as well as the Silk Road Cafe, a Mekong Villa for lodging and spaces for workshops, classes and demonstration. I went in for the total Ock Pop Tok experience. I shopped (more than once) at each of the three stores, stayed in the Mekong Villa during my time in Luang Prabang, ate daily at the  Silk Road Cafe and took several classes. I will be doing a number of posts on Ock Pop Tok over the coming months but for today we are going to focus on the shopping experience.
One of the first things you will notice when you walk into one of Ock Pop Tok's locations is all the color. Every gradation of indigo and blue are represented. There are shocks of bright red, pinks and oranges on some of the Akha creatures. Bursts of jewel tone geometerics appear in diamond patterns on some of the traditional Lao prayer flags. Every where you turn are tremendous colors. Master dyers at the Living Crafts Center create many of the natural colors used by the weavers from the garden there.
Another thing I experience right away is that I want to touch everything. Weaving, especially when made by artisans as it's done for Ock Pop Tok, creates a tactile experience. Silks,cottons and hemp, can be such a pleasure to run your fingers across. There are the little bumps and ridges that tell you that it has been touched, too, by its creator. The silk organza wall hangings were beautiful. Different sections  are woven in different patterns creating many textures. They also have silk cocoons woven into them for extra dimension. I agonized over which one to bring home with me and eventually chose one in shades of blue.
Ock Pop Tok offers so many beautiful things in their shops. There are more scarf options than you can come up with people to gift them too. They have beautiful pillow cases in a variety of patterns and colors to fit into any living space. I really liked too, that they also have a selection of vintage creations for sale. I had stayed in the Hmong room at the Living Crafts Center Villa and loved the pieced together collar tapestry so much that I had to buy a smaller version I discovered at one of their stores. They also have a selection of traditional Lao skirts that could be custom tailored to you overnight. I had a skirt created for me to wear to a Baci ceremony they had arranged for me later in the week. Other clothing items, such a jackets, are also available to be custom fitted but will take a few extra days as they are more detailed.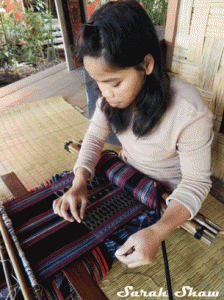 Ock Pop Tok is a celebration of traditions from around Laos. Items for sale represent different regional and tribal patterns, colors and craft traditions. Most of the items for sale were created by women and this gives them an opportunity for a  good source of  income as Ock Pop Tok follows fair trade principles. Another important function of Ock Pop Tok is that they are helping to preserve craft traditions that otherwise may be disappearing. Their products take traditional crafts and reinterpret them for a western audience while still preserving their essence.
Obviously, I am a huge fan of Ock Pop Tok. They helped me have a dream week for my first visit to Luang Prabang, Laos. My only problem during my stay was having to limit what I could bring home with me. You can learn more about Ock Pop Tok, as well as shop items they will ship to the U.S., by checking out their beautiful website.
All of Ock Pop Tok's spaces were so beautiful and I have a surplus of great photographs. To see more of my images of Ock Pop Tok, please visit the album at WanderShoppers' fan page at Facebook. And please "like" us while you visit!
Weavings are one of my weaknesses when I travel and I always come home with stacks and stacks. What do you collect while you travel?