Are you seeking a travel adventure that will take you off the main grid and into vast expanses of natural, untouched wilderness beauty?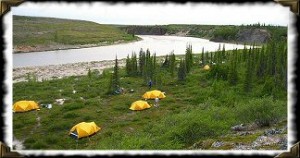 Alex Hall lives in Fort Smith, Northwest Territories, where he operates Canoe Arctic Inc., which provides wilderness canoeing expeditions.    Expeditions last anywhere from eight to 12 days and take you through the arctic tundra. Expect to see dramatic and breathtaking scenery and wildlife you won't see anywhere else. Hall says that muskoxen, caribou, moose, grizzly bears, black bears, waterfowel and bald eagle sightings are common. Several expedition routes even take you past wolf dens.
Definitely not a journey for the faint of heart, accommodations are rustic on-route and are designed for the adventurer at heart. I can't think of a better way to break out of the concrete jungle and cubicle office life than with an arctic expedition with an experienced and seasoned guide who has lived in the area all his life. Visit his website here.
My fiancé suggested we take a trip like this for our honeymoon and while the trip tops my travel bucket list, it's not exactly what I had envisioned for a romantic escape! On that note, does anyone have experiences or recommendations to impart for the best honeymoon locales?
Happy travels everyone!