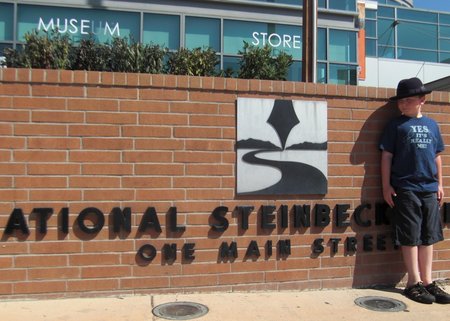 Salinas is hardly a town on the list of must-see attractions in the great state of California. We over-nighted there on our way from Santa Barbara to San Jose simply because it was a convenient stopping point. CAM had read Of Mice And Men at school last year so even though we had arrived in Salinas late and weren't planning to spend much time in the town, we decided (OK, I mandated) that we should take the time to check out the National Steinbeck Center.
I really didn't know what to expect and the boys, with promises of spending a day on the boardwalk at Santa Cruz, were not at all cooperative. It was a perfect recipe for a disasterous museum visit with children – but we had exactly the opposite experience.
The Steinbeck Center is fairly small, but the short movie about his life and the detailed exhibits made the author and his works come alive for all of us. Although my boys were the only children at the museum during our visit, when I spoke to one of the docents he explained that they regularly hosted school groups and it showed in the detailed Treasure Search they provided for the boys to follow as they explored the exhibits. This two-page mostly multi-choice set of questions required the boys to look carefully at many of the exhibits, read excerpts of the books displayed, watch snippets of the many movies based on Steinbeck books and generally learn all about the Depression and the Salinas area as well as John Steinbeck and his work.
In the gift shop on the way out, the boys chose a book each: The Grapes of Wrath for CAM and The Acts Of King Arthur And His Noble Knights for BigB. I think you'd agree that's a parenting high point by anyone's definition, no? We had a very successful visit to this unassuming small-town museum. If you're in the area, I highly recommend checking it out – with or without children. And in case a visit to the Salinas Valley isn't in your future soon, but you think you might pull out your battered copy of Grapes Of Wrath or East Of Eden again the photos below may help you picture Steinbeck's scenes a little clearer in your mind's eye.
Check out DeliciousBaby for more fun travel-related photos.
Like what you've read? Subscribe for updates via RSS, follow me on Twitter.